The Article
Simple Minds mastered at half speed via Abbey Road
16th April 2016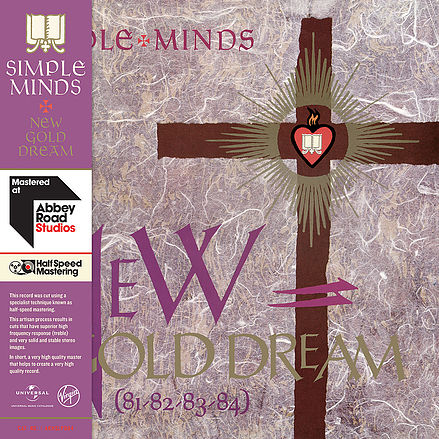 Title: New Gold Dream (Abbey Road/Half Speed Edition)
A top notch album from 1982 that saw the band on the verge of becoming, at least for the TV programme, Top of the Pops audience of the day, a household name. There is plenty to like from this LP including the richly layered, emotional, exploratory and sometimes downright danceble tracks such as Someone, Somewhere in Summertime, Promised You a Miracle and Glittering Prize.
OK, let's cut straight to the chase, here. This album has been mastered superbly. It is simply a brilliant piece of work that is a credit to the brains behind its production, Miles Showell, the brightest and most innovative mastering engineer in the world at this moment in time.
When I put this album on, its was a at the end of a long vinyl review stint, featuring good quality vinyl sourced from all over the world and from a variety of top quality mastering engineers but, when this record hit the platter, it was quiet. Beautifully quiet. It meant too that I was going to have to increase the volume. the same level of gain that I had had fixed all day long. And do you know what I did before I reached for the volume? I smiled. Mainly because of how quiet the cut was, partly because I was hearing plenty of detail already but I knew that, when that gain went up – and it demanded an increase – then the show would only improve.
Up went the volume six whole clicks higher than the many albums I had previously reviewed. The clarity remained the same, the detail was added with a shovel, the focus actually improved, the lower frequencies became stronger, meatier, more powerful but never bloomed or smeared into the midrange which, in itself, remained open and spacious and beautifully responsive to even delicate and subtle details such as wooden block secondary percussion on the track Glittering Prize.
The reason for this amazing sound quality? Showell's own incarnation, re-interpretation and constant suite of improvements of his (well, it really is now 'his') half-speed mastering techniques that underwent a rebirth at his own hand at the Metropolis studios and which are now developing further at his new home at Abbey Road.
A brilliant album from the Scottish masters made perfect by the hand of Showell.