The Article
Sexedelic: Manfred Hubler and Siegfried Schwab are very naughty indeed
22nd February 2017
Title: Sexedelic
Label: Wah Wah
…or the collaboration between Manfred Hubler and Siegfried Schwab that features on this LP. The pair's music would appear on such B-movie classics such as Vampyros Lesbos, The Devil Came From Akasava and She Killed is Ecstasy.
For anyone looking at exotica, soundtracks and – you might be surprised to hear – krautrock, then you really need to plug into this LP. Manfred Hubler is a bit of a mystery although he produced soundtracks for a variety of film and TV work including the 1966 TV series Intercontinental Express and 1967's Code Name is Kill among others. Hubler's work is overdue some hardcore geeky research and requires dedicated archaeological digging. His partner here, Siegfried 'Siggi' Schwab might already be familiar to krautrock fans because he was part of Embryo and Et Cetera. His guitar work was more than notable. Fans of more contemporary fare might be surprised to learn that artists such as Christian Vogel, Alec Empire and Rockers Hi Fi have sampled his archive.
The music here, from 1971, has that kitsch orchestral soundtrack vibe with which was extremely 'groovy' in tone but also featured lots of improved sound effects and fuzz guitar. Fans of Morricone, in the meantime, will be happy to hear the signature 'ba ba ba' female choral sounds that add to the sheer 70s nature of the production along with quite startling psycho-operatic madness, I have to add. There's plenty of imaginative arrangements here, some incredibly funky playing from the group and even slightly odd tidal effects using audience applause. The overall effect is that you really don't know what to expect next from this record, which is half the fun.
Arriving with a poster and an excellent multi-page, large format booklet with plenty of colour photography for fans of the sultry Spanish 'Lesbos' actress, Soledad Miranda (a focus of dedicated fan attention, all on her own), this is an excellent LP package.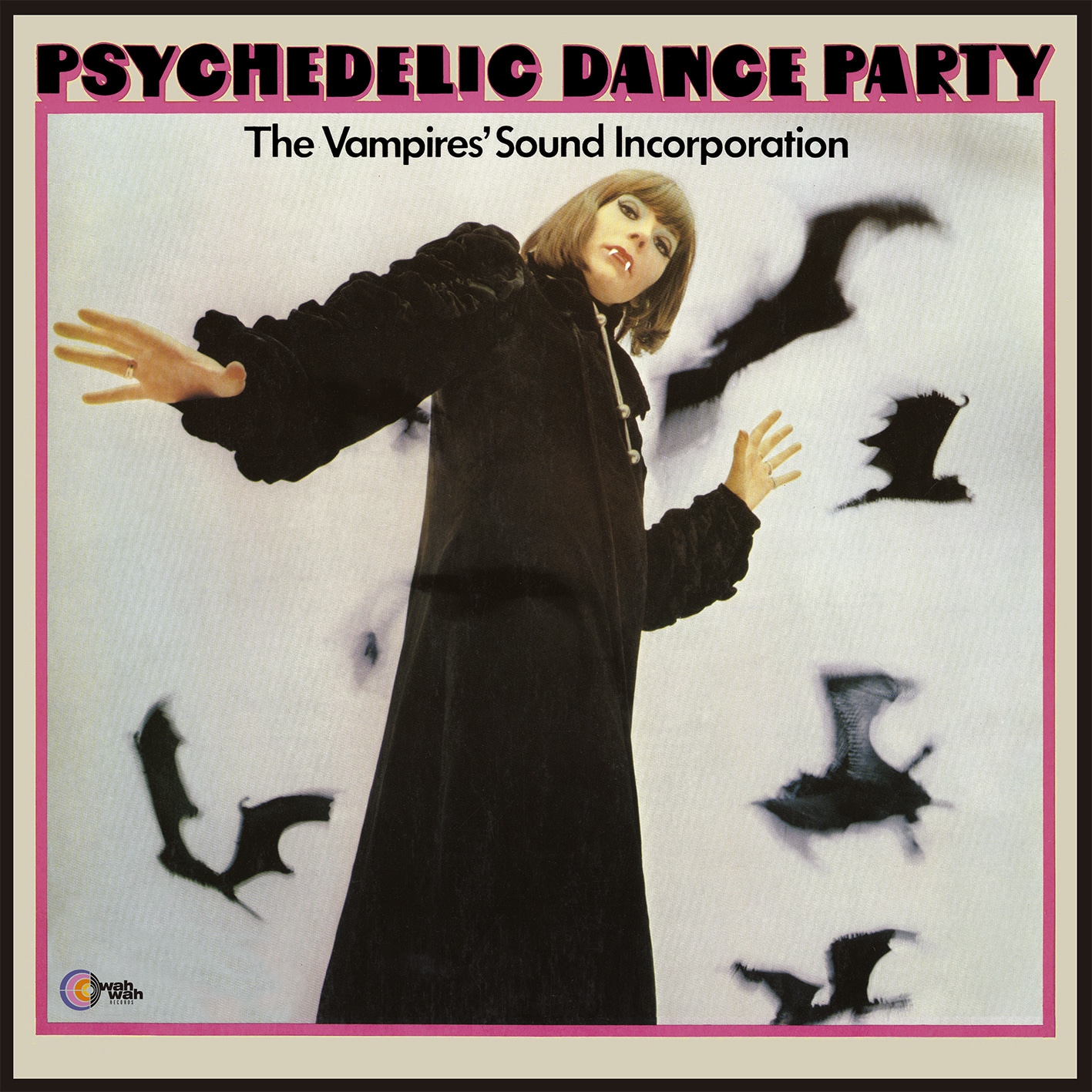 Also look out for this LP's sister release, Psychedelic Dance Party from The Vampires Sound Incorporation (1969), from the same pair of songwriters, Hubler and Schwab, reissued for the first time plus an 8-page booklet.