The Article
Pete Seeger & Lorre Wyatt's A More Perfect Union
4th January 2015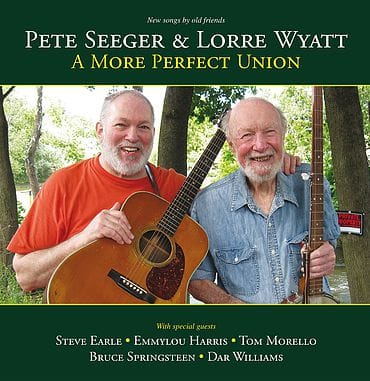 Title:  A More Perfect Union
Like Bob Dylan, his folk compatriot, the late Seeger's voice could hardly have been called tuneful or melodic. With the onset of age, his voice sometimes did him no favours. The reason for Pete Seeger, however, was not the voice, it never was the voice. The reason for Pete Seeger was the message. Seeger's mind was as sharp as a razor as you can hear on this recently issued vinyl version that features 16 songs spread over two slabs of vinyl, 15 of which were newly penned by Seeger.
On this project was his neighbour, Wyatt, a singer-songwriter in his own right. This album is partly about survival against the odds. For Wyatt, his struggle was against illness (his stroke prevented singing and guitar playing for 15 years). Seeger battled age: he was 93 when making this 2012 album. The upshot is uplifting. Maybe that is why this album features widely diverse songs, these guys were enjoying life and pursuing their craft: the front sleeve grins are a bit a giveaway.
Packed with humour and the wisdom that arrives from a long eventful life, this album is also packed with star names that just wanted to cuddle up to the great men, even if it was just for a spot of harmony singing. Hence Bruce Springsteen appears on Gods Counting On Me… while Wyatt's Somos El Barco/We Are The Boat features the quality warbling of Emmylou Harris.
A quite brilliant album, well mastered, Seeger's improved with practice, it seemed.
Also look out for two, double vinyl packs. The Songs Of Pete Seeger featuring new recordings from the likes of Bruce Springsteen, Roger McGuinn and Eliza Carthy plus Pete Remembers Woody, a series of spoken reminiscences with the odd song from Seeger.