The Article
SAXON: Strike Gold with this live collection
9th December 2016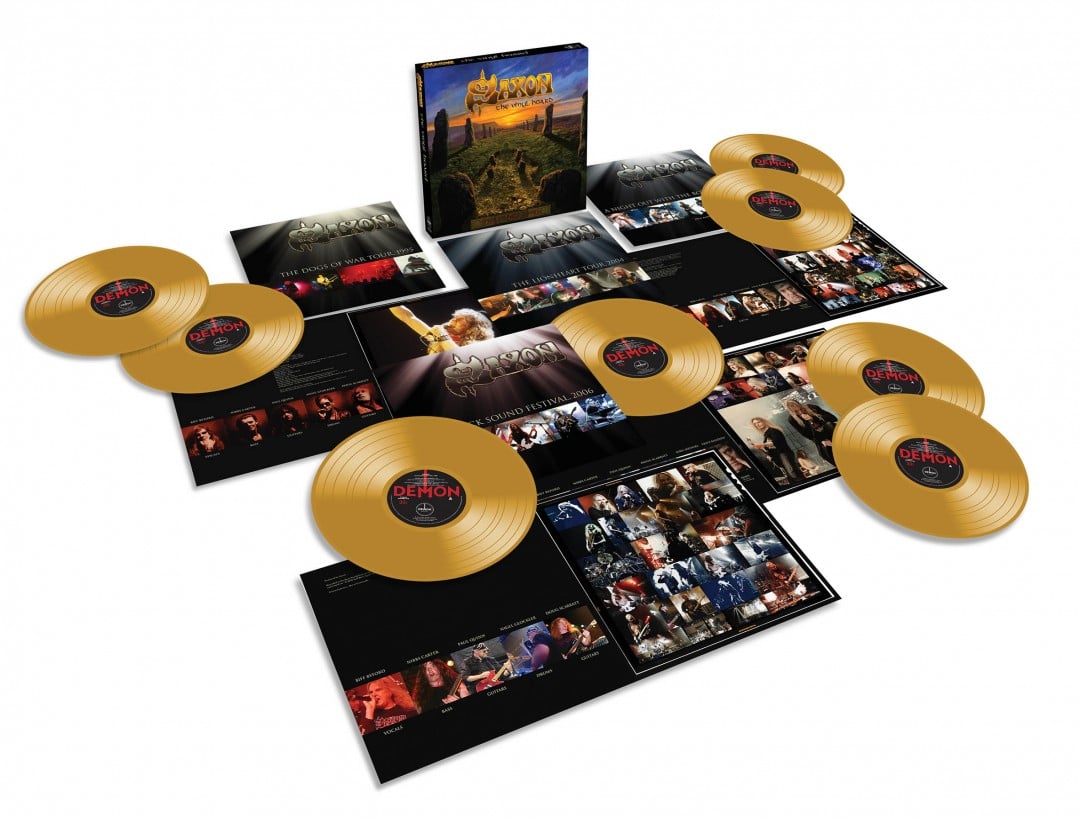 Title: The Vinyl Hoard
Label: Demon
A substantial box set, this is a live recording collection, pressed on vinyl for the first time. The albums arrive as four double LP sets on 180gm, gold-coloured vinyl, each in a specially designed gatefold sleeve and presented in a slipcase box, featuring a specially-commissioned, cover painting by Saxon's artist-in-residence, Paul Gregory.
The eight-vinyl album boxset contains: The Dogs Of War Tour, 1995, recorded on tour in Germany; The Lionheart Tour, 2004, recorded on tour in France, England and Germany; A Night Out With The Boys, 2005: The 25th Anniversary of the NWOBHM, recorded on tour in Germany and Sweden and Rocksound Festival, 2006, recorded in Switzerland.
Dedicated fans might want to keep an eye open for the Amazon Exclusive Edition box set. This edition is slightly different from the normal release because it features a a framable print of the front cover painting, signed by the band's lead singer, Biff Byford. This edition is limited to 500 copies.
The music has, thankfully, not been hit by loudness issues. That is, upper mids have not been accentuated to breaking point, triggering ear-piercing frequencies during crescendos. Instead, the entire soundstage is rather even-handed and disciplined. Some fans might comment that the mastering discipline has been taken too far, as the midrange and treble could be accused of being rather safe. So safe, in fact, that it has slightly veiled some of that essential detail. This is a live album, though, a genre that is notoriously chaotic in terms of sound output. Unlike the studio, the live arena has little or no sonic control and can be the source of rather unruly results. This box set provides a steady, neutral and balanced output over the entire suite of vinyl.