The Article
Ron Carter's All Blues: former Miles man takes control
24th May 2016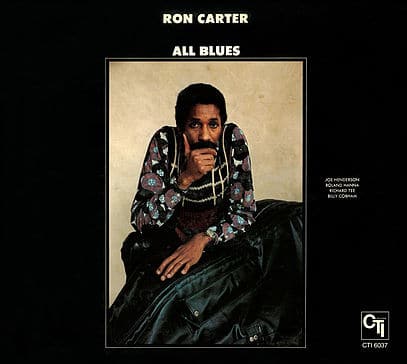 Title: All Blues
What can you say about bassist, Ron Carter? Well, ok, you can say a lot but, put it this way, where to start? To begin, he is a stylish man, in musical (and sartorial) terms. He has a Saville Row quality about his music. Indeed, Carter felt just as at home in a classical sphere as in jazz: he even performed many times with symphony orchestras (his first instrument was a cello, after all). He had successful times with Chico Hamilton, Randy Weston and Monk before going and then being poached from Art Farmer.
He left Farmer to join Miles Davis and it's this 60s period with Davis that elevated him to superstar bassist status and gave him the crown as the best accompanist the world had ever heard, taking a big role in Davis' open and free rhythm section. Since leaving in 1968, appearing on all of Davis' important works during this time, Carter has appeared on a huge amount of important recordings. He's even lead his own band and employed a second bassist to allow Carter to solo while the other guy keeps time.
This LP is one of those 'leader' LPs and one of his best. Initially released in 1972 via CTi, it includes tenor saxophonist Joe Henderson, pianist Roland Hanna (keyboardist Richard Tee sits in on one number), drummer Billy Cobham and Carter.
Imagine that you are walking to a sound proof room and it's deathly quiet on your side. Behind the door is Carter in full swing. You open the door and Carter and his band are already hitting the heights. That's what the start of the first track, A Feeling, is like. It begins in the middle, as it where.  This sense of urgency, that there too much to say and not enough time to say it in, is maintained throughout. Don't infer that this LP is madly frenetic, though, the tempo is often laid back and easy or studiously exacting in terms of solos and arrangements.
All Blues? Maybe not but this careful crafted and constructed LP provides a sense of freedom, air and space that, along with the top quality mastering and pressing offers new sonic discoveries with every listen.