The Article
Rockin' The Groove & Groovin' The Blues: When Groove Was More Than Just a Habit
23rd March 2016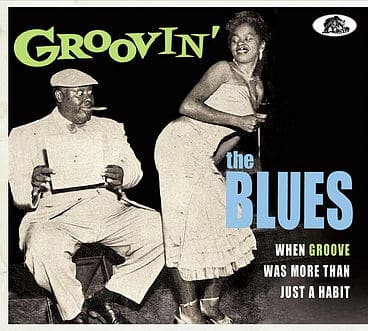 Rockin' The Groove
Title: When Groove Was More Than Just a Habit
Groovin' The Blues
Title: When Groove Was More Than Just a Habit
There's a picture that sits on the front of the the informative 59-page booklet affixed inside the single CD package that is Groovin' The Blues. It shows a black lady wearing a white crop top blouse and a long skirt sporting a long slit.
In one hand is beer, the other flows naturally across a wall fitting. One leg is lifted rather too highly, revelling a naked leg, that emerges from her skirt, and a foot is perched on a chair. Arguably, too much thigh is exposed. That one picture tells you everything about the music on this compilation which is exuberant, sassy, unrestrained, spirited and vivacious to a fault.
This is dirty blues. Raunchy blues. Nasty blues. Blues you really want to listen to, in other words.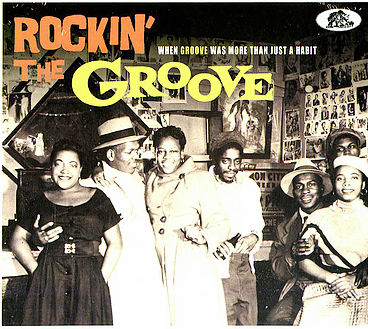 Full of spittle flooded saxophones, languorous harps, yearning vocalisations and emotions that will tear you apart, this CD packs in Groove-label grooves from the likes of Sonny Terry, Champion Jack Dupree, Clayton Love, Cousin Leroy, Oscar Black, Big Connie and more. Rating from 1953-1956 plus other rare track that make it on CD for the first time, you will probably need to redecorate your listening room after listening to this CD, such is the stripping power of the blues on it.
But that's not all, the companion CD that focuses on the R&B side of affairs is just as effective. Featuring artists such as The Avalons, Buddy Lucas, George Benson (oh yes), Roy Gaines, Emmet Hobson, Frank Bunson and the Du Droppers.
What I like about both of these releases is that Bear Family has forged a recent deal with RCA/Sony to handle the masters and has processed the lot with welcome sympathy. Each tracks varies its sound quality, understandably, but each shows obvious care and attention so that, even at high volumes, the music remains open and detailed without nasty, harsh frequencies. An exciting duet of discs.