The Article
R-N602 From Yamaha: On The Receiving End
19th October 2016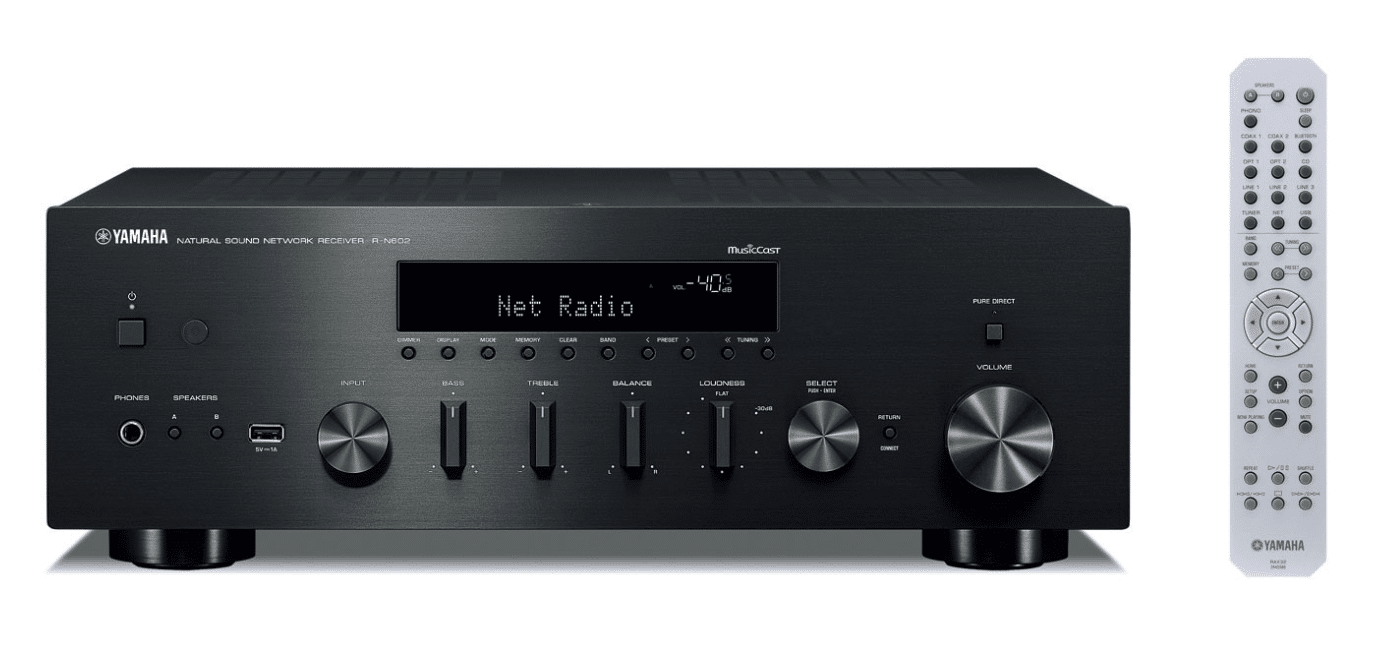 Sporting a retro amplifier design but packing in numerous digital and networking facilities, Paul Rigby reviews Yamaha's budget receiver, the R-N602
It's big, it's meaty, it's got buttons and switches and knobs and it's shiny (silver) or its so dark that light falls into it (black, what else?) and you could put caterpillar tracks underneath it and invade a small neighbouring country without a shot being fired because the populous would run away from it, hands in the air, screaming hysterically. This is Yamaha going back to its 70s roots. You don't look horizontally at the R-N602, you walk up to it, pause, then you lift your head slowly and see if you can make out the summit…somewhere in the clouds.
You also don't turn on a 115W R-N602 via the on/off button, you send it a letter of introduction and then wait for permission.
While doing so, you can note that the R-N602 is designed to be used as part of Yamaha's MusicCast network audio system that allows you to use all your MusicCast products together or separately, controlled from one app which, of course, also means popular streaming services (where applicable in supporting countries) such as vTuner internet radio, Pandora, Rhapsody, Spotify, SiriusXM, Napster and Juke.  On the networking subject, the 'Yammie' also supports AirPlay, DLNA plus Digital Blocking (an iPod's direct signal is sought feeding the Yamaha's own DAC). An ECO mode reduces power by 20%, you have access to Bluetooth, Wi-Fi plus a Pure Direct button to bypass the majority of the amp's electronics to enhance sound quality.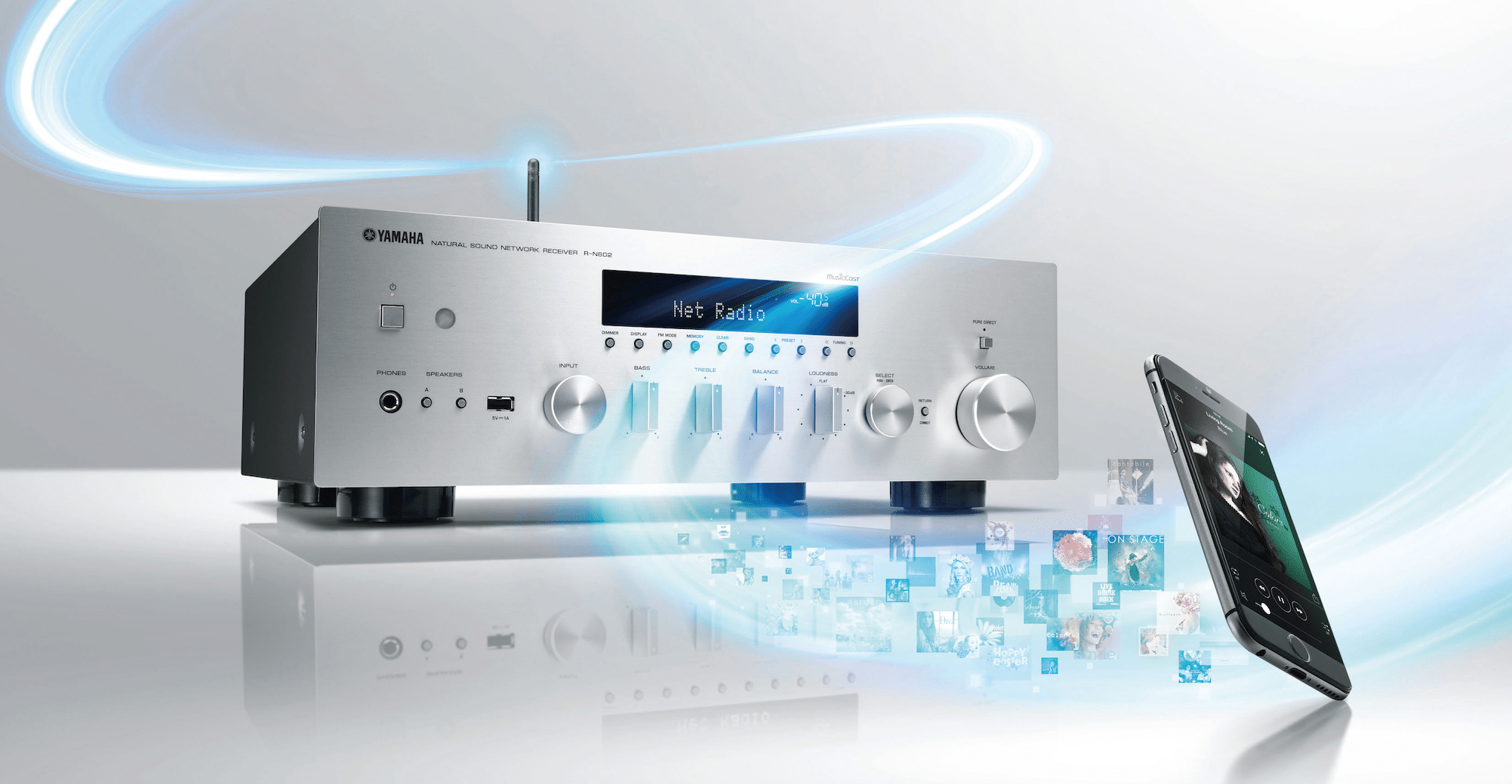 In terms of files support, the Yamaha supports 5.6MHz DSD and AIFF 24bit/192kHz, WAV/FLAC 24bit/192kHz plus the usual suspects via a Burr Brown DAC. There's also a FM/AM tuner, speaker terminals for two systems and, oh yes, the ability to plug a turntable directly into the box because you get a phono amp, built-in. More about that later. Other sockets around the back, apart from plentiful source RCA-based connectors, include two opticals, two coaxial, a wireless port for a screw-in aerial plus the ability to connect Ethernet and a subwoofer.
IN USE
It's bulky, retro and clunky. In fact, the hefty and expansive Yamaha glories in its retro clunkiness. It comes at you, arms open with that certain 'look at me!' exclamation as it displays hulking great knobs that control those old classic controls: treble, bass, balance and, don't forget that old favourite, 'loudness', sitting next to more modern additions such as the USB source socket. Some might question the inclusion of such controls and I would agree that the treble/bass/balance/loudness quartet are worse than useless. That said, the Pure Direct removes any criticism because it allows the sound signal to skip right past them. Hence, their inclusion could be seen as 'a bit of fun'. In these design terms and for this price…sure. Why not? The target audience, many of which will be maturing beginners with hi-fi experience that relates to their parents old system, may even see the inclusion of such controls as a comforting familiarity.
SOUND QUALITY
I began by spinning Buffalo Springfield's For what It's Worth (1966) on the Leema Elements CD Player. Three things hit me immediately. Firstly, the bass was very strong and punchy. Yamaha likes its lower frequencies and the performance here maintains the house sound which means that this track offered excellent bass force and foundation. The song was driven throughout with a strong rhythmic drive that gave the track an enhanced sense of pace.

There was a lack of engagement, though. By that, I means that the soundstage did sound a little stark. It was almost as if the guys played in a studio that was, by day, an operating theatre. There was a slight lack of soul and musicality in the R-N602s presentation so that the drums never really connected with the guitars or the emotional vocals. Then I noticed that the Pure Direct button had not been engaged. Turning this feature on bypassed much of the amp to provide a more direct sonic pathway. This improved the sound quality immeasurably, giving the vocals a more, well, human quality with delicate textures from the vocal chords more in evident while the guitars offered greater grit and involvement. Despite the good news, though,  a certain analytical edge remained but the effect was greatly reduced in Pure Direct mode.
The sense of clarity from the upper midrange and treble enhanced the tonality of the music while there was tremendous instrumental separation around the soundstage so the band sounded relaxed and at ease with their playing. There was never any sense of tension. The air and space exhibited also gave the frequencies time to decay properly which enhanced the performance of these organic instruments, increasing detail.
These days, I only tend to handle MP3 files with rubber gloves and a pair of forceps but playing Kylie Minogue's All the Lovers from her Abbey Road Sessions album in this execrable sound format sounded half decent via my Apple iPhone 6S over Bluetooth. There was plenty of room to be had while midrange and bass existed in an admirably balanced manner. Strings were thin and nasty, yes while Minogue's vocals made her sound like she had a pinched face (I imagined her as the green-faced witch in the film, The Wizard of Oz, MP3s made Kylie sound just like that) but, even given the lack of musical data, the Yamaha performed tremendously to give you the best performance it could. As if the amp was exclaiming, "Look, guv, I haven't got much to work with here…but this is the best I could do." I've heard a lot worse, even via equipment price higher than this receiver.
Using a USB stick, I played the DSD version of the Allegro for Bach's Concerto for Harpsichord, Flute and Violin via the front loading USB port and was pleased to hear the relatively spacious digital performance of the R-N602 continue here. Strings and the wind section did sound a little thin and slightly forced, though, even at this high resolution. The performance basically allied itself to the earlier CD tests, in this respect. That said, there was much to admire with the informative nature of the track giving this textured and detail arrangement time to manoeuvre while allowing complex instruments such as the harpsichord a chance to express itself.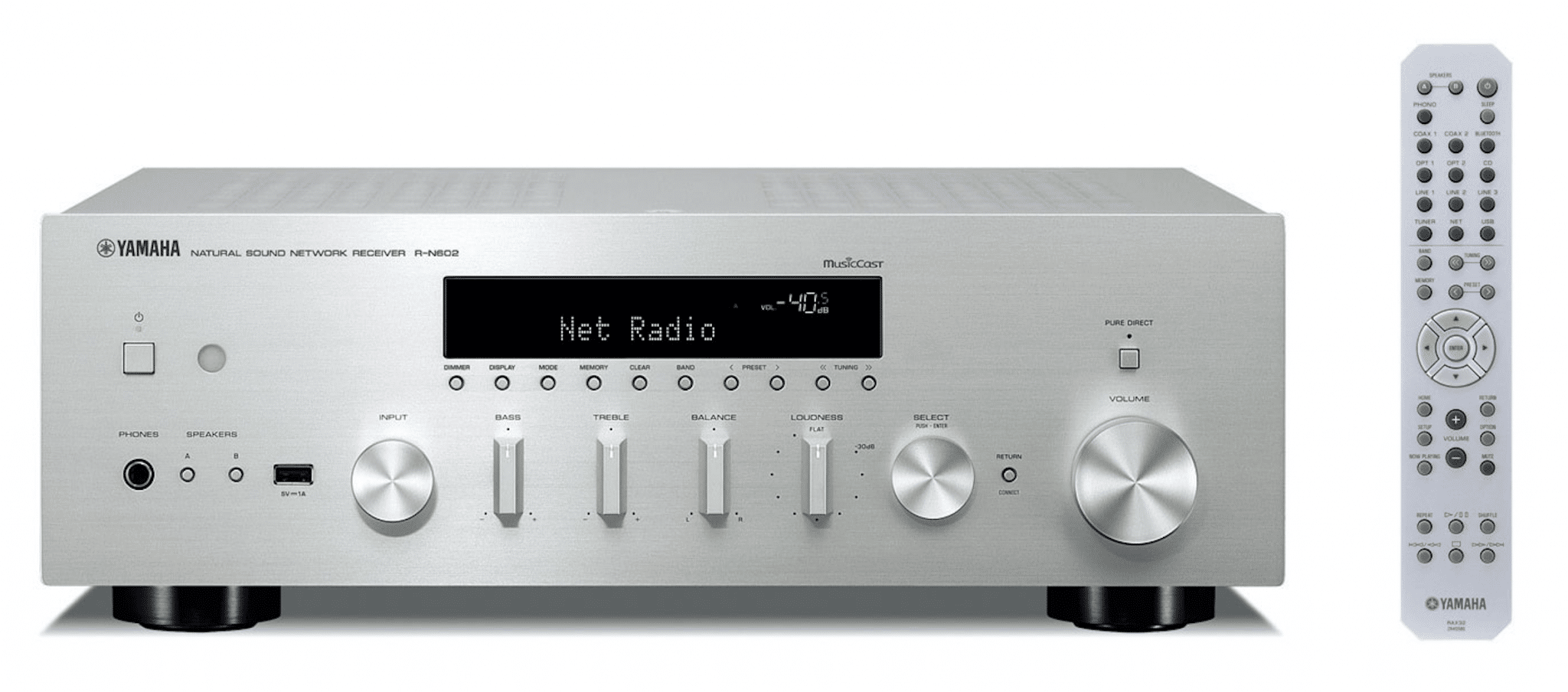 Up until now, we had a reasonable digital power house that looked great on paper but offered no more than a 'credible' performance in reality.
Then something wonderful happened.
I wanted to test the internal phono amp of the Yamaha. At this price, it is more likely that users will be utilising the internal module and not spending out for an external phono amplifier. Pushing an analogue signal through this unit was fascinating because the results were surprisingly good. The slightly sparse nature of the presentation combined with the epic quality of the phono amp and the warmth of the basic vinyl signal to provide a big, bold, open and grand musical return. Trumpets sounded clear and brassy without a hint of stridency or brightness, saxophones were reedy and emotive, vocals offered a precision and enhanced diction and bass was firm, fast and informative. This heady mixture was quite a sonic revelation for the price!
CONCLUSION
The Yamaha R-N602 offers plenty of value for the money and a wide array of features with an appealing retro design. Despite the slightly constricted digital response in CD and general digital file terms, I was blown away by the analogue play and can whole heartily recommend this amplifier if you are looking for an amplifier to act as the heart to your vinyl hi-fi system.
In fact, I would go further than that and advise you not to look at this box as a multimedia receiver at all. Me? I would not buy it for its digital features. I would turn the feature list on its head. I would see this product as the amp section of a new vinyl system with plenty of  bonus digital features added on because even if you saw the Yamaha as nothing else but a vinyl-based amplifier, it would still be good value. Anyone looking to set up a budget vinyl system really needs to place this box on their demo list and pronto.
---
YAMAHA R-N602 RECEIVER
Price: £339
Web: uk.yamaha.com/en
Tel: 01908 366700
For more specifications, click HERE
---
GOOD: Pure Direct mode engaged, open and natural phono output, feature count, Bluetooth, price
BAD: Pure Direct Mode disengaged, digital playback
RATING: 7
---
REFERENCE SYSTEM
Rega RP3 turntable
Leema Elements CD Player
Rega Brio-R amplifier
Spender S3/5R2 speakers
Chord Shawline cables