The Article
NAD's latest full width 'classic': the C368
13th February 2017
An original design from the company, Paul Rigby reviews the NAD C368 Hybrid Digital DAC/Amplifier
We've been used to NAD releasing hardware with a contemporary design that screames 'design studios' and 'modern' and 'lifestyle' but the C368 is rather old school in its approach. Rather bland, it has to be said. Not a great deal of the build budget has been invested here. On the other hand, maybe that investment has been pumped into pure sound quality: if so, that's fine by me.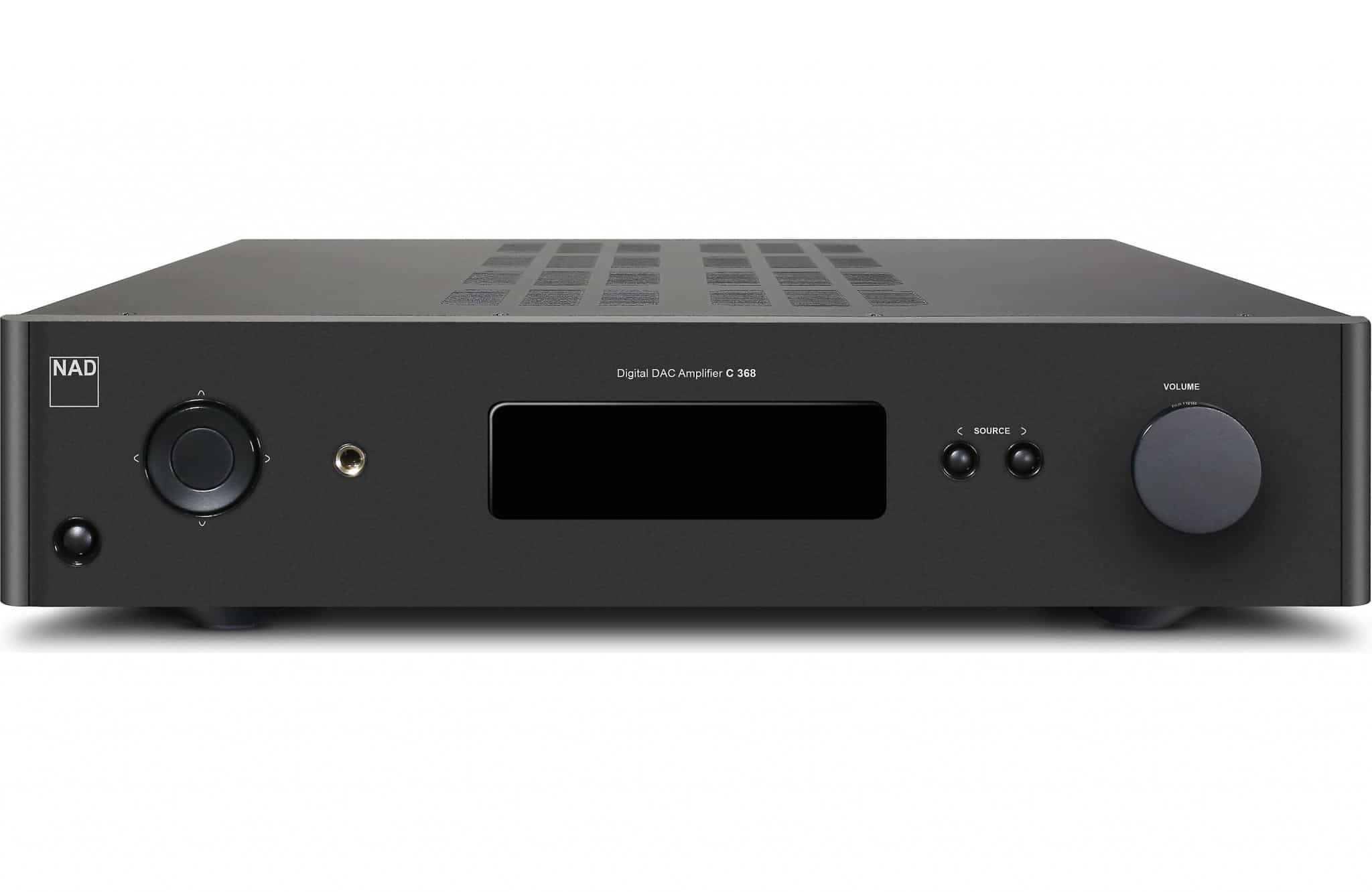 The guts of the thing sees a customised version of the Hypex UcD output stage which has the amplifier pumping out a healthy 80W while surrounding that with a host of options to serve any hi-fi system.

An 8-channel DAC is also included here which runs in Dual Differential mode to enhance resolution. You'll find aptX Bluetooth available via a screw-on aerial so that you can send music to a pair of wireless headphones but you can also stream data to it via a smartphone or tablet. The rear is packed with ports including two line-ins and a pair of MM Phono ports for a turntable.

Of great interest are the two covered slots that allow upgrade modules to be inserted such as the module that increases the amount of digital audio inputs (USB-B, HDMI with 4K passthrough) or BlueOS (the music management software developed by NAD's sister brand, Bluesound) that allows you to add hi-res, multi-room network facilities for streaming data. BluOS does not rely on middleware like UPnP/DLNA/AirPlay but instead creates direct shares with music in all formats including FLAC, ALAC and WAV with data rates up to 24bit/192kHz.
A pre-amp allows bi-amping and a pair of speaker outputs further packed a busy back end.
On the front is a full-size headphone output, rose-compass menu controller, information window, source button and volume knob. A remote is included which is…functional. In use and spanning 407 x 435 x 71mm and weighing in at 7.8kg, the C368 is strong sturdy and reliable.
SOUND QUALITY
I began with the yearning Stevie Wonder song, the impassioned Love's in Need of Love Today from the superb double album, Songs in the Key of Life. Backed by a gospel choir with plenty of subtle secondary percussion and effects, it contains a host of organic nuances.
The immediate flavour of the sound from the NAD offers a certain midrange sweetness that gave the Wonder song a natural, easy going flow that was warmed by the gospel choir backing.
There is no implied criticism in this tonal direction. At least not with this song. Detail was still present in the bottom end. Bass guitar was easily tracked. In fact, lower frequency output was solid and strong with the drums providing a solid foundation to the track. There was no hint of 'softness' to create a wayward direction for the music. Secondary percussion was not exactly focused or precise but clarity was there and detail was present. Enough to give the song a full and exuberant presentation that filled the soundstage with many welcome sonic element. Hence, while the crisp element of an initial cymbal strike was rather softened, there was plenty of air and space after the strike that spoke well of treble fragility.
I then moved to CD and jazz I played the new CD from Mats Eilersten. Rubicon is a jazz piece from the ECM label that is slow, meticulous, detailed and oozes with slow intensity.
Despite a softening in the upper mids and a lack of transient precision during percussive parts of the track, there was plenty to admire here in terms of the open nature of the music. Piano was informative, slightly warming which helped to mask any slight tendency to smear in the upper mids but the keys remained revealing and emotive. That emotion was a major aspect of the presentation of this jazz piece. The NAD plugged directly into the sentiment. This is a thoughtful and introverted jazz piece and the NAD conveyed the suppressed passion very well. In some ways, the toned down precision prevented any chance of the NAD becoming overly clinical. It allowed the music to express itself.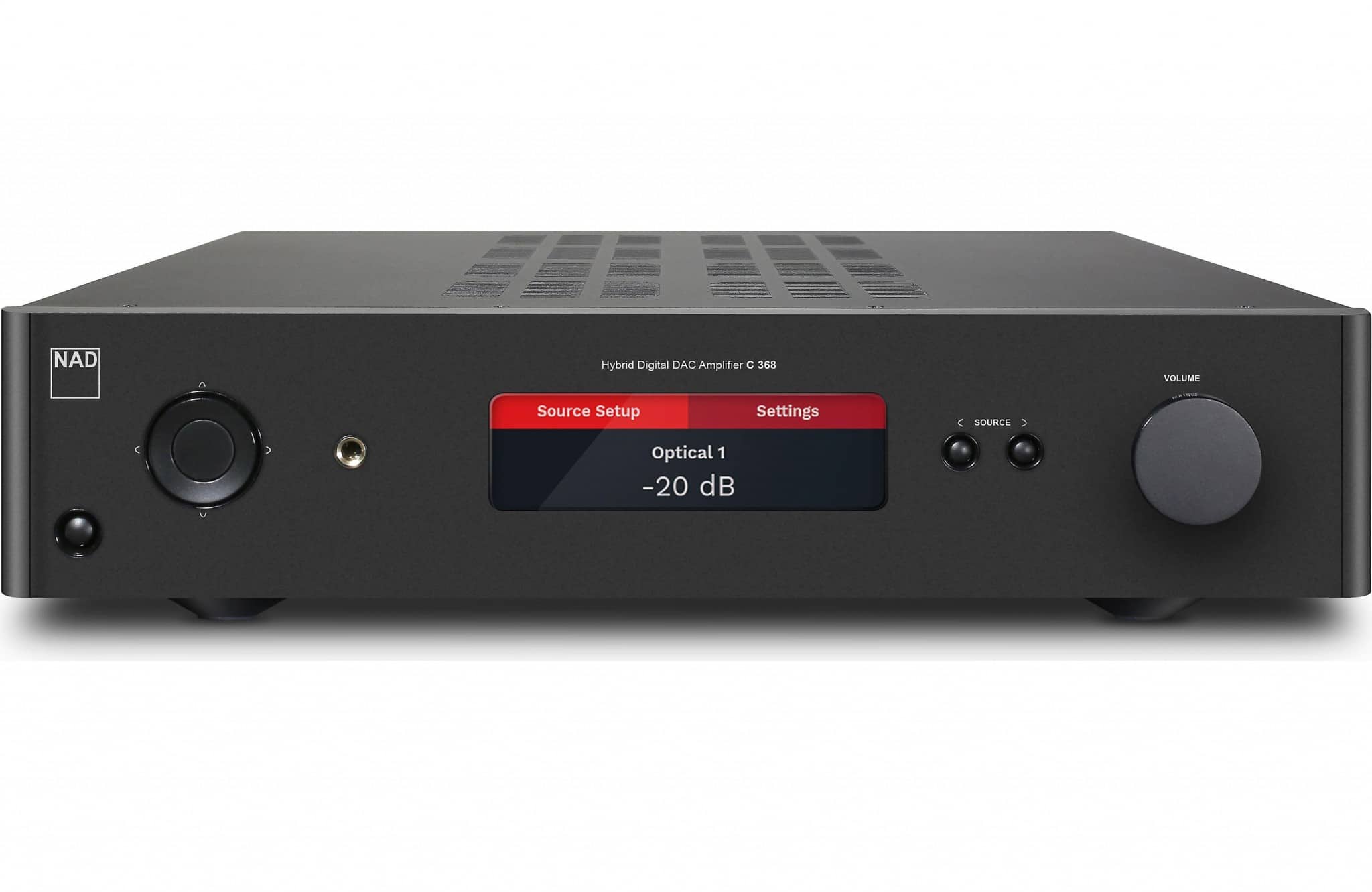 Plugging my Leema CD player into the NAD's DAC via a coaxial cable, the same music's gain had to be reduced as the volume shot up. Brass was svelte and precise now with a slightly more clinical piano output. The warming nature of the NAD had given way to a slightly forward sound from the NAD that improved the piano's transient response but also sounded a touch more uncontrolled during crescendos. Bass was appreciably tightened and punchy in presentation while the weight of the bass line had increased heft.
Turning to Bluetooth, I streamed a copy of Marvin Gaye's Mercy Mercy Me from my iPhone 6S to the NAD. Pairing was simply a matter of selecting Bluetooth on my phone and the NAD. The NAD appeared quickly on the phone's pairing list and the connection was very quick. This MP3 certainly benefitted from the NAD's slightly warming, sweet nature. It removed the hard edge off the MP3 and added an approachable presentation to the normally skeletal and clinical file. It didn't add anything to the sonic qualities of the file but it certainly allowed it to be a far more listenable experience than was normal.
I then turned to my Astell & Kern AK 120 and plugged that into the optical port and played Bob Marley's I Shot the Sheriff at 24bit/96kHz. Again, the bass was strong and meaty while mids and treble were detailed and atmospheric and provided the music with a good basis, if a little warm in its presentation. Of course, with vintage reggae of this ilk, such a tone was not only acceptable but actually enhanced the 'time and a place' effect.
CONCLUSION
Offering a wealth of features that should satisfy even the most demanding of hi-fi fans with a useful modular approach to expandability, the NAD C368 provides an open and detailed sonic presentation.
---
NAD C368 Hybrid Digital DAC/Amplifier
Price: £799
Web: nadelectronics.com
---
RATING: 7
GOOD: detail, characterful bass, features, expandability
BAD: warm amplifier mids, clinical DAC, prosaic design
---
REFERENCE SYSTEM USED
Origin Live Sovereign turntable
Origin Live Enterprise 12" arm
Transfiguration Proteus cartridge
Leema Essentials CD player
Astell & Kern AK120
Icon Audio PS3 phonostage
Aesthetix Calypso pre-amp
Quad ESL-57 speakers with One Thing upgrade
Vertex AQ, Black Rhodium & Tellurium Q cabling
Harmonic Resolution Systems Noise Reduction Components
All vinyl was cleaned using an Audio Desk's Ultrasonic Pro Vinyl Cleaner