The Article
The Police's Ghost in the Machine: their fourth album
27th April 2016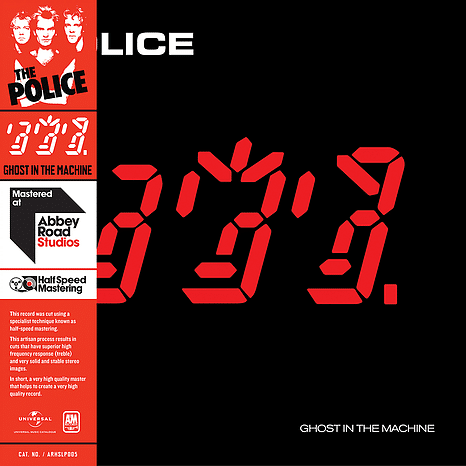 Title: Ghost in the Machine
Label: A&M
The band's fourth album, released in 1981. The LP reduced the group's trademark reggae rock and increased more pop-infused syncopations with added jazz flavours, often heard from the gamut of saxophones, throughout. The LP produced hits such as Spirits in the Material World and Every Little Thing She Does is Magic, which topped the UK singles chart and nearly did the same in the USA, hitting No 3.
This new edition is notable because it has been painstakingly half-speed mastered at Abbey Road by master, mastering engineer, Miles Showell, one of the best mastering engineers in the world, certainly the most innovative.
Does it improve on the original cut and, if so, how? I did the A-B test, comparing it directly with the original pressing.
Firstly, the new half-speed release sounds as if the band is no longer performing in a closet. The original cut has every vocal and instrument crammed together which sounds horribly claustrophobic. The new pressing provides a whole heap of space which spreads the contents of the song far to the left and right of the soundstage, giving the entire track a far more relaxed and 'at ease' view. From this point, detail has been increased throughout. This means that the vocal, instead of being a constricted and rather compressed entity, is now, quite clearly a group of voices all singing together.
Behind the vocal, the percussion is allowed to stick its elbows out and spread right across the soundstage, giving a solid bass rhythm which grounds the track. The drums themselves are far more characterful while the treble-infused cymbals offer a deal more fragility and nuance when struck.
Bass guitar, meanwhile is not just a notation but sounds like a real instrument with its own disposition. Most of all is the backing brass which was nothing more than a tinny squeak on the original cut but is now allowed to express itself to provide a more metallic tone to its delivery.
This album, utilising the half speed mastering process, is completely reborn as a piece of entertainment and a work of creative art. Any Police fan who cares about the band's music and work needs to buy it.