The Article
Phronesis' Parallax takes the new jazz outfit onto a higher stage
21st May 2016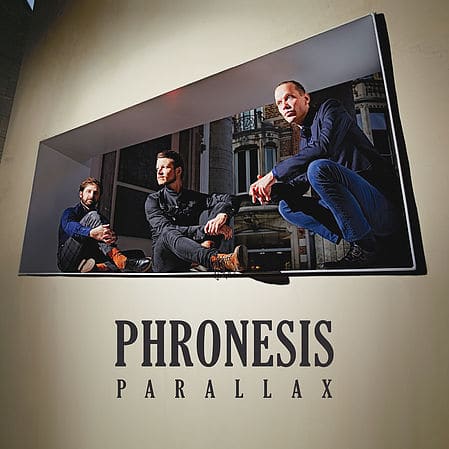 Title: Parallax
Bassist Jasper Hoiby, pianist Ivo Neame and the drummer Anton Eger belong to a thriving British progressive jazz scene that, it has to be said, is more Scandinavian than British with leader Hoiby originally from Denmark and Eger from Sweden.
Nevertheless, the trio are firmly entrenched into the Loop Collective (http://www.loopcollective.org), a consortium of composer-improvisers formed in 2005 that features the likes of Blink, Splice, Strobes, Brass Mask and more while taking lots and lots of influence from the likes of E.S.T.
This piano trio has, like others around it, found a new sense of freedom and purpose as the new millennium has evolved. They have begun to mature as, indeed, has European jazz as a whole. The entire European has worked up an enviable reputation for excellence with its fusion of classical elements that adds a sense of grandeur and harmonic structure that must put a smile on the face of Keith Jarrett.
This album was recorded in a single day at Abbey Road studios and I can well believe it because the music sounds very 'together'. It flows and melds well while there is a spontaneity and efficiency that backs up this quick recording turnaround.
This is a band that blend well as a jazz unit with the scampering and agile manoeuvrings of Eger on drums who is not afraid to stand tall and allow the spotlight to shine upon his often delicate and subtle taps and tings.
The piano work from Neame is one of the main reason for the flow of the music. His sense of rhythm is the rock to the songs here. The other two instrumentalists tend to orbit around him, adding flavours and body to his sonic speech. And it is just that, a jazz narrative, that acts like the vocalist.
I have seen some critics target Hoiby. Saying that he is too intrusive, that he dominates, that he sends the group out of kilter and somehow blaming his song-siting abilities for this (in fact, each band member has two penned tracks each on this LP). Look, if you see the same sort of drivel on the Internet then I urge you to treat it with disdain because such views are to miss the point of the trio which, for me, is a work of three powerful and talented musicians spewing forth their art. There is no room for star soloists here. This is a light, bright, sparkling work of jazz that will lift the day of anyone who is lucky enough to hear it.