The Article
Nurse With Wound's Soliloquy For Lilith as a luxury box set
21st April 2016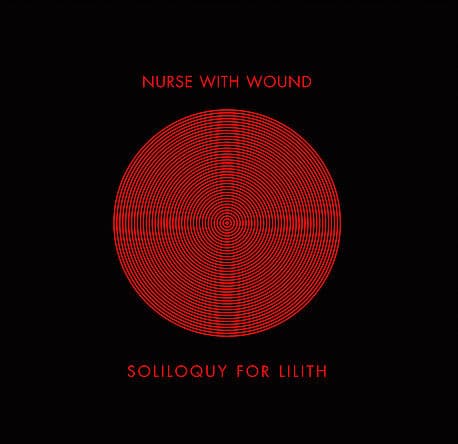 Title:  Soliloquy For Lilith
Label: Dirter Promotions
This collection of ambient sounds was originally released as a 3LP set in 1988 but this new release adds a fourth disc with an additional 40 minutes of music, direct from the original sessions, for the first time on vinyl. The four LPs are packed in soft-lined inner sleeves and outer sleeves featuring eye-twisting patterns. All four sleeves are then fixed in a rigid, gloss laminated box sleeve. This edition also includes a gloss laminated sleeve, complete with original art.
The music itself, according to Dirter, includes music "designed for ritual ceremonies" and I can well believe that. Each album is labelled simply as I, II, II & IV. To be contrary, I played the discs out of sync and picked on III as a starter to be confronted by a slowly modulating drone that reminded me, partly, of a dream sequence from a 60s film along with harder, more metallic, slightly industrial, higher pitched sounds that grated against any possibility of relaxation. This piece of music is not designed to encourage meditation but to challenge. It meets your brain half way and demands that you push back.
Before I progress, a quick word from an audiophile angle and praise to Dennis Blackham (of Skye Mastering), the mastering engineer of this project. I have a lot of respect for Blackham and he has come up trumps here, allowing the music to emerge from an inky blackness while offering no discernible compression: essential for this particular work.
Turning to IV and, to be honest, I was reminded of the end credits of Gerry Anderson's cult TV programme, UFO, the increasing, otherworldly, alien-esque drone of that permeates that sequence is here too, although NWW adds finer details and pauses before it increases in volume to continue its journey. And it is a journey, IV is all about progression and movement.
Continuing my random choice of discs, I played I and found it rather sheepish and shy, to begin with. Almost like a bear emerging from hibernation to encounter the sunshine and to smell the air and to display its strength the potential of danger behind it. This is an ambience of the possible, the developing while maintaining a latent hum and a gathering of strength.
Completing my out of sequence listening experience, II increases that sense of awakening, the opening of the eyes, the increasing blood flow, the flexing of the sonic muscles. There is a harshness to this music now, an edge that is unpleasant behind the comforting drone. Metallic crescendos that cry out.
What NWW offer is here is not so much an album of music but a sonic work of art. It's a piece that requires listening and doesn't actually end with IV. This is a cyclical work that rotates. That is, you can easily listen to this work as I have done and continue to cycle through each disc ad infinitum without feeling that an end has arrived. This is all about the journey.
Ambient music in the raw. Skinless ambience. Industrial ambience. Call it what you will but place it on your Hi-Fi to create an instant 'Happening'.