The Article
The Modern Jazz Quartet's Lonely Woman and the link to Ornette Coleman
25th June 2016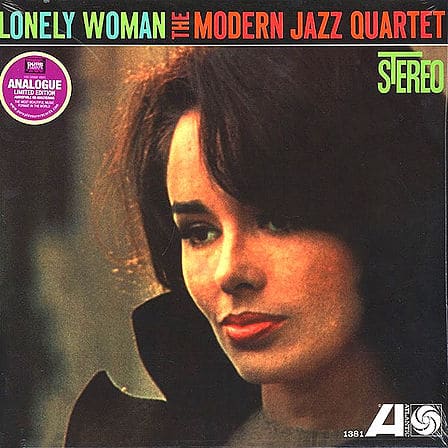 Title: Lonely Woman
Label: Pure Pleasure
Oh, Pure Pleasure has picked a doozy here. More than that, if you are a fan of classical works and have sometimes wondered about jazz but have never dived into its rich harmonic depths then this LP might just be for you because the first track is a sumptuous blend of both genres and for exciting reasons. Firstly, the title track offers a chamber orchestra take on this jazz track, formalising the jazz structures. Not only does the MJQ offer the music sober and serious respect, they decide to choose one of the very earliest Ornette Coleman covers to do it with. Coleman was one of the last of the great individuals of jazz and was supported in his exploratory works by MJQ's own John Lewis. The innovating of the man's playing may not be wholly recognisable here, on this track, but it does reveal that Coleman was on the money in terms of his compositional talents. In many respects, it took Lewis to reveal to the world this important side of Coleman.
Released in 1962 on the Atlantic label, this album also features Milt Jackson, Percy Heath and Connie Kaye and, after the title track and apart from Why Are You Blue, the first track on the B side, tackles a host of Lewis originals such as the light, energetic, low key yet rhythmic Animal Dance that offers a welcome relaxation to the strict adherence of the title track. You can hear Jackson's influence on many of these originals: the man refuses not to swing, if you catch my drift.
In terms of mastering, Pure Pleasure offer a beautifully quiet pressing with a a low volume master that yearns for you to up the gain on your amplifier to grab as much detail as you can. Easy of the ears and easy on the heart, this LP sweeps over you and gently pins you to your chair.