The Article
Million Dollar Quartet: the session plus alternative takes
28th March 2017
Title: The Complete Session In Its Original Sequence
Label: Waxtime
A million dollars? These days, for that amount of money, it is possibly to get yourself a ham sandwich and a frothy cappuccino at a local coffee shop. Back in the Sun Studio on 4 December 1956, it meant much more. In fact, even more than the value, it was the grouping of four legendary singers, performing and recording in a small space that really hit the headlines and caught the imagination.
The actual session belonged to Carl Perkins and Jerry Lee Lewis had decided to sit in to tinker the ivories. Then Elvis Presley and Johnny Cash just stopped by to see what was happening. Well, ever alert to a possibly fruitful photo opportunity, label-owner Sam Phillips called in a local news photographer who happily snapped away.
It was in the following day's Memphis Press-Scimitar that the headline talked about The Million Dollar Quartet.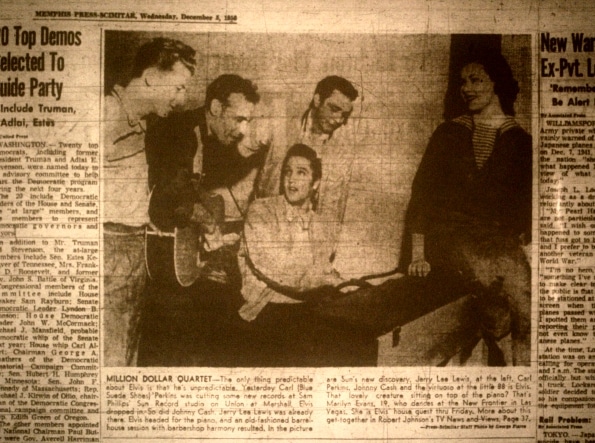 But back in the studio, the photo opportunity actually transformed itself into a jam session. The news reporter left but the four musicians did not. It was quite a session too, 40 songs worth in fact and a fair span of genres were tackled too from gospel to country and lots in between. The impromptu feel of the occasion adds sparkle while the naturalistic performances are lively and full of vigour, even though the entire session sounds very bootleg-like in terms of the structure and discipline.
Back in 1981, the Charly record label attempted to produce an authoritative CD set on the occasion, leap-frogging the bootlegs circulating around the music fanbase, by issuing a 17-track collection from the surviving tapes. That was before further tape discoveries were made, though. Now, the whole jam session, recorded by Jack Clement on that Tuesday afternoon, has been sourced.
Within this double album gatefold, you actually get 47 tracks because some of the songs include alternative takes, which just makes this vinyl collection, from a collectable standpoint, even more essential.
Mastering reveals a touch of compression in the upper midrange frequencies and a slightly unbalanced soundstage which is noticeable on guitar crescendos but that sits within an admirably spacious soundstage that adds to the almost documentary-style sonic presentation.