The Article
Kim Fowley's International Heroes
4th October 2015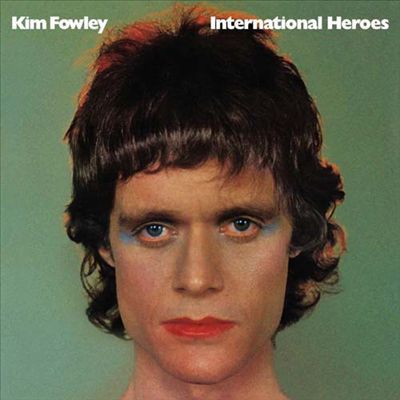 Title: International Heroes
A fascinating figure, Fowley was a true maverick, a cult figure and a talent that lay behind a wealth of the music that stemmed from the Los Angeles area of both the 60s and 70s. On any given day, you would find Fowley writing poetry, singing, writing songs for himself and for others, writing prose, producing music for others as well as managing groups and even keeping his hand in during a spell as a disc jockey. He appeared on Frank Zappa and the Mothers Of Invention's Freak Out, he wrote songs for The Byrds, Beach Boys, Soft Machine and Cat Stevens, he produced Gene Vincent, Warren Zevon, the Runaways and Helen Reddy and produced several of his own albums including this quality production from 1973.
Seen as the man's glam rock piece, the LP doesn't pigeon-hole itself into that genre because it also offers folk rock and Hunky Dory-like Bowie interludes.
His lyrics are wonders to behold as they infuse an outwardly sleazy subject with plenty of wit, even if that wit is pushed to extremes during the likes of the Dylan-esque World Wide Love along with broader subjects such as the statements about the media on Ugly Stories About Rock Stars and the War.
The essence of the LP is one of introspection – despite the rock'n'roll flavouring on tracks like Dancing All Night.
The album is highly proficient with a very tight and sharp studio backing outfit and highly imaginative arrangements. Not bad for a guy who also happens to be barking mad.
Also look out for another Fowley release on the same label, I'm Bad, which sees the barking mad turn into Howlin' Wolf, such is his fuzz-lead guitar-infested proto-punk. You're never too sure if the eccentric Fowley is serious or not on this one.