The Article
Killing Joke's Night Time: featuring the hit single, Love Like Blood
23rd March 2016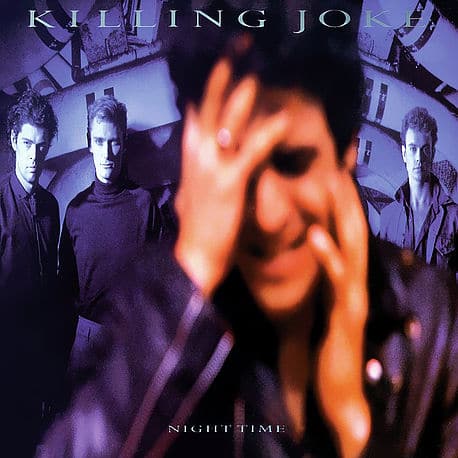 Title: Night Time
Label: Music on Vinyl
Combining pop, rock with a new wave/post punk ethic, Killing Joke had been rather quiet for the previous three years and then returned in 1985 with this LP, following a couple of exploratory EPs.
Paul Raven had suddenly appeared to fulfill bass duties from the departing Youth and the final band sound had evolved a touch. The aggression and forceful presence of earlier outings had remained but now there was an additional accessibility that made much of their music immediately attractive to the ear but possibly also spelled the beginning of the end of the group as a going concern as they gradually lost the edge that made them so essential. They would later fall into stultifying blandness for for this album, at least, that balnace of accessibility and edge rode a perfect knife point that gives the release a certain freshness that was welcoming and rather exciting in an anthemic way.
There's plenty of creativity and instrumental prowess on show here, from Geordie Walker's impressive solo guitar work on the title track and Paul Ferguson who offers imagination and variety in and around the electronic percussion and, let's not forget, lead singer Jaz Coleman's own efforts with keyboards…too often forgotten.
The sonic performance of the album can best be described using the hit single, Love Like Blood as a example. In general terms, this song has never sounded better and it was a pretty impressive release when I first heard it, back in '85. Coleman presents a sterling and impassioned vocal with a reaching performance that strains his emotions while Walker's guitar work is atmospheric, unforgettable and evocative. The crunching rhythm guitar is the heart and soul of this track which is given room to manoeuvre on this pressing, daring you not to dance along. Bass is weighty, grounding the track and giving it substance.
Arriving as a numbered edition on silver vinyl compete with an insert, this is a fun album that never lets you down.