The Article
John Martyn's Solid Air on half speed mastered vinyl from Abbey Road
23rd April 2016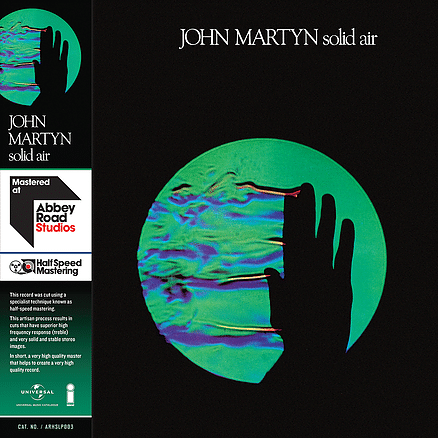 Title: Solid Air
The reason for the reissue of this classic album isn't so much the album itself but it has been chosen, as it where, to illustrate the half speed mastering process, a labour-intensive technique that literally requires you to master the record at half speed. I'm sure the world's leading exponent of this process, Miles Showell, must have been driven (half) mad at having to listen to drunken, drawling vocals all day but the result is not only brilliant, it has resulted in the best sounding version of this album by far. Not only that, this album is one of the better mastered albums of recent times (along with its other recently released half speed mastered issues that include releases from The Rolling Stones, The Police and Simple Minds).
Such is the dynamic breadth of this master and the sense of lucidity as well as the quiet pressing, you sometimes shock yourself if you've inadvertently upped the gain to maximise the detail. I found that, even upping my pre-amp's value up into the stratosphere, the music never actually sounded 'loud', such was the sense of space and clarity until, say, a guitar hit a crescendo and then I thought, 'Bloody hell, I'm going to splinter my windows here!"
On this album, Martyn's vocal delivery is clear, concise, focused and emotive while his acoustic guitar work is dynamic, alive and spontaneous as he proudly shows on the album's title track, a paen to his good friend, Nick Drake. His own percussive additions on the body of the guitar are sharp and nuanced while string plucks are rich in texture.
This 1973 release was a defining moment in British folk. This pressing is a defining moment in the Martyn cannon.