The Article
Joe Bonamassa's Blues of Desperation: blues rock at speed
16th April 2016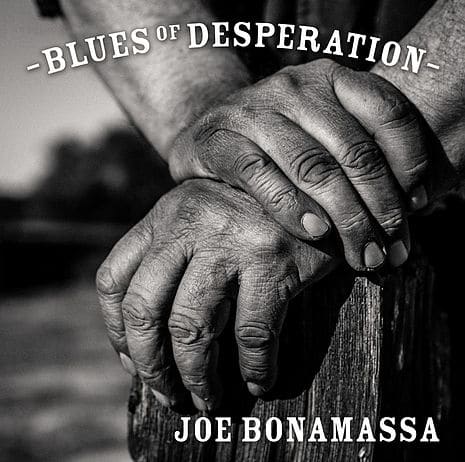 Title: Blues of Desperation
Is it just me or does Bonamassa's vocal style resemble that of The Who's Roger Daltrey? There is the same vocal compression resident during crescendos.
That this is a blues album is, apart from the title, evident from the sleeve art which shows a pair of ageing, hard-working hands, lines and etched by time and, who knows, troubles and hearthache. Subjects that are examined within this double album, resident in a gatefold sleeve.
This is a work that seems to carry on directly from the Bonamassa album, Different Shades of Blue. That's not just down to the pace and feel of the albums as a pair but because they also include the Nashville songwriters who helped to provide extra focus on his prior outing. There is no real space or time for too much light and shade on this release because the hard, energetic, rock songs ally themselves more to the blues rock of AC/DC than, for example, Mose Allison. On the rare occurrence that Bonamassa takes his foot off the pedal, you are rewarded with atmosphere and a rich, deep chocolate production that reminds me of Chris Rea at his best. A slinky, esoterica, erotica, sexy Americana of noir femme fetales and chrome bedecked cars the length of a football pitch.
This is what the track, Drive, is all about. Bonamassa gives himself time to examine the song, to contemplate his own feelings and his interpretation of the lyrics. But then we're back to the hammer blues rock of Distant Lonesome Train and the brain is quickly numbed.
There are eyebrow raining outings here including Livin' Easy which suggests that Bonamassa can put his guitar down and tackle a vocal adventure that is worthy of further investigation.
Finally, in audiophile terms, there is nothing wrong with the mastering but I fail to understand why labels put so much play on their mastering, pack it in 180gm of vinyl and then package it with raw paper inners. Attention to detail, people. Attention to detail.
This is a singer that is always worthy of investigation but expect to pan handle for the gold nuggets.