The Article
Inspiration CS 2.3 From AVM
3rd March 2023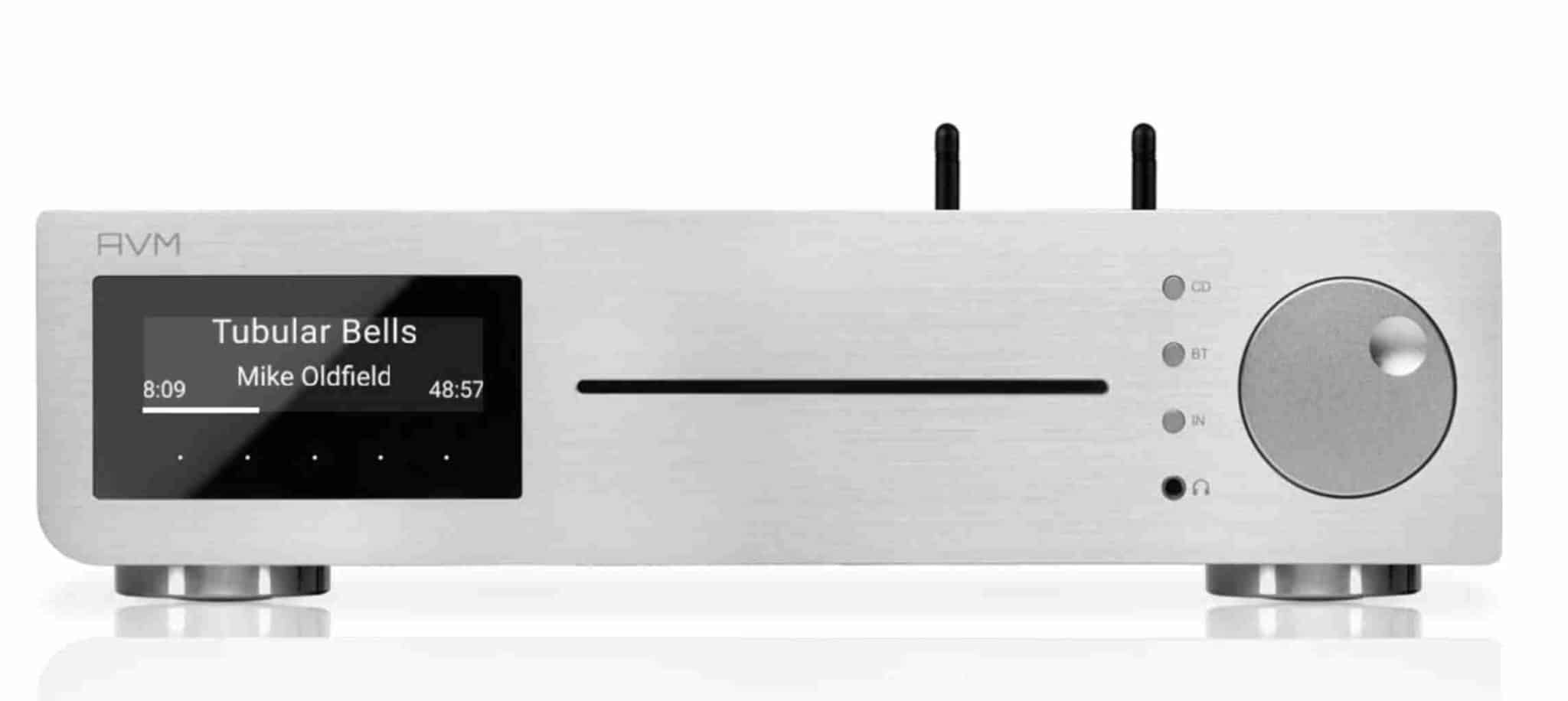 Described as a Compact Streaming CD Receiver, Paul Rigby gets to grips with the name and then the product itself
To misquote the Grateful Dead, this review was a very strange trip indeed. 
I've got a lot to say about this German release. So grab a drink and make yourself comfortable, we're in for the long haul.
The company was certainly correct when it describes the Inspiration as "compact". Spanning 340 x 92 x 325mm and weighing in at 7.1kg, the CS 2.3 offers a small footprint unit that's ideal for those tight on space.
The rest of the description needs to be picked apart though but we'll get to that.
Before we do that, let's look at this box in more detail. 
This small form factor unit, available in black, silver or chrome, includes a 140W Class D amplifier with the company's own streaming system built in, called X-Stream Engine, which sounds suitably dramatic and quite possibly a threat to the entire crew of the Starship Enterprise.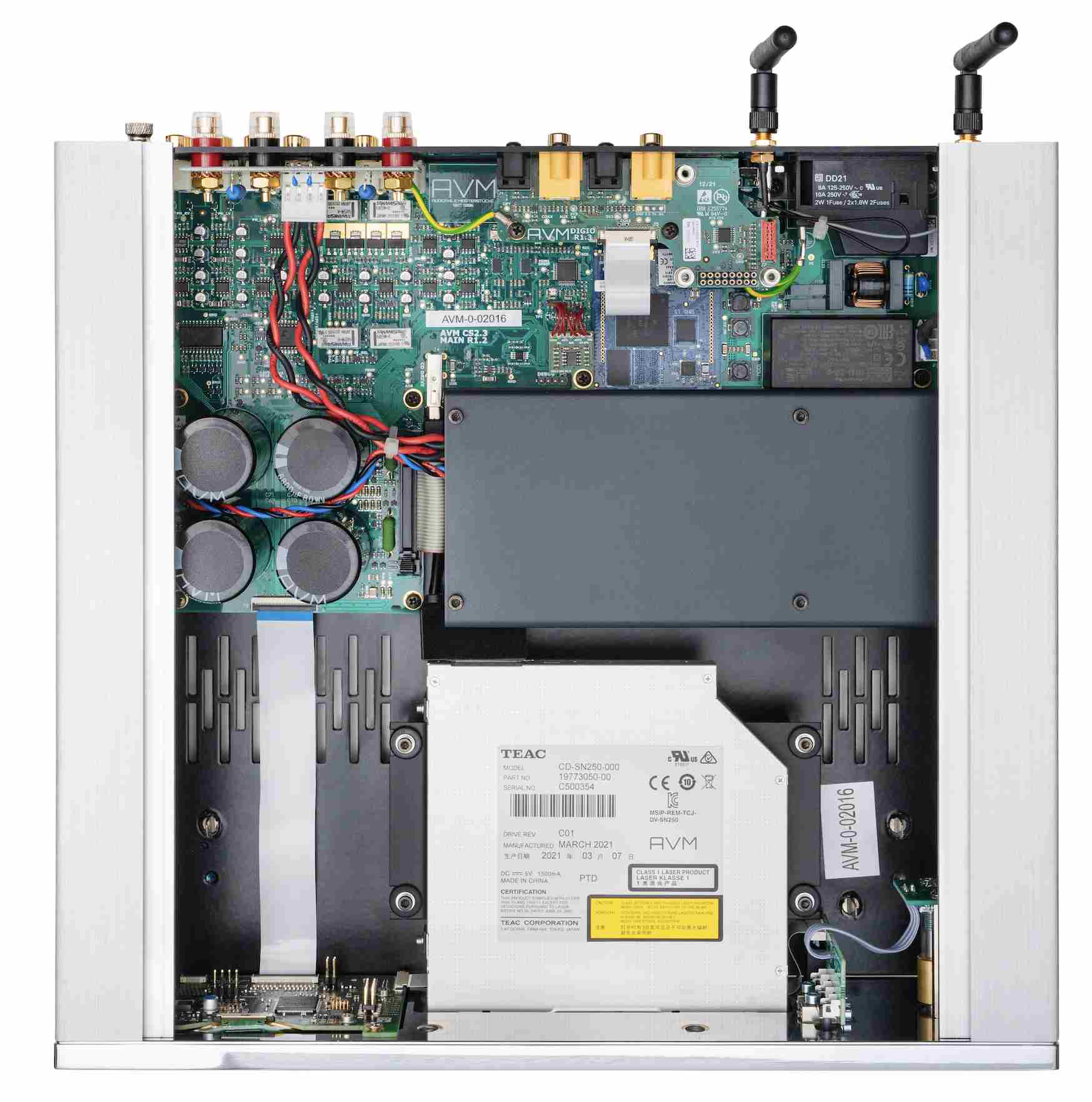 This so-called Engine is controlled by a free AVM app called RC X, which can be run by Android or iOS.
The upshot of this is that the Inspiration CS 2.3 supports Apple Airplay 2 plus the usual network services such as Spotify, Tidal, Qobuz and more with the aid of an  ESS 9038 Q2M internal DAC chip that supports up to 32bit/384Khz or DSD128.
You can use this unit with other AVM products to produce a multiroom system. There's a host of additional detailed options buried in the software of this box that I'll leave you to discover but does include an array of configuration choices such as being able to change the maximum volume on individual sources, global and individual tone controls and the like while AVM has restricted itself to just two user selectable filter settings for the ESS DAC (wonders will never cease). 
Remember my rage against those lazy companies who just love the default ESS filter names? Remember that classic one? Oh what was it now. Oh yes, how can I forget the romance that is: 'Apodizing fast roll-off filter'? It's like an old friend.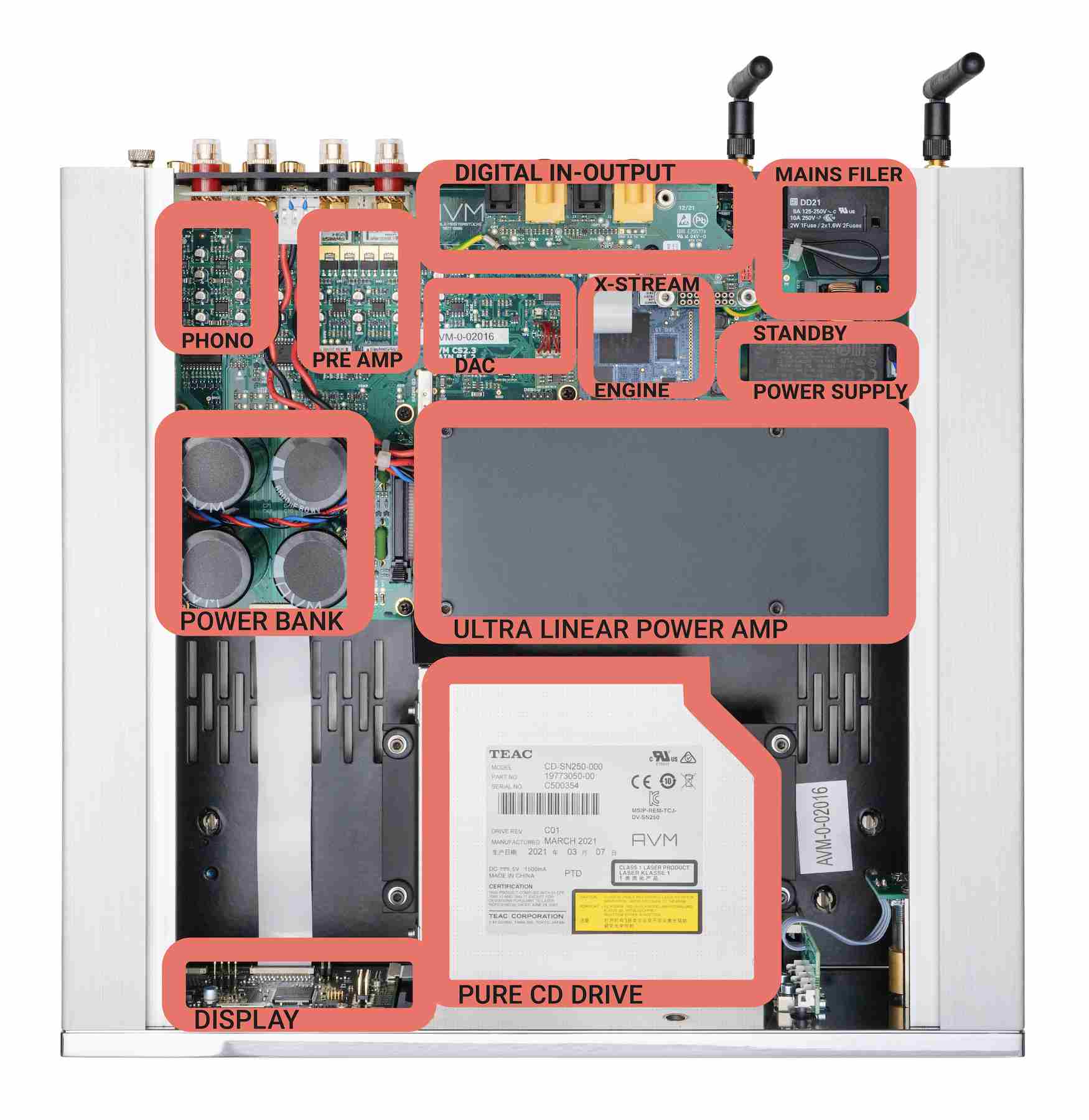 AVM brings some sense to the filter debate and offers you two filters instead of the normal seven I see for ESS filters and, wonders will never cease, has given them real-world names too. Listen to this, folks. They're called Steep and Smooth. Well, well, well. It's almost as if AVM actually know what they're talking about doesn't it? Maybe AVM should write a white paper about it, eh?
TECH TOUR
On the front of the CS 2.3 is a screen that is partially controlled via touch. That is, you touch selected, glowing white dots on the screen to alter a limited range of commands. I found the screen itself to offer a clear output but I felt that the touch interface was both limiting in its range of commands and only satisfactory is response terms during use. Overall, the touch interface appeared to be rather half hearted.
To the right of that is a slot-loading CD drive based on a Teac transport. I have asked the company why they didn't choose a tray-loader. It replied (and please remember this is a German company, so forgive the flow of the text here).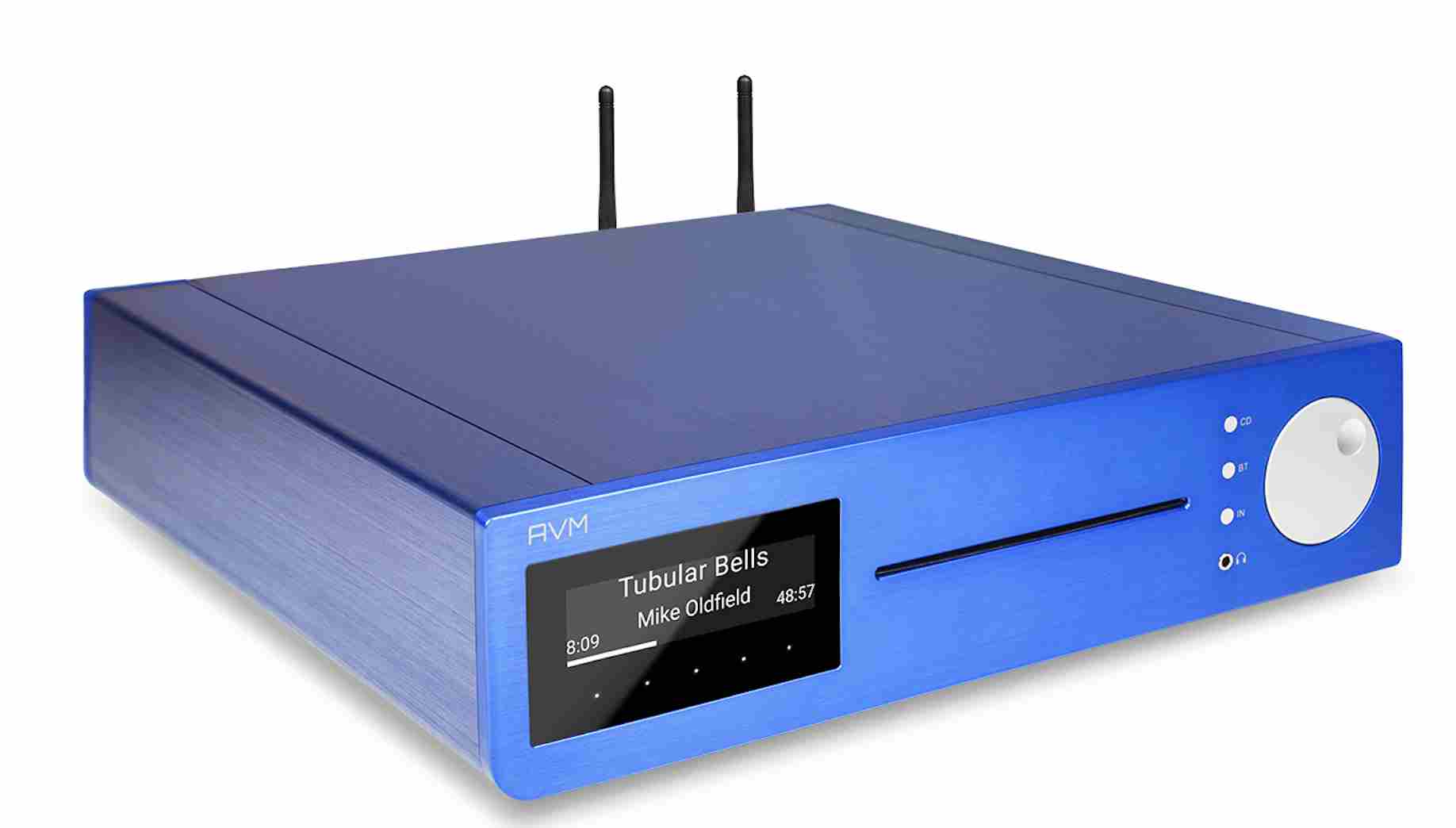 "AVM was one of the first high-end brands to use slot-in drives, we have made this popular since, over a decade.
"Little building room: the slotloader vs. the tray loader needs no space inside and the idling tray cannot flutter around once it has put down the CD onto the mechanism inside.
"Reliability: The TEAC drive and loader are very reliable due to the reduced number of moving parts, the tray cannot be broken off. The mechanism is largely [resistent to] footfall and reduced reading errors to a very large degree Overall: A lot of good reasons for the slot-in mechanism and it allows to execute our design principle."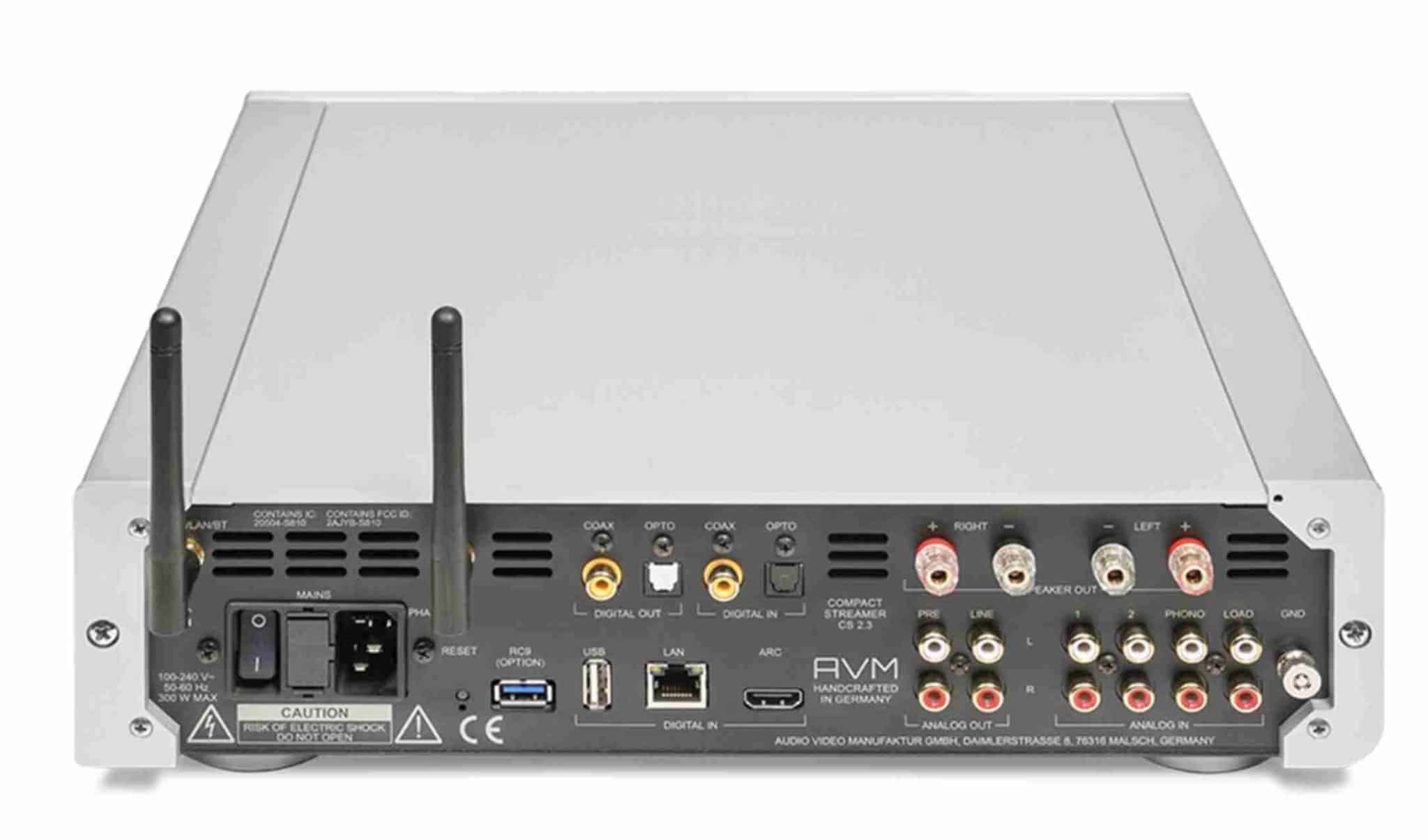 In use, I found that I had to offer a lot more of the actual disc into the actual slot before the drive took control. Much further than say, the 6000CDT from Audiolab. 
SOURCE BUTTONS
Moving further to the right, there's a jumble of source buttons. So you get a source button specifically for the CD player and one specifically for Bluetooth but other sources are then bizarrely dumped into the remaining single button and I'm not sure why. Did AVM run out of space for more source buttons? You press this final button to cycle through the rest of the sources.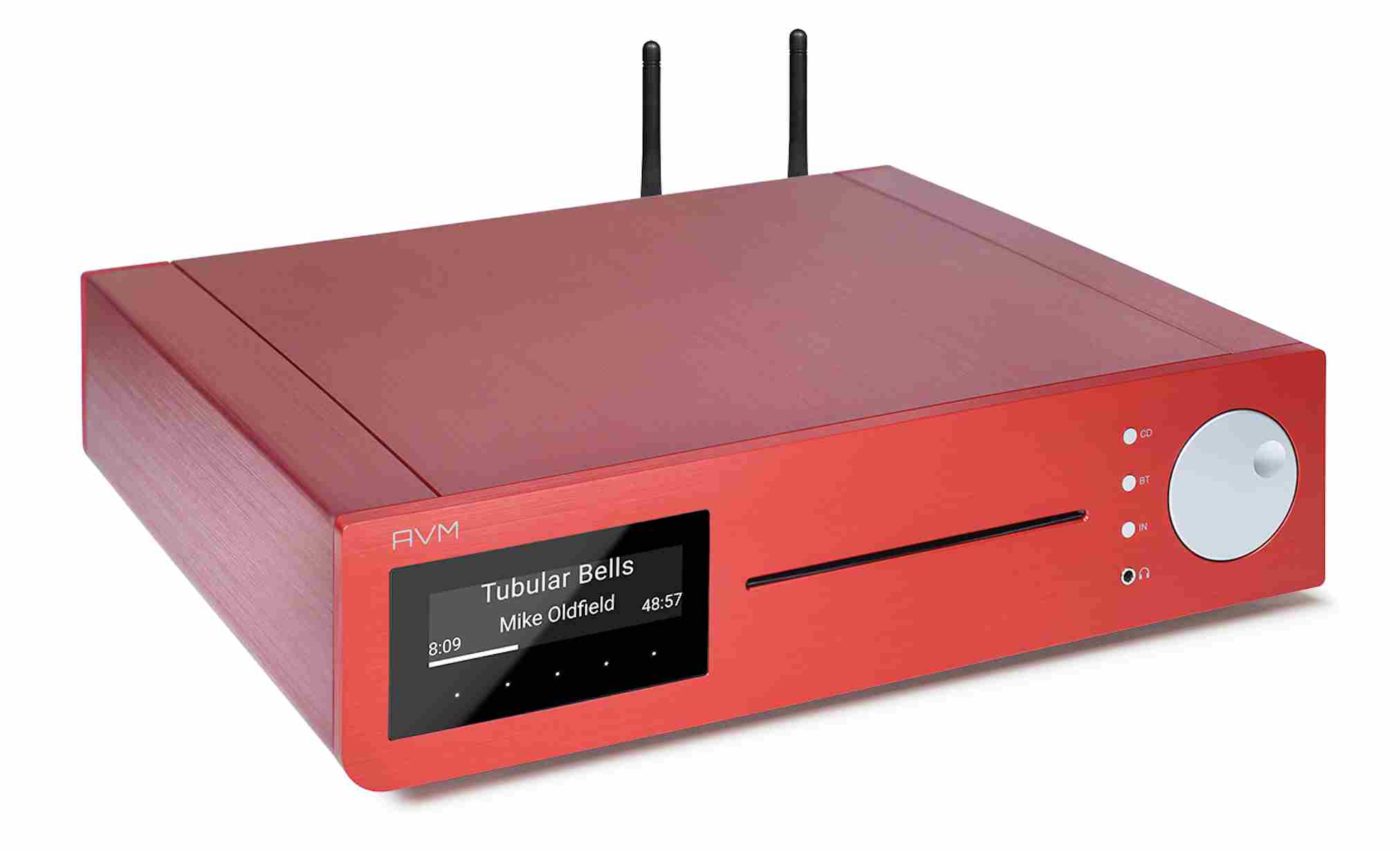 We complete our journey with a large rotary volume knob which is by far the best method of controlling volume on this system because here, the volume can be fine tuned more successfully. 
In short, I get the feeling that the designer of this AVM box started to work on the front fascia controls, became terribly bored and gave up half way through and probably ended up in the pub for the rest of the afternoon. These controls are eccentric, to say the least.
THE REMOTE
But hang on, you might say, doesn't the physical remote control come to the rescue? It should do, sure but one cruel oddity is that the AVM does not arrive with a physical remote. At least, not in the box. And such an accessory is needed because the front-mounted fascia is not sufficient to properly operate this unit – and I'll talk more about that in a moment. The app is the only comprehensive remote control here.
You can buy a physical remote for this unit but you have to purchase it separately and for a few hundred pounds, to boot.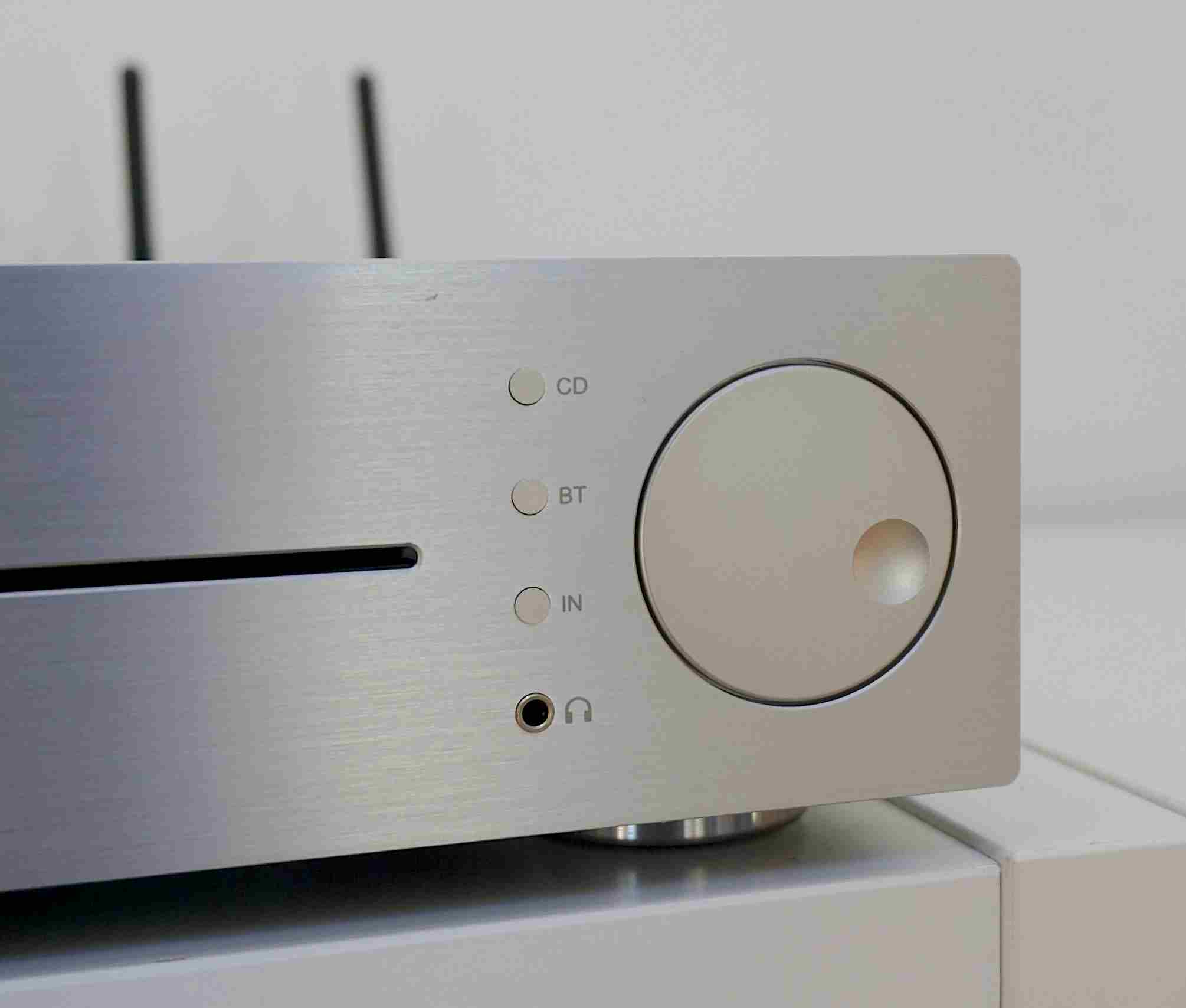 I have to ask, therefore. Why can't I have a basic remote as part of the included package? Even if it is not as swish or as fancy as the one AVM supply at extra cost? At least give me the choice. At least prevent me from having to pay twice for the privilege of getting the CS 2.3 up and running.
THE REAR
On the rear, you'll find a recessed rocker power switch (and I'm not sure why its recessed – that's an issue if you're feeling for it in the dark) and IEC power socket. 
Above those are a pair of Bluetooth aerials. To the right of the aerials are coax and optical outputs plus coax and optical inputs. 
Beneath is a USB port to hold a remote control dongle apparently but I never saw that, a USB music source socket, Ethernet and a HDMI ARC for a TV connection. To the upper right are rather slim and svelte speaker terminals. Underneath those are Pre out and Line out sockets. Then a couple of pairs of Line inputs.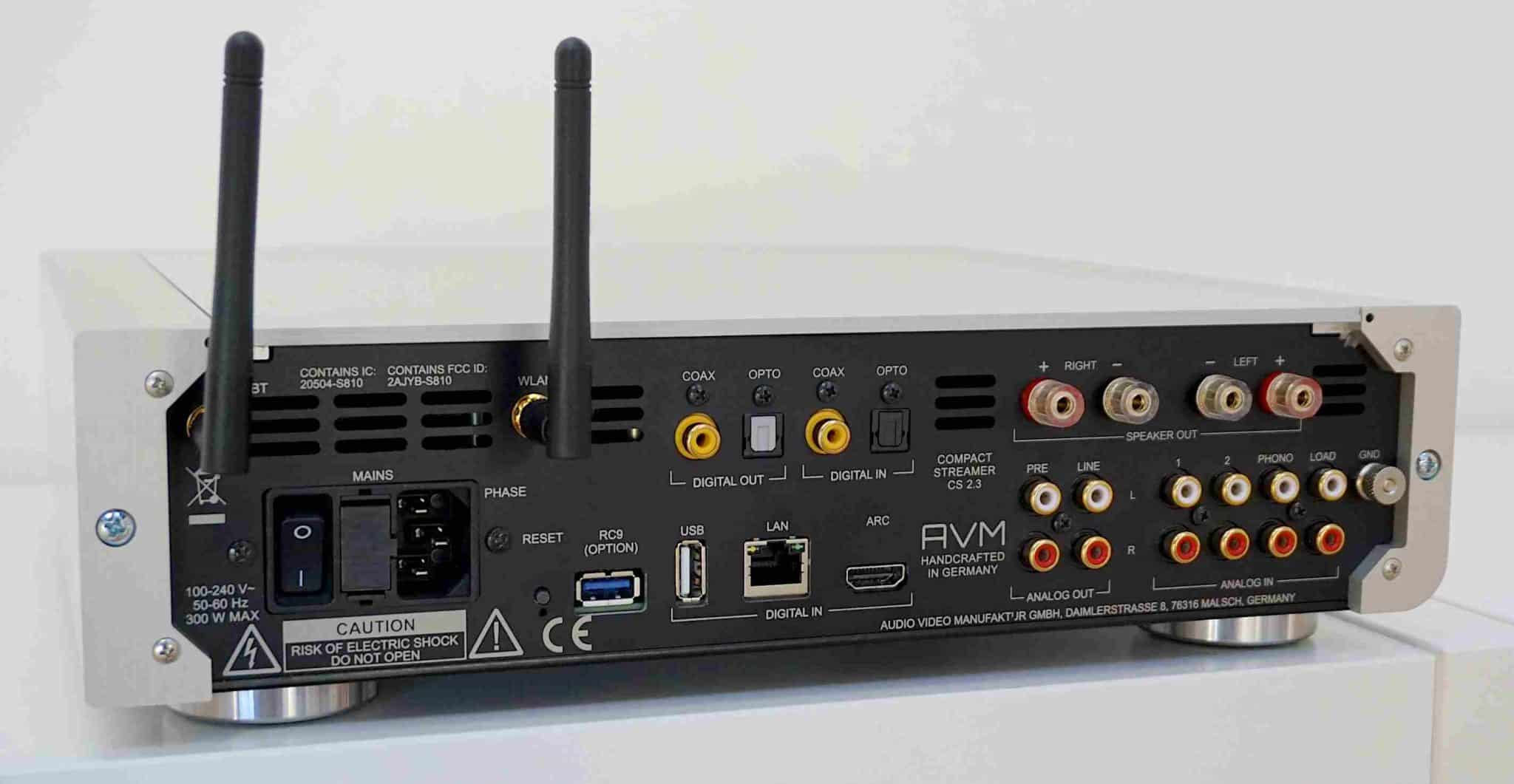 Finally you will see a pair of sockets for a phono amplifier, a grub screw for a ground wire and oddly for an internal model, a pair of sockets for loading plugs. 
PHONO LOADING
The built-in phono amplifier supports moving magnet and moving coil, switchable via the front menu. If using moving coil, you can then add one of three pairs of loading plugs spanning 100, 200 or 1000 Ohms. 
I recall reviewing the Profono phono amplifier from Blue Horizon, a while back which also used this 'shunt resistor' design option. They also bundled three sets of loading plugs although the ratings were more evenly shared and the company was prepared to provide more specifically rated plugs, if required, to the customer for free of charge. I didn't see that same offer from AVM but I asked about it. Again, here's the reply,
"Intermediate ratings may be built…by our retailers upon request and when needed."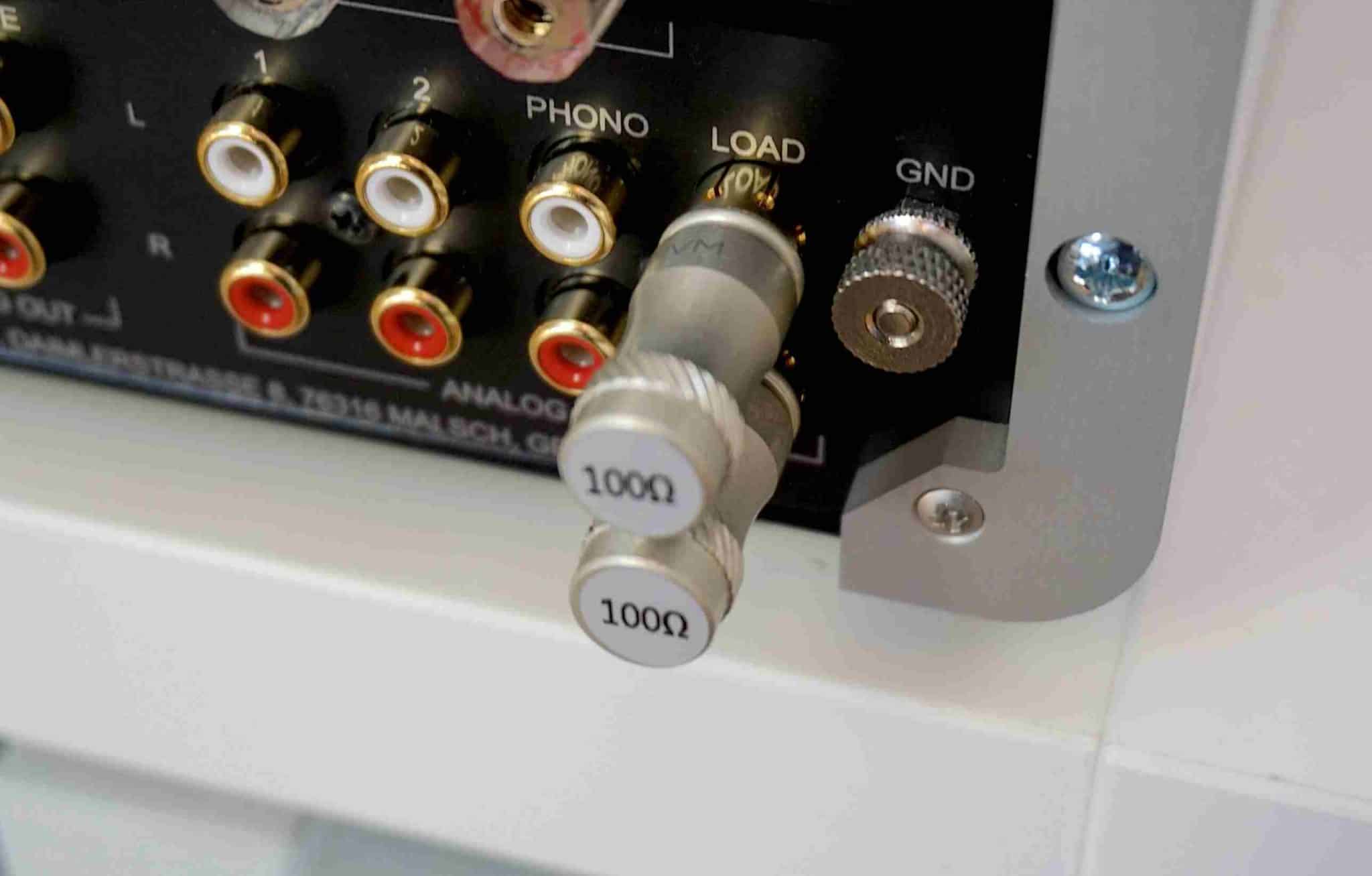 I did ask about the cost or otherwise for this service but have yet to receive and answer.
This loading plug option is both an overkill for a built-in unit but it also does not offer enough choice for someone who is running a MC cartridge. A better choice for the built in unit could have been supplied by a rotary loading knob with more loading choices. Of the sort offered on Parasound phono amplifiers, for example. 
INSTALLATION
The whole interface design that AVM has employed has to be questioned. 
Despite the front fascia being adorned with buttons and a touch screen, I found I couldn't access the basic single-ended RCA inputs to play a vinyl record via an external phono amp. There was no button or option on the front of the box for those sockets and because there was no physical remote, I couldn't rely on that either. 
To play a record via an external phono amp, I had to load up the phone-loaded app and connect that to my home network. Be warned, though. Update the firmware first. I tried to use the AVM without doing so and nothing worked properly. Once I installed the latest firmware though, all was well.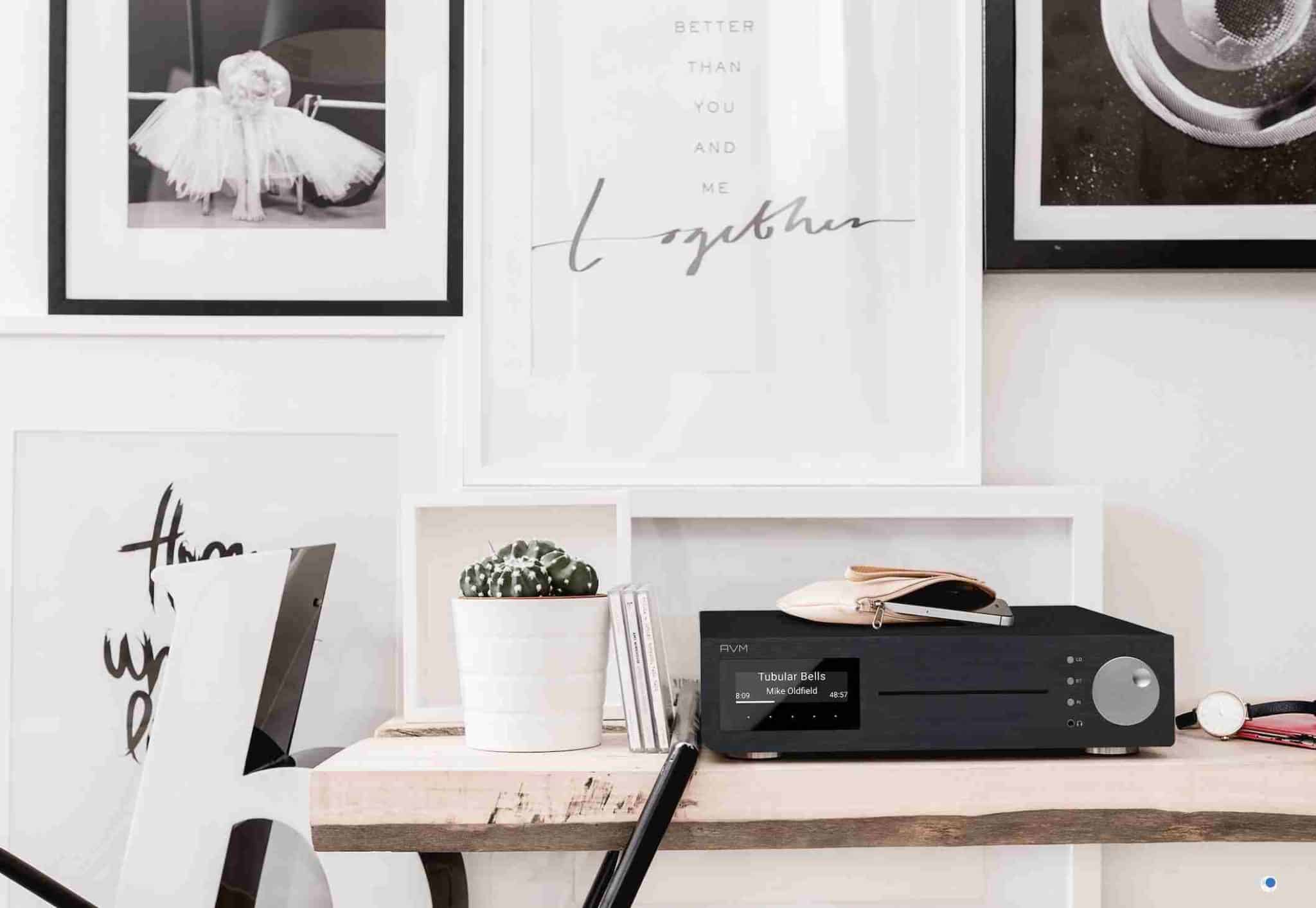 Upon loading the app, I could finally access the RCA inputs. One additional bugbear, I found that fine tuning volume changes was easier via the front fascia volume control. The app's volume control could didn't operate that smoothly so I found myself using both the app and the front fascia controls. Which defeats the object doesn't it? 
Playing a piece of vinyl via the CS 2.3 shouldn't be this complicated. 
INTERFERED WITH
Once vinyl was playing I then experienced electrical interference during play. Scratching my chin I realised my Wi-Fi extender was causing interference with the AVM unit itself because it was positioned relatively close to it. Saying that, I've used other network players before with the Extender placed at a similar distance without any issues. 
So I removed the Wi-Fi extender and reinstalled it into a more distant wall plug, I found a long data lead (I was lucky I had one available), connected that and all was well. Vinyl play was finally clear and distortion free.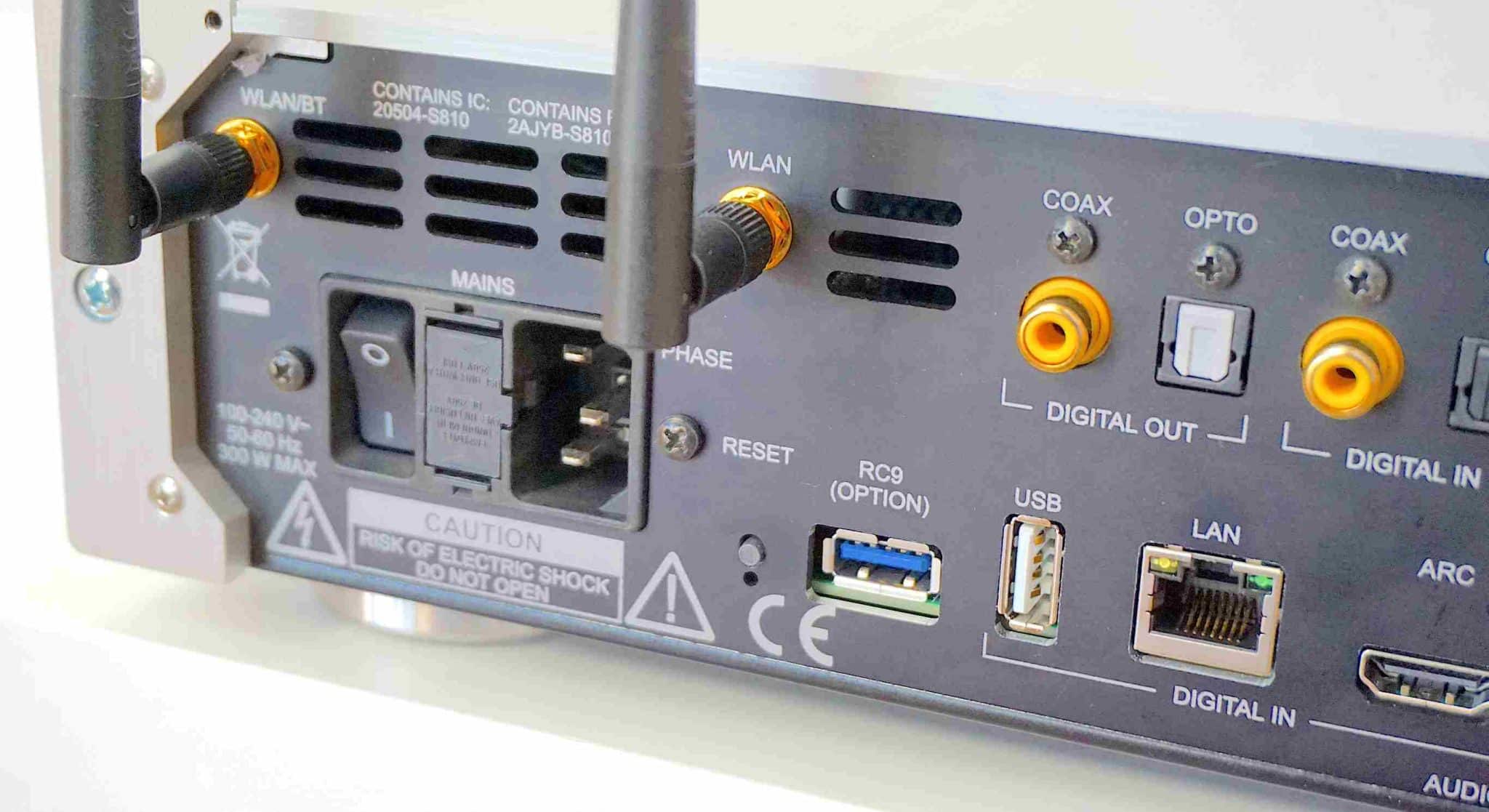 After all of that? I was throughly grumpy by the time I sat down to listen. Sure, this is a one-off installation thing. One of those hurdles you sometimes get when network kit is tackled. Once in place though, you're fine from that point onwards. Even so, at this price, I expected a smoother ride from the off. Initial problems from a £500 network player? Possibly. Not from a £5k network player though. 
SOUND QUALITY
I don't know about you but the name of this box, the Compact Streaming CD Receiver, tells me that this box offers a balance of streaming and physical use. Even the word Receiver takes me back to the 70s-era big-box Japanese products sporting tuners and phono amplifiers and more. So for me, a thorough testing of physical sources was a given.
EXTERNAL PHONO AMP
Thus, I began the sound tests by connecting an external phono amplifier to the AVM and played a vinyl version of Elton John's Tiny Dancer hit single from the early 70s.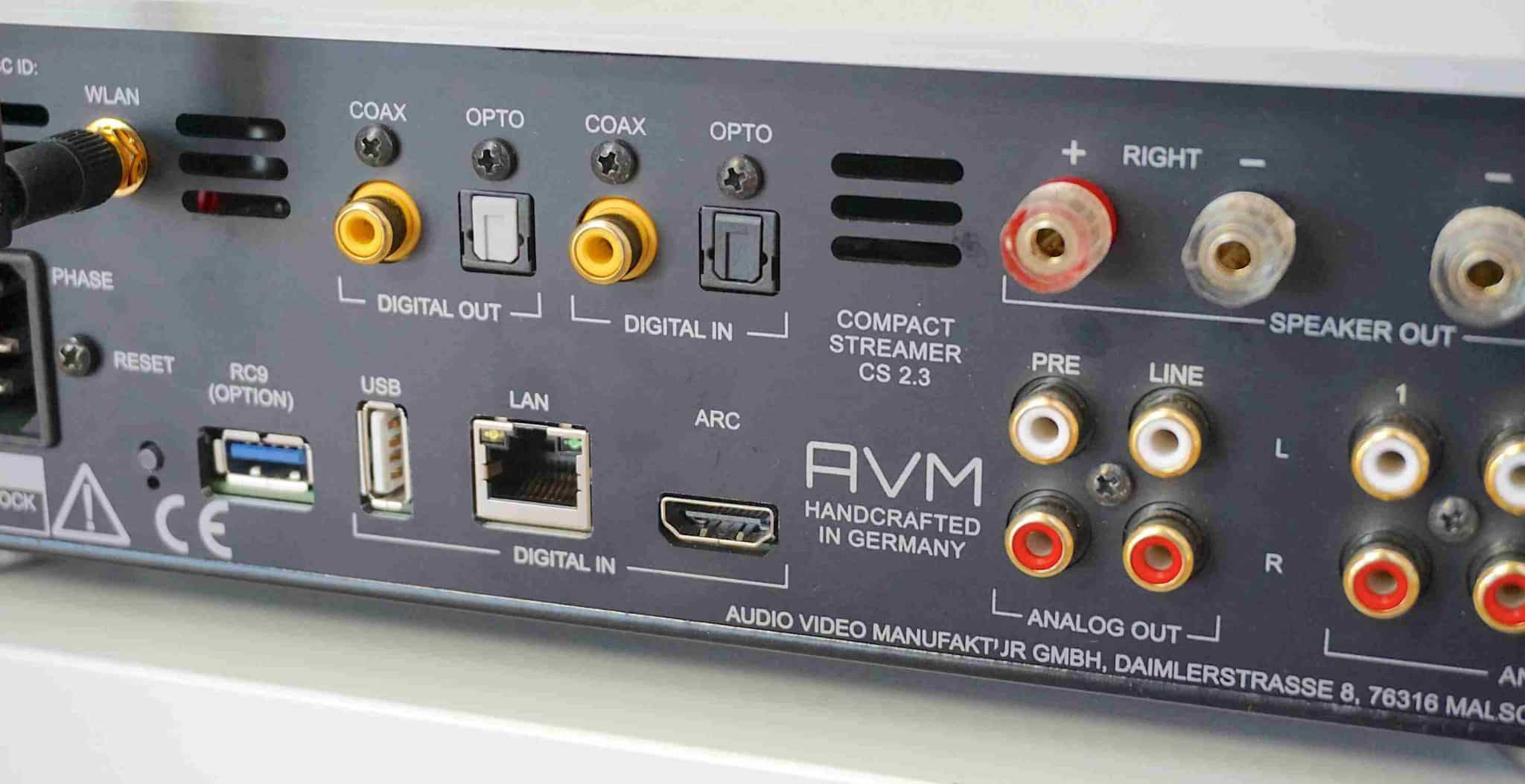 I was impressed by the wide expanse of the soundstage. The detail around the treble and the upper midrange was excellent. The fine cymbal taps were easily heard, the piano had a large, dynamic and resonant response while a bank of violins provided an impressively strong and rather magnificent wall of sound. I did notice a slight rising treble response and possibly a slight rise around the very edge of the upper mids too which added emphasis in this area.  
You can look at this effect in two ways. Either it provides hardening of frequencies the should be delicate and fragile in which case you might provoke a frown or you're just emphasising the fine and subtle detail that's already there and so you have a big smile on your face. It depends if you like a slight solid state sheen to your music. If you do then the AVM will be your thing. 
BUILT-IN PHONO AMP
I quickly tried the built-in phono amplifier and that was fine. A nice sound without being too impressive. Certainly listenable and ideal if you only listen to vinyl occasionally or your looking to upgrade later when funds allow. 
INTERNAL CD PLAYER
I then switched to the internal CD player and Leo Kottke's instrumental acoustic guitar piece, I Yell at Traffic. The same sonic envelope was here with a slight bloom around the upper mids. I am being picky though. If a solid state sonic direction is your bag then you won't notice it too much I'm sure. 

The rest of the midrange response was excellent indeed with a rich and full resonance from the guitar body plus welcome precision from guitar plucks.
I was very impressed by a layered midrange effect from the AVM which meant that the soft percussive strikes – well, 'slaps' you might say – just behind the guitar were easily tracked by the AVM. This midrange insight from the AVM was a real highlight. 
EXTERNAL CD PLAYER
I then played the same song on the same CD via an external CD transport plugged in via the coax port and noticed the immediate improvement in sound from this configuration. Mids were more focused and precise. That midrange booming I mentioned was much reduced, clarity was improved, guitar string plucks were crisp and firm while the accompanying violin had a great say in the mix.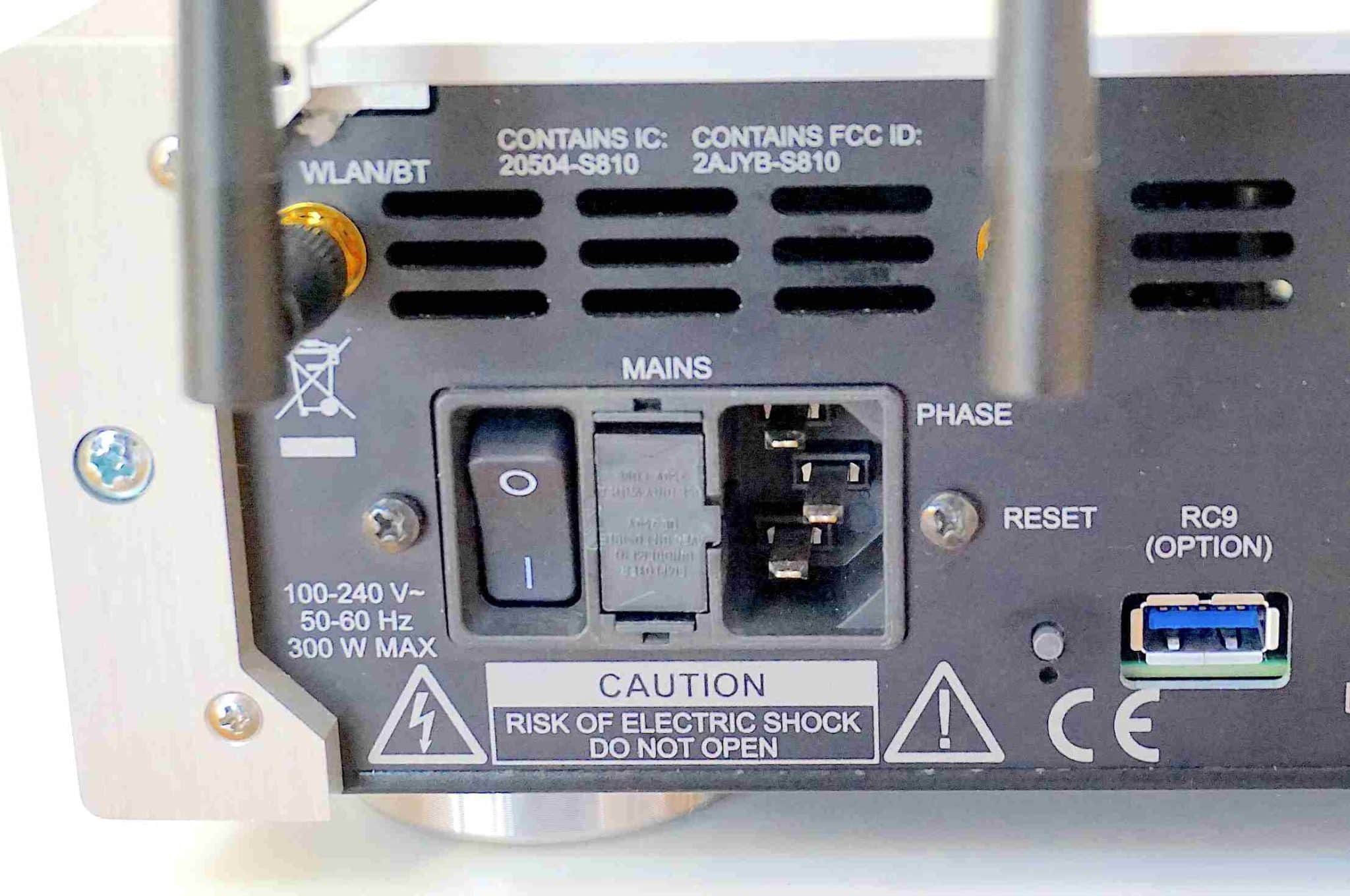 Even so, despite all the good stuff, despite liking the output from physical sources and despite finding lots to praise from both CD and vinyl, played through the AVM, I never totally enjoyed the experience. It was fine, it was nice, there was lots of good stuff here but, for the price? I wanted and should have had a lot more. 
BLUETOOTH
I then tried Bluetooth which supports 4.2 but could only manage to play it with the AAC codec. I tried others but couldn't get superior codecs to kick in. Why was that? Because there were none! According to AVM.
"We do support A2DP with the so-called SBC code which allows streams up to 345kBit/s. We regard the BT function as a useful addition to allow a quick stream as a 'tasting menu' and for more audiophile or permanent use the Airplay (2) or high resolution options we offer."
So no aptX, no aptX HD and no LDAC. For this price point?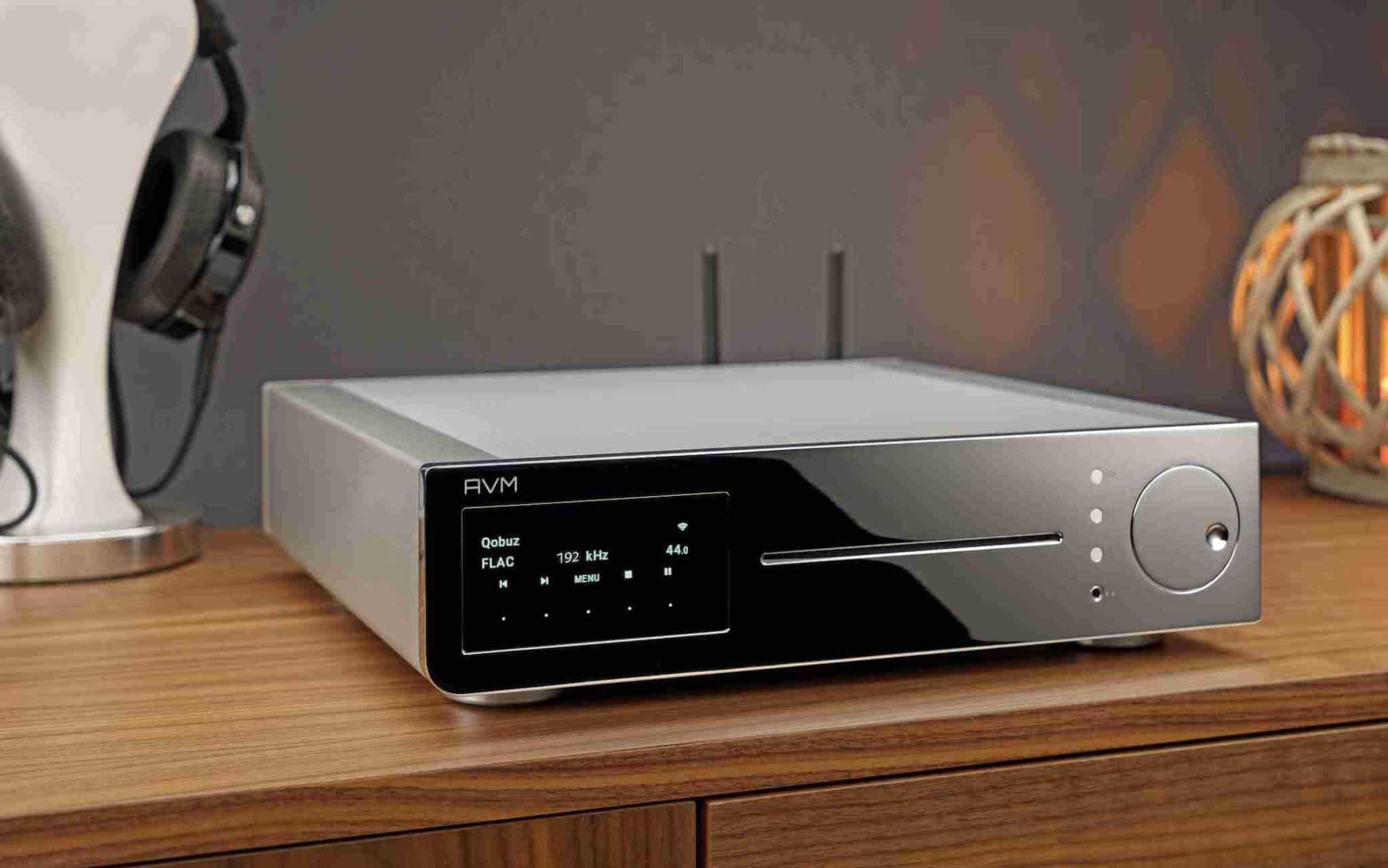 As it stands, the AAC codec is barely adequate on any system, never mind this one. Even so, Bluetooth on the AVM is…ok. And that's a compliment. If only additional codecs were featured here, Bluetooth could have been a real highlight.
INTERNET SERVICES
I had more luck with Internet services on the AVM. I tried Spotify, playing R.E.M.'s Nightswimming from the Automatic for the People album plus a smattering of pop via Quobuz and a selection of Internet radio stations including a selection of ye olde grunge from Dash Radio playing nothing but mid-quality MP3s.
And you know what? Despite the fact that all of these streams were in some way, minor or major, compromised? I actually enjoyed the output from all of these Internet services via the AVM more than any vinyl or CD physical sources. Despite the fact that the physical formats were supposed to be and should've been sonically superior.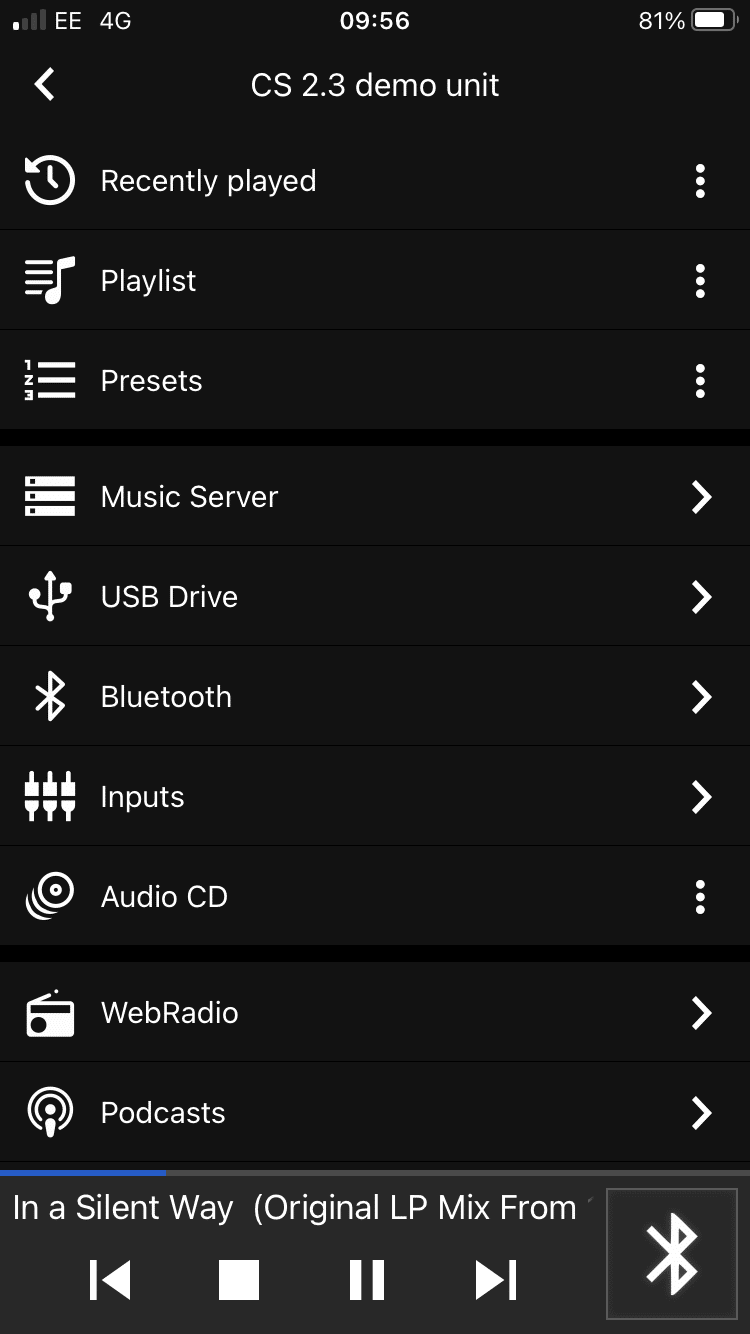 For the first time, via Internet-sourced streaming, I had a real smile on my face while reviewing this thing. Gone was the slight struggle and the slight frowns.
It's almost as if the point the only point of the AVM was Internet network play. I felt more engaged with these big, bold, in yer face, up and at 'em sounds than the failing finesse and damaged delicacy of the physical formats. The AVM seems to struggle a little with physical formats but really let loose with network play.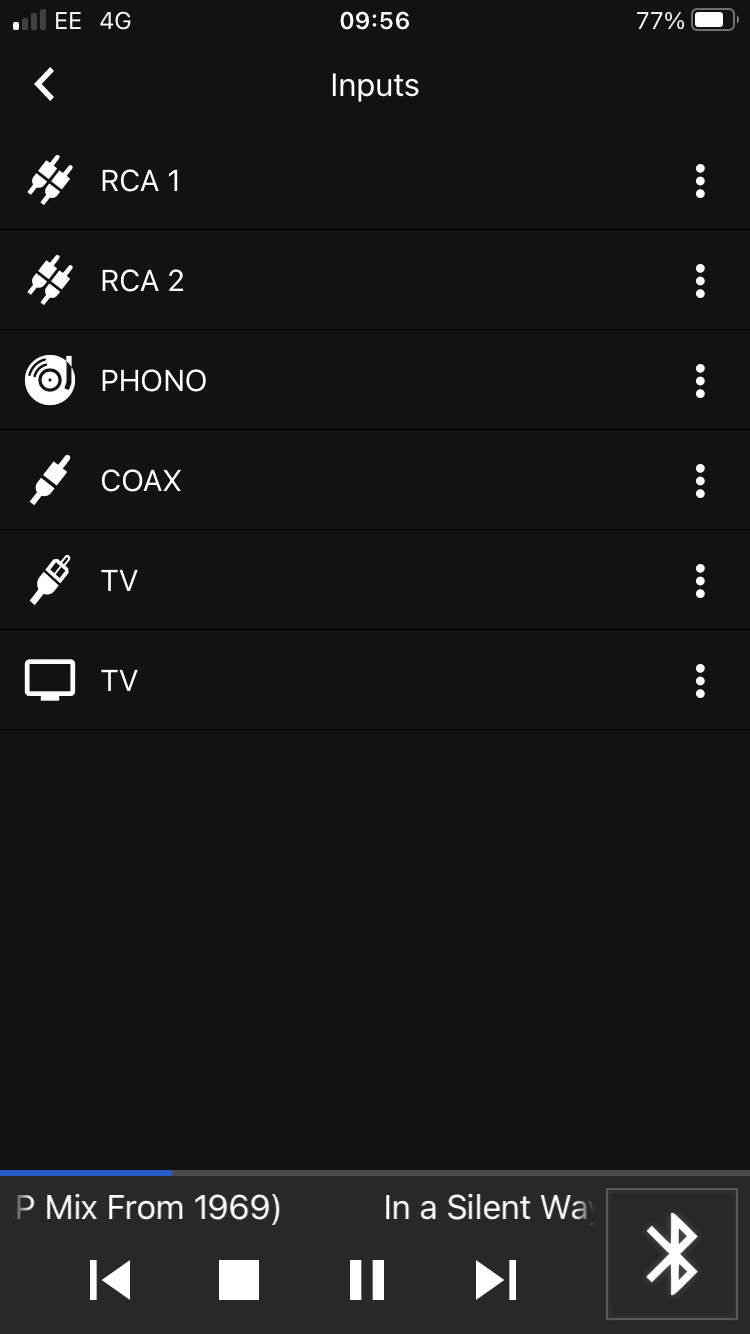 So, playing P.O.D and the track Youth of the Nation, I noted just how bass was pacy and full of impact. Bass also offered weight and mass while the midrange integrated into it very nicely indeed. Sure, I wouldn't call streaming midrange from the AVM elegant or graceful but it provided a host of detail and enough space and air around the soundstage to thoroughly engage the ear. I could easily imagine spending hours searching network services for musical gems and classics. 
This? This was fun.
Finally. 
CONCLUSION
When I was a kid in the early 70s, living in the City, Sundays were dead. All the shops were closed and there was no traffic on the roads. Sometimes on days like this, my parents would want to 'blow the cobwebs' and so would declare, "Let's take the car out for a run!" 
When we did this sort of thing we didn't plan anything, it was an exciting adventure. Especially for us kids. 
That meant heading for the country. In my mother's head, she fancied heading to a cliff top to look out to sea and look for a glimpse of a passing seal or dolphins or possibly a beach visit or to investigate a quaint village.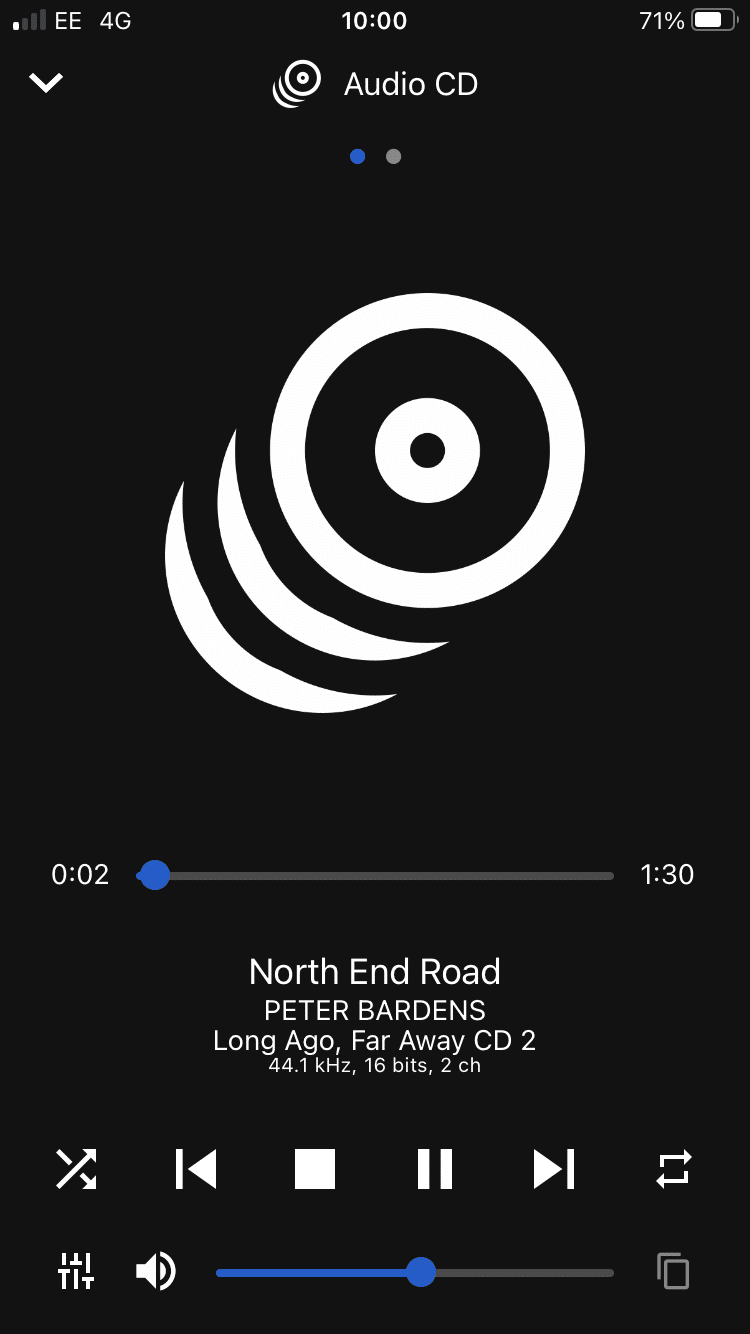 My dad had other ideas. 
As he was driving down a country lane he would say, "I wonder what's down…there!" He'd then take a hard right. Because he was curious to see what was down 'there'. 
Most of the time we'd hit a dead end or end up in the middle of a farm with a puzzled farmer wondering why we were trespassing in his yard. 
And because there was no GPS back then? We'd be lost wouldn't we? So it would take us hours to get back on the main road. My mum was not impressed, let me tell you. 
As kids though, despite the lack of planning and fore-thought and organisation, we enjoyed the ride and the experience.
The AVM CS 2.3 feels a bit like my dad's driving. It's fun, I enjoyed using it and I spent hours messing around with its features but it also feels like the designers were winging it. Making it up as they went along. It feels like a hobby project.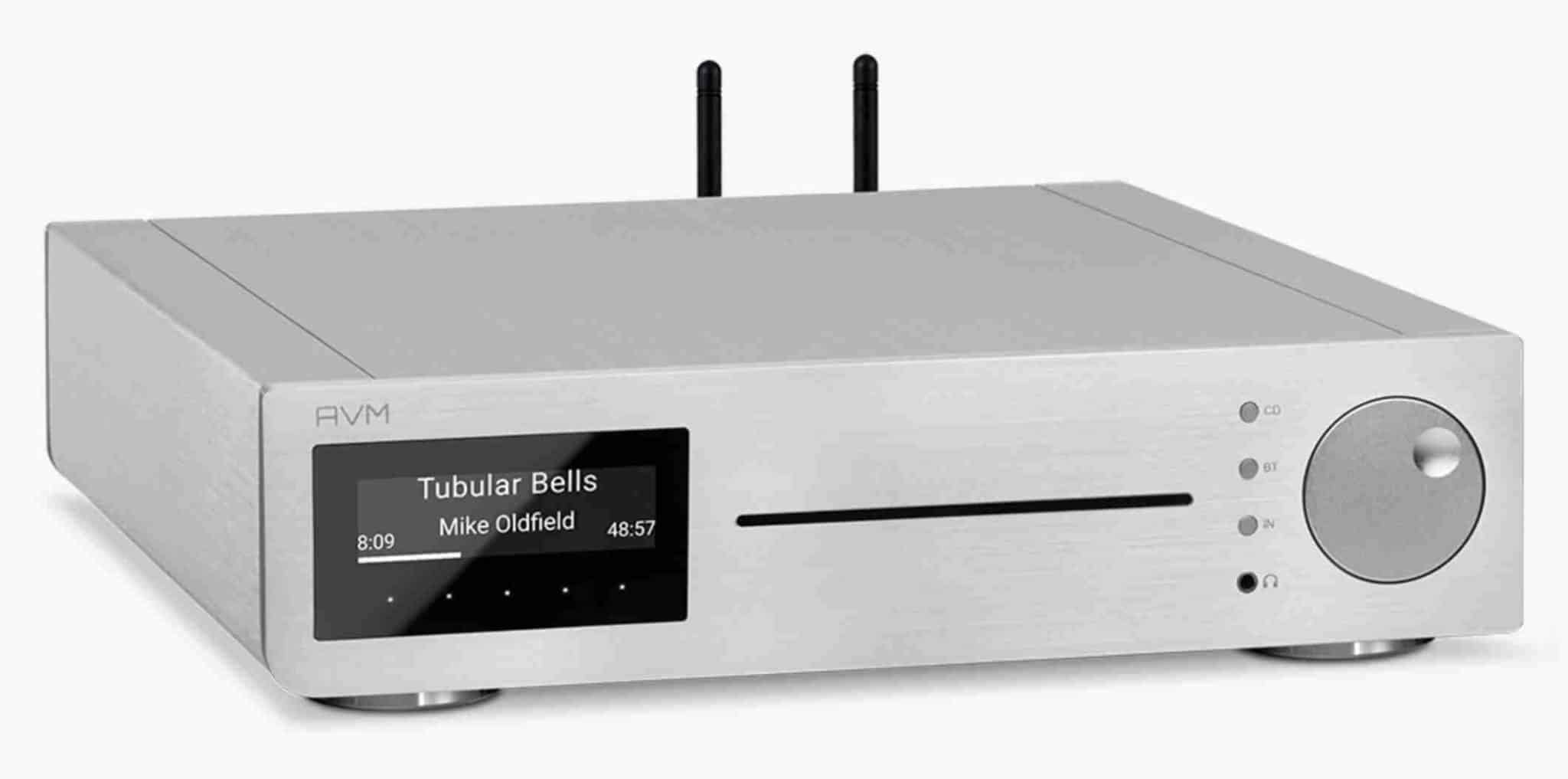 It feels like – and this is critical – they didn't bother doing any research, planning or preparation. They didn't talk to anyone outside the office. That is, as to what the customer might actually want from a product like this. And when you're spending almost £6k for a box of tricks? I'd say that's an important point.
The AVM is not an all-in-one. Not in the classic sense. Not in performance terms. The AVM is a network player first with bonus features. Those bonus features being physical media options like vinyl and CD play. But these particular sources are not priorities, despite what I thought when I began this review. 
Do not buy this box with those formats in the forefront of your mind.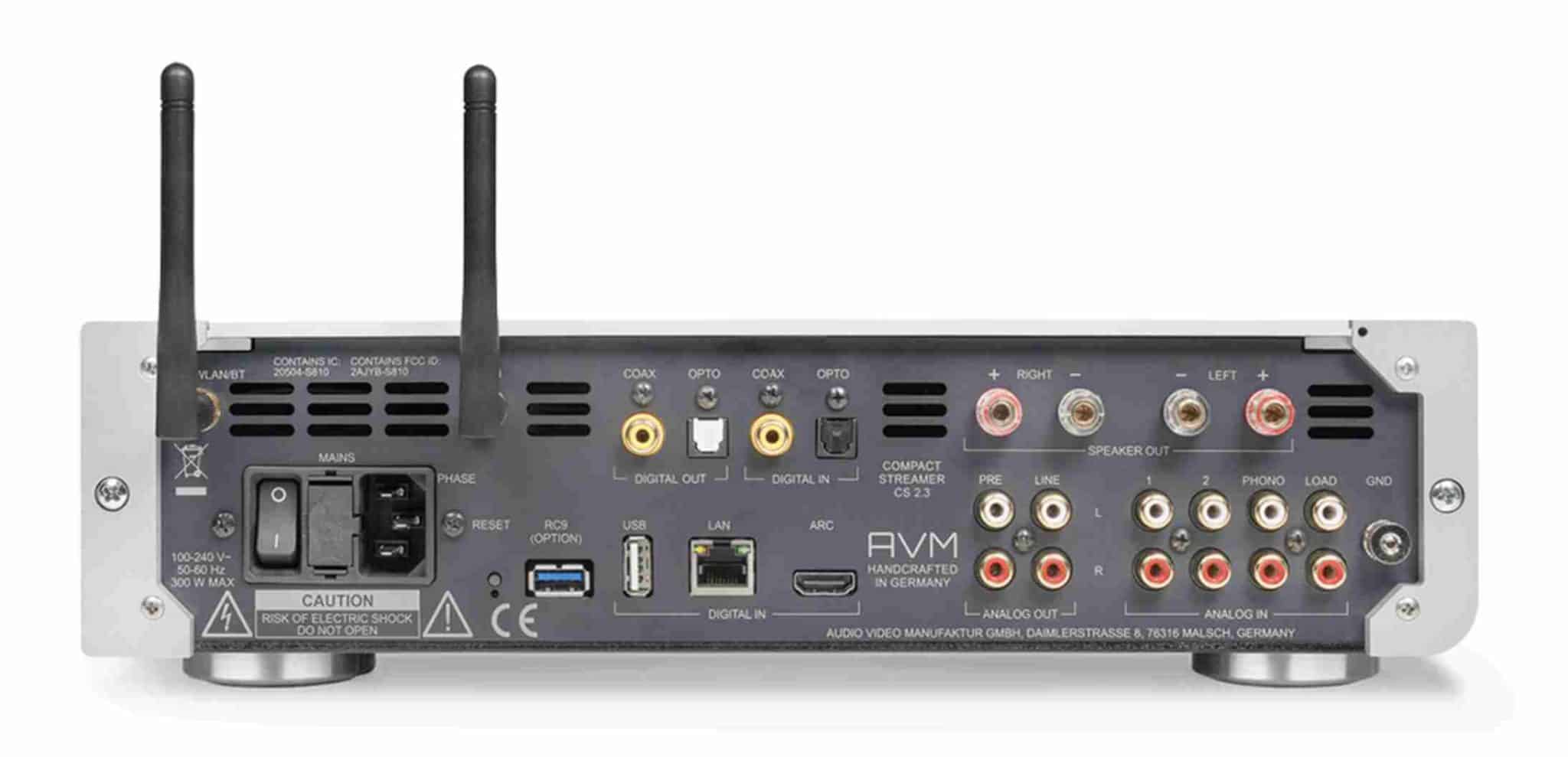 The CS 2.3 is a network player first and foremost. The sonic response performs best from streaming sources while the app-based interface, the only mature interface on this entire system, is wholly geared towards streaming sources. This is why the front facia interface is lacking. This is why a physical remote is missing and the upgrade discouraged by price. This is why the app is the main interface  
That is, as an all-in-one, this is an average HiFi product. As a network player, though? The AVM CS2.3 is excellent. 

Next time, AVM? Drop the front fascia buttons and wheels altogether, get rid of all of that. Drop the internal CD player, drop the phono amp, keep and expand the touch screen and then, then you'll have a product.  
---
AVM CS 2.3 COMPACT STREAMING CD RECEIVER
Price: £5,950
Website: avm.audio
---
GOOD: small footprint, feature rich, control app, streaming performances  
BAD: No physical remote, front fascia interface, installation, physical sources, confused design
RATING: 7
---
REFERENCE
Origin Live Sovereign turntable
Origin Live Enterprise 12″ arm
Van Den Hul Crimson XGW Stradivarius Cartridge
Icon PS3 phono amplifier
Benchmark DAC2 HGC
Audiolab 6000CDT CD Transport
Aesthetix Calypso pre-amp
Icon Audio MB845 Mk.II monoblock amplifiers
Quad ESL-57 speakers with One Thing upgrade
Tellurium Q Statement cables
Blue Horizon Professional Rack System
Harmonic Resolution Systems Noise Reduction Components
CAD GC1 Ground Controls
Air Audio AC-2K Balanced Transformer
Russ Andrew Superrouter Grounding block
CAD GC1