The Article
iggy pop's Post Pop Depression Goes Bowie: is this Iggy's Last?
22nd June 2016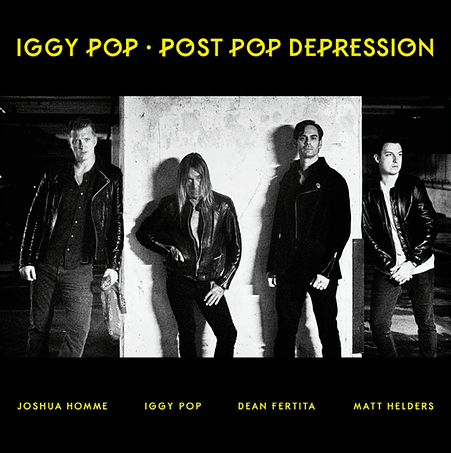 Iggy Pop
Title: Post Pop Depression
David Bowie. That's what you hear when you first put this record on. Bowie is all over this release, right from the off which has a distinct Heroes production feel to it. The album was, in fact, finished before the general public were aware that Bowie had problems with his health. But it is more than a homage to a good friend, it is as if Pop has been sent reeling with the tragic news of his friend's circumstances and has sat down in a quite room to then consider times past because this album reflects upon his early solo work too: the first two albums, to be exact, the Idiot and Lust for Life. They, too, involved Bowie, of course as Pop rose from the wreckage of The Stooges.
So do we have a tired retread here? No. Oh my goodness, no. This is thoughtful stuff from Pop. Intelligent Iggy, no less and producer, Joshua Homme has a lot to do with it because he is a superb guide and foil to Pop who allowed the darkness of the Pop personality to issue forth…but in a good way. This is music with an inner strength, songs of power and solidity and of authority. That is, there is no indecision here. These are confidant songs swathed in a self-assured decisiveness. As if the inner Pop has give the nod, folded its arms and declared, "Let it be."
On this album, it's difficult to name-check individual songs because the single flavour runs through them all. The LP is almost like foreboding and often raging symphony.
Audiophiles will be intrigued by the mastering on this one because it sounds so very claustraphobic. Pop often sounds like he is recording in a small empty room while the rest of the band sound like they are playing in cotton wool cocoons. Well, maybe that's an exaggeration but space has certainly been curtailed to produce a more intimate presentation that is also strangely direct in nature.
There is plenty going on within the soundstage and there is reverb around to add a smattering of atmosphere but the sound is rather closed in, as if the band were record in the "cheap motel" mentioned on the second track, Gardenia. Apart from this notable personality trait, there is no issue with compression or any other form of 'loudness' issue. The mastering has a dry quality, which compliments the music and allows Pop to give the music a sense of drama and threat, at times. Low key it might be but there's always an air of tension in the delivery. The rumour has it that this is Pop's last album. If so? What a way to go.