The Article
Ian McCulloch's Holy Ghosts
4th May 2015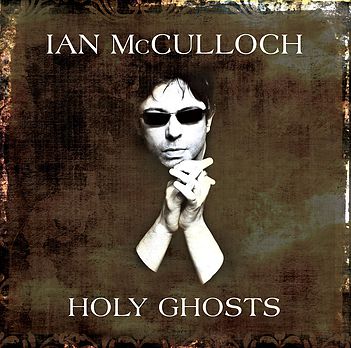 Title: Holy Ghosts
Label: Demon
The Echo & the Bunnymen frontman with the haunting vocal range has had an intriguing solo career: leaving the Bunnymen in 1988 and continuing his solo projects despite working again with the band from 1997. At times, McCulloch has lead a private existence, out of the public gaze, bringing up his children and handling the grief of his dead father but, when he has returned to his work, it has always secured fascinating results.
This recent vinyl release, a 3LP package, deserves careful consideration because you will see some respected music journals out there describing it as a concatenation of two albums: Pro Patria Mori and Live At Liverpool Anglican Cathedral. It isn't, but we'll get to that.
The two sides of Pro Patria Mori plug into McCulloch at his very best. The lush rock orchestration of Watch Me Land is contrasted with the rather sweet hero worship of Me And David Bowie. The title track, meanwhile contrasts the soaring McCulloch voice with an ethereal female harmony.
The accompanying, 15 track, double album is not, as has been reported in some quarters, Live At Liverpool  Anglican Cathedral. It is, in fact, Orchestral Reworks From the Union Chapel, recorded in 2012. The confusion stems from the fact that both Pro… and Cathedral were created in the same year. It was wrongly assumed that both albums had been packaged as a single value pack.
For the record, the Union collection has a better track listing but the Cathedral collection offers more vigour and energy. That said, Union provides a relaxed performance from the man and, without the band to support, his vocal delivery is clear and open. The reworkings of Bring On the Dancing Horses along with Rescue, Nothing Lasts Forever and Killing Moon are particularly effective