The Article
Folque: norwegian folk inspired by Fairport Convention and Steeleye Span
28th July 2016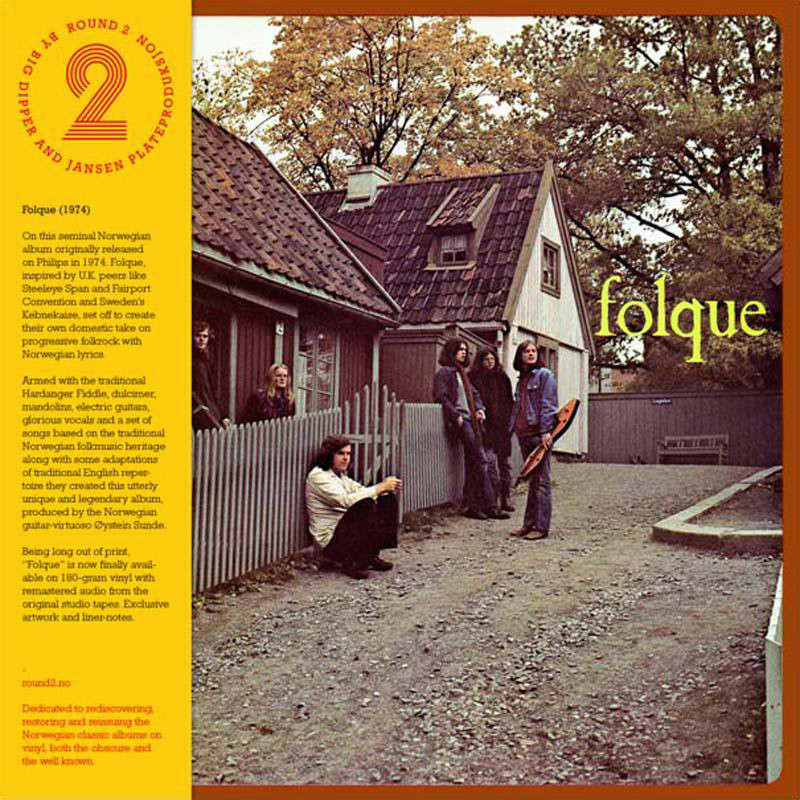 Title: Folque
Released in 1974 on Philips and inspired by both Fairport Convention and Steeleye Span, this progressive folk outfit sang songs in their native Norwegian language. The music here appears to be based on rich Norse folk legend as well as English folk songs and includes quite a raw, rootsy folk flavour, despite the additional of electric guitar and bass.
The songs here retain an innocence and naivety that enables them to almost float into your ear without a shadow falling across them. There's a purity associated with the song, Skjøn Jomfru, for example, that gives it a sense of integrity.
This is a big band and one that would undergo some flux as the years rolled by but the outfit on this LP included Jørn Jensen (vocals/guitar/dulcimer), Trond Øverland (bass/piano), Trond Villa (fiddle), Lisa Helljesen (vocals), Eilif Amundsen (banjo/guitar), Morten Bing (mandolin/dulcimer/bouzouki) and Espen Løvstad (percussion). Apparently, the band disbanded in 1984 but got back together 1992: a 4-piece, which is bare bones stuff for this outfit.
Long out of print, this reissue uses the original master tapes and, to be honest, it sounds it too. There's a real honesty in terms of the presentation. The lead vocal from Lisa Helljesen is double tracked but remains stripped and open in terms of its emotive force. She has the admirable quality of laying herself bare. I couldn't understand a word she said but her voice remained affecting. Her backing instrumentalists provide a precise and focused backing. The sounds from the likes of mandolin, dulcimer, guitar, bouzouki, bass, piano, flute and more provide a rich and deep soundstage that is always fascinating as the group successfully create innovative layering that blends and combines sounds from all of these instruments that keeps the songs lively and interesting.