The Article
Ennio Morricone's For a Few Dollars More soundtrack
30th April 2016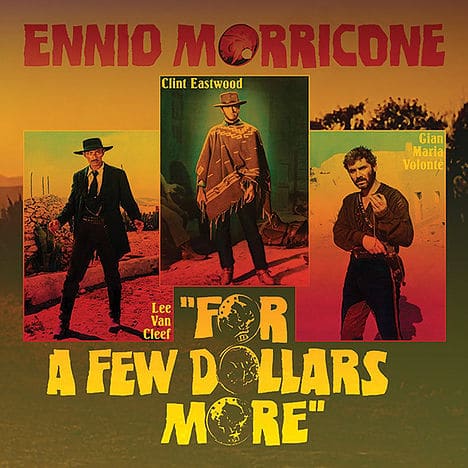 Title: For a Few Dollars More
Label: AMS
It was a lash-up job, really. The film was created to optimise the costs of another western already in production. Few Dollars… was successful in spite of its lack of support. That included a lack of money – twas ever thus in the film industry – which was so short that Morricone and director Sergio Leone discussed which musical bits and pieces of the first film in the Dollars trilogy (A Fistful of Dollars) they could reuse for this film, the sequel. The Good, The Bad and The Ugly would be the final instalment, incidentally.
Morricone (or Dan Savio as he was renamed for this film to make the entire premise more accessible to the Spaghetti Western virgins in America) lurched into another problem area later on.
That issue arose when a completed soundtrack for the film was demanded by Morricone's label, RCA. The music spanned all of 14 minutes or so which had RCA in a bit of a quandary because it wanted to release a LP to follow the successful A Fistful of Dollars, released in America in 1967. So what happened? The label assembled a soundtrack album featuring For a Few Dollars More plus the original tracks from A Fistful of Dollars as a 'value' combo.
This special release from AMS reverse engineers the process, in some respects, and concentrates upon For a Few Dollars More, separating those tracks from A Fistful of Dollars: a purer take on the soundtrack, in many respects. Hence, this 10" version pressed on purple vinyl, only includes the original eight tracks, four per side. Listed in their original Italian, the record is stored in a gatefold sleeve and adds a mini poster as a bonus along with informative liner notes.
The music itself retains the flavours and themes from the first film while the theme tune will remind listeners of the third installment with trademark Morricone string constructions, whistling, harmonic vocal arrangements plus twangy lead guitar. There are sparkling oddities such as the slightly 'off', comedic jangly piano playing in the Poker D'Assi sequence in plus the tense string/percussive sequence in Sequence 10. Finally, of course, let us not forget the absolutely iconic Watch Chimes (Carillion's Theme) track. As brilliant in terms of its melody as it is for it sheer simplicity.
As usual, Morricone packs a lot into a small space and gives the illusion that this brief disc of music is about three times the length.
In audiophile terms, the mastering is sparkling and dynamic and does full justice to this classic music while the pressing is admirably quiet and noise free. A super production and one of the maestro's classic scores.