The Article
Echo And The Bunnymen's Heaven Up Here
4th February 2016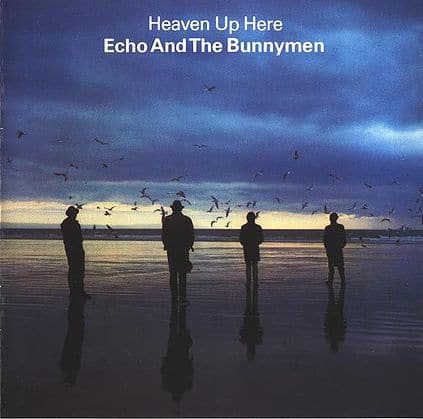 Title: Heaven Up Here
I remember, I must have been, what, 16? Something like that. I had a temporary job at the Mersey Docks & Harbour Company before I entered college. I was an Apprentice Tracer off the back of a Conservative government back-to-work scheme and, hence (after giving my Mum her share for my keep), was enjoying the luxury of a few pounds in my pocket from my first pay packet.
During a heady lunch hour, I scooted down to the music retailer, HMV, and stood before a wall of vinyl. In front of me were three albums: Duran Duran's self-titled debut, Teardrop Explodes' Kilimanjaro and Echo And The Bunnymen's Heaven Up Here. As I had recently heard Duran Duran's Girls On Film on the radio I plumped for that…well pleased. It was only after a few days that I realised what a mistake I had made.
I should have bought Echo And And The Bunnymen. Which I eventually did…but still. This album brings back memories of bad decisions and lost opportunities.
Heaven… was, and still is, a dark album. Experimental, the hooks are largely absent while the melodies are few. Nevertheless, the album is totally brilliant and (arguably, I know) their best. Combine Ian McCulloch's soaring, haunting vocalisations, Will Sergeant's angular guitar but, more than that, unsung heroes, Pete DeFreitas powerful yet stunning drum patterns and Les Pattinson's circular, yet always interesting, bass.
Offered by Vinyl 180 within a sturdy hardbacked book cover plus new sleevenotes and images, you get the original album and a second disc with five extra tracks: the long version of Broke My Neck produced by the Bunnymen and Show Of Strength, The Disease, All I Want and Zimbo all recorded at the Manley Vale Hotel in Sydney, Australia on 11 November 1981.