The Article
Luis Bacalov's Django spaghetti western soundtrack
30th April 2016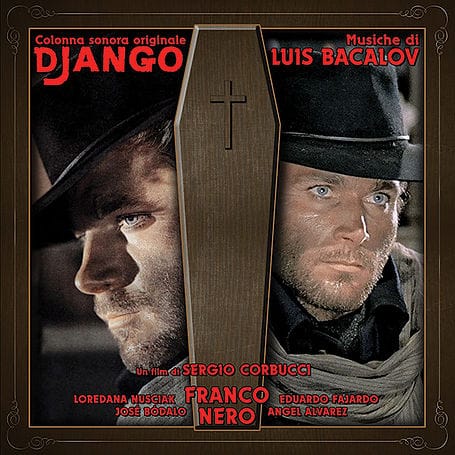 Title: Django
Label: AMS
It's sometimes hard not to get annoyed with Hollywood and its rather parochial outlook on life. For example, Argentine-born Bacalov, one of the best soundtrack composers in the history of film, wasn't actually recognised by Hollywood until the mid-90s for his work on the film, The Postman. When you consider that the man had been producing music of artistic quality since the 50s (including working as an assistant to Ennio Morricone), it's a bit irritating for film and music fans, who are more familiar with his European output and the scene in general, to see the great man ignored in this way.
Nevertheless, there are plenty of film fans out there who are appreciative of Bacalov, although there is a large niche who, while recognising his general work in dramatic productions, know him more for his work on Spaghetti Westerns (SW), like his mentor Morricone.
Bacalov's first SW outing was this film, Django, produced in 1966. In fact, 1966 could be said to have kicked the composer into high gear. From, this year on, with a few exceptions, Bacalov produced four to six soundtracks per year, for many years afterwards although it might be difficult to find a film that he scored, at least in this particular period of his film history, that was quite as violent.
Despite the increase in bloodshed, the film itself draws upon familiar SW themes as it focuses on a union soldier who wanders (many SW heroes are ex-military and most tend to 'wander'…'drift' is another favourite verb for the SW hero) the landscape with his female, prostitute friend (all SW heroes need a slightly disreputable friend too) and becomes rather entangled with a Klan-like gang of Confederates and Mexican revolutionaries (most SW baddies are unwashed and in desperate need of a shave). The SW connective threads don't stop there, though. Apart from the hero behaviour and sidekick personality, like Sergio Leone's A Fistful of Dollars, Django also had close story ties with the Akira Kurosawa film, Yojimbo.
Although this soundtrack was Bacalov's first western score, it's still interesting, at this point, to compare him with Morricone because of their close personal ties and their general, dual occupation of the SW genre. Morricone tends to be more overtly experimental and boundary pushing than Bacalov who utilises the more traditional orchestral template, more often. That is not to deride Bacalov in any way or even to suggest that he plays it safe. It is just to pinpoint his stylistic direction.
In fact, Bacalov's music has its share of innovation in terms of scoring and arrangement. Despite the traditional template, in this piece, Bacalov sends out creative and avant fingers or strands that can be heard here: the ear piecing brass exclamations, the flute lines that add twisted dramatic effects and the frantic cello runs along with rock-based bass lines. Offering multiple layers of sonic adventure, Bacalov is, indeed, sometimes challenging but always fascinating.