The Article
Death From Above 1979's Live At Third Man Records: the ultimate in live recording?
14th June 2016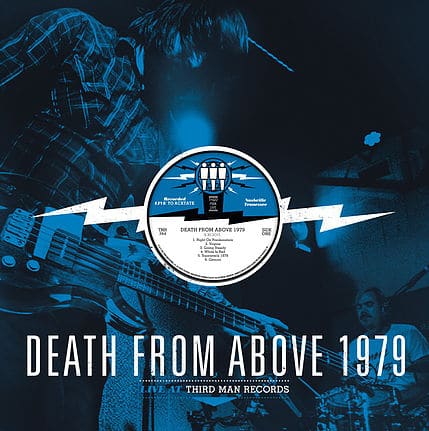 Title:  Live At Third Man Records
The Toronto-born duo of Bassist/synth player Jesse F. Keeler and drummer/vocalist Sebastien Grainger formed the band in 2001 (and added the '1979' bit to their name after complaints from US-based outfit, DFA) released their well received debut album, You're a Woman, I'm a Machine in 2004 and showed just how much noise you could make with just two people. Combining dance music with overdriven punk but with plenty of rhythm, the pair split in 2005 but reformed in 2011 and released another well received LP, The Physical World.
This live cut spans 11 tracks "We cut two 20 minute long sets straight to acetate. No second chances. Terrifying but alive. Third Man were such phenomenal hosts and the audience went bananas with us. It was such an honour to be a part of. The whole thing was such a rush, it almost feels like a dream," said the group.
Which gives you an idea of what's on the vinyl. That is, there is a real sense of immediacy with this LP. Singing without a net, as it where which has surely added to the energy of the performance but also the emotion and adrenaline.
In audiophile terms, there's a delicious contrast between the claustrophobic nature of the guitars and vocals with open and airy subtleties such as the cymbals effects and the same sequences. Apart from that, the percussion tends to suck the air out of the studio while the guitar has a black hole effect in that each strum and string strike reverses upon itself into numbness. Delicacy and nuance is lacking, naturally, but there is still plenty of detail and variation in this live performance that, on a good hi-fi, reveals plenty of textures from the band's performance. And on that note, I've said this before, but I believe that Third Man has cracked the live recording experience. The best. The very best.