The Article
Cream's Royal Albert Hall 2-3-5-6 2005
4th November 2015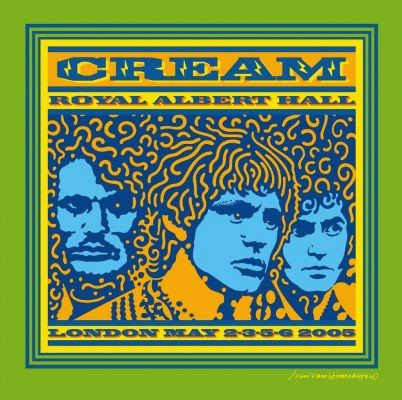 Title: Royal Albert Hall 2-3-5-6 2005
Setting aside the 'acrimony' and targeting the '…mony' bit instead, Cream decided to reform for a series of gigs at the Royal Albert Hall in 2005. It wasn't quite the one-off night or even location that many people had envisaged. Not only did the group appear at the Hall over a number of nights but they jetted off to appear to the USA, appearing the Madison Square Garden, afterwards.
This compilation of tracks from the UK shows, complete with its rather awkward title, saw the trio meld into a recognisable 'band'. The old musical connections were still there. The only problem was that the old energy wasn't and, in a way, that was half the point of the group. Then again, the last time they truly played in anger (ignoring the mid-nineties Rock & Roll Hall Of Fame appearance), was getting on for 40 years previous and the rusty nature of the inter-band relationships showed. Yes, you can forgive a little of the more temperate outlook of the former angry men of blues-rock because they were all into their 60s at this point, so energy levels were not the highest. Then again, the Rolling Stones are each aged around 102 and it's never affected their performance.
What did undoubtedly affect the 2005 version of Cream, though, was a change in playing styles. Eric Clapton played like a tamed millionaire, Jack Bruce's bass was extra large but his voice wasn't while Ginger Baker was no longer quite as mad. Shame.
There was nothing to be uncomfortable about here as the admirable performances of the likes of White Room and Sunshine Of Your Love showed but this superbly produced triple album, offering beautiful mastering, remains one for the fans only. Casual listeners should stick to the studio albums.