The Article
breathless' blue moon: post punk since the 80s
7th June 2016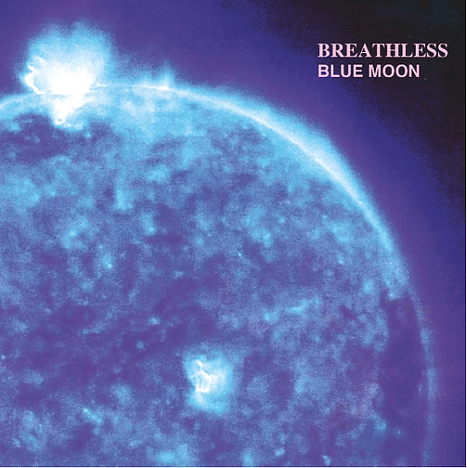 Title: Blue Moon
Offering a dark sort of post punk sound, Breathless is notable for two things: it has continued to control its music since it began in the early 80s and has maintained a stable line-up since 1986. Quite a feat in itself. And that line-up consists of keyboardist Dominic Appleton, guitarist Gary Mundy, bassist Ari Neufield (who handled the art for this LP, incidentally) plus ex-Danielle Dax drummer, Martyn Watts.
You may know of Appleton from his vocal duties with This Mortal Coil while Mundy has a more extreme alter ego, running the Broken Flag label and playing for Ramleh (associated with Skullflower and Ascension) but his work for Breathless has nothing to do with that style.
Blue Moon, a double album, appeared in 1999 after a break of eight years with their fifth album that took their Echo and The Bunnymen-esque post punk sound and combined with with more drone-related sounds. You can hear this tweaked style on the album's opening track, Walk Down to the Water which flows over the ears in terms of its synth backing, an attractive, steady beat plus low key lead vocals. There is also a This Mortal Coil feel to some of the tracks. For example, the guitar on the track Goodnight is pure TMC in feel and presentation along with Appleton's dramatic vocal delivery.
This edition arrives in a gatefold sleeve. In audiophile terms, this is a supremely competent album. OK, there is nothing particular sparkling in terms of space, clarity or dynamic reach but this LP remains a well mastered album that does everything right without being a jaw dropper in terms of technical prowess. I suspect that the original mastering, studio set-up and available equipment had a big say in the final sound.