The Article
Blue Oyster Cult's Live in America: Recorded in New York 1981
4th November 2015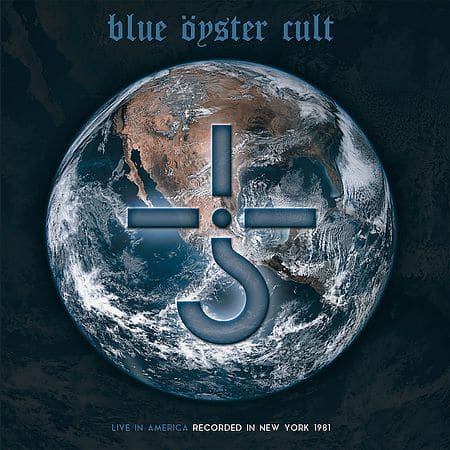 Title: Live in America: Recorded in New York 1981
Just prior to the release of their 1981 LP, Fire of Unknown Origin (a fierce and very creative release that was too), the band appeared in Times Square's nightclub, Bond's International Casino.
In aesthetic terms, this is a lovely thing: a double album pressed on blue (apt) vinyl in an attractive gatefold. That said, sonically, the coloured vinyl means that you are playing the actual colour and the vinyl.
What all live vinyl albums need is atmosphere. That's part of the reason you buy them in the first place, not to hear naff chatter between band and crowd. Such philosophical debates as, 'Hey New York! [cheers] Are you ready to rock? [cheers], etc, etc' which would surely have made Bertrand Russell reconsider his stand on metaphysics.
There's some of that but not too much.
In terms of balance, the production guys got it just right. You can hear the crowd but it never dominates, as on some live recordings. The band is the star here. You really want to key in to their adrenalin and the fact that this is really what they're all about: playing live in front of their fans. So you get the classics such as Don't Fear The Reaper and Me 262 but also three from the 'upcoming' album: Joan Crawford, Veteran of the Psychic Wars and Burnin' For You.
The musical presentation has a warm feel to it with upper mids and treble being rather veiled with lack of air and space. That said, the band's energy and enthusiasm wins though, creating a memorable live release.
Check out other Back on Black live releases including Lynrd Skynyrd's Taking the Biscuit: The Classic 1975 Broadcast; The Definitive Ian Gillan Live, live tracks from 1977-82 and Bachman Turner Overdrive's Taking Care On The Highway: Chicago Broadcast 1974.