The Article
Armageddon: The Album, mixes original theme music with third party rock tracks
28th July 2016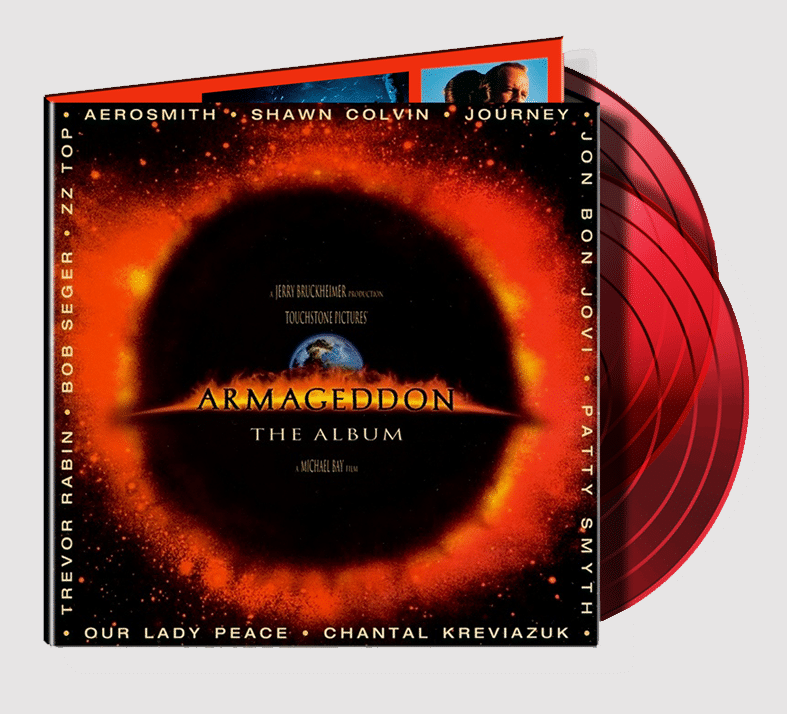 Title: Original Soundtrack
Label: Audio Fidelity
It's an intriguing album because it is not an original score – well, part of it is – but is mostly one of those soundtracks packed to the gills with star bands and creative artists. The intriguing bit is that the compilers tried to make it a balanced release, wanting to appeal to younger listeners but they've really failed in this task with only Our Lady Peace and Cantal Kreviazuk trying (pretty poorly, it has to be said) to ring up some teeny energy. No, this is a LP for mature ears, mostly Aerosmith fanbase ears at that with four tracks from the band including the singles I Don't Want to Miss a Thing and What Kind of Love Are You On plus the superior Sweet Emotion and Come Together.
You can also hear Shawn Colvin, Patty Smyth, Jon Bon Jovi, Trevor Rabin and Journey (complete with new vocalist Steve Augeri) plus oldies by ZZ Top and Bob Seger. The song selection is patchy, the Aerosmith proliferation results in the album becoming unbalanced yet I like it because its represents a time and a place. Even the terrible film it's hooked onto has that odd aura about it. The Trevor Rabin theme is quality, though.
The only real criticism I have of the album is not so much the album or the packaging but the outer protective bag that it arrives in. The fit is so snug that it's almost impossible to extract the thing without damaging the bag, which is a shame because that's what holds the neat golden sticker on he front. Darn it.
How good is the mastering on this album? Very good indeed. There's three examples I can take from the classic Aerosmith track, I Don't Want To Miss A Thing at the beginning of Side A on Disc one. Firstly, you can actually hear lead singer, Steven Tyler, sucking back on his saliva as he prepares to sing a few more words. Not something you might want to hear while you're eating your lunch, I have to say, but effective for audiophiles, nevertheless. Secondly, in the centre of the the rising music, orchestral crescendos and guitars a go-go, you can hear a simple, very slow guitar strum, clearly being plucked which is a testament to the instrumental seperation and low noise. Thirdly, as the music builds and the vocals begin to enter screaming territory there, centre front, is the simple tone of a triangle. Yep, that's right, in amongst the tumult, I could not only hear the triangle but follow its monotonous yet fragile progress right through to the end of the track.
An album full of fun and frolics and superb sonics.