The Article
Arlo Guthrie's Alice Restaurant: Woody Guthrie's son makes a name for himself
25th May 2016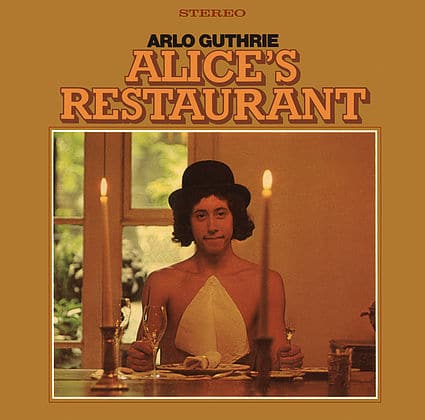 Title: Alice's Restaurant
Label: Pure Pleasure
The fifth child of the legendary Woody Guthrie who, indeed, gave him his first guitar at the age of six, Arlo Guthrie hardly shot to fame, despite his famous parent, and honed his craft for several years before making his debut with this album in 1967. And perfectly timed it was too because his sense of social protest and human insight was ideal for the times.
The LP is, of course, famous for the song, Alice's Restaurant Massacree, which spans the entire first side of the LP and, more than that, is a live performance, recorded in front of an audience who are clearly tickled by the comedic tones of the song. It certainly contributed to the sales of the album which exceed a million copies.
Despite the convoluted tale within Alice that was, apparently, based upon real events, the second side of this LP contains many hidden treasures.
The six tracks on the B-side feature folk rock that walk a more familiar path in terms of their constructions and arrangements. The Chilling of the Evening is a real highlight here with a passionate vocal and an equally incisive guitar accompaniment. The next track, Ring-Around-a-Rosy Rag, has a more historical, traditional angle and reintroduces the Guthrie tone heard on the A-side, singing Alice… It's a real jug band, rollicking, flagon waving, head nodding, uproarious ditty that would actually have been ideal as a rousing last track on this LP.
Now and Then follows with a slightly cheeky, innovative, rather more rocky take that reminds me of Pepper-era Beatles. It has that Music Hall (well, Vaudeville in Guthrie's case) sense of fun with a pantomime edge that suggests 'naughty' and 'mischevious', despite the rather grown up subject matter of the lyrics.
I'm Going Home is 'grown up' in terms of is arrangement. It is a perceptive and complex piece that reveals a new, to this point, sensitivity and vulnerability from Guthrie that is rather surprising and suggests that there is more than meets the ear to this artist.
A varied and layered LP, offering excellent mastering, that is eminently enjoyable, although the B side may be the preferred subject of the majority of repeat plays.