The Article
Abacus DAC From Heed: The Digital Gentleman
21st March 2019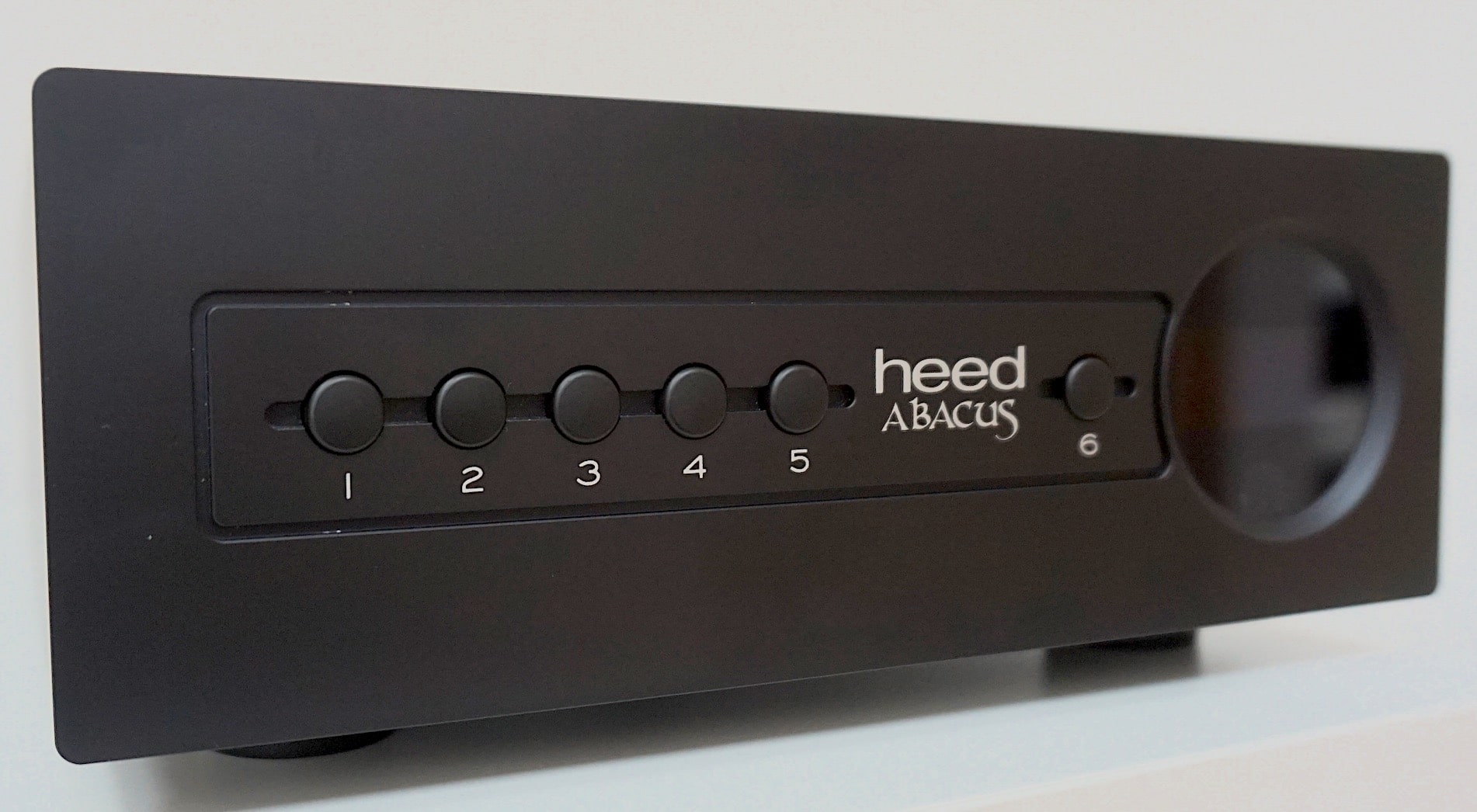 Presented in a small footprint chassis, Paul Rigby reviews the Heed DAC, the Abacus
This DAC arrives in a relatively dinky case for a fully-fledged hi-fi unit which would normally trigger minor alarms in terms of isolation and noise reduction. That said, there are companies out there who know their way around a small chassis and Heed appears to be one of those. I present the similarly sized amplifier, the Heed Elixir, the Abacus' sister unit as evidence. Hence, my concern quickly turned into eager anticipation. In fact, Heed does exclaim that both of the analogue and digital sections inside the Abacus are just that, isolated.
This DAC can handle both PCM and DSD. For the latter, that means up to 32bit/384kHz, an increasingly standard set of figures these days, as well as DSD128 run in native form. DSD128 is fairly low in terms of modern DAC figures while the once elusive 'native' standard is again an increasingly familiar phrase. That said, successful DACs are not about figures but implementation.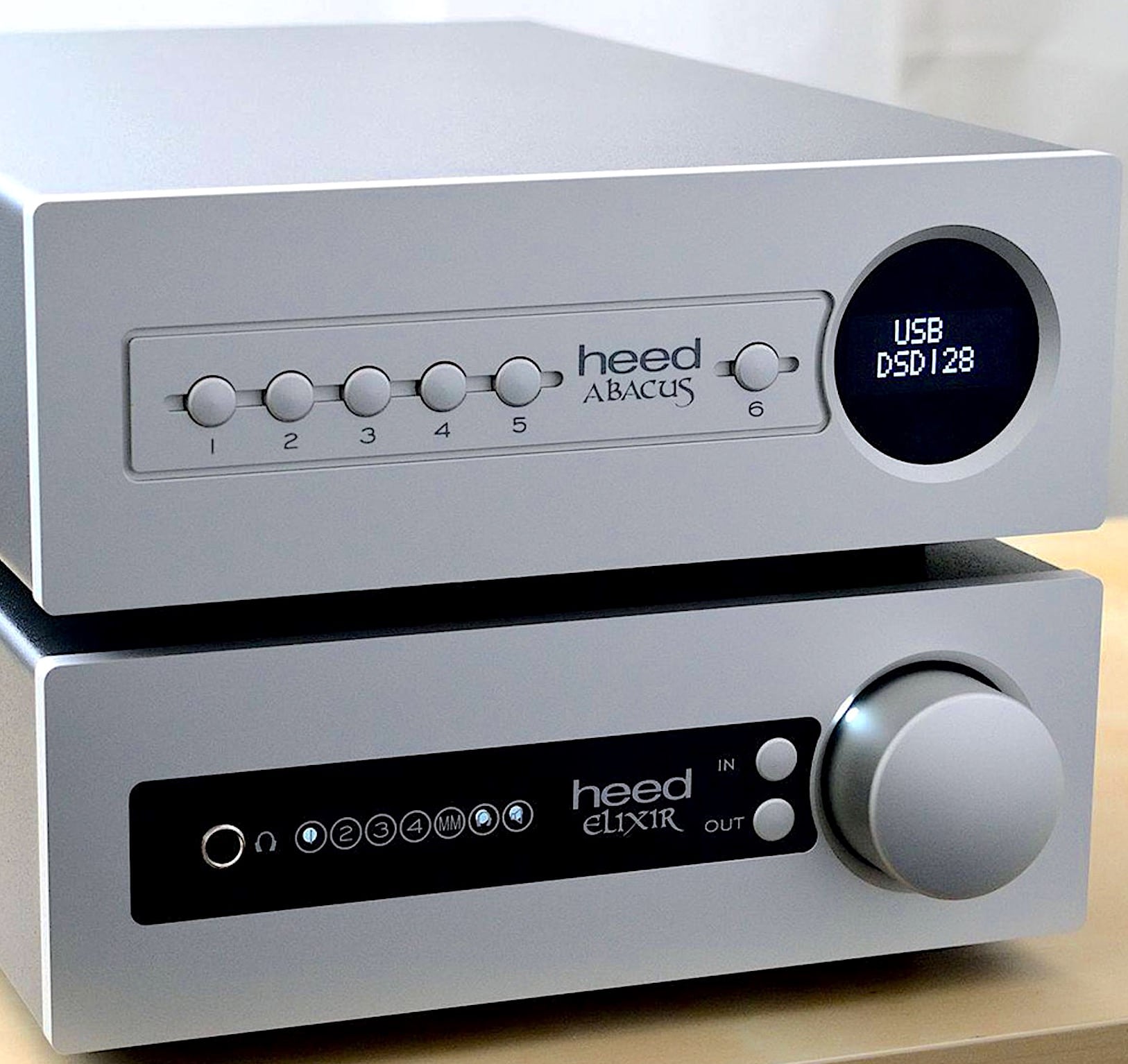 The front of the chassis is relatively minimal in design with a large, circular output window on the far right (nice to see Heed moving away from the rather staid industry norm, the centrally place, rectangular format) which shows the source and digital feed type. I like the way the source change forces the readout to swish horizontally, in a 50s TV-type blur of fonts, as one source title replaces another. There are six source buttons, the sixth is connected to an expansion port option. When that port is empty, the option is inactive.
As for the expansion port itself? I asked the company about it and it replied, "At the moment there are no expansion modules available but Heed is working on a plug-in internal streamer to make the Abacus into a fully functioning streamer and DAC."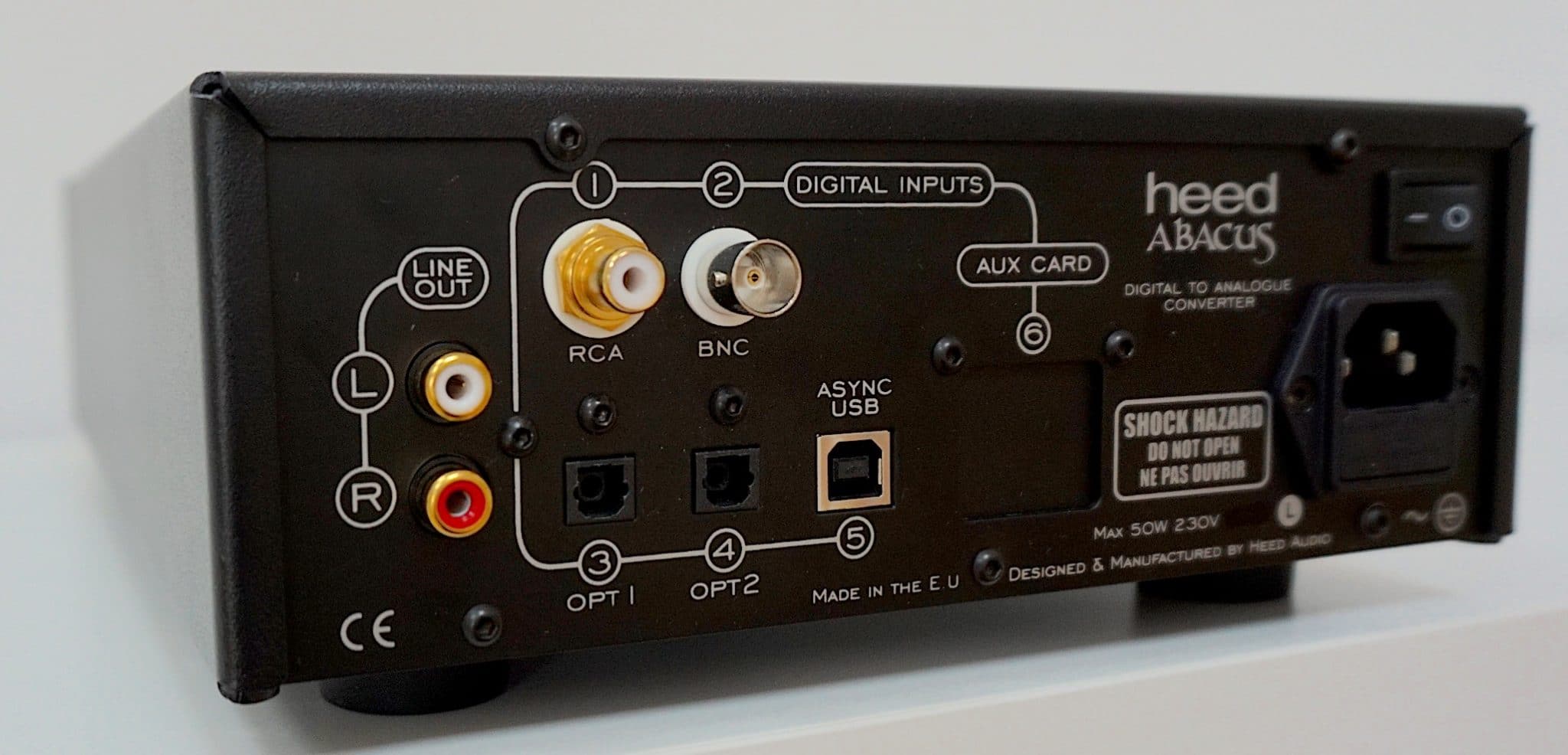 A plastic remote is also included. Slim, functional with a defined click to each button, it features the useful Menu button but also redundant CD transport commands while pressing some buttons changed the source on my Aesthetix Calypso pre-amp while others turned it off altogether! So be wary of that. You don't want the Heed remote to turn on your kettle and change the channel on your TV now, do you?
Accessible via the Remote's Menu button is a range of PCM and DSD filters. The difference between linear phase fast and slow roll-off is subtle but the former offers slightly more definition. Additional filters include minimum phase soft (which expands the soundstage left and right when compared to linear phase) and hard (which adds further definition). There's also two DSD filters, normal mode and the direct mode (which adds a slight enhancement of air and space) that takes you directly to the DAC stages.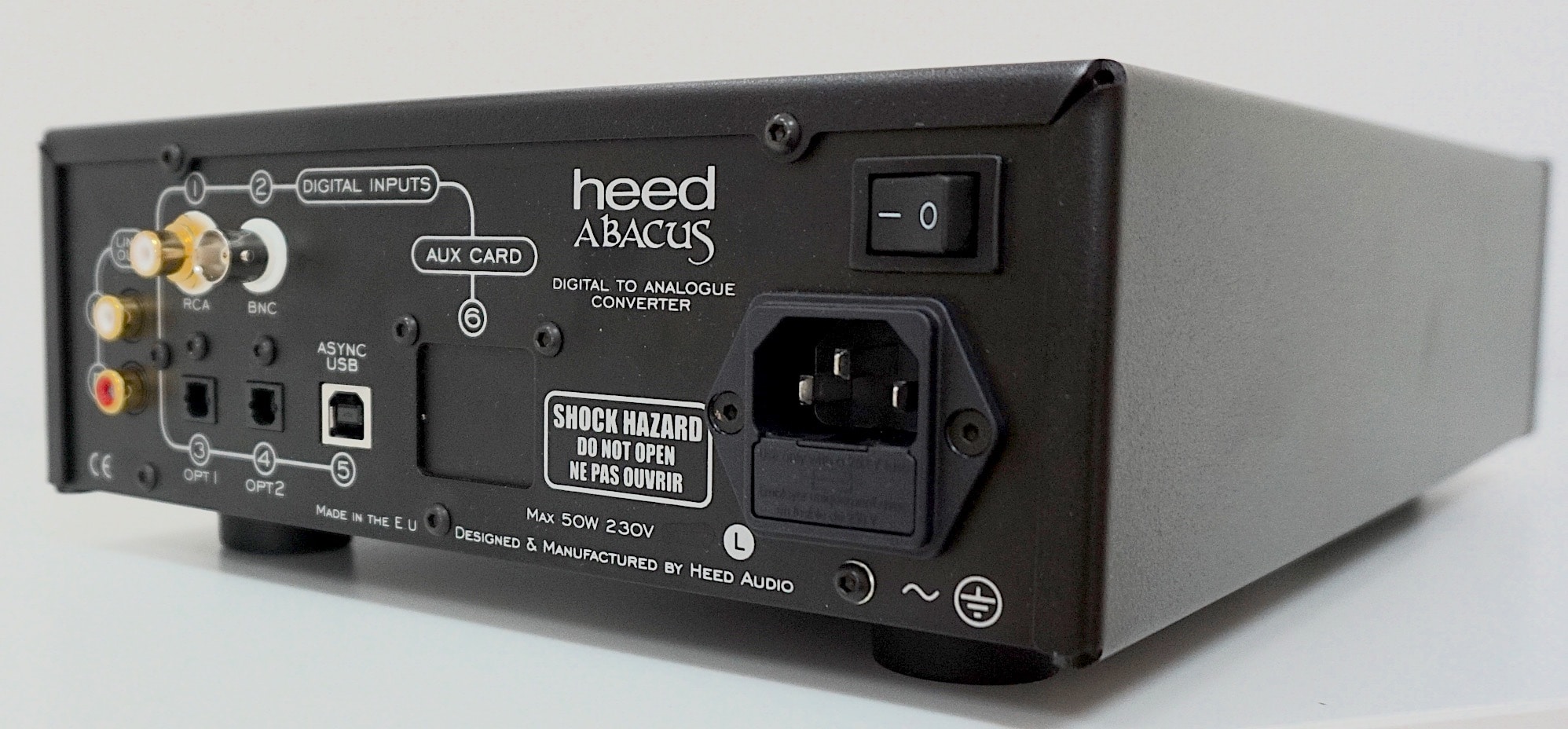 The rear features a range of inputs such as a B-type asynchronous USB port, RCA coax, BNC, two opticals and that expansion card I mentioned above behind a metal plate. You also get a pair of line outs. All of that takes space on the rear left. To the right is a power socket and rocker power switch.
What I like about the rear is that each of the source numbers seen on the front of the chassis are replicated and also numbered clearly on the rear. This takes the guess work out of what cable goes where. Big thumbs up to Heed for thinking of the user on that score.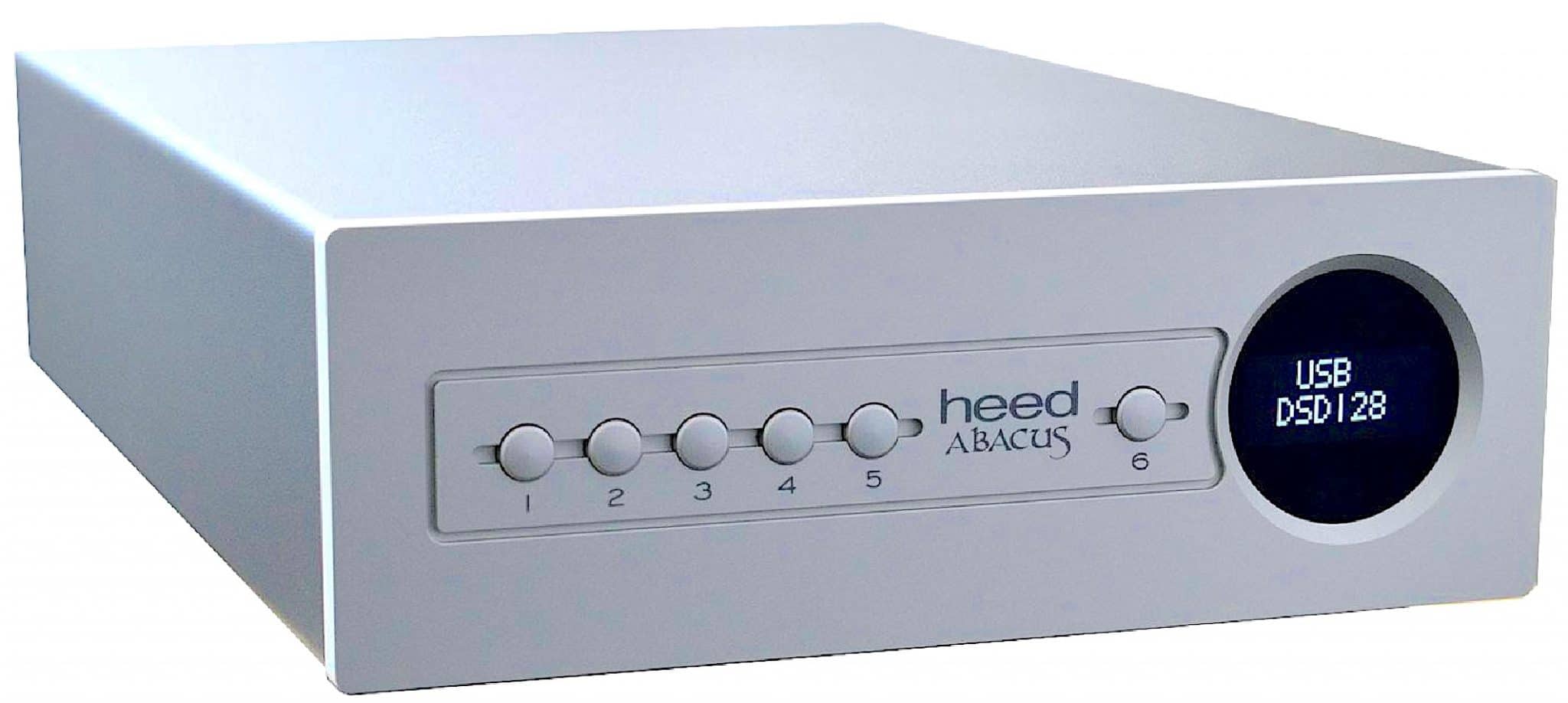 As  say, this is a relatively wee box spanning 22 x 8.7 x 32.5cm, available in black or silver, so the weight is not to obstructive at 4.5kg.
SOUND QUALITY
I began by hooking the DAC to my Leema Elements CD player, using the Leema as a transport and playing a bit of vocal jazz, Bing Crosby's Bing With a Beat, featuring Bob Scobey's Frisco Jazz Band and the track Let A Smile be Your Umbrella. 
Panning back a way and looking at the music as a whole, I was happy to recognise that this was a cosy rendition from a group of performers. It wasn't a bucket of highlights which is what DACs can do to you sometimes. Often, via some DACs, you can distil a track like this to bullet points: vocal crescendo, trumpet solo, percussion bit there, clarinet there…ok next! Instead, what the Abacus gave me was a series of relaxing minutes in the company of Crosby, Scobey and the boys. Crosby didn't pop out at me like a jack-in-the-box, thank goodness, the brass introduction didn't scare me half to death, which was a relief and the initial rim shot percussive solo didn't sound like a carpenter at full pelt. What I had here was a more coherent and integrated mix. Every aspect of the music appeared to be part of that mix. Nothing suddenly zoomed out and hit me between the eyes. 
In a word? Civilised. 
Treble was delicate and nuanced, the midrange form the brass never barked, it just offered detail and lots of tonal information while the Crosby vocal provided plenty of textural emphasis. 
I turned to more dynamic fare and The Cure's quite brilliant guitar-fest, The Kiss. This ditty provided plenty of opportunities for the lead guitar – which swirls away in joyous complexity – to hit a series of nasty bright crescendos. But it never did so. Not once. There was dynamic contrast, yes, but it never crossed the line. Instead, the guitar morphed and changed and squeezed itself into sonic corners, it stretched and sprang from the darkness and, in all of that time it did nothing else but educate and entertain.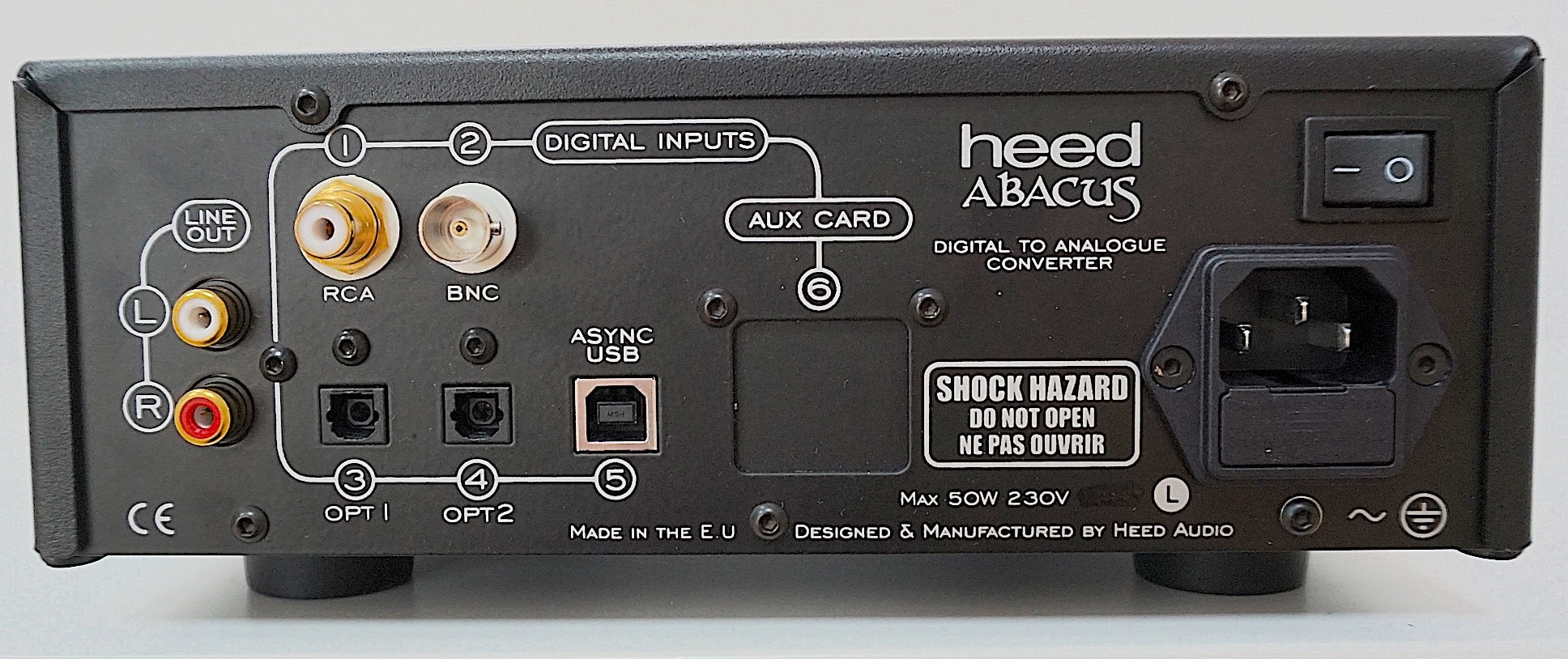 Behind it, the percussion shifted from tone to timbre. Expanding and reducing its reverb, the power of each hit and the speed of strike. In effect, the nuances of the percussion were in evident here, transparency around the lower frequencies were easily discerned.
I then plugged in my Astell&Kern AK120 via optical and played So Far Away from Dire Straits at 24bit/88.2kHz. This track was a little compressed upon release so playing it can be a challenge for any DAC but the Heed managed to handle the issues well indeed. Partly because it stretched the soundstage out wide, left and right, which minimised the clinical edge form the music, like pulling out an accordion, separating and isolating detail highlights to move the focus more upon the wealth of detail rather then the upper midrange edge. The result was a delight as listening fatigue dropped like a stone and a good time replaced it.
I then plugged in my MacBook laptop via USB and played Meeting at the Building by Eric Bibb at DSD128 via Audirvana Plus.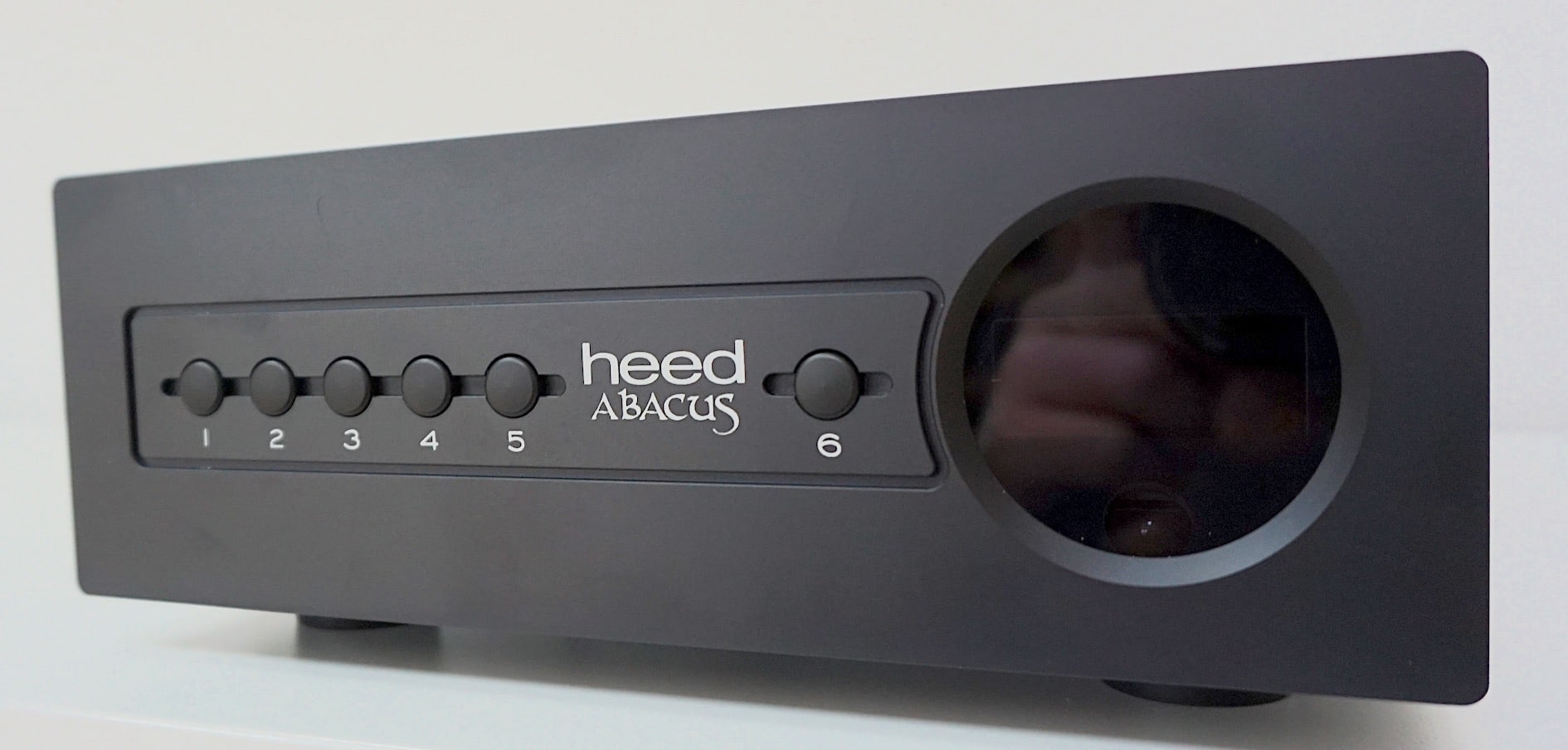 Now music played via DSD sounds different, especially as you rack up the resolution. There's often a body and an accentuation in dynamic contrast from well formed DSD productions. The Heed showed that the Bibb track was one of those. Bold percussion was present but it was the sheer diversity in texture that impressed here between the drums and secondary percussion while the lead and backing vocals provided a veritable crowded street scene of voices that provided a party or gathering atmosphere. In amongst this melange was a clear and concise acoustic guitar that was focused and precise but flowed with some ease.  
CONCLUSION
I have to say that the Heed offers one of the more refined DACs that I've come across of late for this price point and, to be honest, even at double this price. It never jumps down your throat, it doesn't grab you by the ears and shout, "Listen to this! And now this! On the left! Right! Now this!" Which can be fine in terms of detail highlights but that sort of presentation can too often be exhausting. There is a sense of neutrality and balance from the Abacus and, in these days of digital dominance, it's a bit of a relief I can tell you. Listening to an album through some DACs can make me feel that I've just watched a 45 minute advertisement. The experience has been more of a trial than a sense of enjoyment. The Heed Abacus does none of that, it allows you to come to it. And if you want to focus on detail then, sure, it's there if you want it but if you just want to listen to music and tap away the minutes with an active foot then, hey, you can do that too. 
---
HEED ABACUS DAC
Price: £999
Tel: 01242 511133
Website www.heedaudio.shop
---
GOOD: tonal neutrality, DSD performance, balanced mix, detail, transparency 
BAD: nothing 
RATING: 9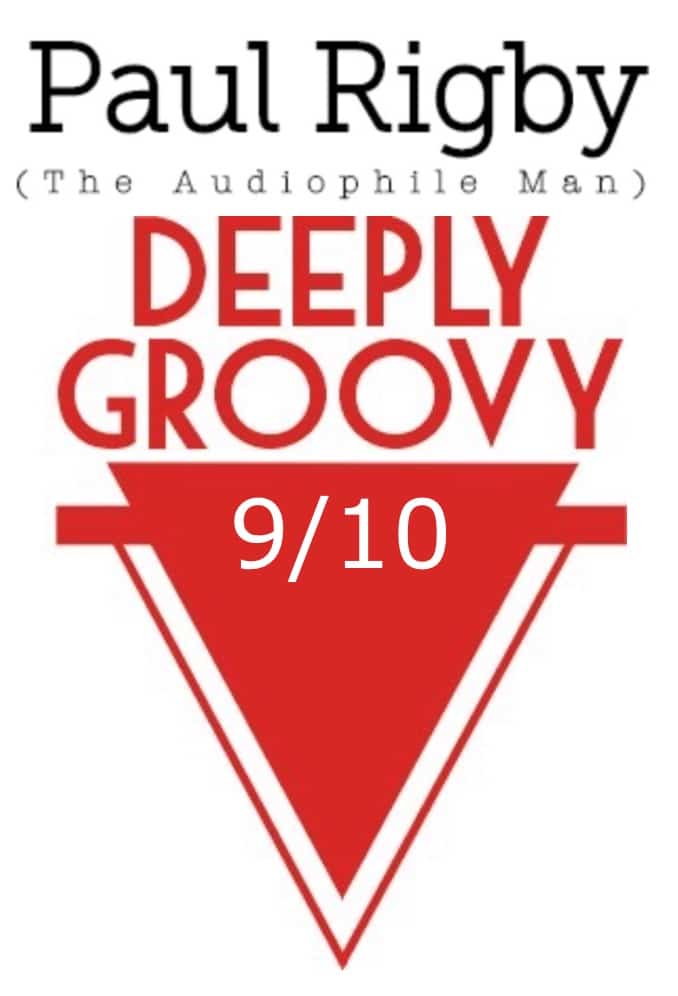 ---
Don't forget to check out my Facebook Group, The Audiophile Man: Hi-Fi & Music here: www.facebook.com/groups/theaudiophileman for exclusive postings, exclusive editorial and more!]
REFERENCE
Benchmark DAC2 HGC
Arcam irDAC-II
Astell & Kern AK120 (Red Wine modded)
Leema Essentials CD Player
Music First Classic pre-amp
Valvet power amplifiers
Q Acoustics 3020i speakers
Spendor A1 speakers
Tellurium Q cables
Blue Horizon Professional Rack System