The Article
A10 integrated valve amplifier From Pure Sound
8th November 2018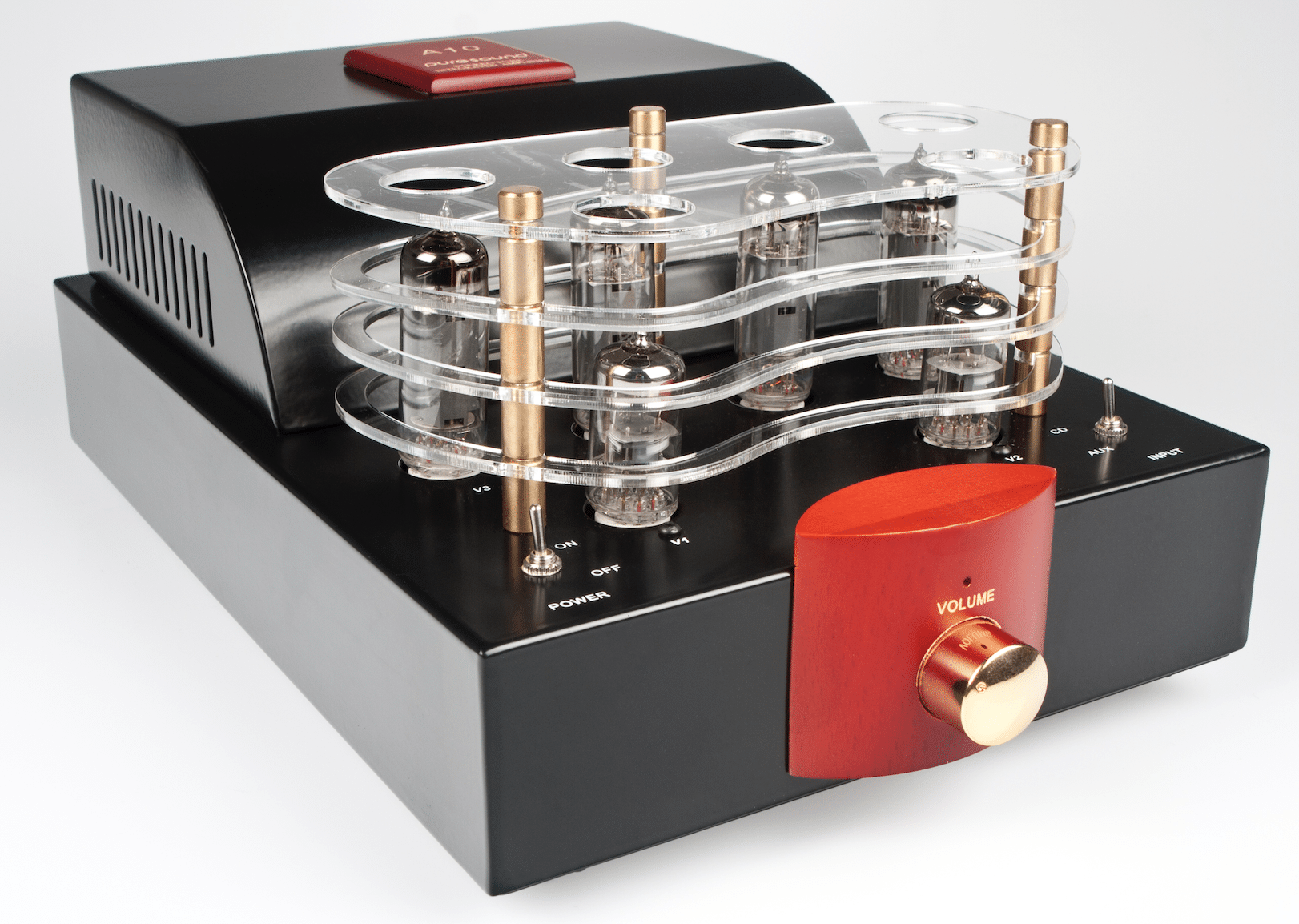 The entry level design from Pure Sound, Paul Rigby reviews the A10 integrated amplifier
If there's one thing I've learned about valves and valve amplifiers especially is that there might be a host of products on the market but you can't produce a top quality valve amp on the cheap. My previous 'entry point' recommendation was the Icon Audio Stereo 20 which currently retails somewhere around the £900 mark. 
Pure Sound's attractively built model nips in under that figure and so is immediately attractive and worthy of investigation.
Designed as a Class A Ultra Linear push-pull design, the A10 uses a pair of 6N3 valves in the preamp section and a four 6P14 valves ("…a modern equivalent to the EL84/6BQ5 family," said the company) for the output stage.
For this price, the one thing you're not going to get is lots of power. That Stereo 20 I mentioned above pumps out a maximum of 15W while the A10 spurts out only 10W. Hence, you're going to have to be careful when matching speakers or the room size or both. Grab a sensitive pair of speakers and a room that's not too large, though, and you might be in the market for an A10 (or, at least, that's what I originally thought, see below).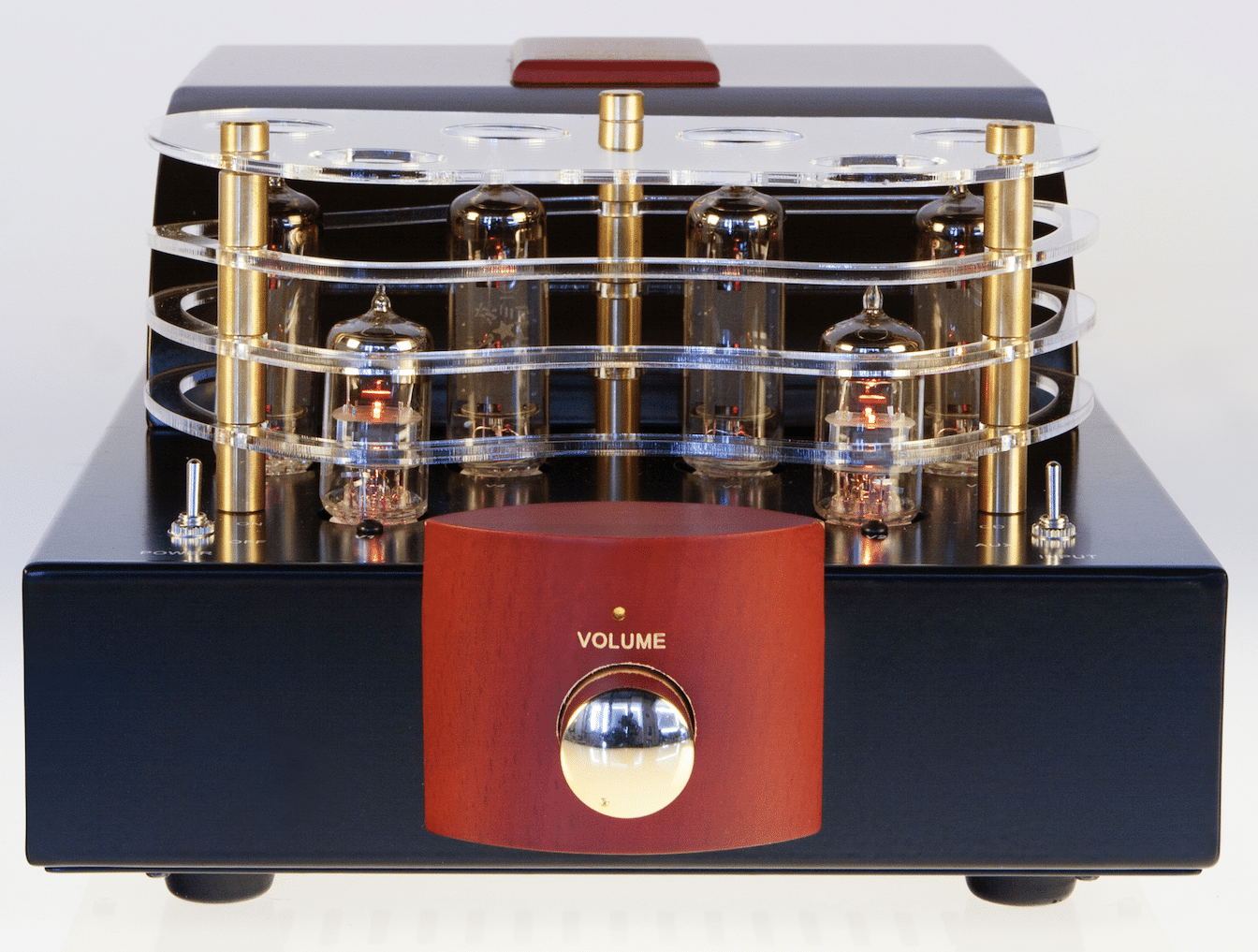 Outside, the amplifier is stylish in its appearance with a very nicely built ALPS Blue Velvet volume knob centrally placed at the front of a dinky Sandalwood fitting and a pair of gold plated single-ended inputs on the rear. That's right, there's only two pairs here but that's fine if you want to hook up an external phono amp for vinyl play and a CD player or DAC for more digital fare. Cosy, shall we say. Some users will see this as an issue but careful planning will remove that problem.
While we're at the rear, apart from the power socket, there's the 3-way, gold plated speaker terminals plus a 4 Ohm and 8 Ohm speaker switch.
The A10 uses an Auto Bias system, which means the replacement output valves should be fitted as matched pairs so there will be no need to reset or monitor bias conditions. Inside, the amplifier are a host of carbon film resistors and polypropylene signal coupling capacitors: quality has not suffered as the price has been shaved, therefore.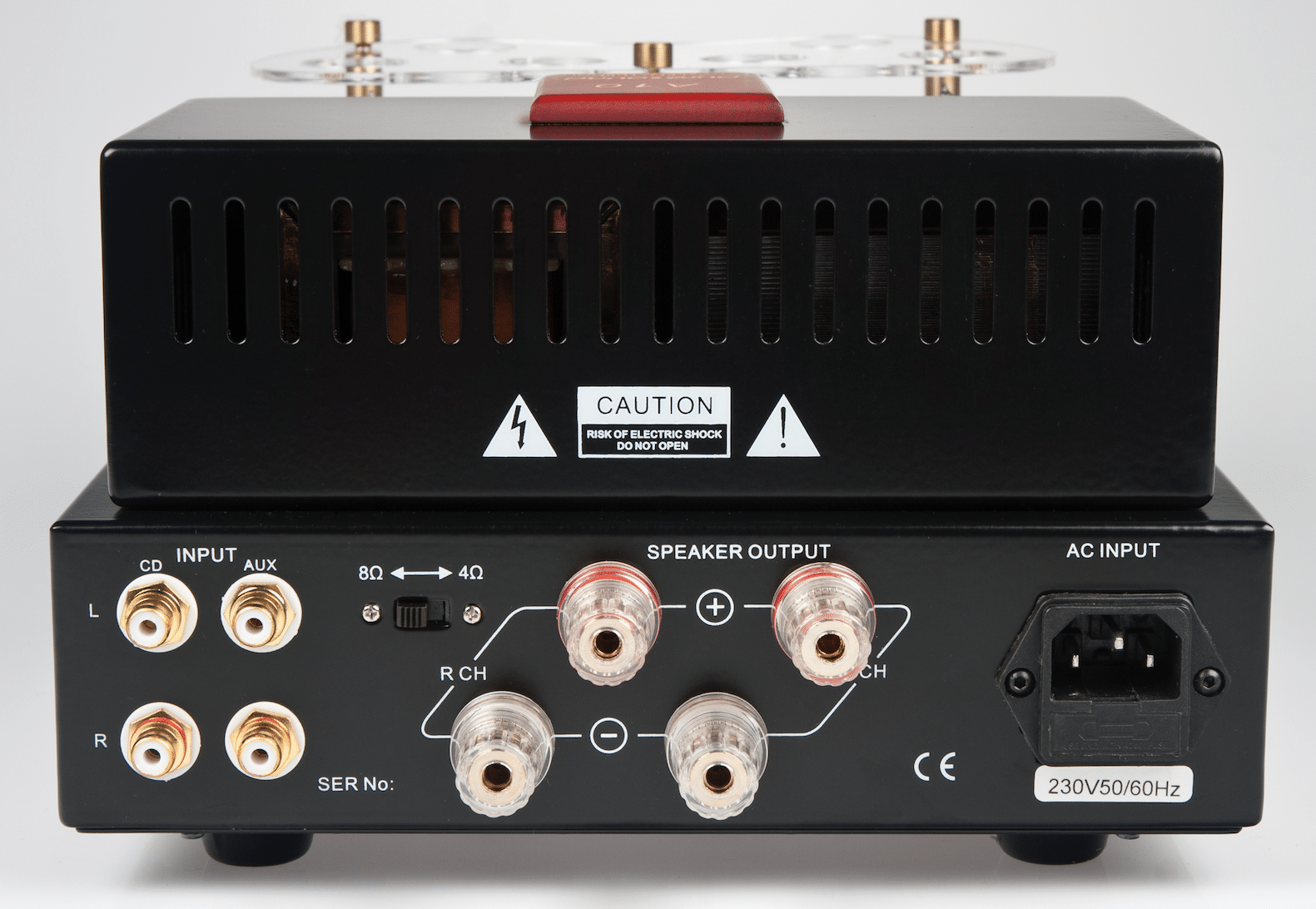 Spanning 140 x 230 x 330mm, the chassis weighs in at 8.5kg.
Oh, one final thing. This amp doesn't come with a remote but look at the exclusion like this, you're getting lot of amplifier for your cash. If you added a remote, it wouldn't be a freebee, it would hike the price upwards once more. For this category of amplifier trying to do this type of job at this sort of price, I would put a remote way down on my priority list. Hence, I don't view its absence as a problem. A solid state design? Sure. For a valve amp looking to produce quality at a low price? No.
DESIGN
Before I got to the actual sound quality, I wanted to quickly report on the sensitivity to see if my above comments held any water. I initially tested the amplifier with my Quad 57 electrostatic speakers. They are not particularly sensitive yet the A10 was able to 'go loud'. Very loud, in fact. Ear splitting, if pushed. 
I then brought in a pair of Spendor A1 speakers at a rating of just 84db, to see how they responded in my large listening room. The answer was very well indeed. Again, the A10 could easily 'go loud', even in my large room and even with this level of sensitivity. Which goes to show, it's not the power rating of an amplifier that's important but how that amplifier handles its power and processes it.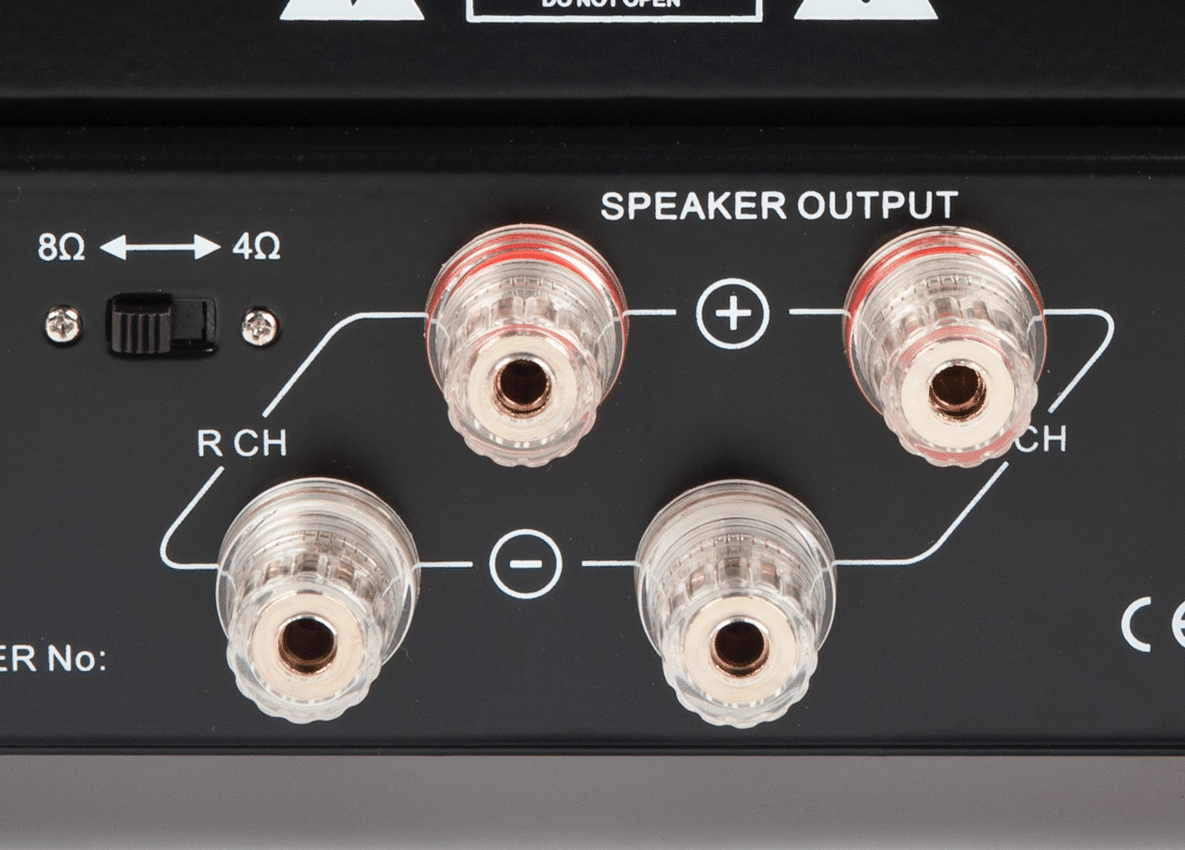 I asked the amplifier's designer, Guy Sergeant about this odd phenomena and he commented, "The A10 is a 10W per channel class A amplifier. Class A operation has some advantages. The output devices are biased such that they do not get switched off at any output level. The reason why you might choose to bias the output valves so that they stay switched on all the time is because switching them on and off causes them to become quite non-linear in operation and introduce significant and rising levels of distortion the more time they spend switching between on and off. With the A10, it will play up to its full output (i.e. 10 Watts) without the minimal amount of distortion it does produce changing very much at all. Even with relatively insensitive speakers (such as your Quads) a clean 10W will get them to play quite loud in normal domestic use. Indeed the original Quad II amplifiers probably didn't produce much more than 10W output. Ditto the contemporary Leak Stereo 20. Amplifiers whose output devices are switching on and off can have their distortion perhaps reined in by applying lots of negative feedback around the circuit."
SOUND TESTS
To begin the sound tests? No messing about, I dived into Queen at their rocking best and Dead on Time from the album, Jazz. Potential issues? On some systems the drums can sound a little edgy and tinny, Freddie Mercury's vocal, during crescendos can hover towards the the bright and cymbals are often buried under the percussive cacophony. The main issue is the mastering of this early edition reissue.
None of those issues proved to be problem with the A10 – that's the short answer. If they were illuminated at all, these problems were alleviated to such an extent as to not be a major concern. The issue was reduced, not because the output sounded warming but because the A10 reduced noise to such an extent as to almost dissipate the strident effects.
Hence, in percussive terms, the drums pulled back a tad to take a fuller part in the mix rather than trying to dominate it while the percussion item was nicely characterful, providing an organic presentation.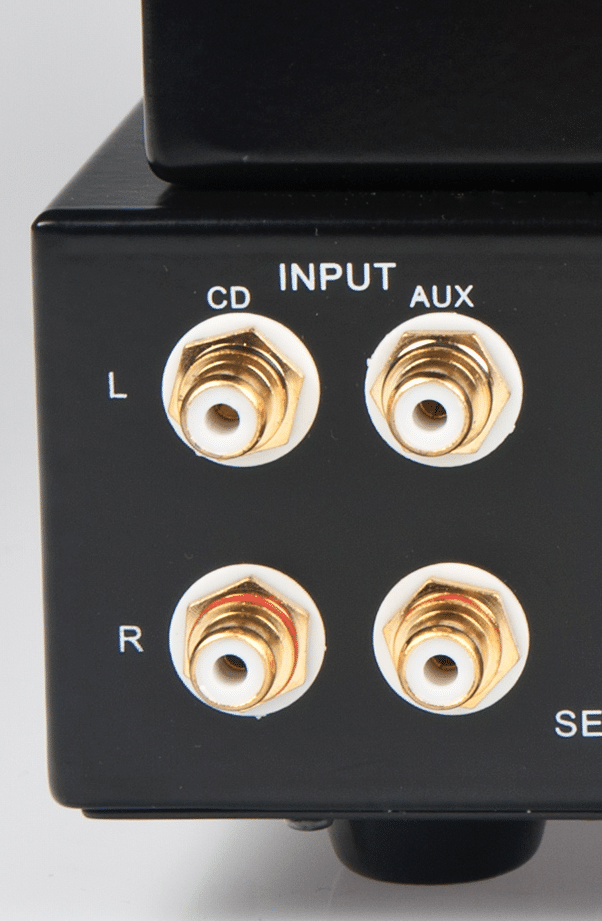 Mercury's voice was less crowded by this low noise design which means that he had more room to manoeuvre, allowing greater subtlety to emerge from his performance and a rounded view of his delivery to be heard. That is, there was an inherent transparency around the lead vocal that gave the entire song personality, a strength but also a sense of, well, honesty I suppose. You felt that the A10 was getting into the nitty gritty of the lead vocal.  
Cymbals were the big surprise here. Because of the space and air infused into the soundstage, there was a large amount of room available for the cymbals to emerge. Hence, the delicacy of a symbol tap was easy to hear and enjoy, reverb tails were hanging all over the place, adding complexity and layering to the track as a whole. 
This also meant that both lead and bass guitars were allowed to move around the soundstage instead of being swamped by the vocals and drums. 
I then turned to more sedate fare on CD and Emmylou Harris singing Mystery Train from the album, Thirteen.
Again, I was impressed by the low noise aspect of the amplifier but also the wide expanse of the soundstage. The far edges were occupied by acoustic guitars, strumming away like good'uns and the detail from them was impressive indeed with regular delicate string twangs pushing out the odd fragile reverb tail to add richness and depth to the song.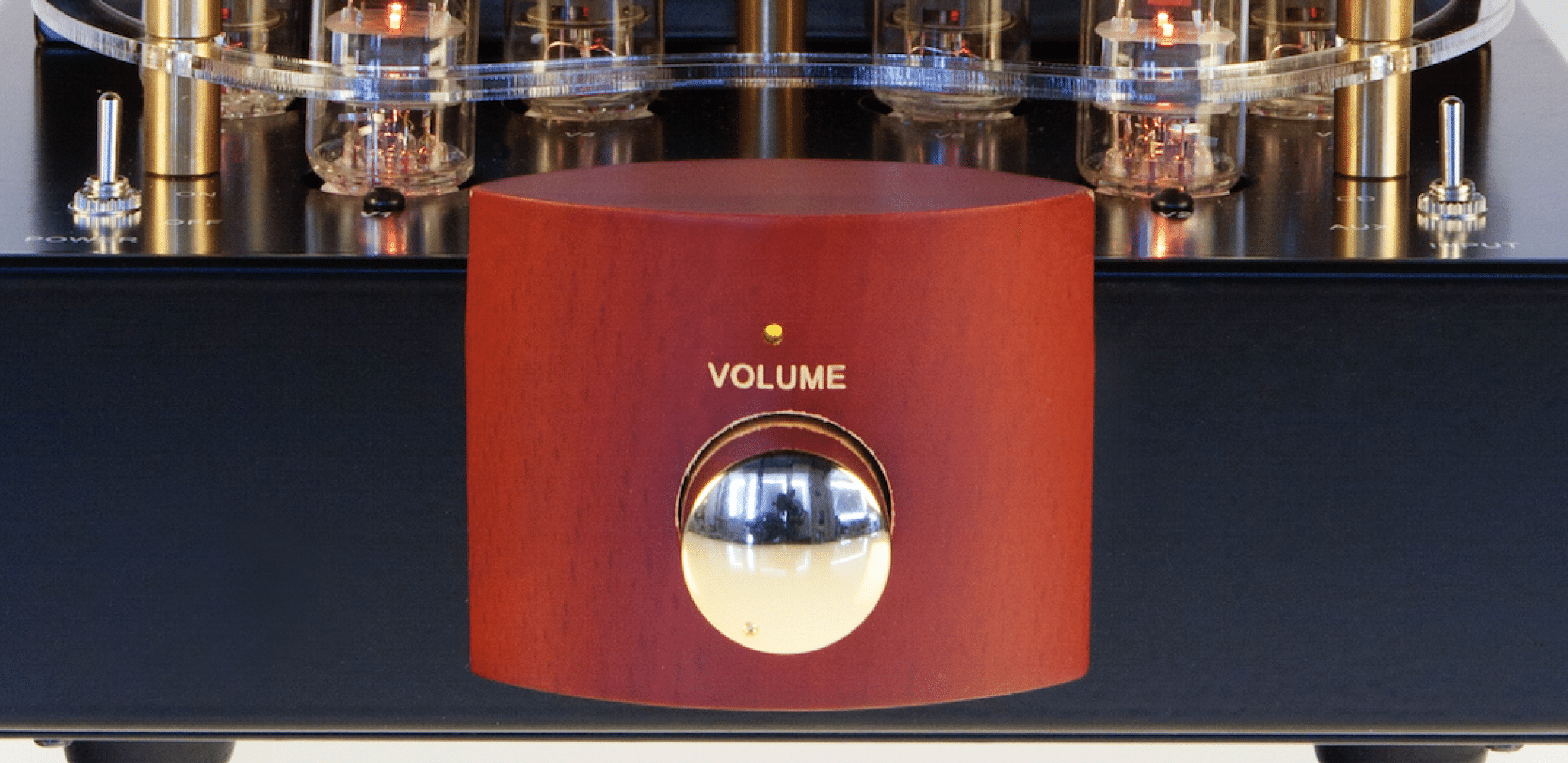 Harris' voice oozed character, personality and texture, especially if she pushed her voice a tad and a slight dry throated essence told you that she was forcing her vocal to the max. Of course, this sort of detail only enhanced the realistic nature of the playback.
I was also happy to hear the bass sitting behind the Harris vocal and the slight distance between the two, in and around the central stereo image. The 3D structure of this area meant that the two never tripped over each other.
CONCLUSION
It's the calming nature of the A10 that really impresses me. Despite the supposed low power, the A10 never felt that it was stressing or tense. The entire test period only revealed how relaxed and at ease this amplifier was. Incisive with a superb degree of clarity, the Pure Sound A10 is a steal at this price. 
---
PURE SOUND A10 INTEGRATED VALVE AMPLIFIER



Price: £729.95

Tel: 01822 612449

Website: www.puresound.info
---
GOOD: detail, transparent mids, low noise, broad soundstage, instrumental separation
BAD: nothing
RATING: 9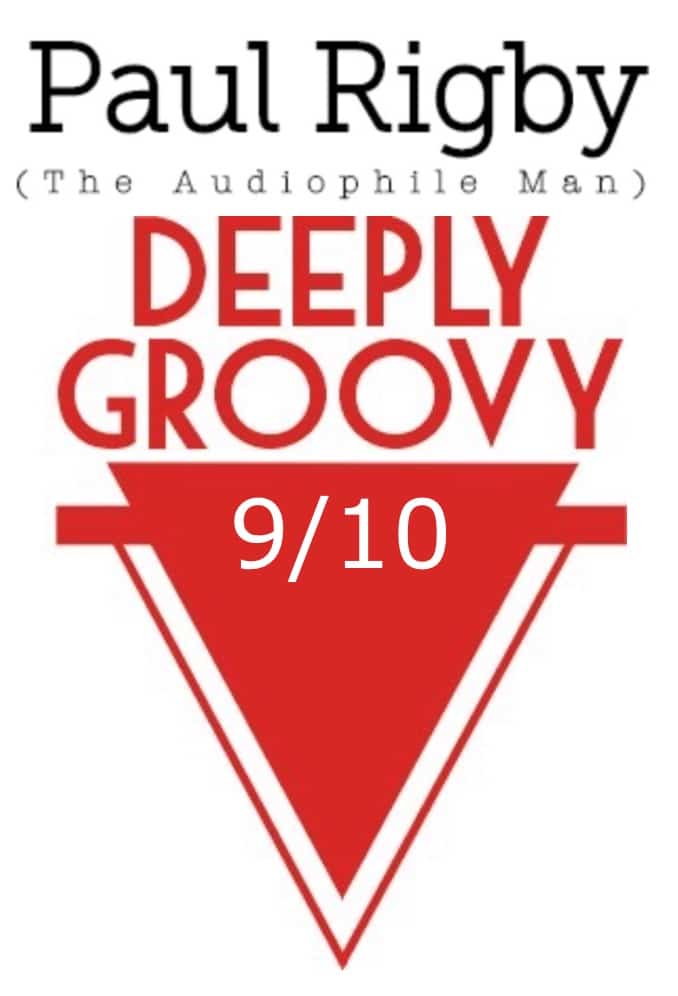 ---
[Don't forget to check out my Facebook Group, The Audiophile Man: Hi-Fi & Music here: www.facebook.com/groups/theaudiophileman for exclusive postings, exclusive editorial and more!]
REFERENCE
Origin Live Sovereign turntable
Origin Live Enterprise 12″ arm
Van Den Hul Crimson XGW Stradivarius Cartridge
Icon PS3 phono amplifier
Aesthetix Calypso pre-amp
Icon Audio MB845 Mk.II monoblock amplifiers
Quad ESL-57 speakers with One Thing upgrade
Heco Direkt speakers
Tellurium Q Silver Diamond cables
Blue Horizon Professional Rack System
Harmonic Resolution Systems Noise Reduction Components
All vinyl was cleaned using an Audio Desk's Ultrasonic Pro Vinyl Cleaner