The Article
The Yes Pandemic
23rd July 2021
Fans of bands like Yes have been living with their own variety of Pandemic for years (and years). Paul Rigby reports from the centre of the NHYes (No Help for Yes fans)
The issue affects the wallet, primarily because of the secondary effects of solo-itis, which seems to spread over time and those suffering from nasty cases of the 'spin offs', an ever-increasing issue. Then you experience numbness at the end of the month when you get around to looking at your bank balance. There's also short and long term memory problems when umpteen older band faces fade into time, "You know Bob, I'm sure he was in the band during the late 70s, I…just can't remember his name."
But let's look at the root causes, shall we?
Sometimes, a band can be so long lived and so large, it can spawn an entire ecosystem covering decades, record labels, styles, even eras. They can occupy their own habitat, natural environment and even generate their own weather system, they're so large. Such bands come around now and again, only.
The above symptoms tend to result partly because the band has had a long shelf life and, this is pretty important, the band members really need to have suffered a bit in terms of strife and interpersonal relationships. So I'm not talking about relatively settled outfits such as The Beatles or The Rolling Stones. They may have squabbled but not much more than that.
One of the examples I have in my head here include Deep Purple, King Crimson and the prog rock outfit, Yes (there's others). Most people would say that Yes was formed, almost out of the blue, in 1968 but its root-level history goes back even further, where core band members were part of other groups. Until, well until they all landed in one convenient place. A place that is often ignored in many Yes band histories.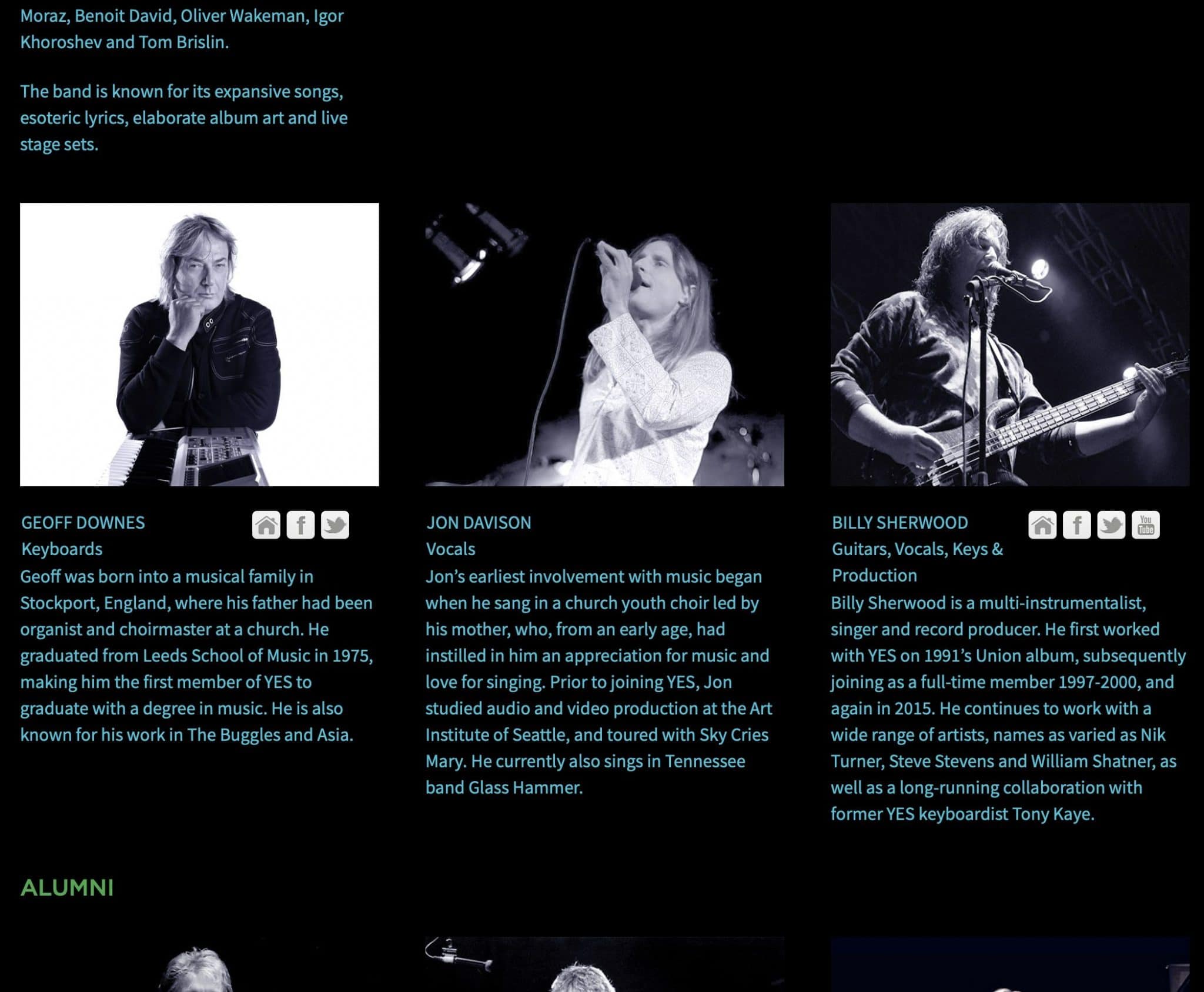 I remember speaking to the drummer for the 60s psychedelic/prog outfit, Mabel Greer's Toyshop (MGT), Robert Hagger. He described to me how his short-lived rock group, that existed between 1967-68, became a sort of petri dish for the formation of the then future band, Yes. From my side of the fence, I'd say that MGT was almost invaded and assimilated.
A bit like the Borg in Star Trek.
Later MGT band members would include Chris Squire, Peter Banks, Jon Anderson, Bill Bruford and Tony Kaye. Then they, almost cuckoo-like, transformed and converted MGT into Yes. Casting aside the rest of MGT in the process, leaving it to whither on the vine.
Then, somewhere around 1970, it began. The Yes line-up changes. 
Later, it would be the arguments, the side projects, the reunions, the splits, more line-up changes, then ex-members forming their own bands, sometimes with other ex-members of Yes, then ex-members of Yes going into production and on and on. 
The fall-out of this is that fans of Yes are faced with a tremendous financial strain. Why? If you're a completist, if you buy everything from one particular group and everything associated with that group, then you're in big trouble with a band like Yes. And there's many completists attached to Yes.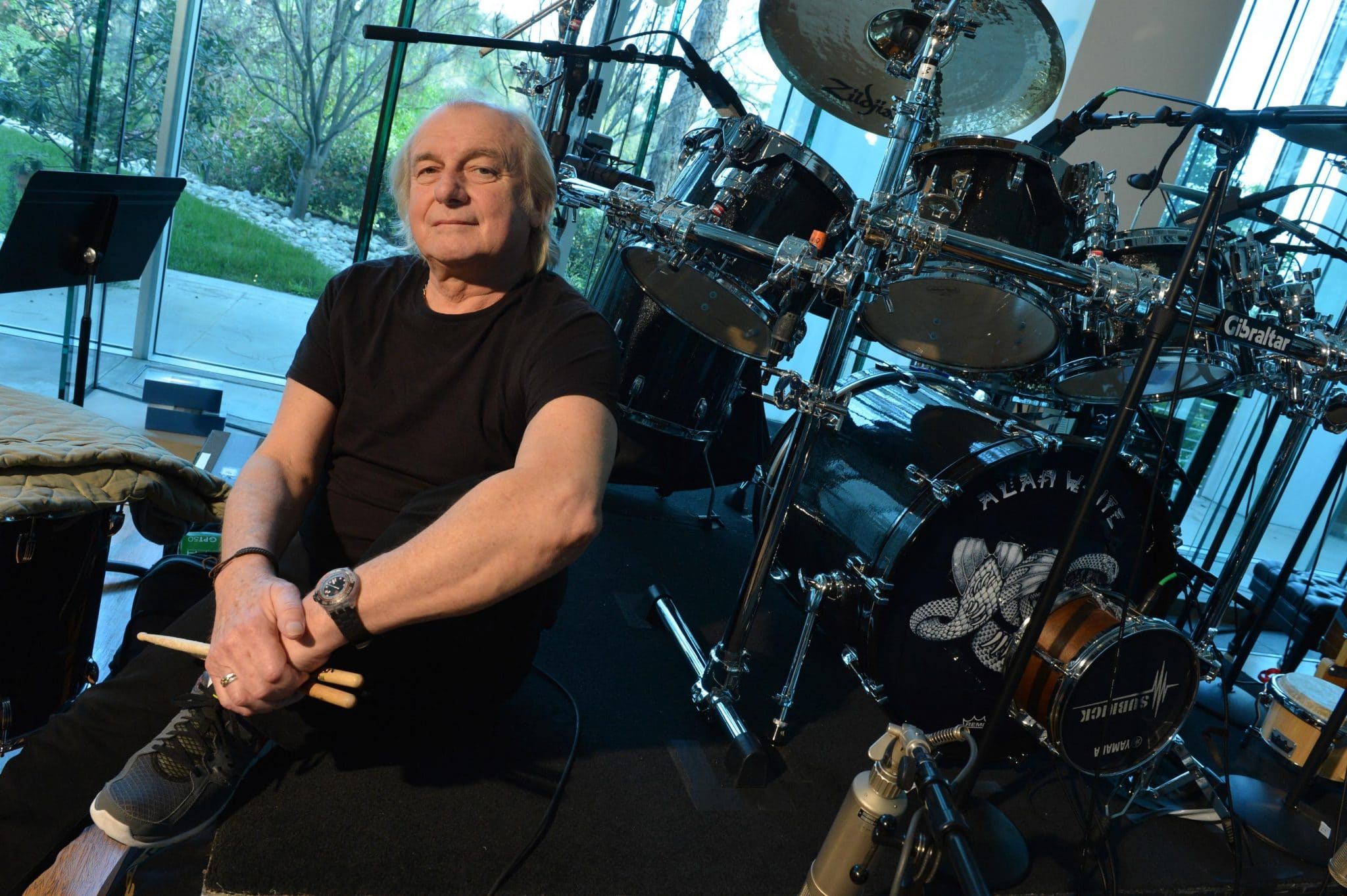 A Beatles fan thinks he has it tough with the group's entire output and then the solo works from each band member but, with a band like Yes, the strain really tells. And it continues to do so, right up to today. So there's the band's studio albums, which feature different eras of the band as the line-up altered so often and there's the solo works. Because of the band has had so many band members – each one a creative force on their own – there is an awful lot of solo creativity to track down. 
Then you get Yes-esque projects thrown into the mix appearing such as CIRCA, a band created by two ex-members of Yes, Billy Sherwood and Tony Kaye (there's a few others of that ilk). Then you get older bands like MGT (with its Yes connections) reissuing old albums and making new albums, members of Yes dragging up their ancient history like the late bass player, Chris Squire's original band, The Syn. And on and on. 
I was reminded of this ongoing problem a while ago during one spookily odd day when a single jiffy bag unleashed an unintentional rain of Yes (it's a nice problem for the fan, I know, but it's also a wallet-busting problem, nevertheless). Inside was The Steve Howe Trio's New Frontier (Esoteric). This was a brand new album at the time, from the venerable performer and Yes guitarist (a man who is now so old that his own sons are in his solo <ahem> band) 
But there's more to this jazz/fusion outing because three of the songs were written by original Yes drummer, Bill Bruford! Drenched in Yes, that's what it is.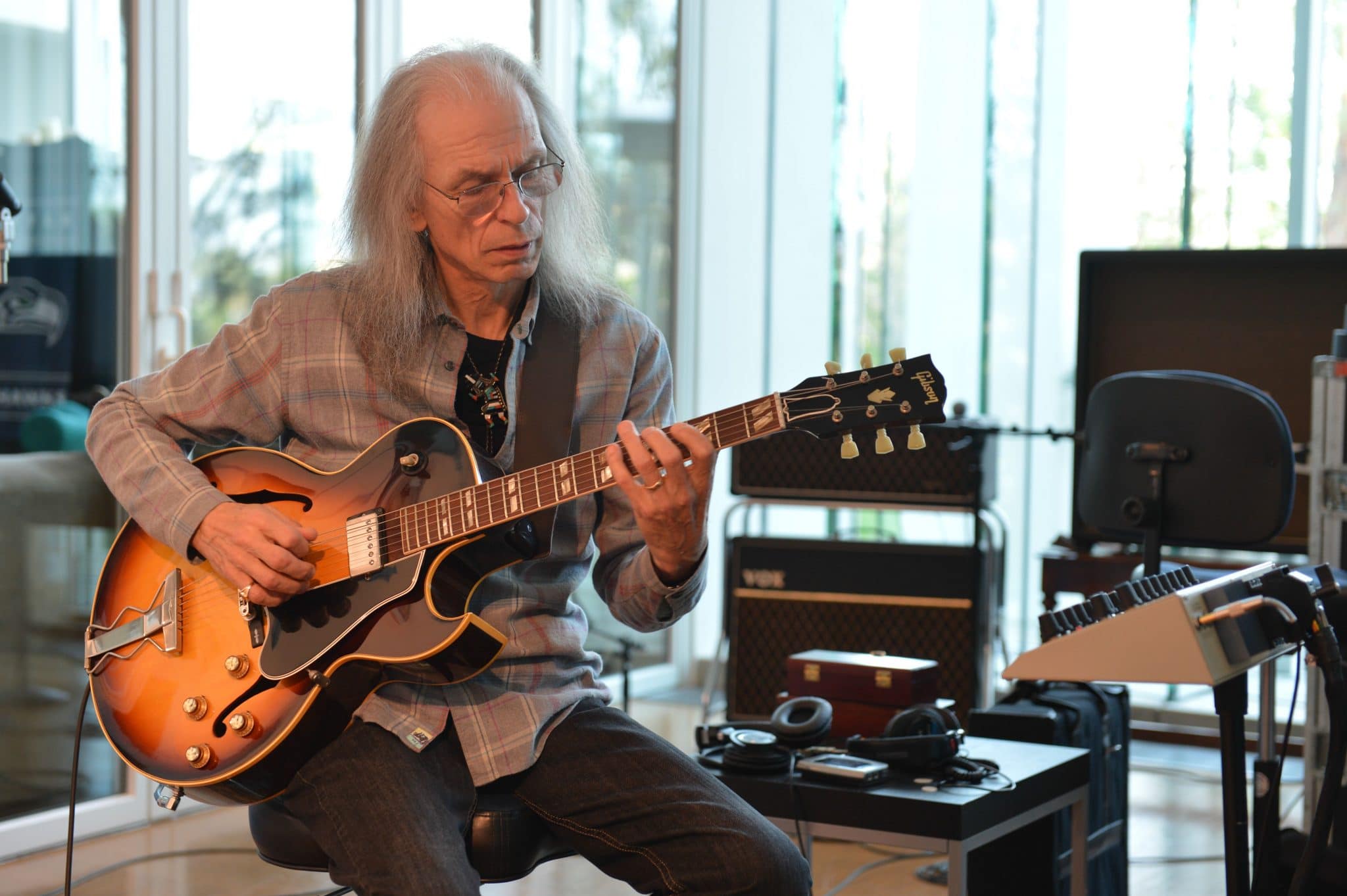 More. From the same label and the same jiffy bag I found Mainhorse. A self-titled piece and the one and only album from these heavy rockers. Sometimes seen as a prog outfit, the sound is a bit more Atomic Rooster, to be honest. Quite apart from the style, who's that on keyboards? Why it's Patrick Moraz who is, that's right, ex-Yes!
And a third? Well, why not. Falling out of that bag, also from Esoteric label was a CD by a band called Wally. Martyrs and Cowboys is more of an anthology of their Atlantic years around 1974-1975. They mixed prog rock with country. Quite a feat from a bunch of lads from Yorkshire. But who was that in the producer's chair? Rick Wakeman late of, you guessed it, Yes! 
They're everywhere and no mistake. You really can't move for tripping over Yes DNA.
It's logical, of course, the more people who come into contact with any band, the greater will be the band's influence on the industry as those band members leave or take a holiday from the core group to venture forth elsewhere.
And of late? Well, the picture grew even more complicated when the rumbling emotions alluded to above cracked with volcanic force as the original band fractured into two pieces with Jon Anderson performing with Rick Wakeman and Trevor Rabin, separate from the remaining Yes band members. An offshoot Vinyl/CD/DVD live album resulted.
But do you think that's the end of it? Not on your nelly! Yes-related products will (and do) continue to spew forth.
Take ex-Yes keyboard man, Tony Kaye. He's just announced a new album called End of Innocence. Out on 10 September 2021, it has been created to mark the 20th anniversary of 9/11. It's mainly an orchestral piece with vocals via Kaye's wife Dani Torchia. A total of 10% of all profits from End of Innocence will be sent to www.garysinisefoundation.org.  The charity supports veterans, defenders and first responders in times of hardship.
In fact, Yes itself has just announced a new album. The band's first new material in seven years. The group – who's combined ages now total 1,689 years old – have released a single called The Ice Bridge.
Then there's the new LP, The Quest, out 1 October 2021, produced by Steve Howe.
The Quest is also now available for pre-order on various formats. Can you feel that ache coming on in the wallet again? There's a limited (that sounds like money right there, doesn't it?) deluxe box-set that features a gatefold 2LP on coloured vinyl, 2CD+Blu-ray digipak (featuring 5.1 mix and backing tracks), 36-page perfect bound booklet, enamel pin badge, 60 x 90cm poster, slip mat and hand-numbered certificate of authenticity, all house in a rigid lift-off box.
Containing 11 songs, eight on the main CD with three extra tracks on a bonus CD, The Quest will also be available as limited 2CD+Blu-ray artbook, 2CD digipak, gatefold 2LP+2CD & as digital album. You can pre-order now and consider baked beans for dinner while you're at it, by clicking:
yes-band.lnk.to/TheQuest
And don't think that the sad death of ex members of Yes will slow the deluge, either. Look what happened to Elvis. He was more in demand after he passed! Yes fans? Keep saving.