The Article
Willie Nelson & Merle Haggard's Django And Jimmie
2nd April 2016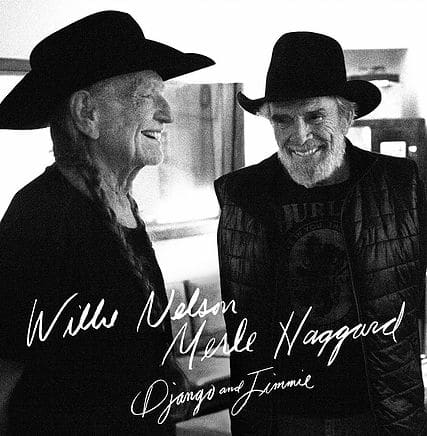 Django And Jimmie is the new studio album collaboration from Willie Nelson and Merle Haggard, two of the founding fathers of American outlaw Country music.
Helmed by Nelson's longtime producer, collaborator and friend Buddy Cannon, Django and Jimmie premieres 14 brand-new studio recordings including: Django and Jimmie, a dual tribute to jazz guitarist Django Reinhardt and Jimmie Rodgers, country music's mythic Singing Brakeman; the reflective and meditative Live This Long; Missing Ol' Johnny Cash, an homage to country music's original Man in Black featuring guest vocals from Bobby Bare; an  interpretation of Bob Dylan's Don't Think Twice, It's Alright and Unfair Weather Friend, written by Marla Cannon-Goodman (Buddy Cannon's daughter) and Ward Davis.
Release is 20 July 2015 in a gatefold sleeve.