The Article
ERA 300 FROM SONOS: WHAT A WAIST!
16th June 2023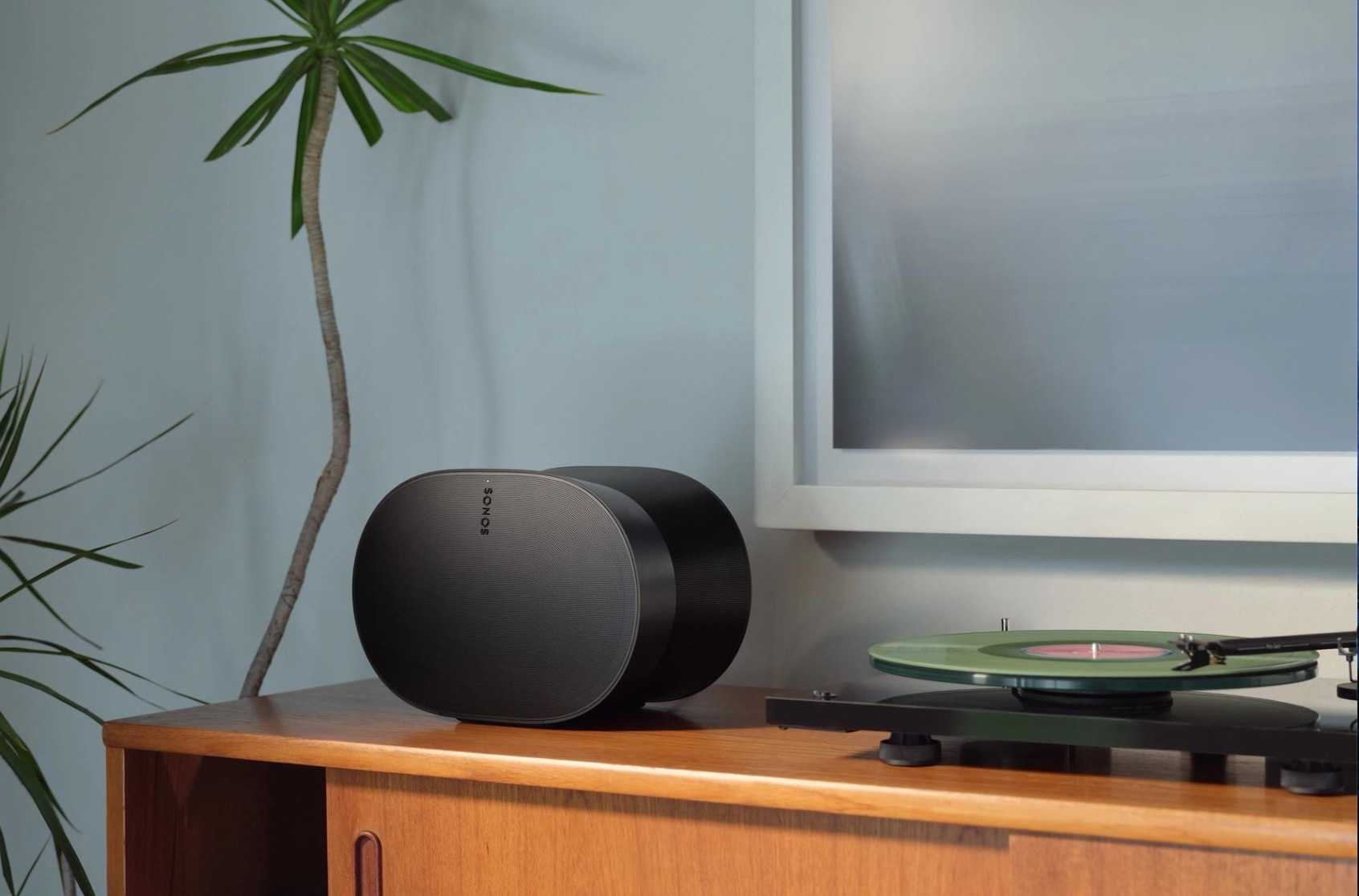 Sonos tackles spatial audio and does so via a shapely speaker. Paul Rigby is its latest suitor
Looking like a Victorian lady sporting a corset, the Era 300 is a single speaker that hopes to provide a more immersive experience from its spatial audio headline feature. 
Spatial audio aims to offer a full 360 degree sound experience, a 3D sound format if you will, a sort of digital surround sound with source content that theoretically allows more freedom for audio creators to place origin points around the soundstage.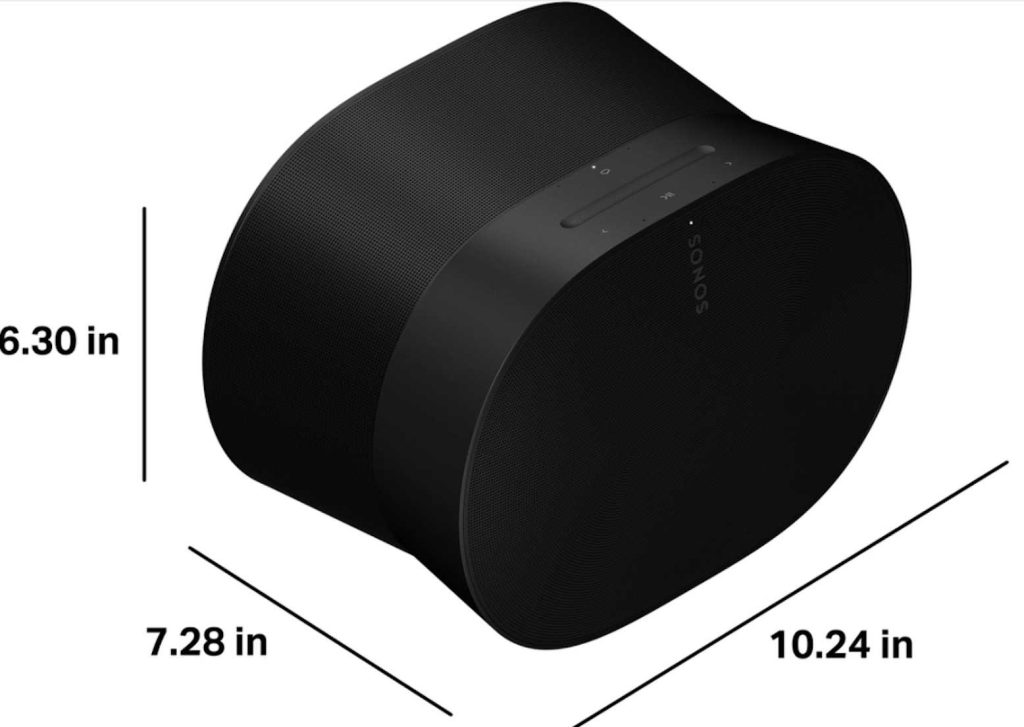 The aim? To envelop you in sound but to keep those origin points fixed, even if you are moving around. So, for example, any sound moving towards your face will still move towards your face, even if you walk around the room, changing direction in the process.
Spatial audio is not about flat-plane sonics either. Because it integrates Dolby Atmos, you can be provided with a sense of height from a compatible presentation.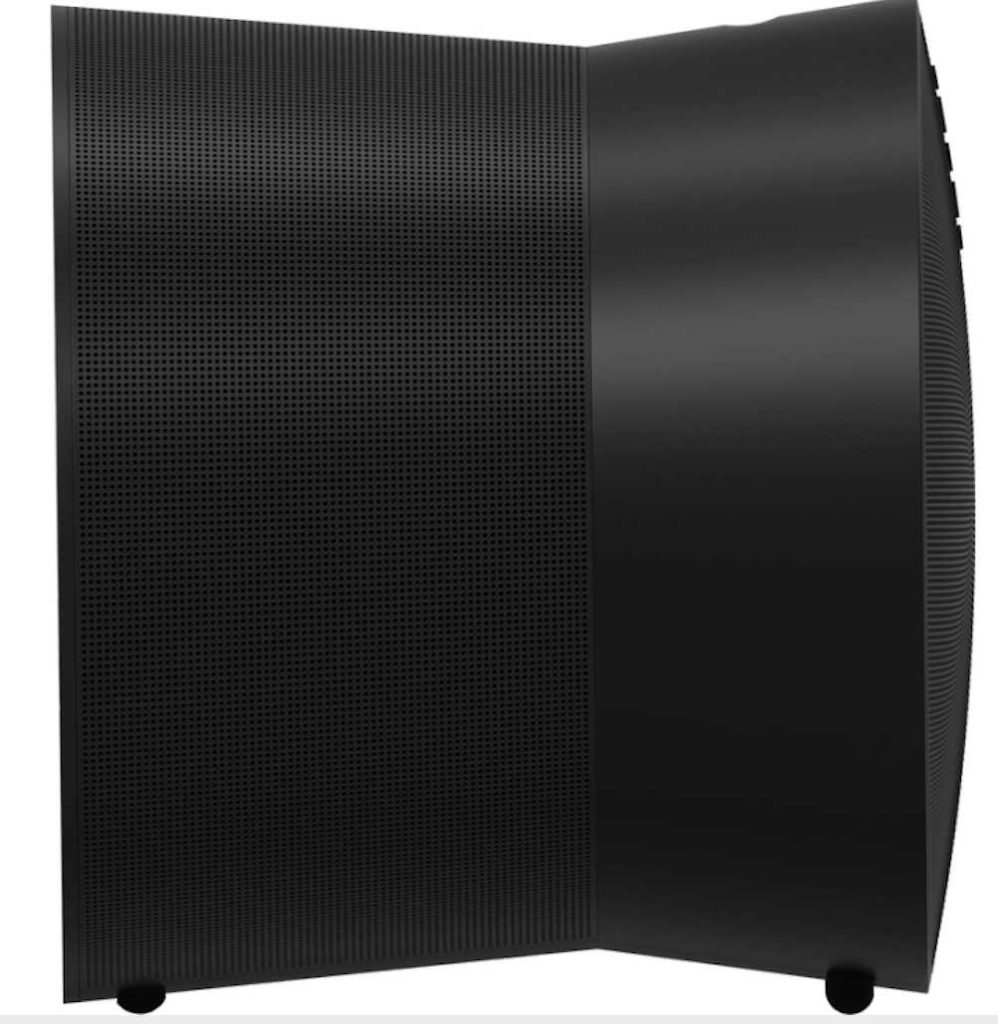 Now yes, we need to see more software that is mastered for spatial music but, hand in hand with the software, is the hardware.
Which is where the Era 300 comes in.
SIX DRIVERS
This new voice-enabled spatial audio speaker design from Sonos is powered by a Class D amplifier and features six drivers that point out from the front, sides and top of the unit. Those units are aided by waveguides to shape the sound right and left but also front and above. The arrangement of the internal design is fascinating.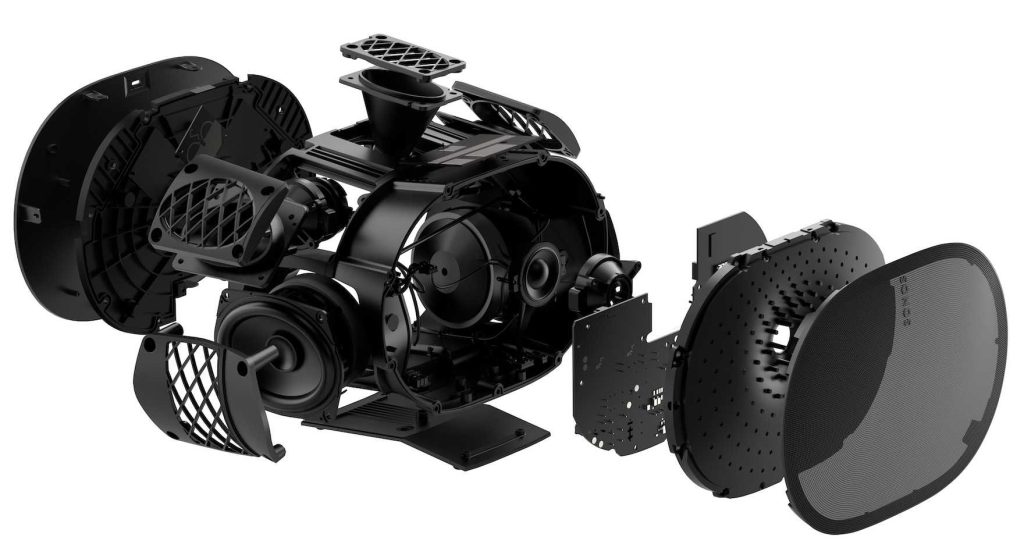 For example, the placement of the tweeters, right and left and then above means that sound can bounce off the ceiling to add dimension to the overall output. They are supported by two bass units, positioned to minimise vibration – which is good to know.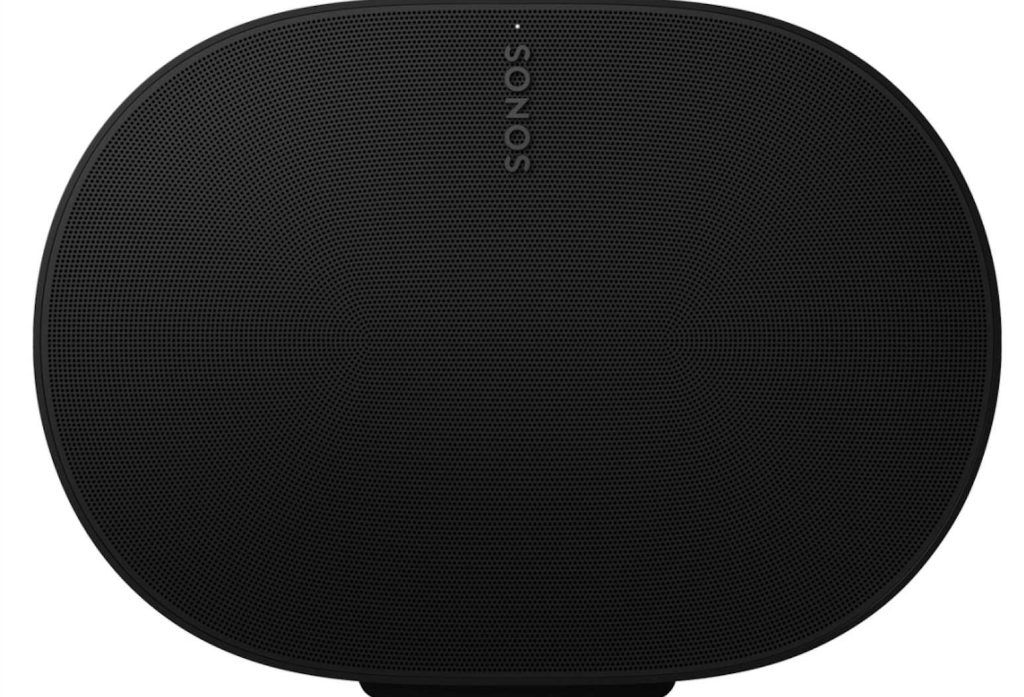 The Era 300 is stout but retains a relatively small footprint while the matt finish adds a rather demure overall presentation that blends well with its rather quirky shape. The front-mounted touch controls includes a volume slider plus the usual audio transport controls. To be honest though? I relied mostly on the app from Sonos or a third-party app during Bluetooth play. Even so, I'm happy these control are here as insurance.
INSTALLATION
This review started in earnest right at the box because all HiFi is first hosted by the eyes and that packaging is both robust and – very importantly for tech buyers – unlocks using external plastic gizmo switches.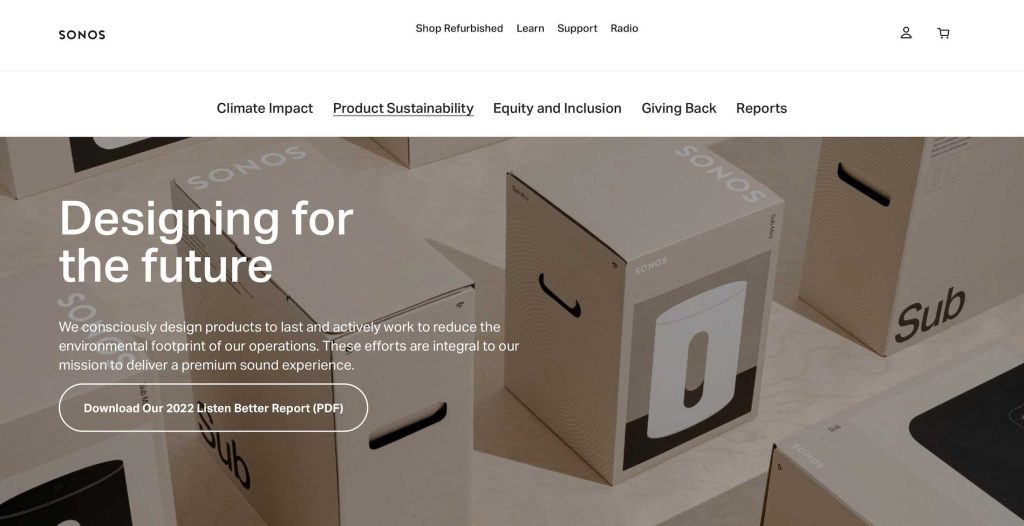 Once done, the lid can be removed to reveal the speaker itself. I was happy to see a distinctly eco aspect to the packaging. Sonos gives me the impression that it likes to position itself on the forefront of lifestyle audio. That is, it sees the importance of style in and around the product but also appreciates how we live our life while enjoying its tech. The packaging screams 'attention to detail', it screams 'awareness' and finally screams 'reassurance'. You can almost see the packaging degrading into a puddle of rainforest right there in the middle of your listening room. Even the mains cable ties are made from paper. Nice one, Sonos.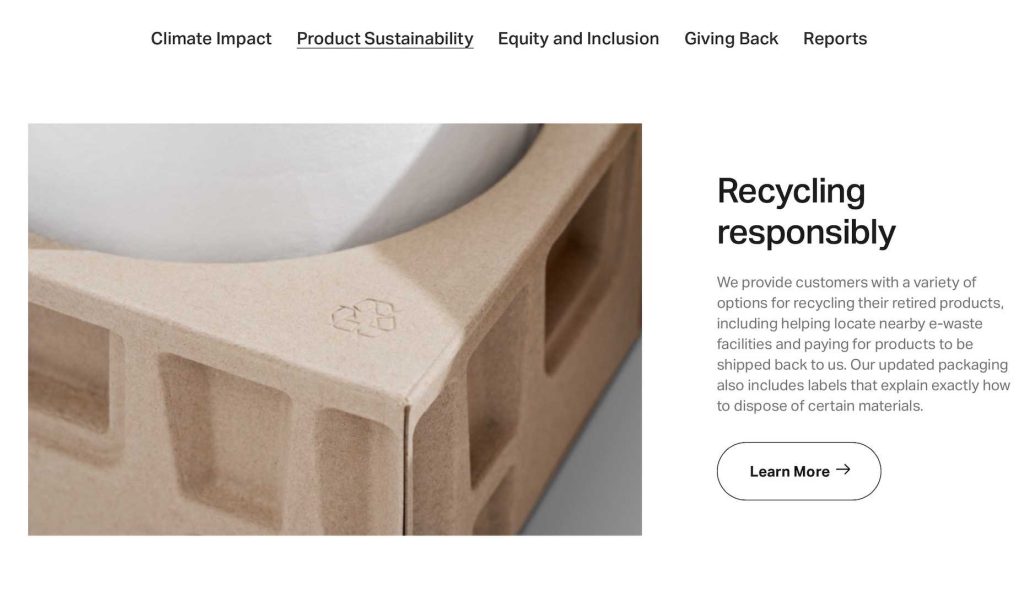 The Set Up instructions are very Apple. Slipped into an enveloped and easy to remove, those instructions basically span one side of a fold out piece of card.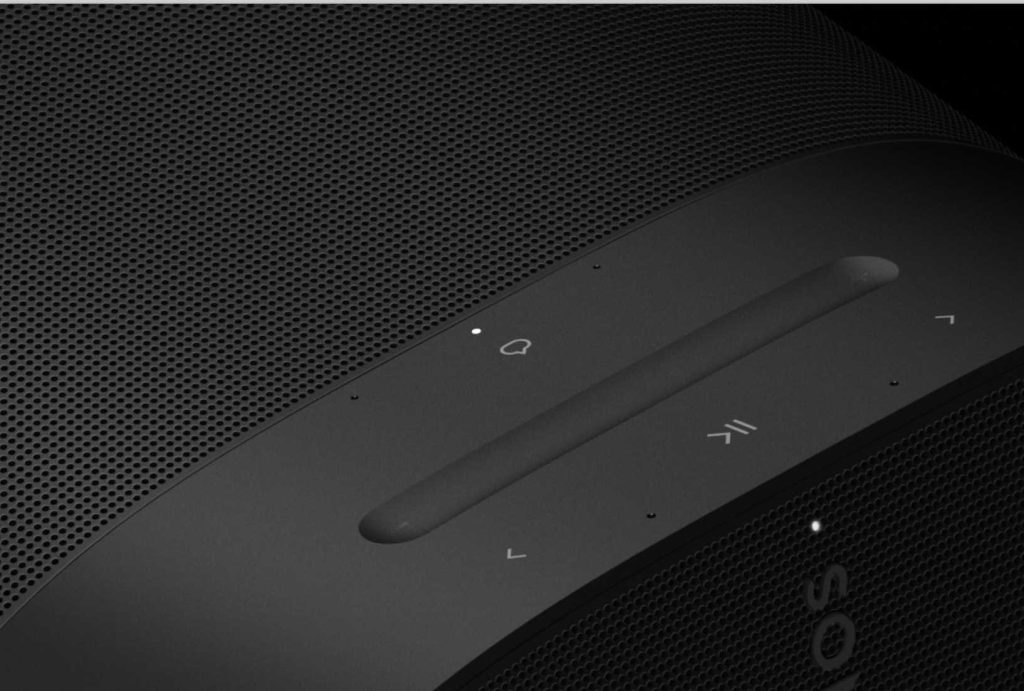 The only physical accessory is that mains cable with a figure-of-eight termination. Being picky? I would have preferred an IEC termination which would have allowed me to upgrade the cable to a better quality unit to enhance sound quality.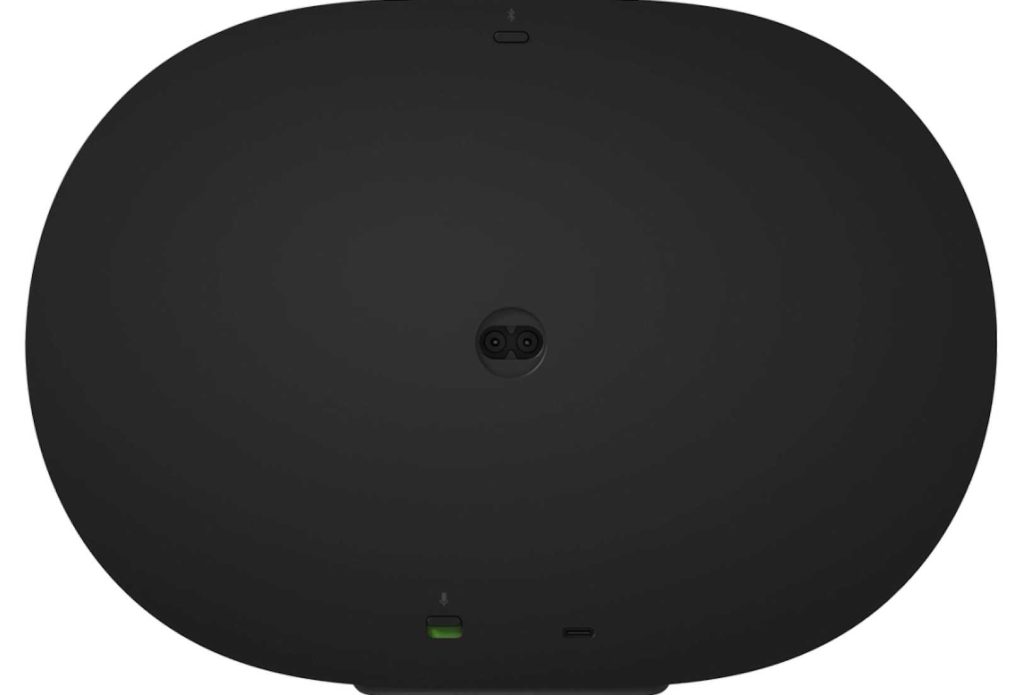 Once connected, a small green light pulsed, centre top of the speaker chassis.
TRUEPLAY
Turning to my iPhone (because I rolled in an iOS direction), I noted the Sonos option within my Wi-Fi settings. From there, I loaded the app and tapped on Set Up a New System. After a bass-heavy chime an update occurred with swipe-able info screens to pass the time while doing so. Another chime and I was in to the main screen.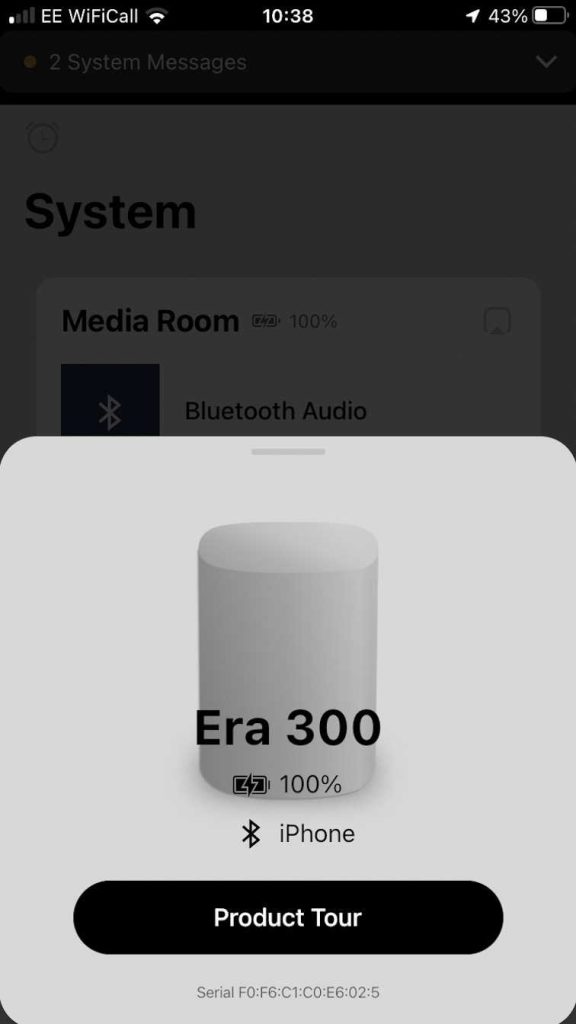 I like the option to take an immediate Product Tour. Again, very Apple. Here, you're offered speaker placement tips and operating advice. I was reminded here that two units can be paired for stereo use, although I only had the lonesome onesome during this review.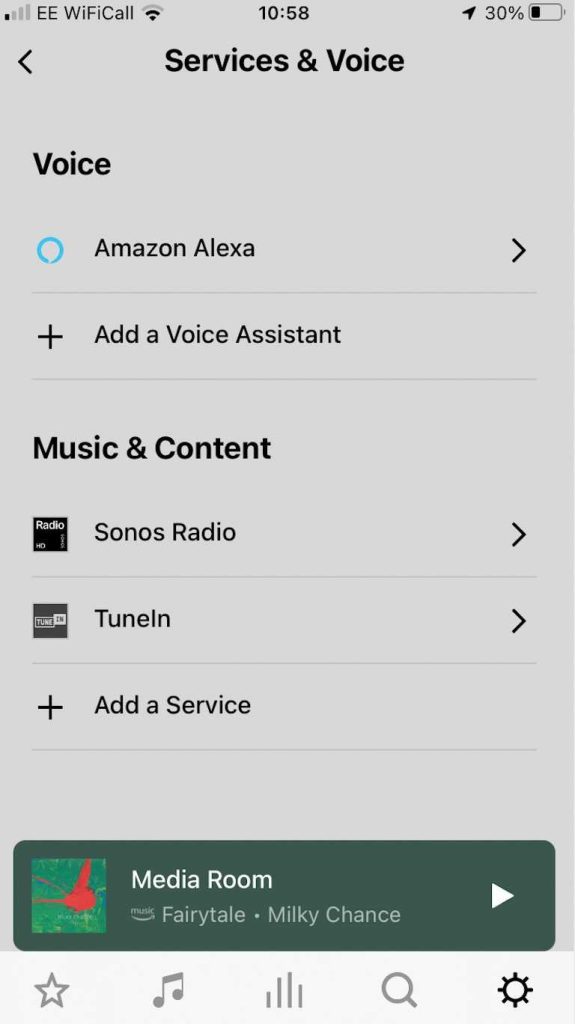 Trueplay room tuning was…different. It demanded that I walk around the room with my phone, rotating the phone using large circular arm movements around each wall of my listening room. I felt like a CIA agent standing in a Soviet hotel, checking for bugs.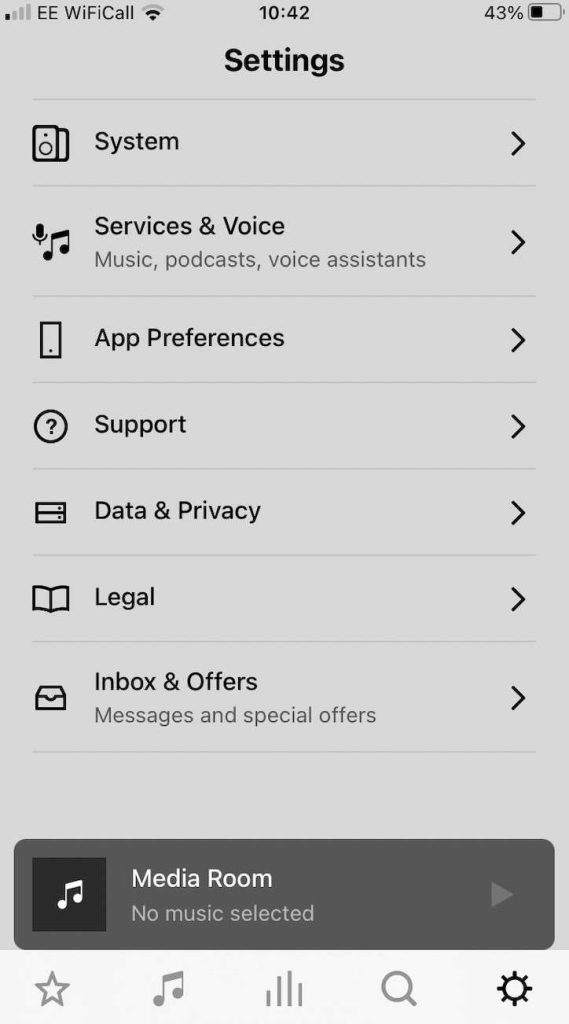 Next? I added Amazon's Alexa via a prompt in the Sonos app. This took seconds to set up on Sonos, which pushed me over to the Alexa app, played a smattering of Queen and 10cc via Amazon Music to make sure all was well and then I popped back to the Sonos app where I could see my 10cc track playing. I could control and manipulate the track from the Sonos app. 
SOUND QUALITY
I began with the Era 300 as a basic speaker using non-Spatial music from 10cc and I'm Mandy Fly Me, via Amazon Music, controlled via Alexa. The Era 300 defaults to the Loudness EQ set to On but I found bass to be slightly bloated in this mode so I turned it Off for a more balanced presentation. Tone controls are also available but they are defaulted to zero and I preferred the sound at these settings.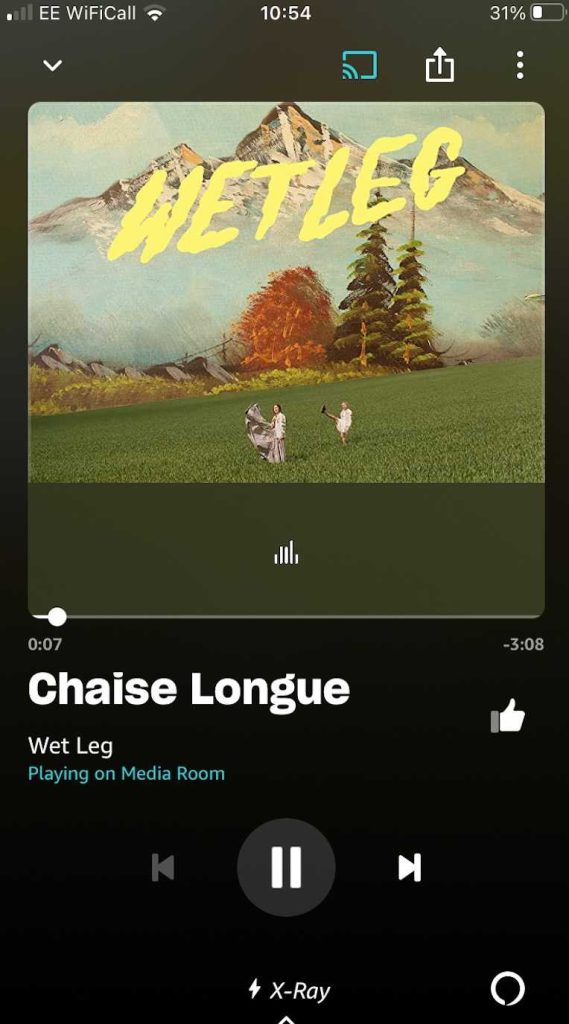 I did note that, on the app, I couldn't drag the music progress bar left or right. I could only tap the left/right arrows to start the same or the next track. I would have like to have had the ability to micro-manage the track progress.
Sound from Amazon Music was decent without being outstanding. In fact, on par for an Internet Service provider sourced via Wi-Fi. So that means a relatively sold bass response, no bass bloat or boom here, slightly shy rebel response but nothing egregious and a slight edge to the upper mids that proved more aggressive as the value increased.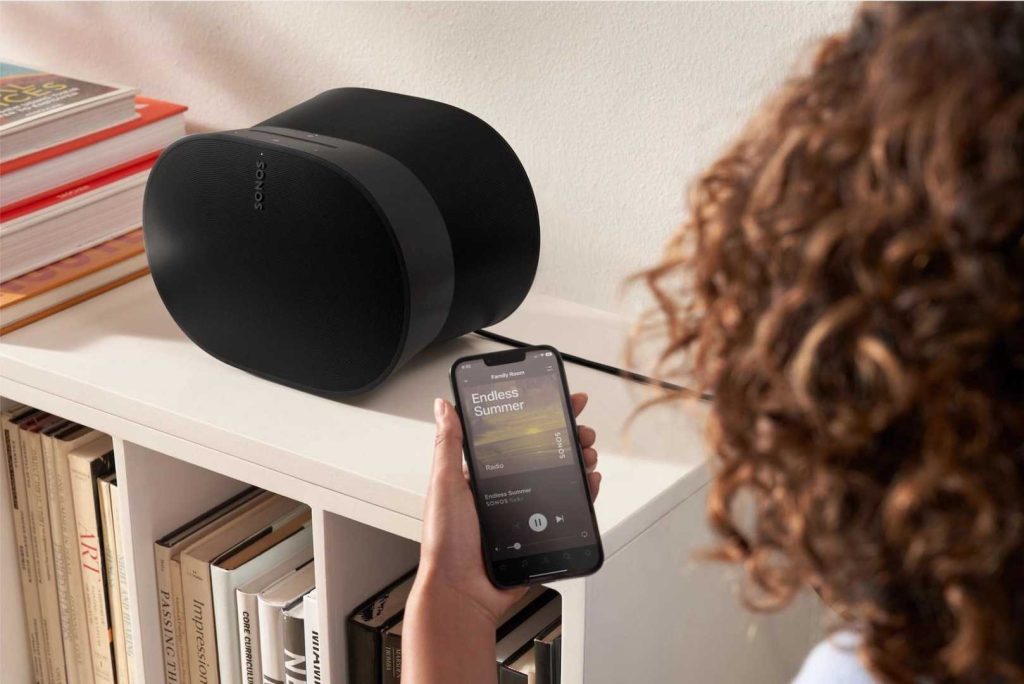 I wouldn't point the finger at the Era 300 for the sound output but I did miss the ability for the Era 300 to be hooked to the Internet via an Internet cable. This would have lowered the noise floor, enhancing the sound overall. 
SONOS RADIO HD
I then moved to Sonos Radio HD and logged onto Classic FM and a violin concerto from Mozart. First up? I would have liked to have seen some statistics here about what I hearing in tech terms. This service is labelled HD but what that means exactly, I wasn't sure. I had no reference from the app. Was it 24 or 32bit? Was it outputting 48kHz or 384hkz? PCM or DSD?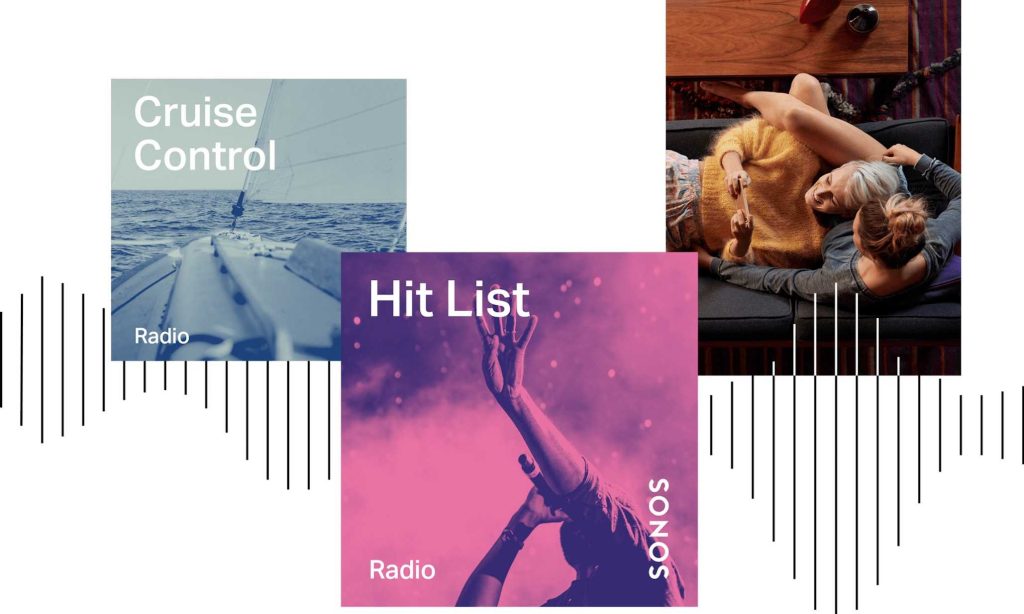 In sound terms, I was more impressed with this sonic output that the Amazon source which indicated that the Era 300 had capacity here. I just needed the right source to display that, in sonic terms. Violins hit the upper mids and treble on many occasions during this sequence and I was impressed how they never sounded oppressive or clinical. There was room for improvement sure but for a Wi-Fi-powered single speaker, the dynamic reach was mightily impressive.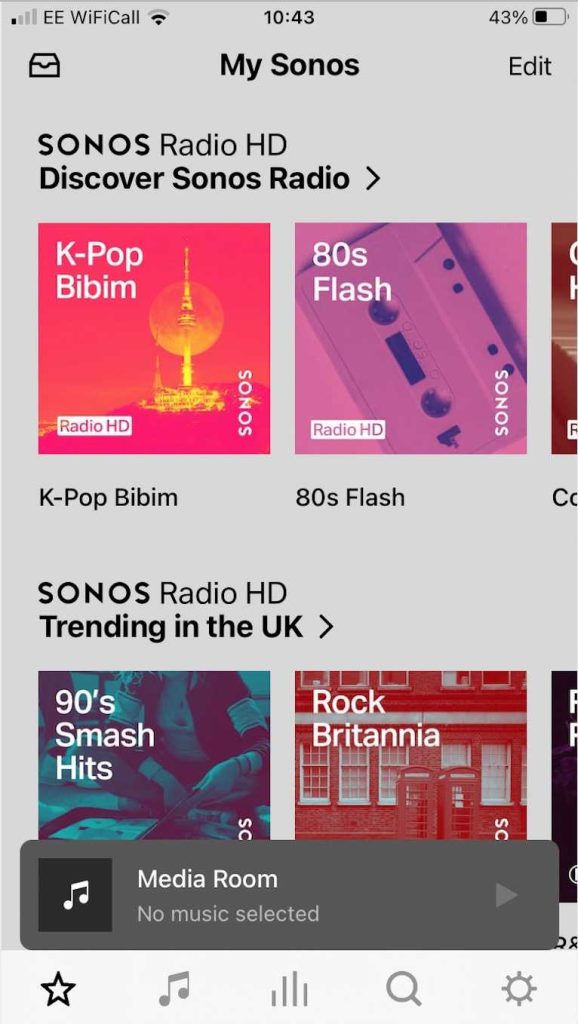 The DJ's voice modulations were good. Although I wanted to hear the voice coming from the bottom of the solar plexus which never quite happened, the Era 300 still managed to convert the close-miked position of the DJ and the shape of his voice, enabling it to express welcome emotion, variation and a surprising degree of nuance.
AN INTERESTING ODDITY
Even in this basic mode, some music is more impressive in terms of imagery. David Bowie's Space Oddity is one such example. On this track, Bowie's vocal is front and centre, alongside the guitars but the percussion sits behind, hand claps move to the rear and left with strings ranging backwards to the right.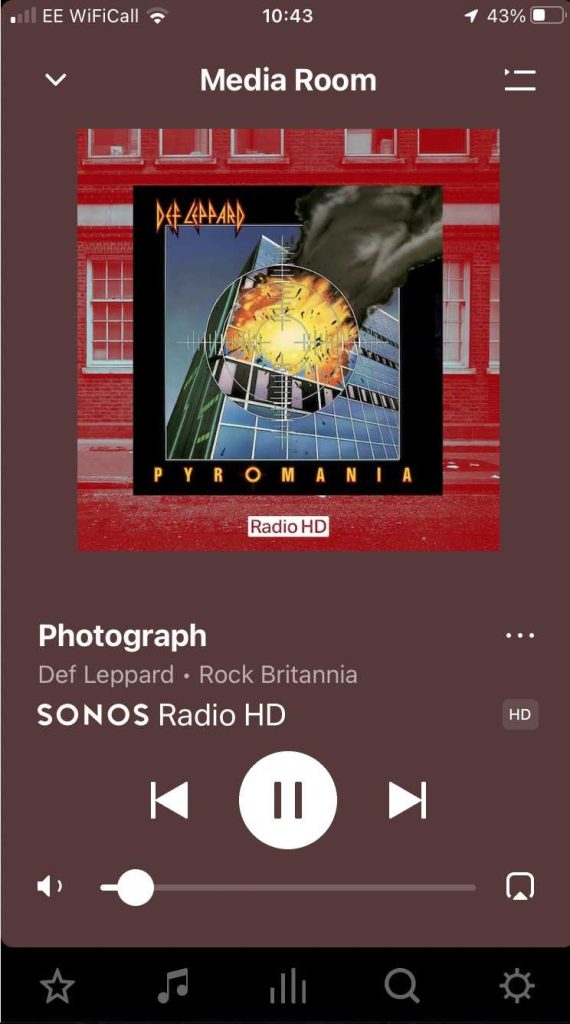 With rock music as a source, the Era 300 impressed, becoming a real party animal. There were slightly shouty elements from the mids at high volumes but playing Tom Robinson's 2-4-6-8 Motorway, the Era 300 almost stood up on its digital legs and strutted around room. Here, the Era 300 sounded positively arrogant.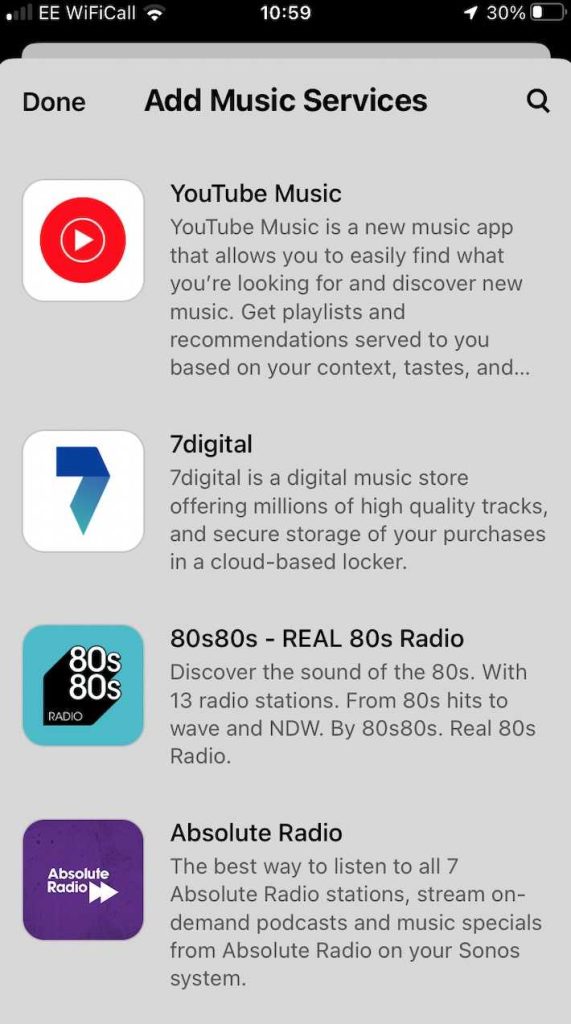 I then connected my Astell&Kern Kann Alpha DAP (Digital Audio Player) to the Era 300 via Bluetooth and played The Doves' Universal Want and was impressed by the big, bold sound but again, there was that slight edge to the upper mids. Nothing offensive, I must add, but I wondered if I could do better so I disabled Wi-Fi completely.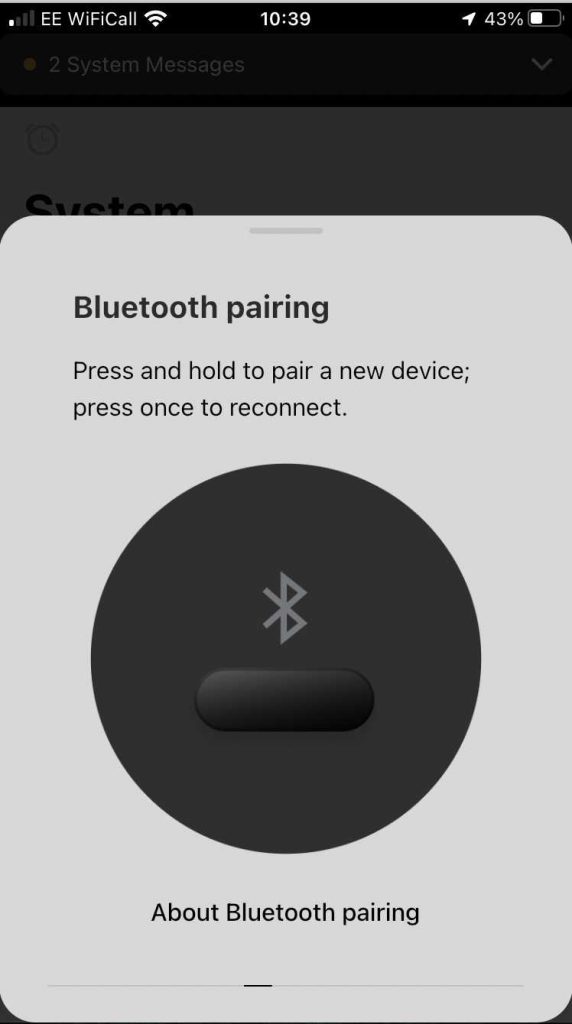 Then I played the same track via a single Bluetooth stream directly from my DAP and down went that noise floor.
In fact, with Wi-Fi off altogether, the Era 300 never sounded better. Upper mids offered a smoother, less aggressive response, bass relaxed because it had lost a slight chrome sheen and treble has a nicely metallic twang from electric guitars. Again, this Era 300 has capacity. It has potential. Give it a quality signal and it will give you back quality music. It's a simple equation. 
CONCLUSION
Spatial audio is headlined and pushed by Sonos as a main reason to pick up the 300 but I would disagree. The 300 does not live or die on the back of spatial audio, far from it in fact. Take away the spatial audio feature and the Era 300 remains a supreme lifestyle product. That is, even with spatial audio out of the picture, the Era 300 would still be a desirable smart speaker. Spatial audio is merely a useful addition, if and when you ever need it.
As it stands, the Era 300 is beautifully designed, packaged with care and consideration, is easy to install yet offers enough facilities to tweak if required.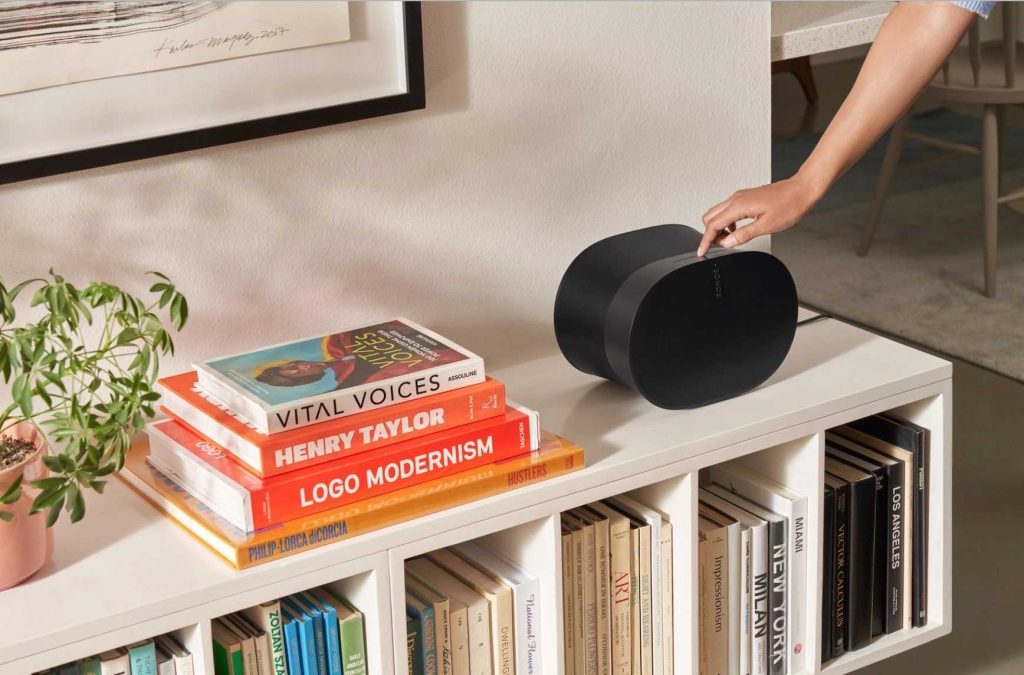 The app is good with plenty of controls and facilities on offer while the sound from the Era 300 is very good indeed.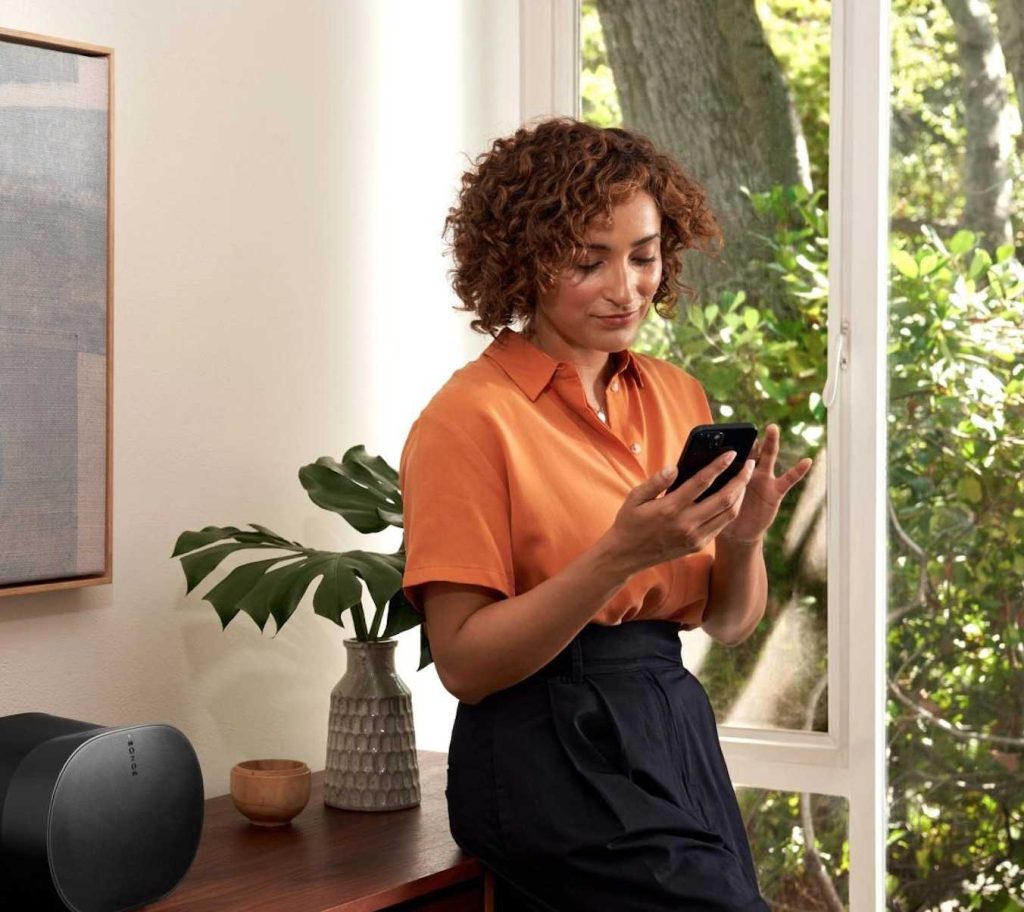 Like any well-designed piece of HiFi though, you have to give it a source that allows it to shine. Do that and you will have a great time with this Victorian lady. She might look demure but boy, can she party.  
---
SONOS ERA 300 SMART SPEAKER
Price: £449
Website: www.sonos.com
---
Good: small footprint, eco packaging, installation/use, general sound quality
Bad: spatial audio, app feedback, ethernet, handles
RATING: 8
---
REFERENCE
iPhone smartphone
iPad tablet
MacBook laptop