The Article
Kann Alpha DAP From Astell & Kern
21st May 2021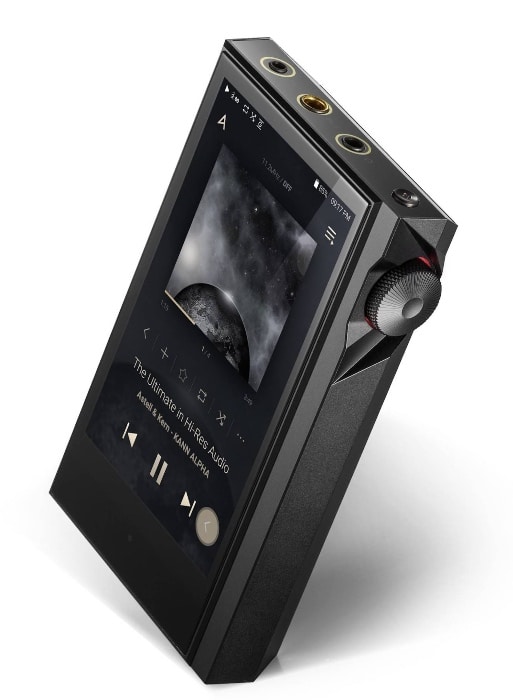 The third generation of Kann digital audio players, Paul Rigby reviews this meaty, brick of a device
And it is. As long as you don't have small hands, the aluminium-based, quad-core Kann Alpha chassis sits well in the palm and feels dense, solid and weighty. The brick metaphor is also apt because, despite the typical A&K sculpturing, this device does have a rather masonic air about it. Masonic in terms of architecture: not the funny handshakes. 
Bottom line is that the build and finish feel expensive. They feel high quality.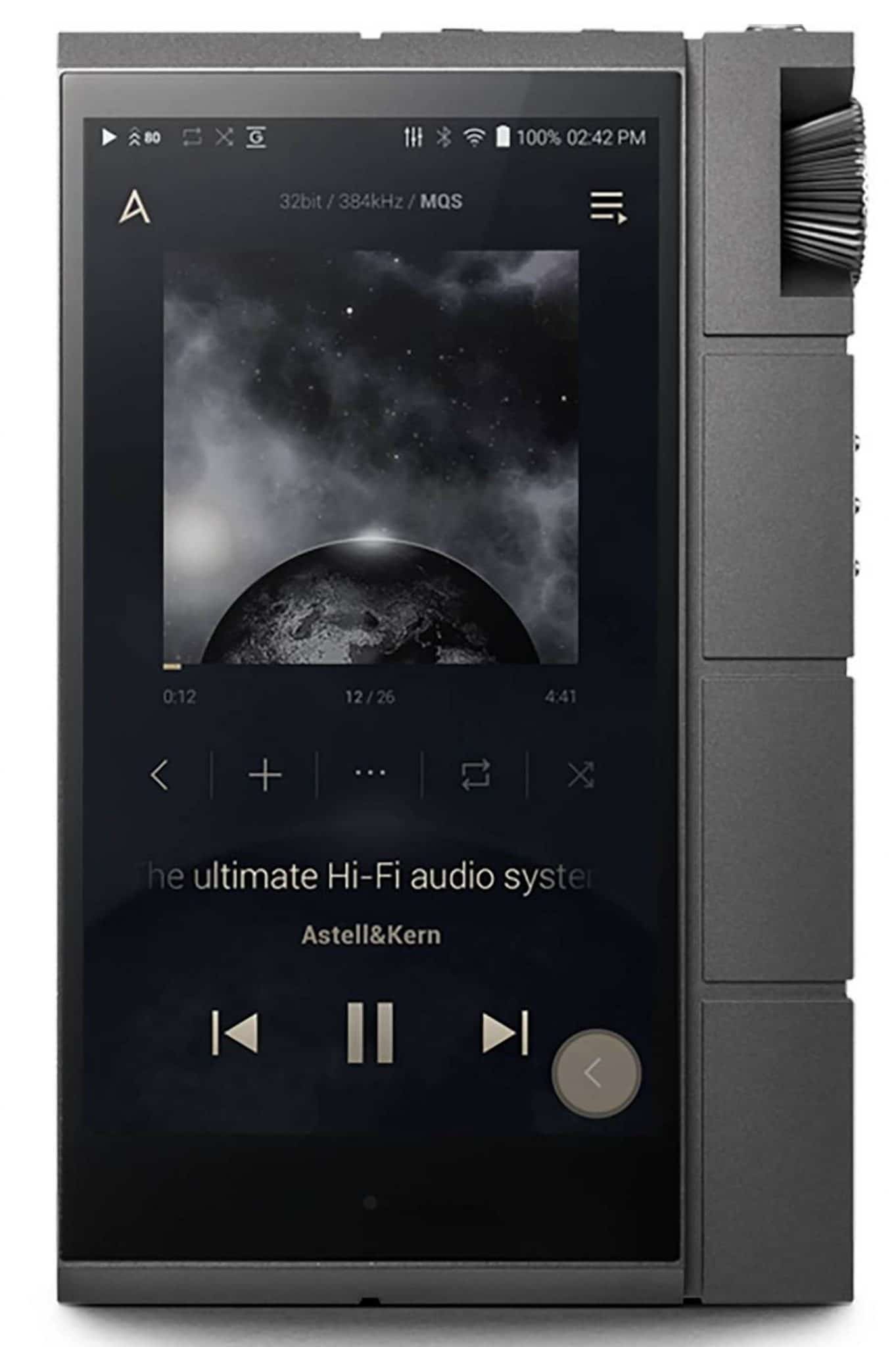 For this third generation design, the power circuit has been rejigged from the earlier Cube variant. That means that the Alpha has a useful 14.5 hours of battery life. That's up from nine hours via the Cube.
The Alpha is based on a dual DAC ESS ES9068AS which can be connected to a computer or laptop with the supplied USB-C cable. So you can use the Kann as an all-in-one headphone amp and DAC. 
The Kann retains the same 12Vrms output via the balanced connection but this device now includes a 2.5mm and 4.4mm Pentaconn balanced output headphone port. You also get a standard unbalanced 3.5mm headphone port. This is also where you'll find the press-down power button.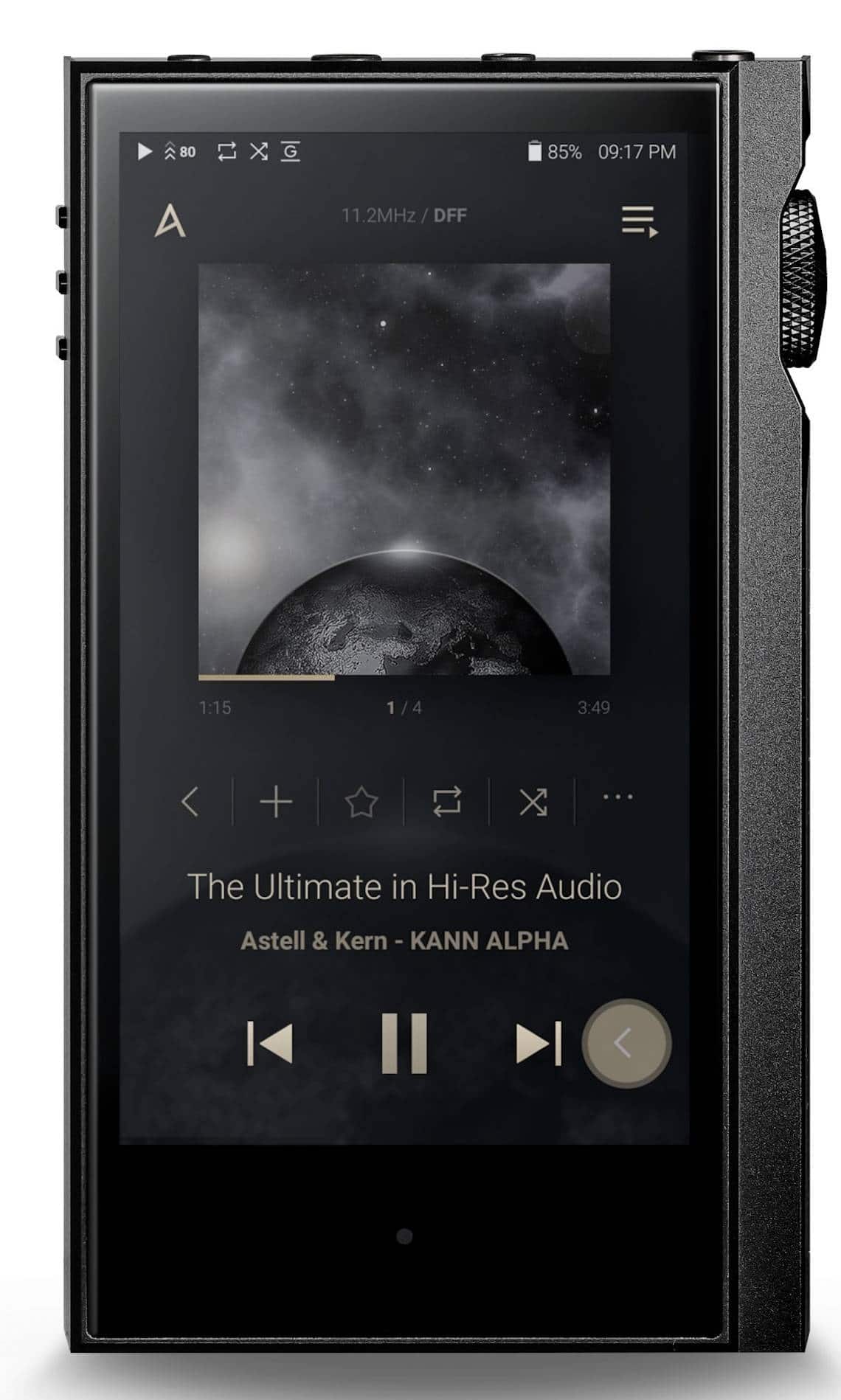 Those ports run along the top of the chassis. The top left of the same includes three small buttons, unlabelled. These handle play, pause, rewind and track skip. 
Astell & Kern say that this player is the first mobile device to implement Bluetooth 5.0, adding range and a measure of stability to headphone use plus support for 24bit aptX HD and LDAC codecs.
Codecs can be changed via the Settings from the touch screen. Speaking of which, that screen is nicely responsive and spans 104mm with 720 x 1280 in resolution terms.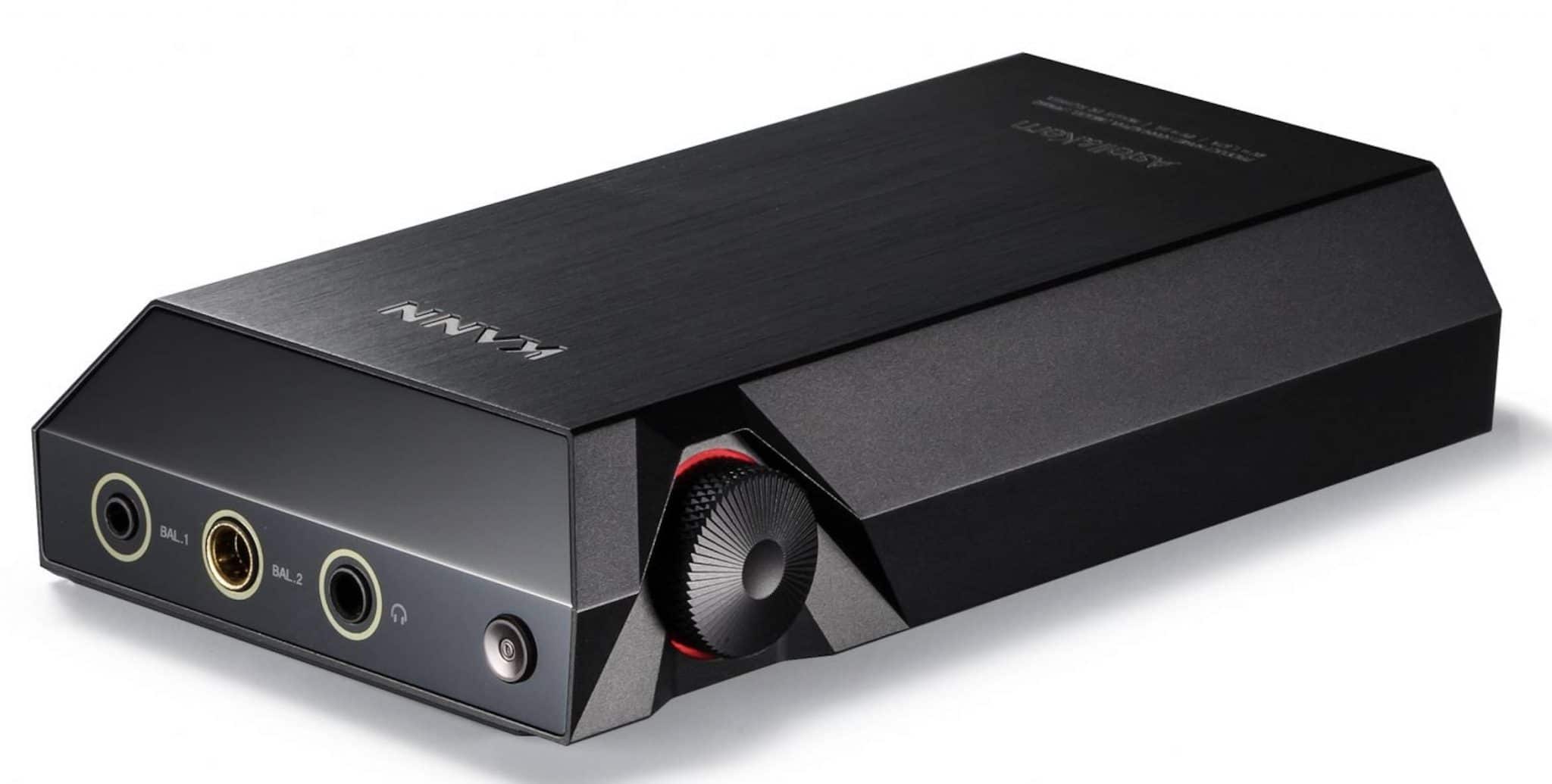 My review sample included V-Link (for YouTube Music or 720p video playback on YouTube over wi-fi), Tidal and Deezer. The Kann Alpha does offer support for 33 music streaming services over Wi-Fi, though. Installing new apps involves hooking up the Kann to a computer to transfer.
While we're talking specifications, the Alphas supports up to 32bit/384Hz PCM and DSD256 files, MQA playback via downloaded MQA audio files and through the Tidal music app. Gapless playback is supported, incidentally. And during playback, if the volume from your headphones is too high – according to the Kann that is – you'll get an on-screen warning but you can ignore it.
The volume level, file type and bitrate being played can be recognised via the colour-coded LED light surrounding the player's volume wheel. The light itself is unobtrusive as its recessed into the well where the button sits.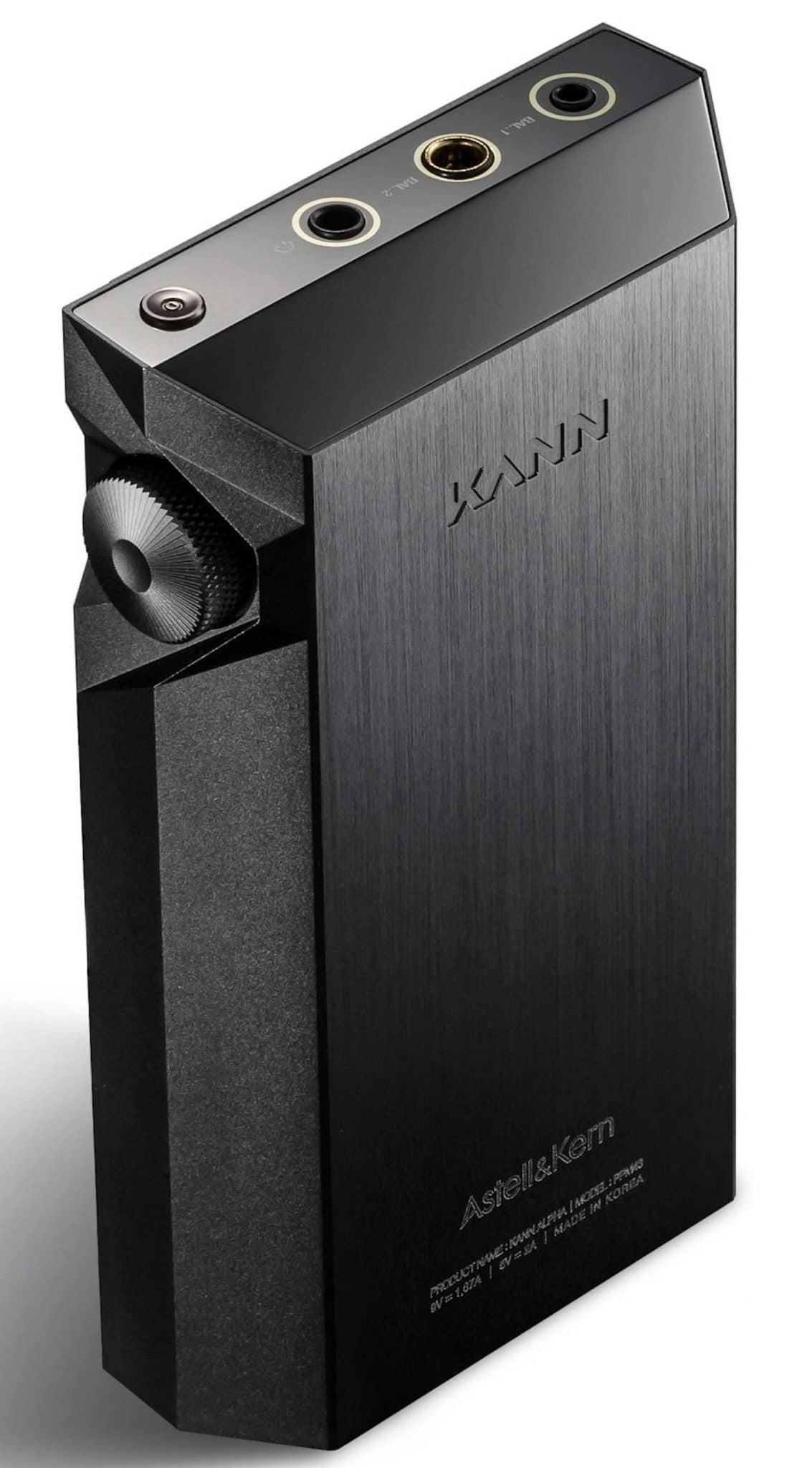 Hence, the light shines red for a typical 16bit PCM file or green for 24bit, blue for 32bit and purple for DSD. The light can be disabled, if you wish. 
I do like the operation of the rotary knob itself, incidentally which has a lovely clicky feel to it in operation.
You get 64GB on-board memory that can be expanded up to 1TB via a microSD card slot. You get a USB-C port for charging. 
Remaining pocket-friendly in terms of size, the Kann Alpha can be bought in any colour you like as long its Onyx Black. It spans 68 x 117 x 25mm and weighs 316g. Compare that to the earlier Cube which spans 88 x 140 x 31.5mm and weighs 493g. The Cube looks like something produced by JCB when compared to the much more compact Kann Alpha. The Kann Alpha also supports over-the-air firmware upgrades.
INSTALLATION NOTES
A quick word about moving music files to and from the Kann Alpha. If you have a PC the Kann acts as a disk drive to enable you to transfer files quickly and simply. 
If you run a Mac, you will need to go to Astel & Kern's website and download the free-to-download Android File Transfer utility. Install that your Applications folder, activate at and a Kann Alpha window will eventually pop up (after a think) for you to drag and drop music files.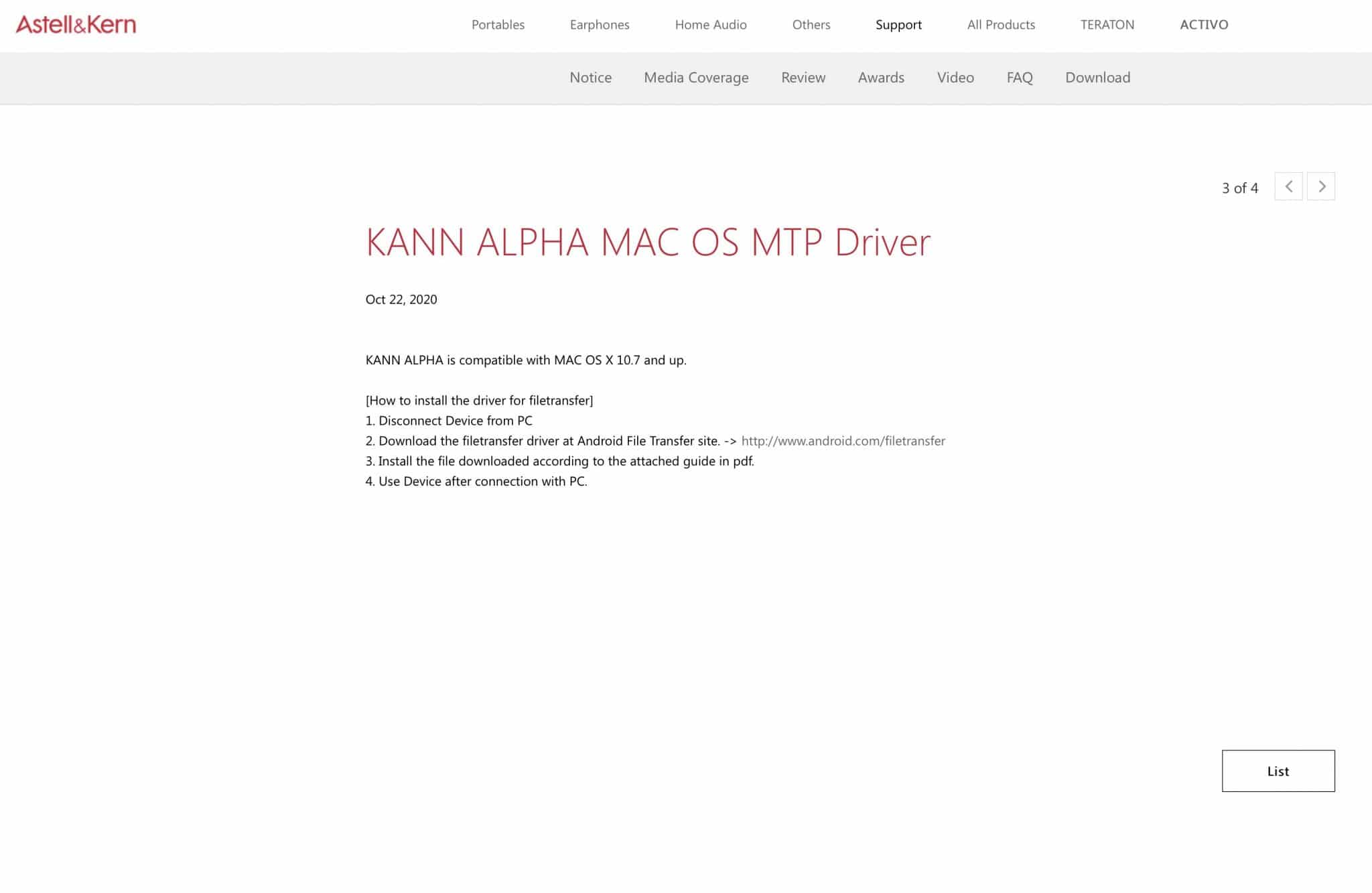 One point of note though, use the supplied USB-C cable to do the job. I tried a good quality, third-party USB-C cable and the Kann Alpha didn't recognise it. I'm not sure if the Astell & Kern cable has a chip in one of the connection plugs but I could only get the transfer to work on a Mac using the company cable.
SOUND QUALITY
IEMs worked well with the Kann Alpha but I decided to go with headphones for the actual sound tests because I felt they provided a more consistent and balanced source – at least in this particular review. 
To begin, I hooked up a pair of Sennheiser HD660 S headphones via the unbalanced connection and played a 16bit/44.1kHz of Don't Waste You Time via Yarbrough & Peoples, the group's biggest selling single from 1983.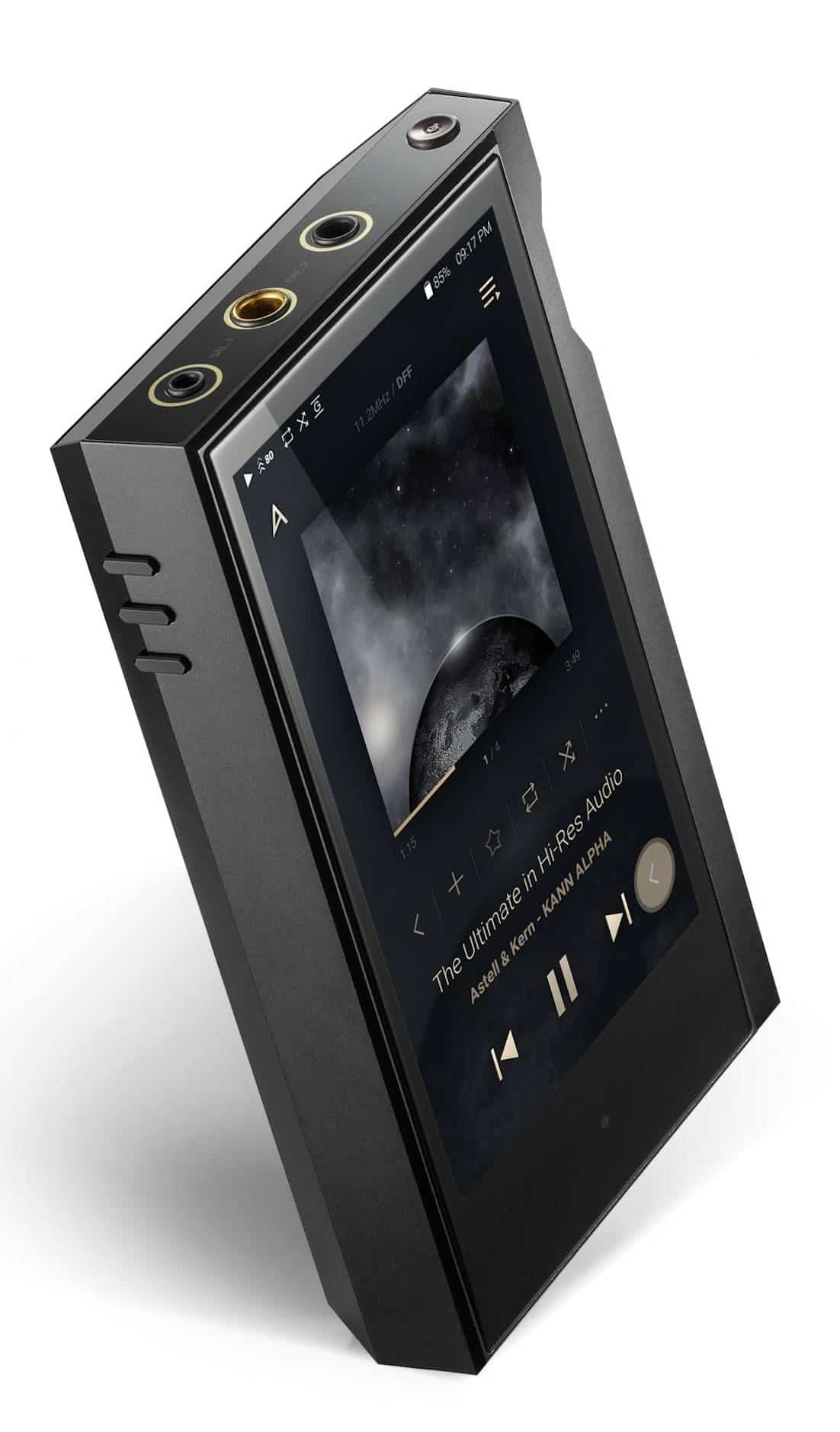 What jumped out at me was the fact that the Kann Alpha didn't jump out at me. That is, the inherent noise from this unit was low. Hence the upper frequencies were relatively smooth, never aggressive or bright. If anything, the bass was a little recessed and lacking a touch of definition.
The soundstage was rather grand, though. Wide and open with an airy effect around the mids. 
One feature that's not shouted about by Astell & Kern but is an important feature are the three DAC filters included in the DAP that are only applicable in PCM mode. These filters don't provide a massive change in sound, especially via headphones. For example, you probably wouldn't hear any real sonic change if you sat there casually flicking from one filter to the next. If you live with each for a bit and then change the filter, there is a change. At least I heard it. It's subtle but its there.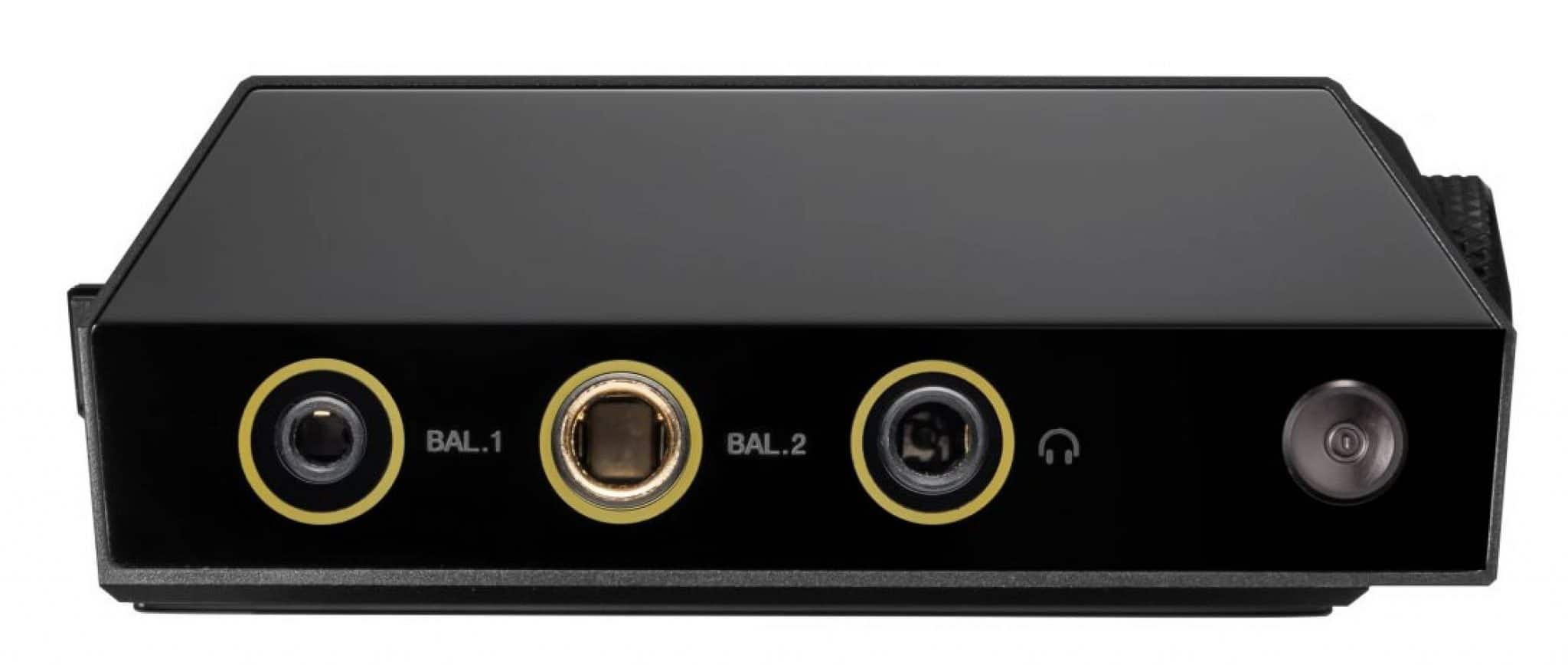 The default is Linear Phase Fast Roll Off so I turned to Hybrid Fast Roll Off but the sound veered a little towards the brittle and the bright. In fact, both occupied a similar area. It was only when I changed to Minimum Phase Slow Roll Off that the music calmed a tad. The upper mids and treble were a tad less aggressive and bass became fuller and less chrome plated. That was my new default filter.
I turned to David Elias – a stripped arrangement of a man and his guitar – and played Vision of Her at 24bit/88.2kHz. Again, the Kann Alpha offered a slightly warming playback with rolled off bass and a detailed yet warming suite of upper mids. The effect was pleasing. Cuddly, in fact. Detail was retained but I was reminded of the effect I heard recently from the recently released Leak Stereo 130. The sonic signature was similar. 
It was at this point that I changed the headphone connection from the unbalanced cable to a balanced Pentaconn of 4.4mm and the sound was transformed. Gone was the rather warming claustrophobia in the midrange to one that screamed maturity and quality. The vocal had a new-found 3D aspect to it. By that, I mean it now had a structure to it. As if it was made up of many parts. Before, it sounded a little flat and lifeless. The sense of realism was heightened now. 
Elias' guitar was also more complex. Each string seemed to occupy its own space instead of offering a series of tones emanating from one space. The guitar was now a fascinating thing to experience with all kinds of resonances from the body of the instrument, little scrapes and movements and tiny details and gave the track a much more organic flavour.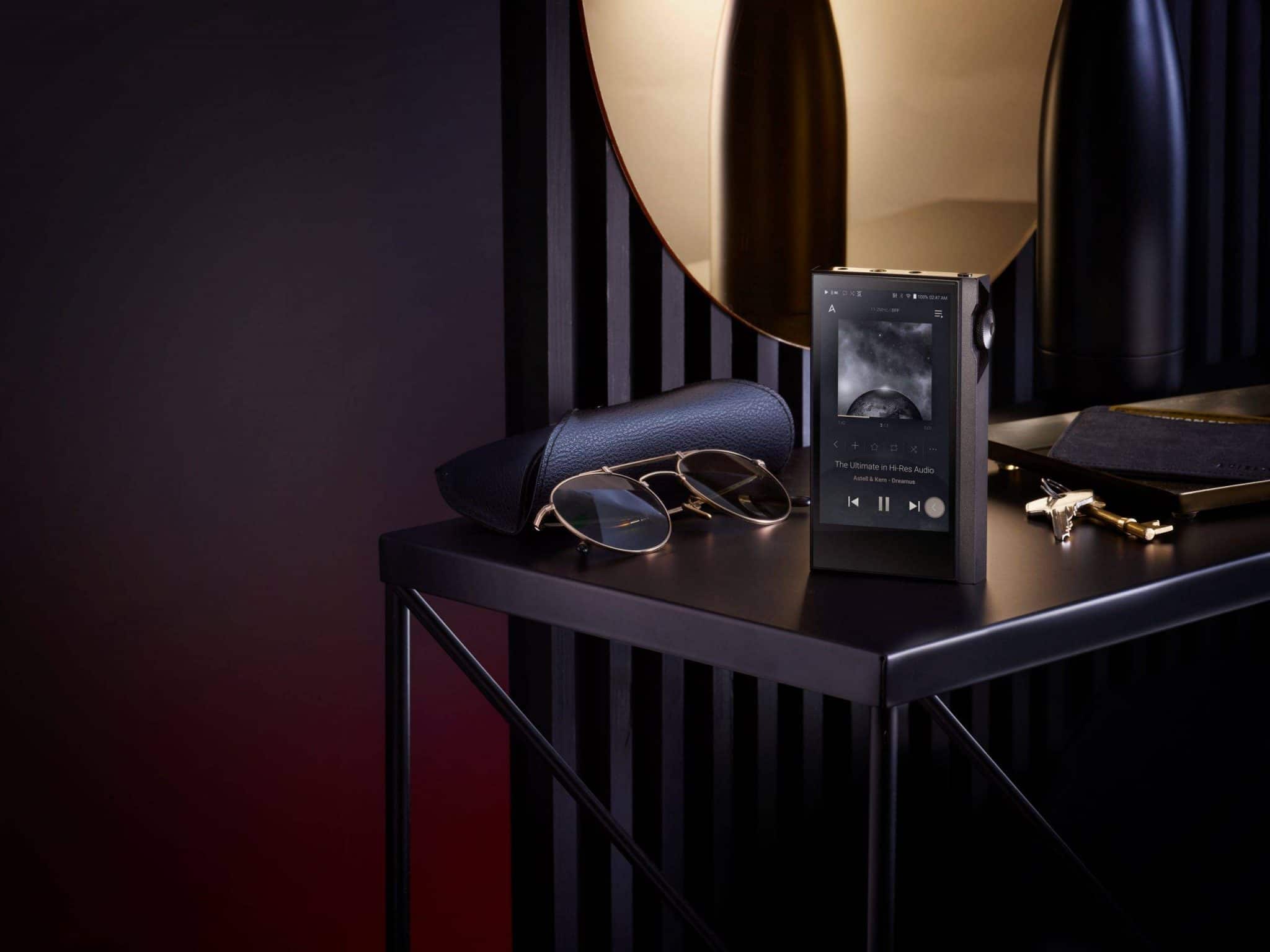 I turned to Bob Marley's I Shot the Sheriff at 24bit/96kHz. This is a track that give you problems rather than delights. It can sound too bassy and even boomy on some DAPs or a little edgy on others. Basically, it tests a DAP's basic frequency control. That wasn't a problem here in balanced more. There was frequency discipline across the sound stage so every element of the song behaved itself. 
Pentaconn mode was thus, a winner.
I then tried the other balance connection but this time via a set of Meze 99 headphones. Via the 2.5mm balanced connection I noted an increase in gain and again, the soundstage opened up adding more space in and around the soundstage. The 2.5mm balanced option was a little more footloose and fancy free. I felt that the Pentaconn option controlled the frequencies in a more exacting manner. The standard 2.5mm offered a slightly more relaxed bass with a touch of emphasis in that area.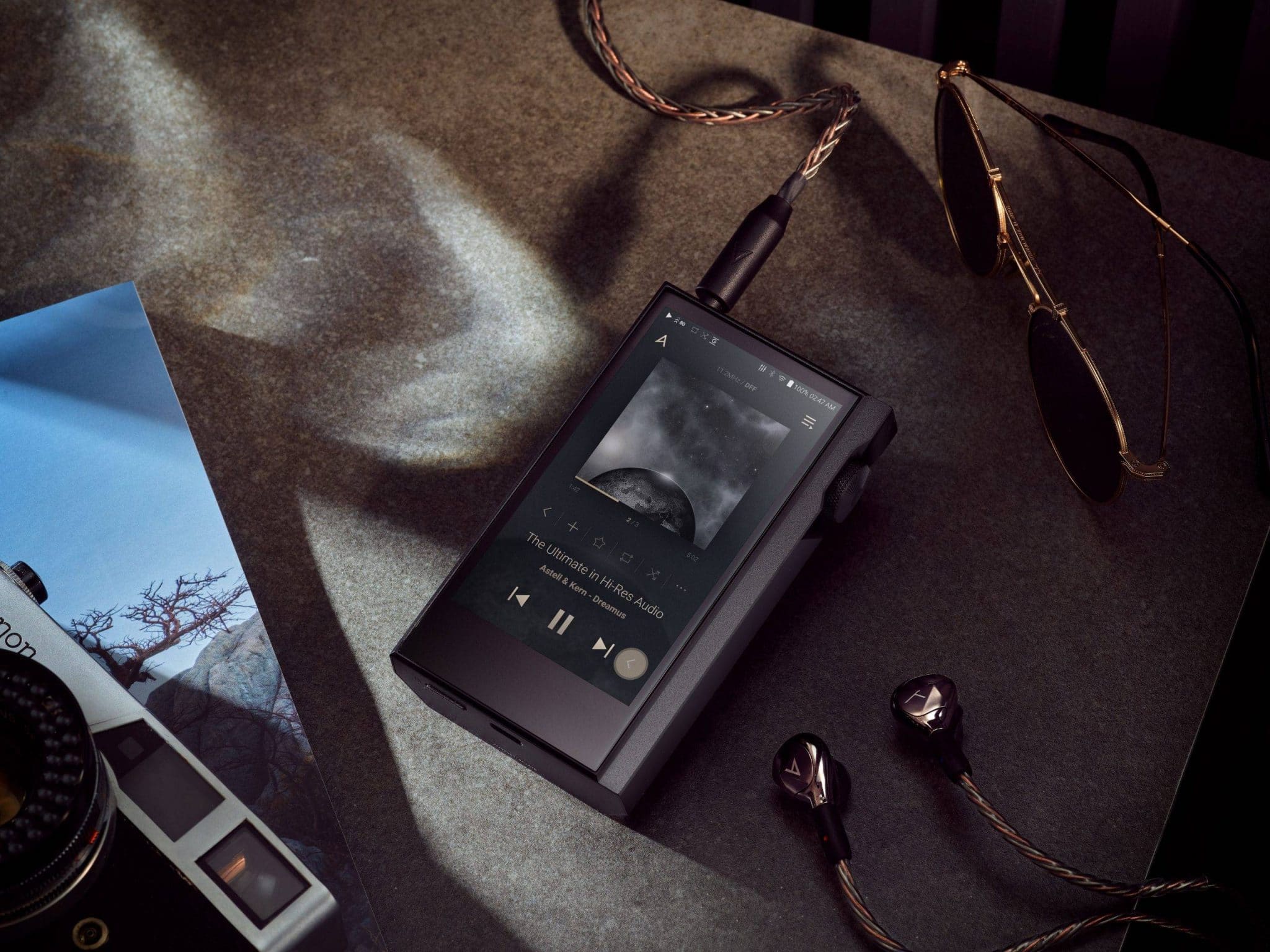 In short though, both balanced options were major sonic improvements over the standard non-balanced option. 
I then connected the Kann Alpha to my Cabasse Swell Bluetooth speaker via the LDAC codec. Achieving pairing was simple. I entered the Bluetooth section in the Settings and the Cabasse option popped up on the screen. Tapping provided an instant pairing. 
Performance here was excellent with a generally balanced playback while the Bluetooth signal was strong and steady.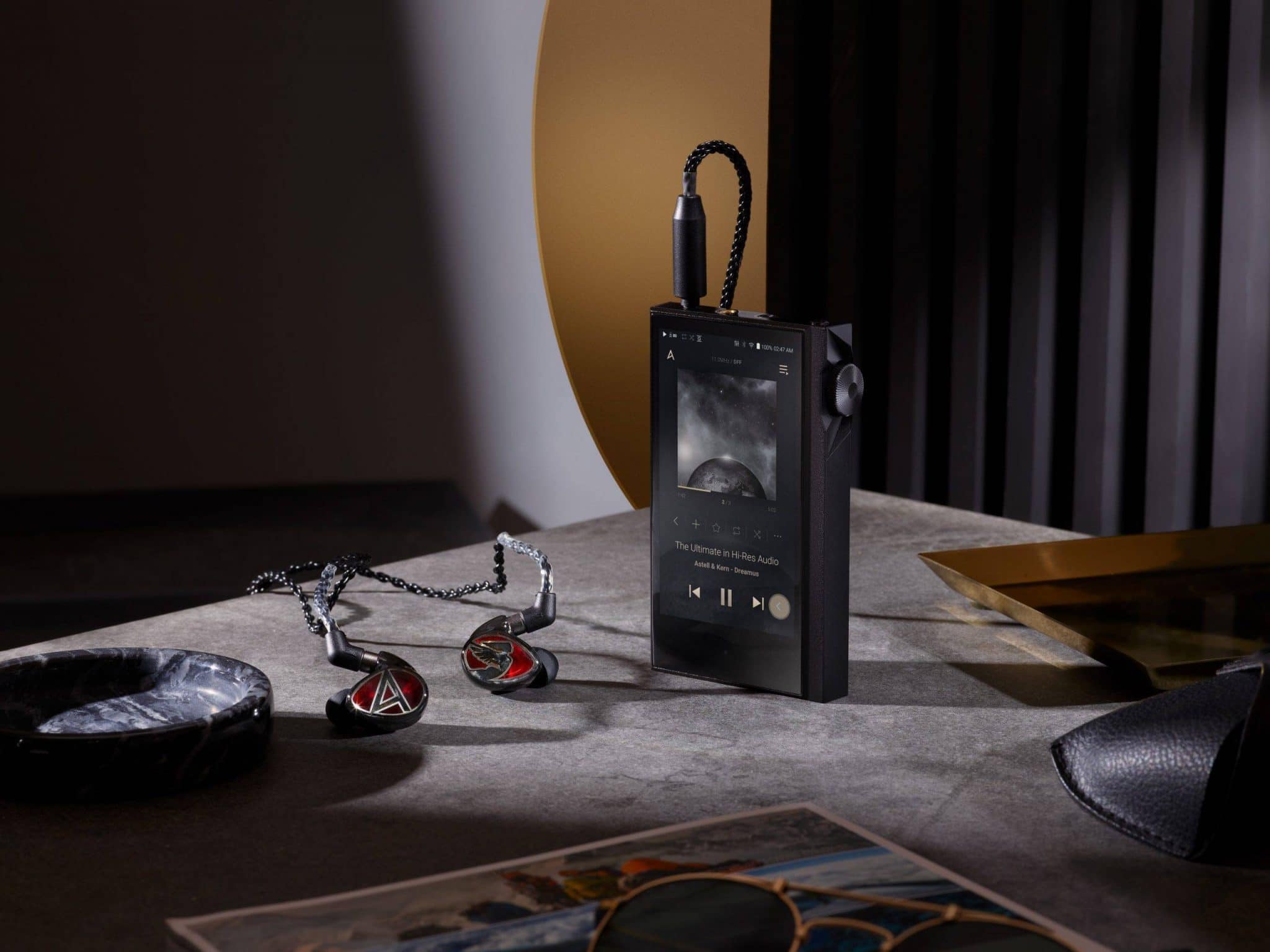 I then switched to one of the included Services – YouTube's V-link in my case. Here, I opted for Norah Jones and Come Away With Me and was pleased by the general playback. It wasn't perfect, of course, there was a slight lift in the upper mids while the vocal was a touch edgy during crescendos but that was more to do with the streaming technology, as opposed to the inherent performance of the Kann Alpha. 
CONCLUSION
Can you use a basic pair of headphones with an unbalanced cable with the Kann Alpha? Sure you can and it will work fine. Do I personally recommend that you buy a Kann Alpha and use a pair of unbalanced headphones with it then? No, absolutely not. 
It's a bit like spending £10k on a top quality hi-fi and then hooking up a pair of £50, no brand speakers, to the end of it. The idea is plain silly. Now that example is wildly exaggerated, sure but the basic premise holds firm.
The most important piece of advice I can give anyone looking to buy an Astell & Kern Kann Alpha is this: buy a pair of balanced or balanced-capable headphones.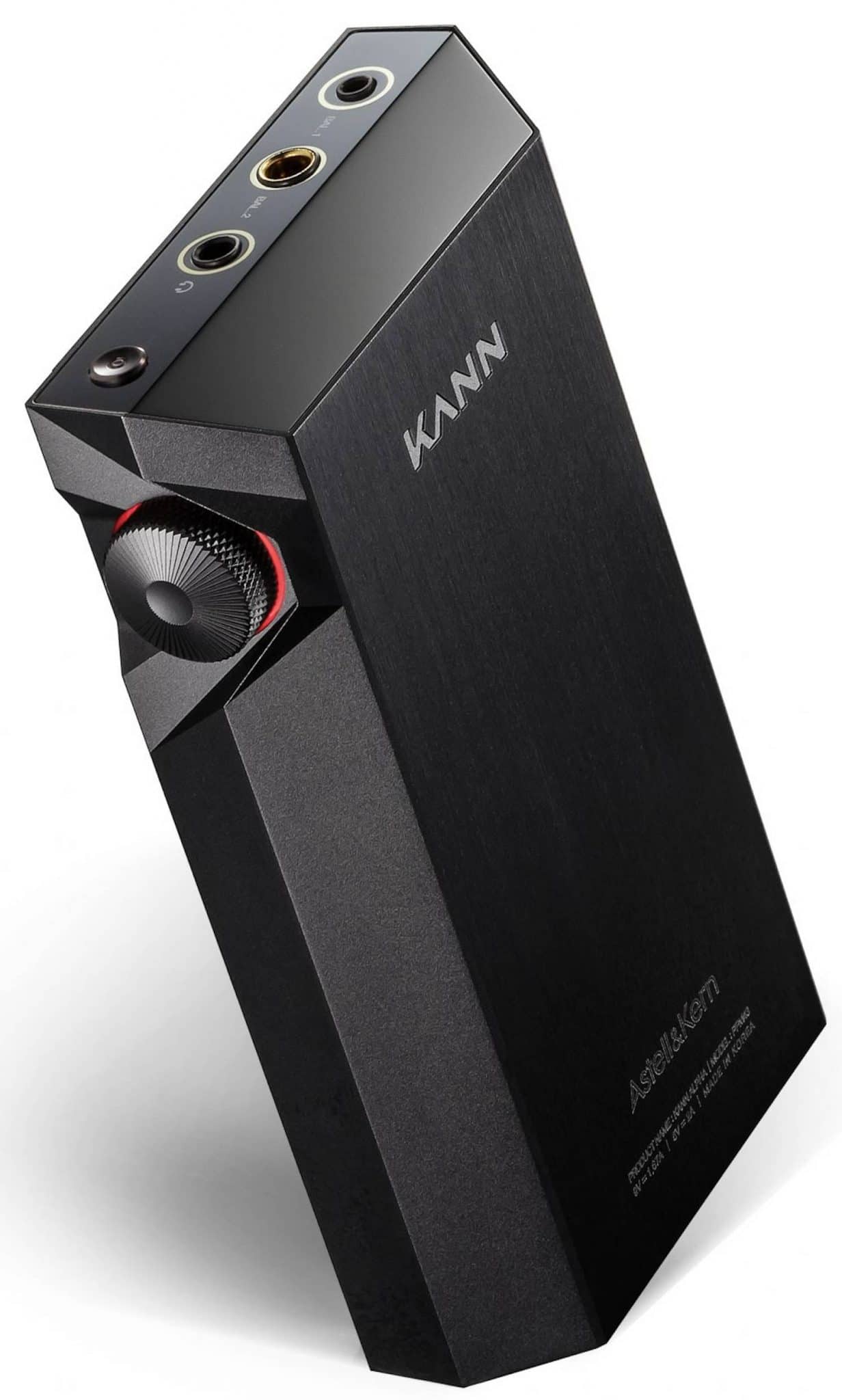 The Sennheiser 660 S headphones I used in this test comes with a Pentaconn cable in the box. The other test headphones, the Meze 99 can be fitted with a balanced cable. An accessory that Meze sells as a separate item. 
However you do it, don't make do with unbalanced if you want to get the best from your Kann Alpha. There really is no point in going in the unbalanced direction. Go balanced – and Pentaconn is the best balanced option, if you can – and you'll have a great time. The sound is mature, rich and beautifully crafted while the product itself offers a high-quality build, luxurious finishing and feels like it's going to last an awful long time indeed.
Bottom line? Give the Astell & Kern Kann Alpha the ammunition it needs and it will reward you with a sublime performance. 
---
ASTELL & KERN KANN ALPHA 
Price: £1,099
Website: www.astellkern.co.uk 
---
GOOD: balanced playback, build quality, Pentaconn option, feature set
BAD: unbalanced playback
RATING: 8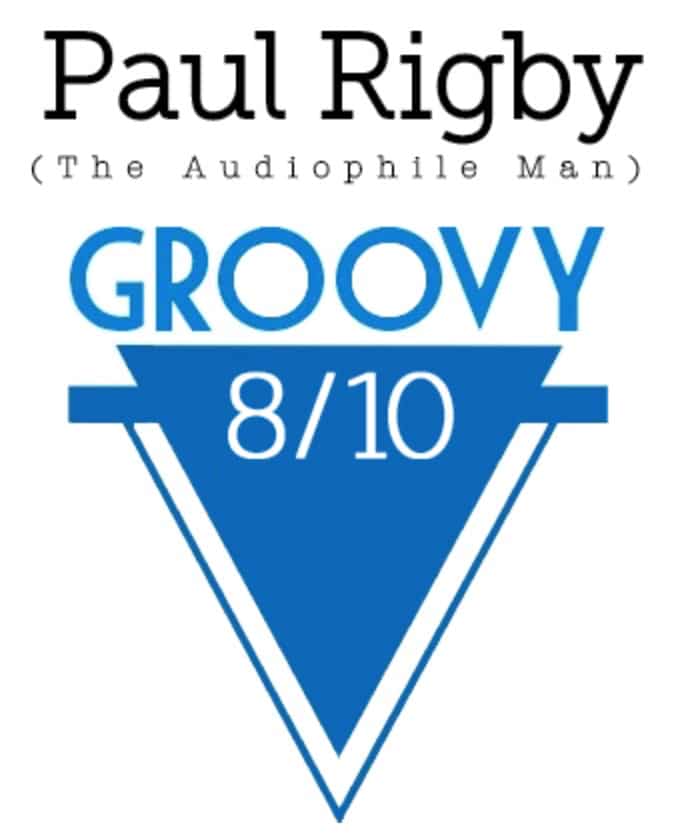 ---
[Want to stay up-to-date with The Audiophile Man's published stories? Click the 'Subscribe To Blog Via Email' box, located on the top-right of this page (desktop) or keep scrolling on your mobile to find the same and make sure you never miss a news piece, feature or review!]
REFERENCE
Meze balanced cable