The Article
Star Wars' The Ultimate Vinyl Collection: Episodes I-VI will be reissued by Sony Classical in three new editions
22nd April 2016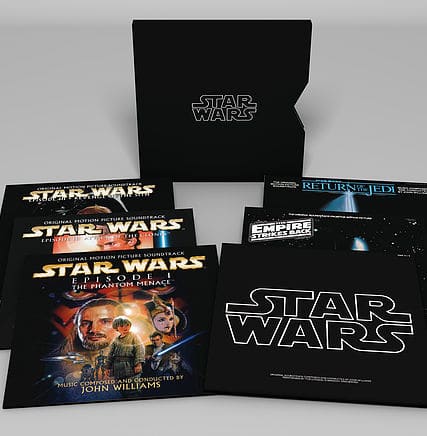 The original soundtracks of Star Wars – Star Wars: The Ultimate Vinyl Collection (11 LPs), Star Wars: The Ultimate Soundtrack Edition (10 CDs plus DVD) and Star Wars: The Ultimate Digital Collection (hi-resolution download).
All composed by the legendary five-time Oscar-winning composer, John Williams, these collector's sets are being reissued after the latest chapter in the saga, Star Wars: The Force Awakens, opens in theatres.
Star Wars: The Ultimate Vinyl Collection includes each of the six film soundtracks: from Star Wars: Episode I – The Phantom Menace to Star Wars: Episode VI – Return of the Jedi – in gatefold sleeves replicating the original artwork. Audio was transferred from the original LP masters and pressed with heavy 180gm vinyl. The six 2LP sets are presented in a black, soft-touch laminated slipcase with an embossed, hot silver foil Star Wars logo, which includes a digital download card for one complete box set (all six soundtracks).
Price will be £140 and the release date will be 8 Janary 2016.
Episode I: The Phantom Menace
LP 1 – Side A
1. Star Wars Main Title and the Arrival at Naboo
2. Duel of The Fates
3. Anakin's Theme
4. Jar Jar's Introduction and the Swim to Otoh Gunga
5. The Sith Spacecraft and the Droid Battle
LP1 – Side B
1. The Trip to the Naboo Temple and the Audience with Boss Nass
2. The Arrival at Tatooine and the Flag Parade
3. He Is the Chosen One
4. Anakin Defeats Sebulba
5. Passage Through the Planet Core
LP2 – Side A
1. Watto's Deal and Kids at Play
2. Panaka and the Queen's Protectors
3. Queen Amidala and the Naboo Palace
4. The Droid Invasion and the Appearance of Darth Maul
LP2 – Side B
1. Qui-Gon's Noble End
2. The High Council Meeting and Qui-Gon's Funeral
3. Augie's Great Municipal Band and End Credits
Episode II: Attack of the Clones
LP1 – Side A
1. Star Wars Main Title and Ambush on Coruscant
2. Across the Stars (Love Theme from Star Wars Episode II)
3. Zam the Assassin and the Chase Through Coruscant
LP1 – Side B
1. Yoda and the Younglings
2. Departing Coruscant
3. Anakin and Padmé
4. Jango's Escape
5. The Meadow Picnic
LP2 – Side A
1. Bounty Hunter's Pursuit
2. Return to Tatooine
3. The Tusken Camp and the Homestead
LP2 – Side B
1. Love Pledge and the Arena
2. Confrontation with Count Dooku and Finale
Episode III: Revenge of the Sith
LP1 – Side A
1. Star Wars and the Revenge of the Sith – Medley
2. Anakin's Dream
3. Battle of the Heroes
LP1 – Side B
1. Anakin's Betrayal
2. General Grievous
3. Palpatine's Teachings
4. Grievous and the Droids
LP2 – Side A
1. Padme's Ruminations
2. Anakin vs. Obi-Wan
3. Anakin's Dark Deeds
4. Enter Lord Vader
5. The Immolation Scene
LP2 – Side B
1. Grievous Speaks to Lord Sidious
2. The Birth of the Twins and Padme's Destiny – Medley
3. A New Hope and End Credits – Medley
Episode IV: A New Hope
LP1 – Side A
1. Main Title
2. Imperial Attack
3. Princess Leia's Theme
4. The Desert and the Robot Auction
LP1 – Side B
1. Ben's Death and TIE Fighter Attack
2. The Little People Work
3. Rescue of the Princess
4. Inner City
5. Cantina Band
LP2 – Side A
1. The Land of the Sandpeople
2. Mouse Robot and Blasting Off
3. The Return Home
4. The Walls Converge
5. The Princess Appears
LP2 – Side B
1. The Last Battle
2. The Throne Room and End Title
Episode V: The Empire Strikes Back
LP1 – Side A
1. Star Wars (Main Theme)
2. Yoda's Theme
3. The Training of a Jedi Knight
4. The Heroics of Luke and Han
LP1 – Side B
1. The Imperial March (Darth Vader's Theme)
2. Departure of Boba Fett
3. Han Solo and the Princess
4. Hyperspace
5. The Battle in the Snow
LP2 – Side A
1. The Asteroid Field
2. The City in the Clouds
3. Rebels at Bay
4. Yoda and the Force
LP2 – Side B
1. The Duel
2. The Magic Tree
3. Lando's Palace
4. Finale
Episode VI: Return of the Jedi
Side A
1. Main Title (The Story Continues)
2. Into the Trap
3. Luke and Leia
4. Parade of the Ewoks
5. Han Solo Returns (At the Court of Jabba the Hutt)
6. Lapti Nek (Jabba's Palace Band)
Side B
1. The Forest Battle
2. Rebel Briefing
3. The Emperor
4. The Return of the Jedi
5. Ewok Celebration and Finale