The Article
Kraftwerk's SOEST 1970: the band as a trio
22nd February 2016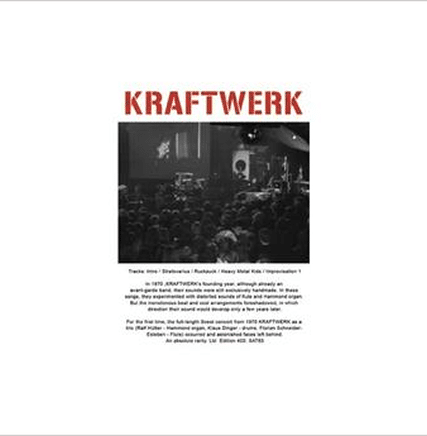 The Soest concert from 1970 which saw Kraftwerk as a trio (i.e. Ralf Hütter – Hammond organ, Klaus Dinger – drums, Florian Schneider-Esleben – Flute). In these songs, the band experimented with distorted sounds of flute and Hammond organ. Tracks include: Intro/Stratovarius, Ruckzuck, Heavy Metal Kids, Improvisation 1.
Limited to 400 copies on black vinyl. It was formerly known as Karussel der Jugend.
This plus Kraftwerk 1 & 2 should be available to buy in the next week. Florian & Schneider is still awaited, though.