The Article
SAP-201V Amplifier From Mitchell & Johnson 
12th March 2019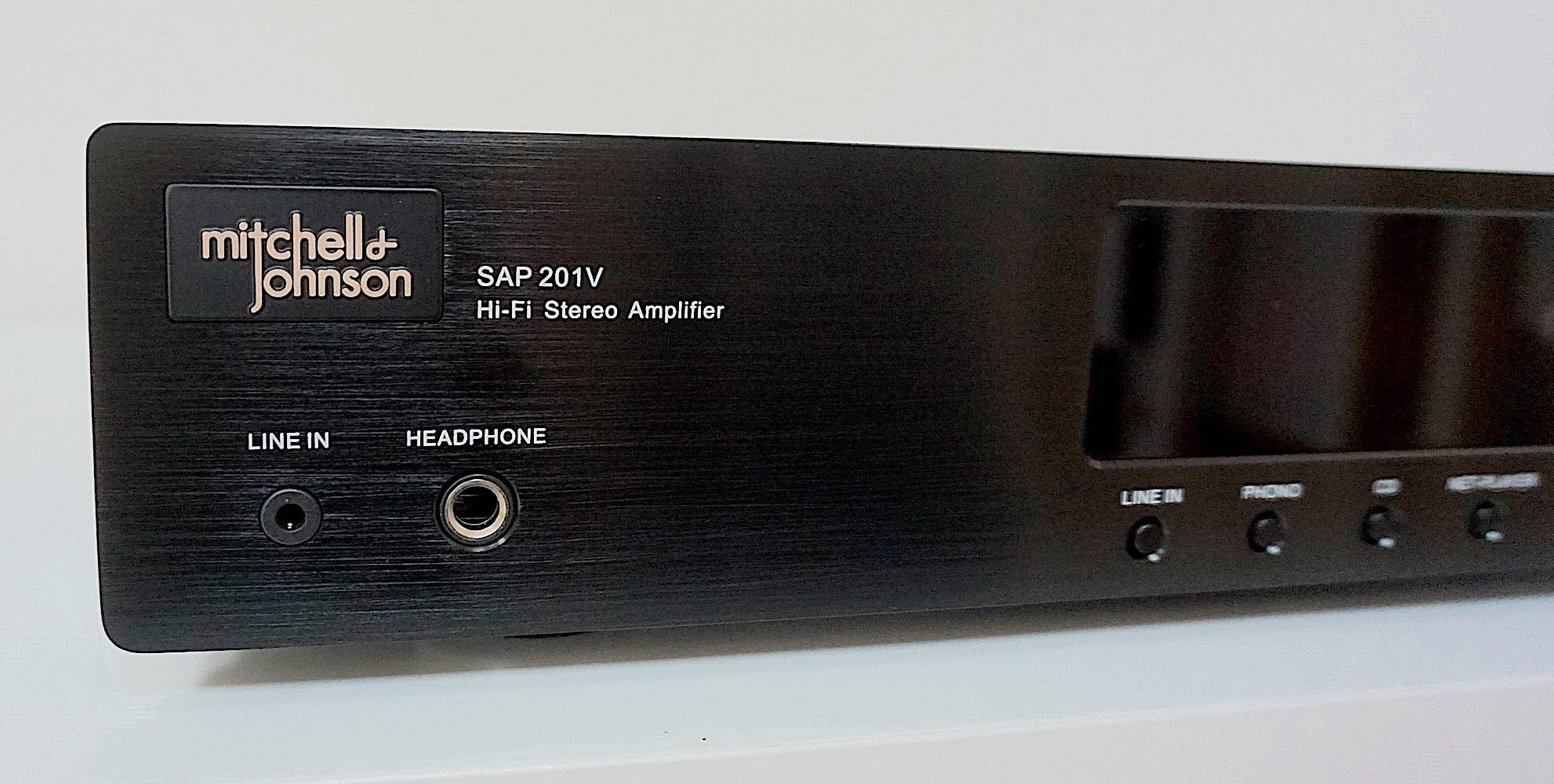 A genuine budget integrated amplifier from Mitchell & Johnson, Paul Rigby reviews the SAP-201V
I was quite startled to realise that I don't come across genuine, budget amplifiers too often. In fact, the last time I seriously looked at a true budget amplifier was, I think, a Yamaha model around three years ago. So this is a bit of an occasion, then.
The amplifier itself, even with that budget tag, looks pretty decent. There's nothing to be ashamed of here. The aesthetics look good with a neat logo along the top plate. Yes, if you're keen, you can use the top plate as a trampoline, pressing in the thin gauge metal across the top of the chassis which is a bit of a give-away for budget fare but there's nothing wrong with that at this price point. All in all, this is a good looking budget release.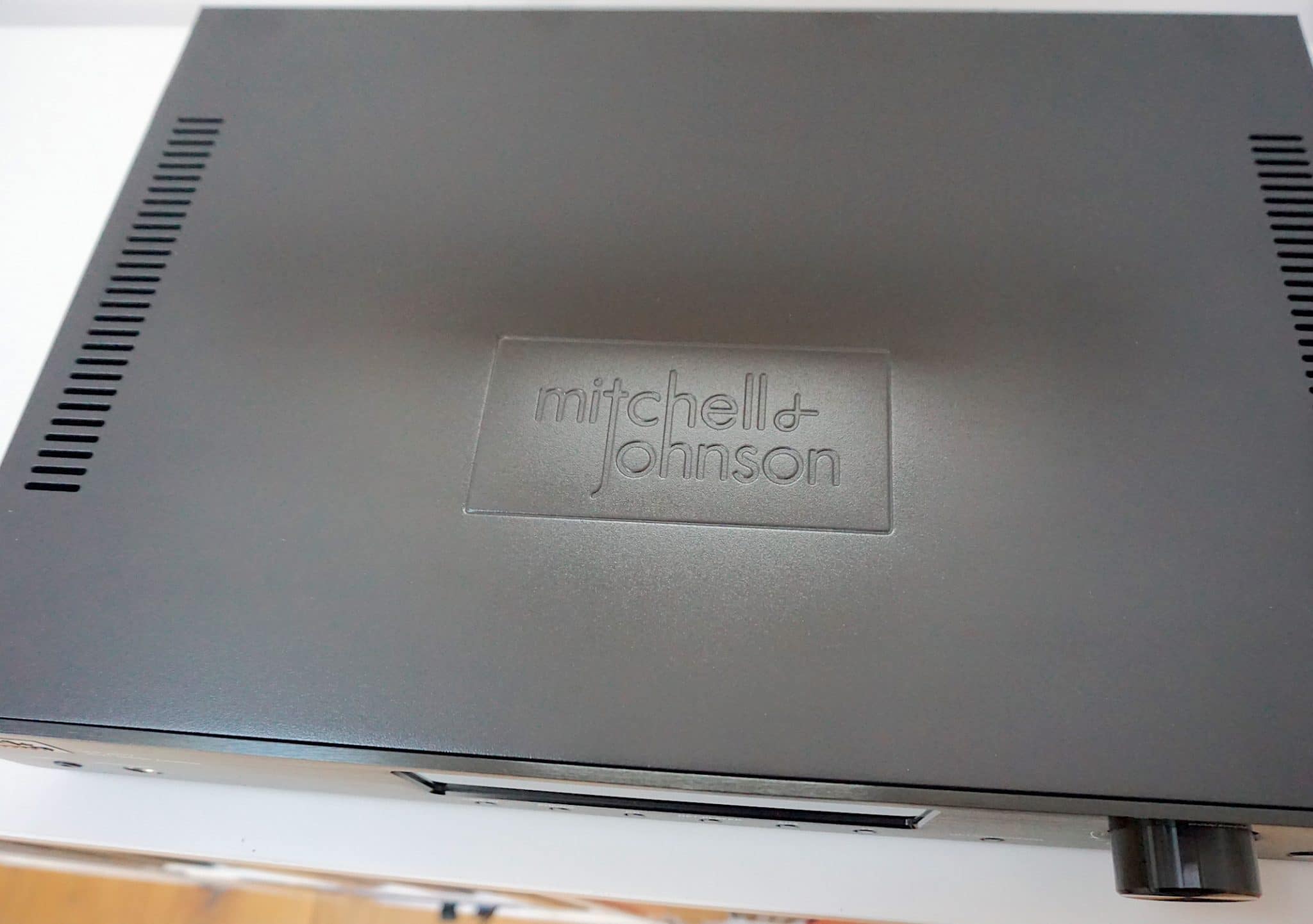 Despite the trimming of costs to keep the price down (even the manual is only available via a web page while accessories are limited to a wee remote and mains/interconnect leads), there's plenty of internal features on offer.
On the front, to the right, is the push-in power switch, next to that is that duel volume knob and input/tone selector. This control can be rotated and pushed inwards. Source selectors for optical/coaxial (you press this button twice to toggle between each), TV, Aux, Net-Player, CD, Phono and Line In adorn the front and sit underneath the display. To the far left is a 6.35mm headphone socket (nice to see a full size model here) and mini-Line In socket.

Around to the rear now and the far left which holds the power socket. Running to the right are the sturdy speaker terminals, optical and coax inputs, Record outs and five sets of inputs. A grounding screw for the built-in phono amp is situated on the far right.
The remote, which was not the most responsive unit I've ever used, has a 15ft range and a 30 degree arc of fire and features basic controls but also includes controls for the CDD201V CD Player. The remote might be an after-thought but I'd rather have better sound emanating from the amplifier than have an improved remote and lose a bit of sound quality because of build budget restrictions. Mitchell & Johnson has the right priorities here.

Spanning 430 x 80 x 283mm, the SAP-201V weighs in at 6.3kg and is rated at 40W into 8 Ohms.
SOUND QUALITY
I began with Barclay James Harvest and Child of the Universe from Everyone is Everybody Else (Polydor) and was immediately struck by the very clean and scrubbed general music presentation. I've heard some amplifiers around this price point that can sound warming and a bit stodgy, in a classic 70s rock kinda way. Not the SAP-201V amplifier. The midrange appeared to be lifted up from the ground and set on a pedestal so that the ear could detect information front on, above, below and to the sides. Nothing was hidden here with midrange detail offering plenty of clarity and transparency with detail to burn. That's the benefit of just enhancing the mids, of course.

In terms of the bass, there was plenty of that too. The beginning of this track offered some very heavy lower bass indeed and the SAP-201V tracked that area well. More than that, though, the bass, while retaining a measure of heft, also benefitted from focus which meant that it tended to don a pair of track shoes and shift rather than plod across the soundstage. This also helped the treble area when cymbals were tapped because the focused bass created room for the treble reverb tails. The result was a more balanced presentation and one that exuded rhythm and a pleasing tempo. Finally, the vocals were emotive because you could hear more of them. That is, the diction was enhanced, the nuances of the performance were spot on and the little vocal emphasis and effort only served to enhance the overall song.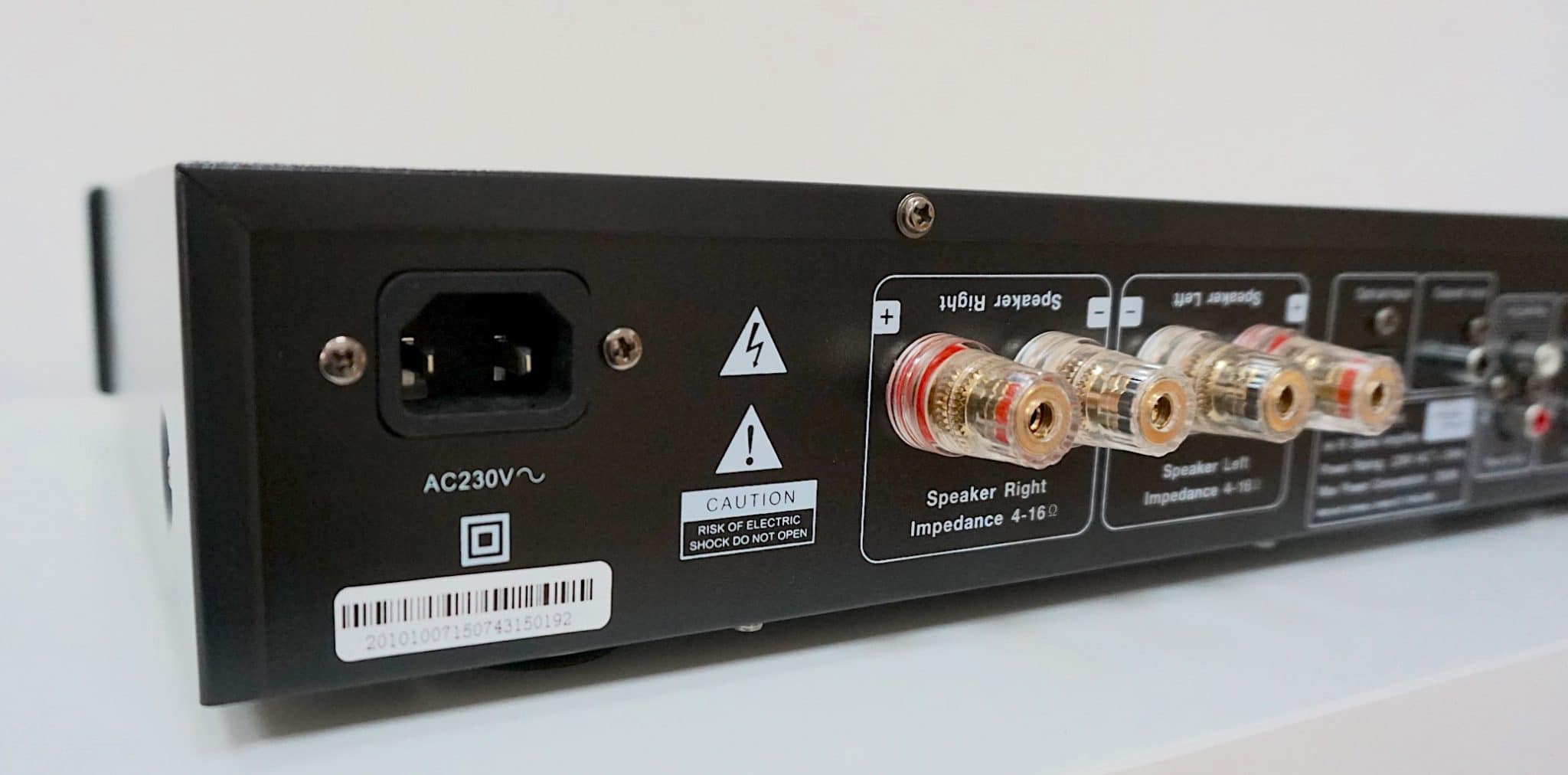 Speaking of vinyl, using a Goldring E3 with the internal phono amplifier, I was pleasantly surprised. It was decent, not amazing but the internal phono amplifier proved to be a good starter for those low on funds and saving for an external model.
Onto CD, I played Bing Crosby's Bing With a Beat, featuring Bob Scobey's Frisco Jazz Band and the track Let A Smile be Your Umbrella. That clean midrange was an ever present here. Be aware that the SAP-201V is pretty darned transparent so, if your CD player has any issues in terms of brightness and the like then the SAP-201V won't hide or warm it up for you. This box is a truth-telling drug of an amplifier. It will give sound to you straight, no messing.
There was plenty to like here, with the small jazz band sounding full of verve and energy. Brass was precise, piano was clean and open, percussion was focused and tight while the clarinet was musical and melliferous. The Crosby vocal was also full of texture and rich vibrato, conveying the great man's signature delivery and his distinctly humanistic and naturalistic view of singing a song. 
While the CD was playing, I connected a pair of Sennheiser HD650 headphones into the built-in headphone socket. The music was muted as soon as the headphone plug was inserted into the amplifier and, once in, the music retained a similar open and fresh approach to the mids with honed and tidy bass. There was a slight roll off at the upper ends of the frequency spectrum so the extreme detail was chopped every so slightly but this is an internal headphone amp – if you want performance buy an external, dedicated model. There was still plenty of information on offer while the soundstage was a real stand-out, being impressively wide.

I finished in digital mode, plugging my Astell&Kern AK120 into the optical port at the rear of the SAP-201V and played Jamming at 24bit/96kHz via Bob Marley. I was impressed with the clarity and focus from this source but again, the SAP-201V was busy telling truths. It was very good but not great. And that's exactly what the AK120 is all about on my hi-fi. It performances well but it's not high-end in quality. That said, bass was solid with a notable presence and detail, for a digital music player connected to a reference system, was relatively open and dynamic.
CONCLUSION
An integrated amplifier at this price point has an almost impossible job. It has to offer a top notch performance while performing a host of jobs and offering a wealth of features to boot. Yet the Mitchell & Johnson SAP-201V does just that. It's clean and open approach to sound allows detail to flow easily while its precise and transparent nature means that you never lose even a slice of information: the SAP-201V tracks everything and does so efficiently. Easy to use, fully featured and sounding excellent, what more do you need from a budget amplifier?
---
MITCHELL & JOHNSON SAP-201V INTEGRATED AMPLIFIER 



Price: £349

Tel: 0845 643 5064

Website: mitchellandjohnson.com
---
GOOD: transparency, clarity, open mids, solid bass, value for money
BAD: nothing
RATING: 9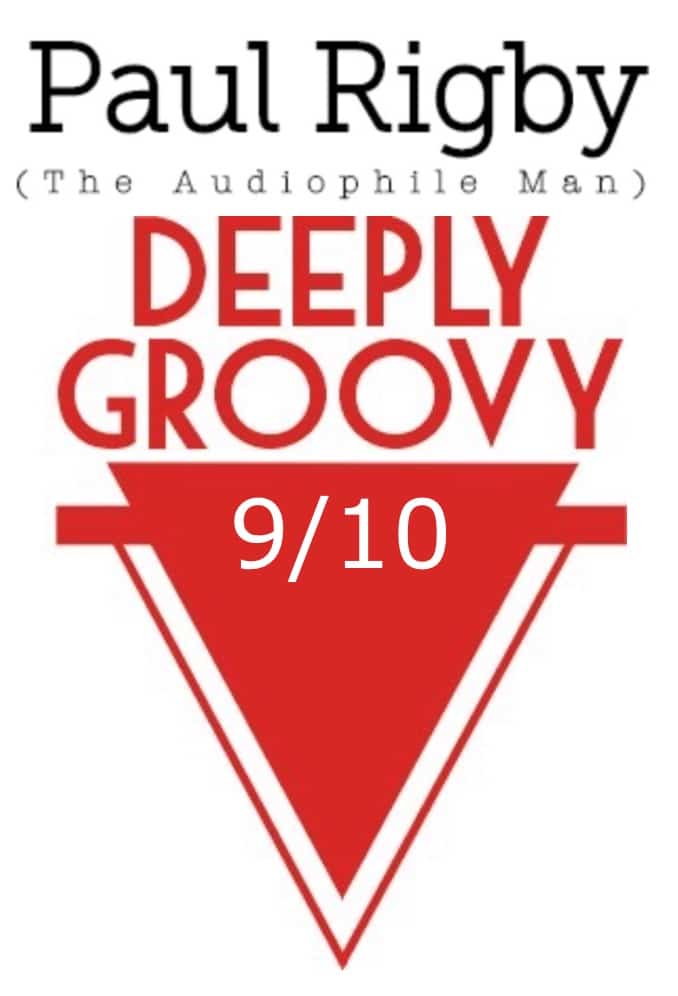 ---
REFERENCE
Pro-Ject RPM 3 turntable
Ortofon 2M Black cartridge
Cambridge Azur 640 amplifier
Acoustic Energy Radiance One speakers
Cambridge Azur 551P phono amplifier
Tellurium Q cabling
Blue Horizon Professional Rack System
Harmonic Resolution Systems Noise Reduction Components
All vinyl was cleaned using an Audio Desk's Ultrasonic Pro Vinyl Cleaner