The Article
THE ROLLING STONES IN MONO BOX SET OUT NOW: IN-DEPTH REVIEW TO FOLLOW
9th October 2016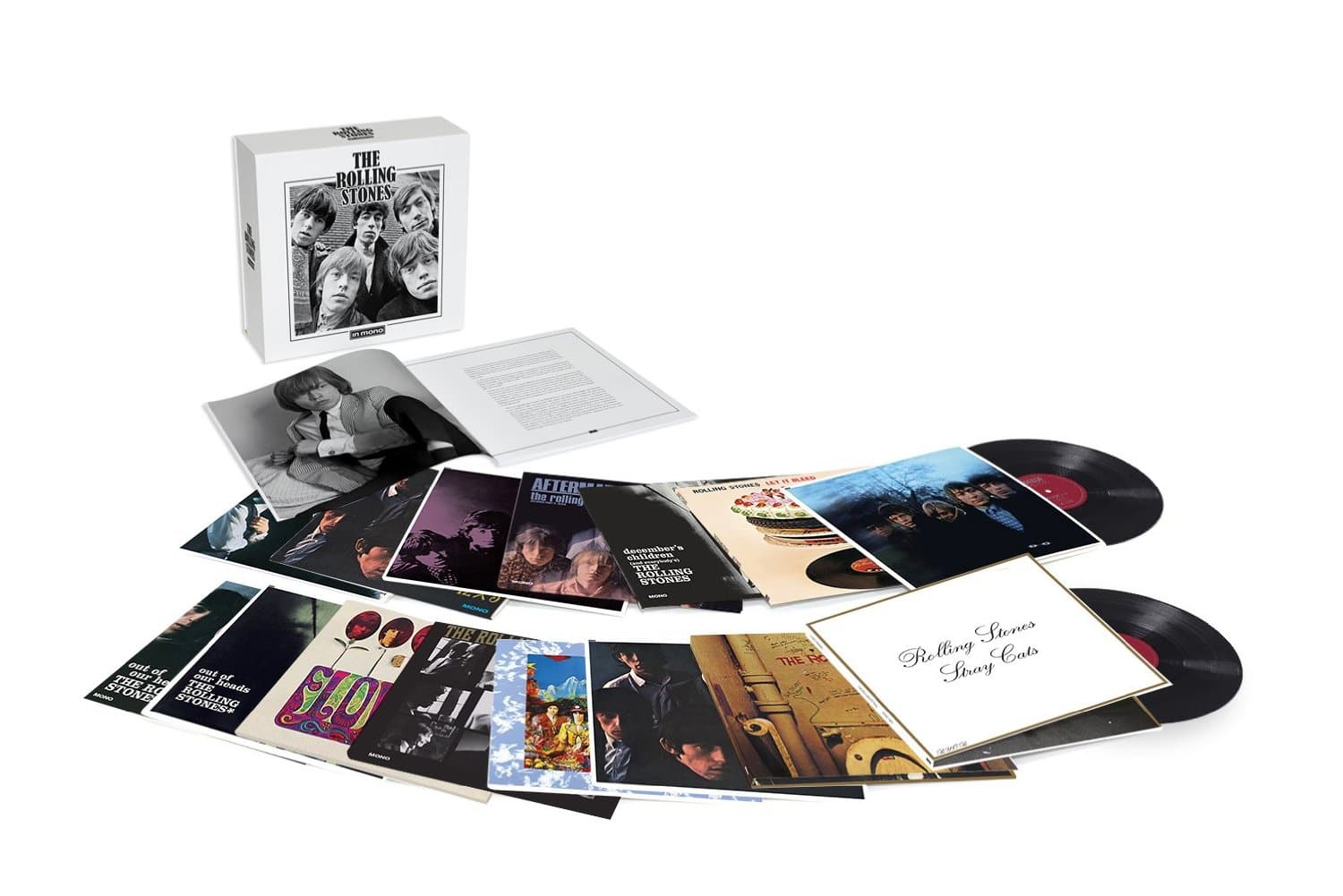 A total of 16 LPs and 15 CDs packing in mono tracks from 14 studio albums and a collection of single and EP tracks from the 60s
This year, for the first time ever, all mono studio recordings released by The Rolling Stones in the 1960s are available in one  collection. ABKCO Records has made available the vinyl and CD box sets of The Rolling Stones in Mono as well as Standard Digital, Mastered for iTunes and True HD (96k/24 bit, 192k/24 bit and DSD). The collection contains a total of 186 tracks, 56 of which have never before been heard in mono since the advent of the digital age.
Spanning the era between 1963 and 1969, The Rolling Stones in Mono covers the formative years of "The Greatest Rock & Roll Band in the World."  During this era, most rock and pop recordings were originally recorded in mono, with stereo often an afterthought, dealt with only following the completion of the original (mono) version of a given track.  In short, mono reigned and this was, indeed, the case for the Rolling Stones during the period. While typical playback systems of the time were less than sophisticated, the original mono recordings, especially as heard through quality components, were of the highest audio quality and had a powerful and very direct impact.
"You felt you were in the room . . . listening to exactly what went down in the studio, no frills, no nothing," Keith Richards wrote in his autobiography, Life.
"Rock was a completely new musical form," Mick Jagger explained in a 1995 Rolling Stone interview. "It hadn't been around for 10 years when we started doing it . . . You felt like one of the chosen few, one of the only ones in the world who would get to play with this new toy. We had evangelical fervor."
Late recording engineer Dave Hassinger explained how he mixed his '64-'66 work for the Stones in mono, "They always played together at the same time," Hassinger said. "They would run the parts down, work out the changes here and there, nail it down, then start recording."
As part of the set, you also get a 48 page softbank book that features numerous rare photos by renowned photographer Terry O'Neill. The 16 LPs or 15 CDs are housed in the original full color album jackets that fit along with the book into a one piece box.
The Rolling Stones in Mono has been mastered by engineer Bob Ludwig at Gateway Mastering. For the project he utilized Direct Stream Digital (DSD) transfers from the original master recording tapes, with a sampling rate of 2,822,400. Lacquer cutting for vinyl was performed at Abbey Road Studios by Alex Wharton and Sean Magee. All vinyl box sets are numbered and pressed on 180gm vinyl.  The Rolling Stones in Mono project has been overseen by Teri Landi, ABKCO's Grammy award winning Chief Audio Engineer.
 The Rolling Stones In Mono [16 LP vinyl box set; 15 CD box set] (all tracks also available digitally)
1) The Rolling Stones (UK, 1964)
2) 12 X 5 (1964)
3) The Rolling Stones No. 2 (UK, 1965)
4) The Rolling Stones Now! (1965)
5) Out of Our Heads (US, 1965)
6) Out of Our Heads (UK, 1965)
7) December's Children (And Everybody's) (1965)
8) Aftermath (UK, 1966)
9) Aftermath (US, 1966)
10) Between the Buttons (UK, 1967)
11) Flowers (1967)
12) Their Satanic Majesties Request (1967)
13) Beggar's Banquet (1968)
14) Let it Bleed (1969)
15) Stray Cats (a new collection of single A & B sides plus EP tracks)
Look out for a full and in-depth review of this box set on this very site. I have been honoured by Universal as the only journalist in the UK (and one of just a few in the world) to have received a finished vinyl box set for review. Most national newspapers, major music magazines and 'name' journalists have had to review from a set of CD-Rs (not even finished CDs). Because of this, I can provide in-depth A-B-C comparisons between this new set and the original pressings plus a selection of 80s reissues using two types of mono cartridges (1mil and 0.7mil).
In addition to that, I have been privileged to have had full access to Teri Landi, ABKCO's Chief Audio Engineer. We talked for, in excess of, two hours, to get to the nitty gritty of the production of this set. All questions and issues have (hopefully!) been addressed.
A shortened version of this feature will appear in the UK national Hi-Fi magazines, Hi-Fi World on the 28th of October 2016. The full version will appear here a month later (due to 'rights issues').
To see a video featuring Glyn Jones, engineer and mixer for many of the above LPs, talking about mono and the Stones, click HERE