The Article
Rockster XS Bluetooth Speaker From Teufel
12th September 2018
Need a compact, rugged Bluetooth speaker for your music source? Paul Rigby reviews Teufel's Rockster XS
Today, playing music is all about choice. A situation that I wholeheartedly applaud and support. As much as I love vinyl, I wouldn't be without my CDs or my terabytes of music data residing on several hard disks. I like to use DAPs, I like to use streaming, I enjoy the fact that we can utilise various storage media to deliver music and I like the various file formats and sound quality options too. 
Choice is a great thing because it frees up and expands our musical experience. Portable speakers are essential to this notion of choice because even in a wired format, they increase mobility and decrease foot print. With Bluetooth added, they allow a wireless set-up and give you even more options when deciding when and where to listen to your music.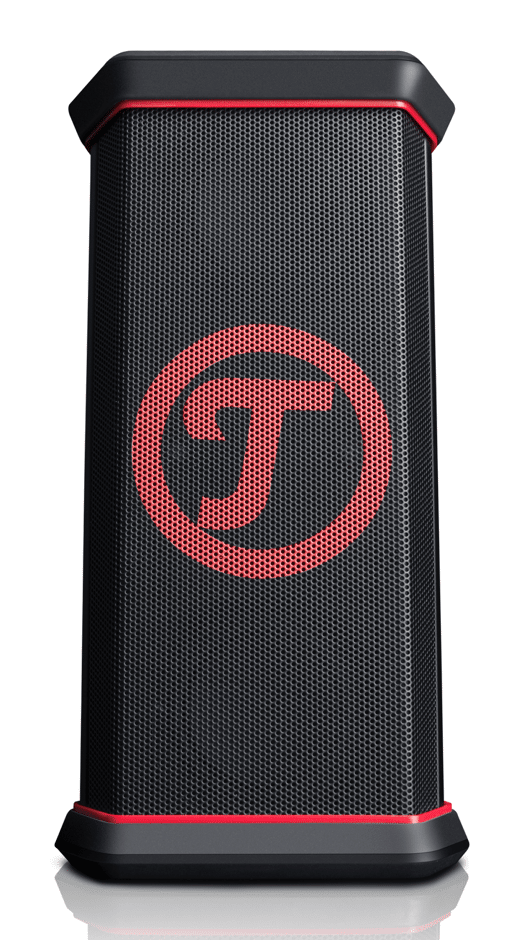 The German outfit, Teufel, has been on board in terms of Bluetooth speakers for some time. In fact, I've already reviewed one example HERE.
The Rockstar XS (now in its second incarnation) is a rather angular alternative. It's also compact at 69 x 86 x 178mm while weighing 0.72kg. It's robust design is both splash proof and shock proof. Made from aluminium, it features a silicon rubber bumper on each end, that protrudes at all angles, adding protection to the central speaker section.
Bluetooth 4.0 includes the aptX codec and offers 10m range while a Bluetooth Party mode allows you to pair two source devices to the Rockster XS at the same time. In a similar manner, two Rockster XS speakers can be configured as a wireless stereo pair. I wasn't able to test the latter because I was only supplied with a single speaker.
NFC and smartphone call-receive compatible, the unit features an "integrated subwoofer" and two full range drivers. the Rockster can be used standing up in a vertical position or lying down at the horizontal and is run off two 16W Class D amplifiers plus a DSP. The internal Lithium-ion 4400 mAh battery can run up to 14 hours (charging in a maximum time of three hours), can be charged via full size and mini-USB and includes an Aux socket. All are hidden behind a rubber cover at one end of the chassis. You can also use the mini-USB port to connect, in wired fashion, directly to a computer if you wish.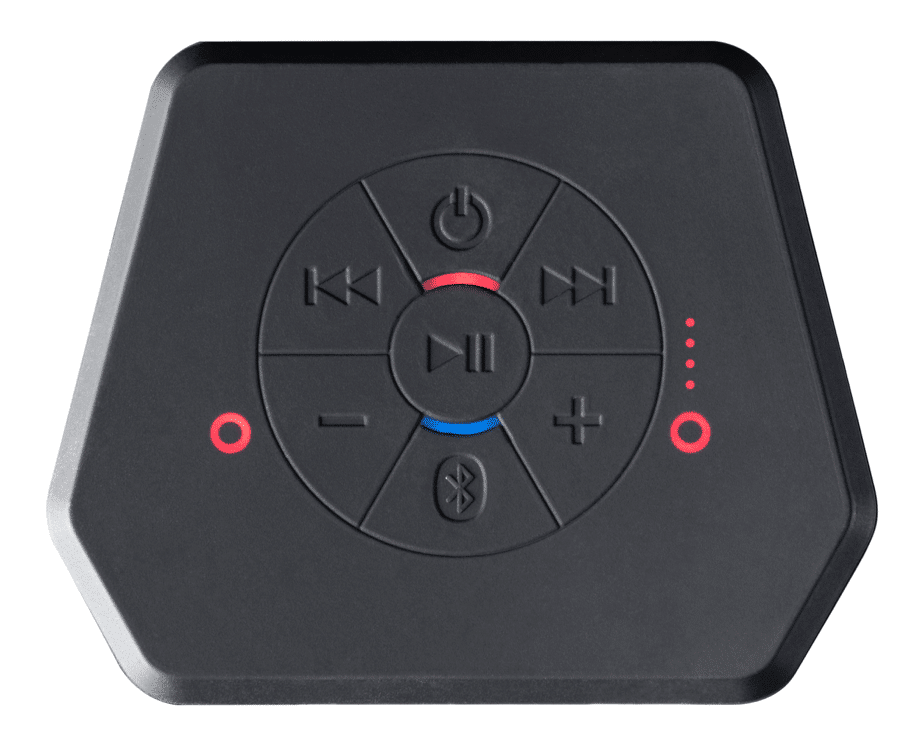 To use the Rockster XS, you need to address the control interface, resident at the other end of the unit. The button controls use that silicon 'dead skin' effect for power, play/pause, track select forward/backwards, volume and Bluetooth pairing. The problem I have with these controls is their lack of contrast. They tend to hide in a 'black, highlighted in black with a black background'-type of effect. Invisible in other words. I was constantly turning these controls to the light so that I could see to operate them. 
An indicator light is illuminated during Bluetooth operation. More lights are utilised to register the battery level (the tower of four red lights on the image above) and when in stereo connect mode.
Finally, I asked my non-audiophile wife, who has relatively little interest in hi-fi but loves music of all types about her opinions of this lifestyle-oriented unit. She liked the rugged nature of the chassis, hated the interface, liked the chassis colours but disliked the paint job design. The name and logo on the chassis was too 'in yer face' for her, too coarse and lacking style while she thought the logo design belonged on the waist band of a pair of men's underpants.
So how did it sound, in action?
SOUND QUALITY
My eyebrows were initially raised because this diminutive speaker filled my test room very easily and ran loud, to boot via an AAC stream from my iPhone 8. The room spanned around 21 x 13 feet (6.5 x 4m) with an eight foot (2.5m) ceiling. The Rockster allowed All The Lovers from Kylie Minogue to shake the windows.
My eyebrows continued to rise because of the sheer quality of the music. To be honest, I think of Teufel and I think of bass. Sometimes too much bass. Not here. The Rockster offered clarity and transparency with a 3D soundstage sitting layered with a front to back effect. That is, Minogue's voice was pushed forwards with the backing instruments a measured distance behind. This helped diction and the emotion in the vocal to come though. 
There was plenty of instrumental detail, though, with a bass that was happy to sit within the mix. Hence, delicacy was never swamped or masked. I heard plenty of acoustic guitar strumming, tambourines and even a cello making an appearance. For a lossy file, the effect was surprisingly rich.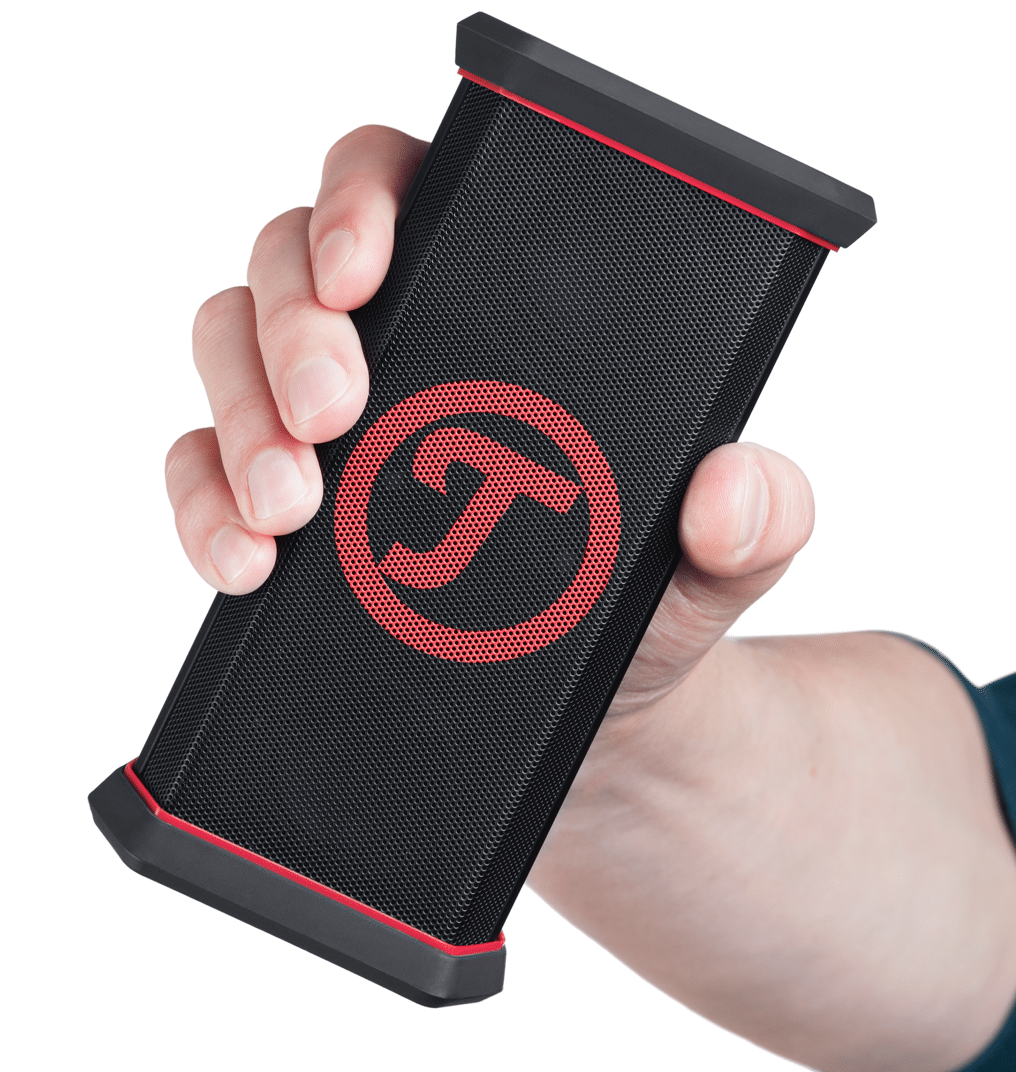 I then connected my MacBook via Bluetooth (sharing the connection with my iPhone) and played St Thomas from Sonny Rollins at 24bit/96kHz. Played via Audirvana Plus, I didn't expect to hear too much detail. Streaming is more of a convenience than a transport for audio quality yet the Rockster displayed a fair bit of that. Yes, there were the usual streaming-inspired uncontrolled elements in the upper mids but also a lot of focus during the mid-song drum solo with impressive transient ability while the Rollins sax was impressively breathy and reedy for a stream. Organic in other words. The sense of clarity in this stream mode was quite startling for a Bluetooth speaker at this price point, highlighting the value for money.
The only technical issue I had with the Rockster occurred here. My MacBook locked itself to the Rockster and wouldn't let go, nor would it let another device in. Despite turning Bluetooth off on my laptop, I was unable to use another wired or wireless source. I had to shut my MacBook down completely to reset the Rockster. Once done, everything was fine. Not a major issue, more an irritation.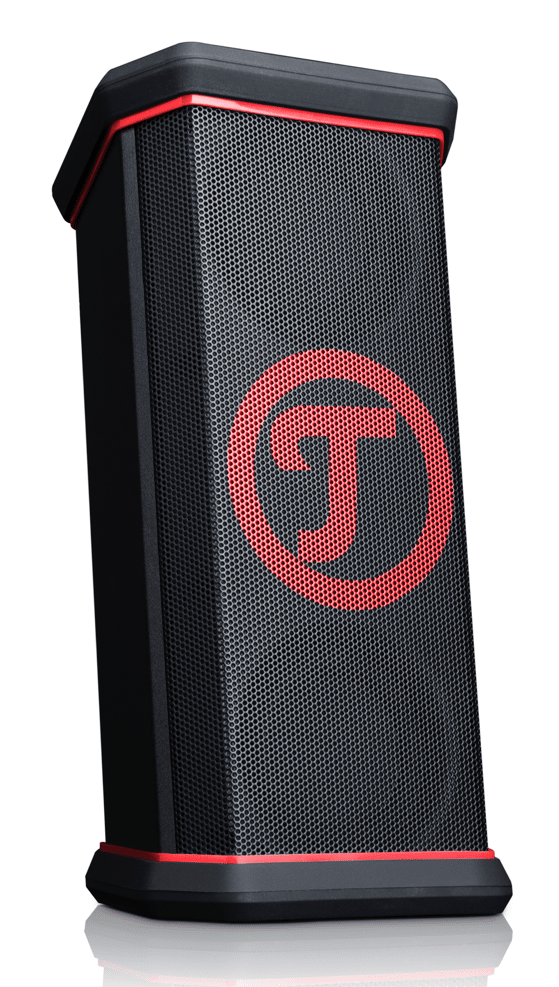 I then connected an Astell&Kern AK120 to the Aux via wire and played Roberta Flack's Killing Me Softly With His Song via 24bit/192kHz. The wired approach plus the higher resolution added maturing and precision to the musical output. The upper frequency flaring was largely gone and more air and space was infused into the soundstage. The only limit now was the technology itself, it's small speaker configuration and amp struggled to cope with all of the information. Nevertheless, the improvements were there and could be heard.
CONCLUSION
The Teufel Rockster XS is not exactly low in price but, condsidering the sonic output, it still displayed excellent value for money. Surprisingly good in its streaming performance with an appreciative sonic improvement in wired mode, refreshingly lacking in EQ gimmicks and other toys, this Bluetooth speaker is a fine performer indeed.
---
TEUFEL ROCKSTER XS BLUETOOTH SPEAKER 
Price: £180
Phone: +44 33 0808 0489
Website: www.teufelaudio.com
---
Good: clarity, transparency, balanced performance, value for money, build quality
Bad: 'sticky' Bluetooth, invisible interface 
Rating: 8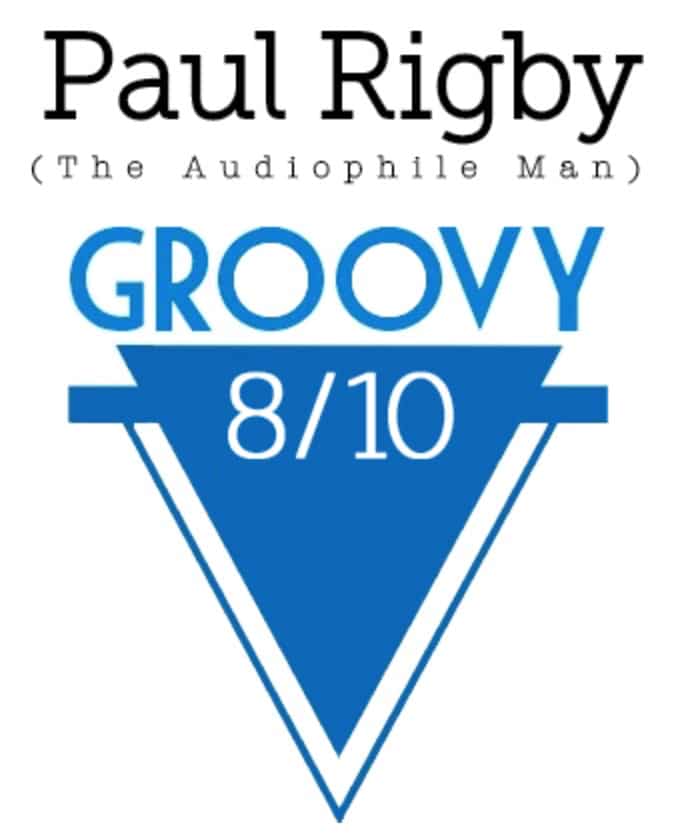 ---
[Don't forget to check out my Facebook Group, The Audiophile Man: Hi-Fi & Music here: www.facebook.com/groups/theaudiophileman for exclusive postings, exclusive editorial and more!]
REFERENCE
iPhone 8 smartphone
MacBook SSD laptop
Astell&Kern AK120