The Article
Queen's A Night At The Odeon: Hammersmith 1975
22nd April 2016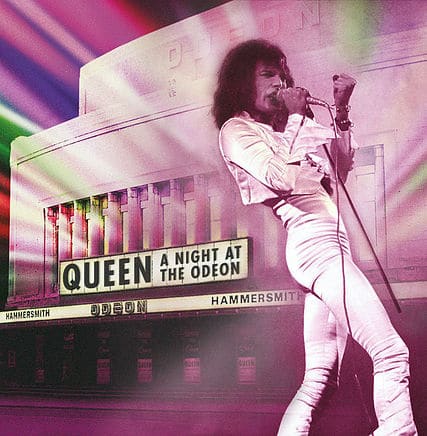 Featuring 15 tracks plus covers of four rock'n'roll staples.
This limited edition Super Deluxe Box Set includes a CD,  SD BLU-RAY, DVD and 12″ Single (which is the vinyl excuse to feature this set here), you also get a 60 page hardback book and concert memorabilia in lift-off lid box including a reproduction ticket from the concert, concert programme, conference badge, reproduction of the tour itinerary, six button badges, reproduction of the 1975 tour poster, reproduction of the sticker stage pass, reproduction of two balloons dropped into the crowd.
This is the first time Bohemian Rhapsody has ever been on 12″ and it is the first time any audio from a soundcheck has ever been released.
Blu-Ray/DVD extras include track recorded live at the Budokan, Tokyo, 1st May 1975: Now I'm Here; Killer Queen & In The Lap Of The Gods… Revisited. You also get Looking Back At The Odeon, a previously unreleased 22 minute documentary.
Price will be £85 – out on 20 November 2015