The Article
Quad Artera, a new range of electronics
22nd January 2016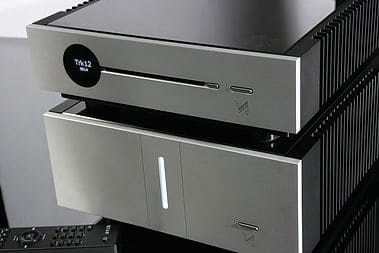 Quad has launched Artera, a new range of electronics. First to arrive are the Artera Play and Artera Stereo. The Play is a CD player, DAC and preamplifier combined in a single chassis, while the Stereo is a power amplifier sporting Quad's Current Dumping technology.
At the heart of the Artera Play nestles the ESS Sabre 32 9018, a 32-bit, eight-channel hybrid multi-bit Delta-Sigma DAC. This is Quad's first component to utilise the ESS Sabre DAC. The included USB supports PCM data up to 32-bit/384kHz and also DSD64/128/256.
For CD replay, a new slot-loading mechanism buffers data from the disc before feeding it asynchronously (in order to minimise time domain 'jitter') to the DAC section. Four digital filter options enable users to tailor the Artera Play's sound, with both CDs and external digital sources, to suit personal taste and the nature of the source material.
The Artera Play's preamp section boasts a balanced Class A output stage. Two coaxial and two optical inputs cater for external digital sources alongside the USB input, with a pair of RCA phono inputs handling analogue sources. Analogue outputs are supplied in both single-ended RCA and balanced XLR varieties; a pair of digital outputs (optical and coaxial) and a 12V trigger output complete a comprehensive array of connectivity options. The inclusion of full analogue/digital preamp functionality means the Artera Play can be connected directly to a power amplifier.
The Artera Stereo is compact amp sporting the latest iteration of Quad's Current Dumping topology, first introduced in the Quad 405. Current Dumping is essentially a method of marrying Class A amplification with Class AB. The Artera Stereo's power output is rated at 140W per channel into 8 Ohms. Connectivity options comprise single-ended RCA and balanced XLR inputs, a 12V trigger input and speaker binding posts.
The Artera Play and Artera Stereo are available with a choice of black or silver front panels and prices of £1,399.95 and £1,499.95, respectively.
For more information, call 01480 447700 or click www.quad-hifi.co.uk