The Article
Parasound JC3+ phono amplifier, a dual mono design
14th April 2016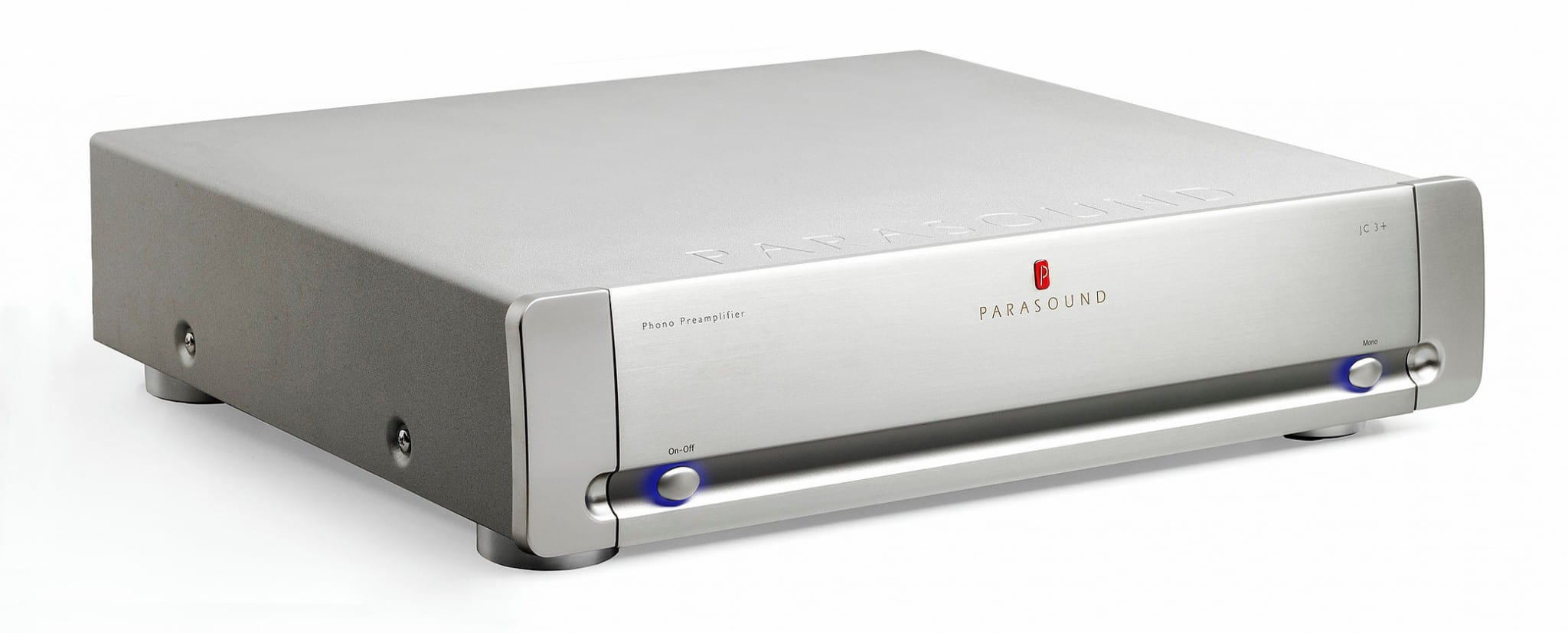 Upgraded and enhanced, Parasound has added more than 'go-faster' stripes onto its new phono amplifier. Paul Rigby reviews the JC 3+
This John Curl-designed phono amp is nothing if not a stickler for isolation. Everything is separated out to avoid components talking to each other, out of turn. This dual mono design has each channel contained in its own aluminium housing.
More partitions, this time of the steel variety, are used to isolate the power supply. The latter also features 47% larger power-supply filter capacitors, an upgrade from the previous JC 3 model. This has been done to add more reserve current to lessen the strain upon the phono amp as a whole. The transformer is 82% larger too which, says the company, should improve bass performance.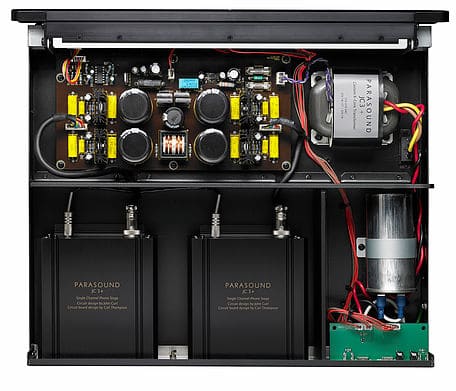 At the rear are the usual inputs and outputs (both sets of RCAs are supplied by Vampire), a pair of Neutrik balanced outputs, two cartridge select toggle switches and two impedance adjustment rotating knobs, a switch to turn off the front fascia illumination (a great idea) and a rocker power switch plus IEC power socket which enables a power cable upgrade if you wish.
While on the front is a power button. Oh and one final addition that I must mention. The front fascia also includes a mono switch! Huzzah!
Spanning 437 x 350 x 105mm and weighing in at 8.6kg, the JC 3+ can be yours in black or silver.

SOUND QUALITY
I began the sound test in unbalanced mode with Nancy Wilson's Reach Out For Me, from the LP, Today – My Way, which is a busy track packed with orchestral strings, a subtle electric guitar and bass, numerous secondary percussion, drums and more.
I like to test solid state phono amps against my Icon Audio PS3 valve reference because it often illuminates the amp's inherent personality and how far along the sliding scale the designer has moved towards a valve-like sound…or not. In the Parasound's case, the latter is certainly the case. This is a solid state sound and no mistake. Although my first task, as our tests showed, was to rush for the volume knob as gain was relatively high.
In general terms, the soundstage was tight and honed which meant that Wilson's delivery was crisp, precise and accurate. Her vocal was 'in your face' – some may hear it as aggressive – as she pushed her emotions square between the eyes. Because of this approach, the Parasound also emphasised the bass and secondary percussion such as tambourine and spotlighted glockenspiel strikes, giving the overall track added drive and pace.

Turning to Joy Division's Exercise One from the album, Still. This dynamic track offered powerful lower frequencies from both drums and bass guitar which the Parasound was all over like a rash offering a dominant, forceful and exciting performance. Vocals were nothing less than haunting while the low noise design offered a clean and open presentation.
Moving to Popol Vuh's movie soundtrack for Werner Herzog's horror film, Nosferatu, a piece of music where the central piano is orbited by a gamut of stringed instruments. With some phono amps, this piece is rather bass light, giving a rather floaty, sometimes indistinct feel to the presentation. Not with the Parasound, its slight bass emphasis added valuable balance to the majority of the instruments. Meanwhile, many of those, including the sitar, were detailed and precise in nature. String plucking, in particular, was slightly strident, brisk and clean.
This is a powerful musical suite that benefits from the Parasound's inherent guts and oomph, adding to the soundtrack's epic qualities.
Turning to the balanced sockets, I reverted to the Nancy Wilson and had to leap for the volume control again because this mode is even louder than unbalanced mode! Reduced to acceptable levels, the sound output exhibited an enhanced clarity with a broadening of the soundstage and extra transparency within the upper midrange.
CONCLUSION
Although not for valve fans, even those looking for an extra touch of solid state snap, the Parasound provides a musical output with bite (sometimes a tad too much bite, perhaps?) and a resolution that is turned up to a high level, ideal for dynamic rock and big soundtracks and, for many, jazz and classical movements where detail is important. Although, for the latter genres, I would press for the balanced mode which will bring rewards in terms of extra detail and complexity.
---
PARASOUND JC 3+ Phono Amplifier 
Price: £3,300
Tel: 01242 511133
Website: www.multi-room.com
---
Good: midrange precision, bass drive, clean soundstage, balanced output
Bad: strictly for solid state fans, midrange aggression
RATING: 7
---
SYSTEM USED
Origin Live Sovereign turntable
Origin Live Enterprise 12" arm
Miyajima Takumi cartridge
Icon Audio PS3 phonostage
Aesthetix Calypso pre-amp
Icon Audio MB 845 Mk.II monoblocks
Quad ESL-57 speakers with One Thing mods
Vertex AQ & Atlas cabling