The Article
PMC launch the twenty5 series to mark the company's 25th anniversary
6th May 2016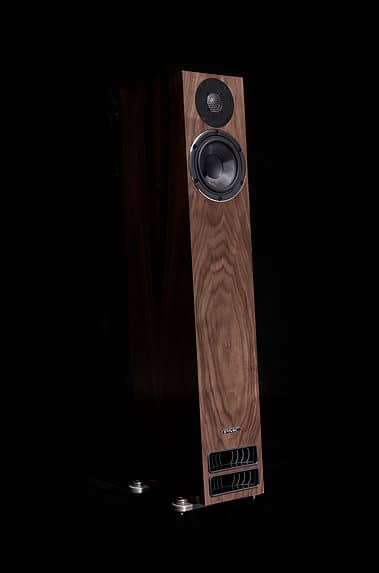 PMC is launching the twenty5 series to mark the company's 25th anniversary and there's five designs in the range.
In keeping with all PMC products, the foundation of the twenty5 series is Advanced Transmission Line bass loading, enhanced with the new aerodynamically designed Laminair vent technology.
I'm an old aviation journalist, the last time I heard that 'laminair' term was applied to the wings of aircraft in and around the mid-40s to early 50s: I seem to recall a late model Spitfire have a laminar airflow wing on test.  The idea was reduce turbulence and drag which, in turn, reduced resistance and increased efficiency. The problem for aircraft was that, if anything attached itself to the wing: like a passing insect sticking to the wing (yep, even something that small) it would destroy the perfect air flow so experiments ceased after a while. Being in a house, though, this approach to speaker technology shouldn't be a problem (just stay on 'bluebottle watch'. that's all). The point of the technology is to hope for faster, higher definition bass with accurate timing and dynamics, without unwanted air noise. Maybe its the aircraft nerd in my, but I find this intriguing.
The twenty5 series project also offers new low throw mid-bass drivers, with resin-bound, g-weave fine-weave glass fibre cones. The motor system has been optimised while the Sonolex fabric dome tweeter has been further fine-tuned here.
The twenty5 series cabinets, featuring the now familiar five degree sloping front and rear baffles, while custom-made single piece stainless steel spikes thread through the bar to facilitate level adjustment.
Internally the crossovers for each of the models feature PMC's 24dB filtering. The foundation of the crossover is a military-grade circuit board, with ultra-thick pure copper tracks and the back panel of the crossovers are made from mirror-finish magnetically inert stainless steel. Connection to the amplifier is via PMC designed binding posts, directly coupled to the crossover.
The range presents models suitable for differing room sizes and comprises two stand mount speakers, the two-way twenty5.21 and twenty5.22; and three floor-standing models, the twenty5.23, twenty5.24 (both two-way) and the three-way twenty5.26, which features the PMC 50mm soft dome midrange. The 27mm tweeter is common to all models, with the 21 and 23 sharing the 140mm long-throw g-weave bass driver, with a 170mm variant used in the 22 and 24, and a 177mm version in the flagship twenty5.26.
 All speakers within the range are available in a choice of three real wood veneers; oak, walnut and amarone plus the high gloss diamond black finish. Every model comes with an invisible magnet-fixing grille, finished in a black textured PMC cloth.
Prices are: twenty5.21, £1,870; twenty5.22, £2,450; twenty5.23, £2,970, twenty5.24, £4,250; twenty5.26, £6,995 & twenty5 stand, £295.
To learn more, click on www.pmc-speakers.com or call 01767 686300