The Article
Ottava f Sound System From Technics
1st October 2021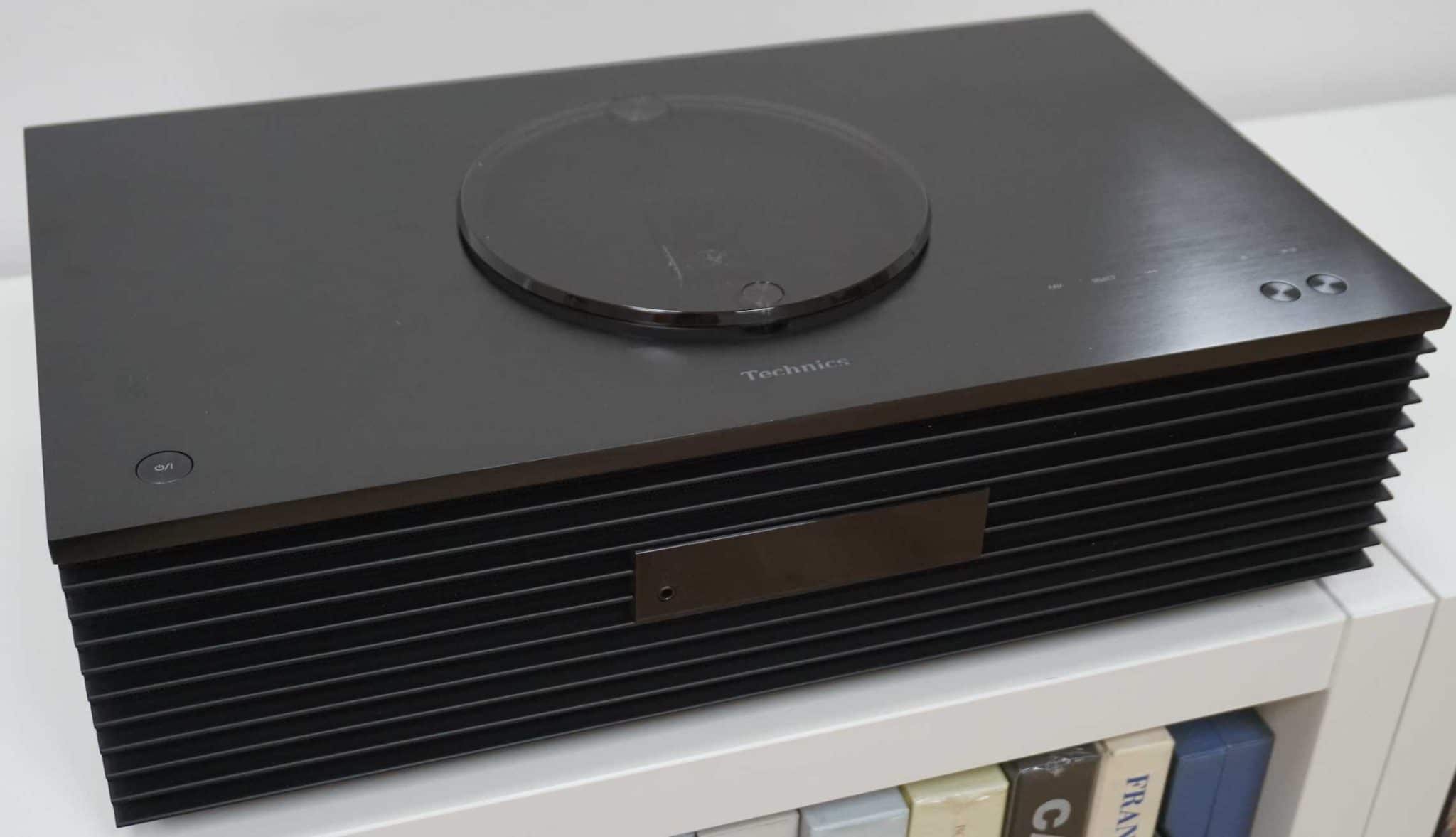 A fully-featured, all-in-one stereo system, Paul Rigby reviews the Ottava f, also known as the SC-C70
The Ottava f has been out and about for around six months or so but look, I don't aim to review only 'hot off the press' items. I like to review products that interest me. This one does. 
Before we dive in, a word on stereo systems and how I review them. It may give the final rating a bit of context and also explain why I say and what I say below. 
And by "Stereo Systems", I'm borrowing Technics' own descriptive term for a compact all-in-one, resplendent with multifarious features. 
LIFESTYLE
Let me begin by saying this: a Stereo System is a lifestyle hi-fi component. When I say that, I'm not being derogatory or negative in any way. What I'm in fact doing is recognising and respecting the aims of the designers and the priorities of its potential customers.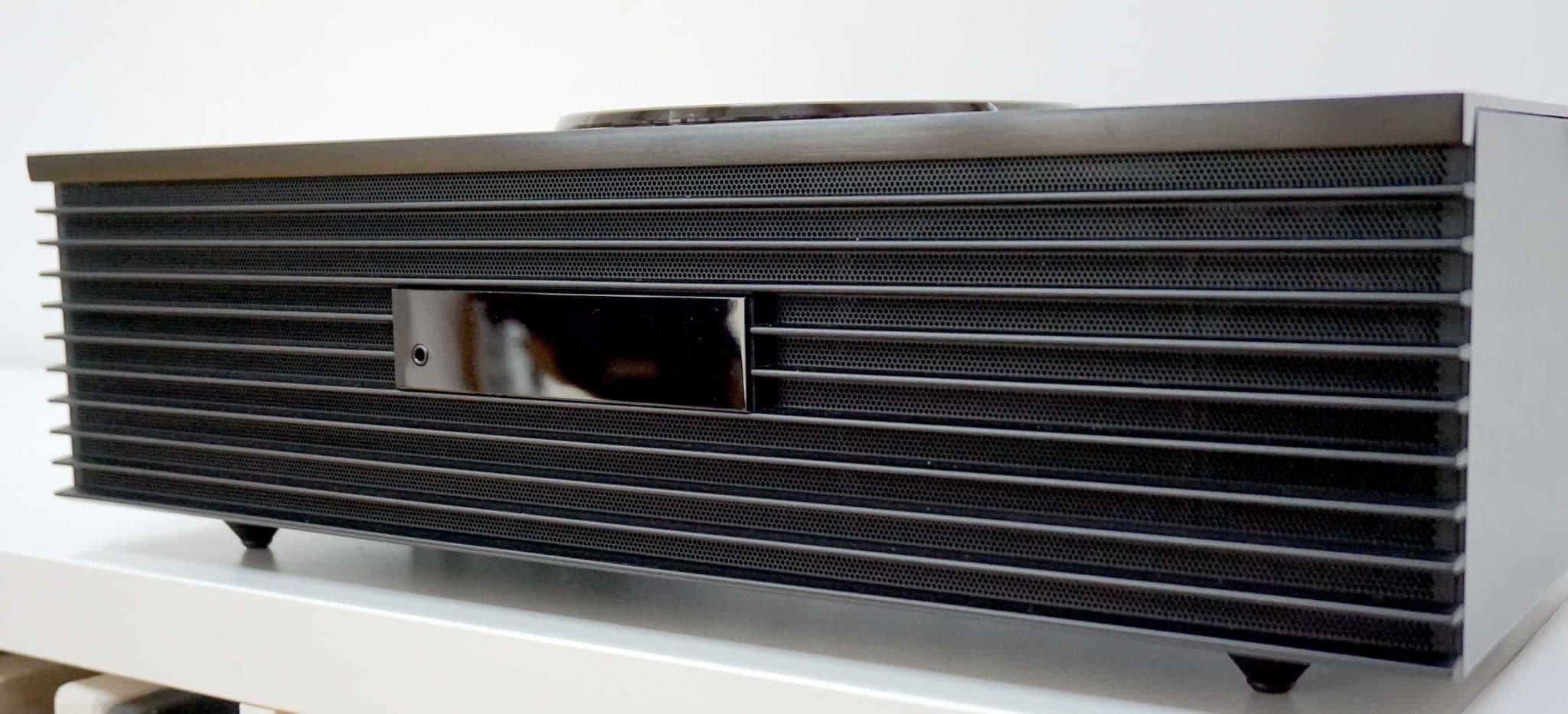 So, for example, a Rega Planar 1 is a turntable that prioritises sound quality. It's not a lifestyle product. Nothing else matters for a Planar 1. Most of the design effort and build budget has been devoted to sound quality and not much else. That's why some turntable users actually dislike the Rega Planar 1. Because it's stripped of convenience features and a helpful interface, because you have to flip the belt from one pulley groove to another pulley groove to change the speed and why the only component of real quality on the entire turntable is the tonearm, the source of that sound quality I mentioned earlier. 
If you could step back in time and offer the Puritans their ideal hi-fi system, they would chose a Rega Planar 1 as their source of choice. Although, maybe the Puritans would remove the felt mat. Nevertheless.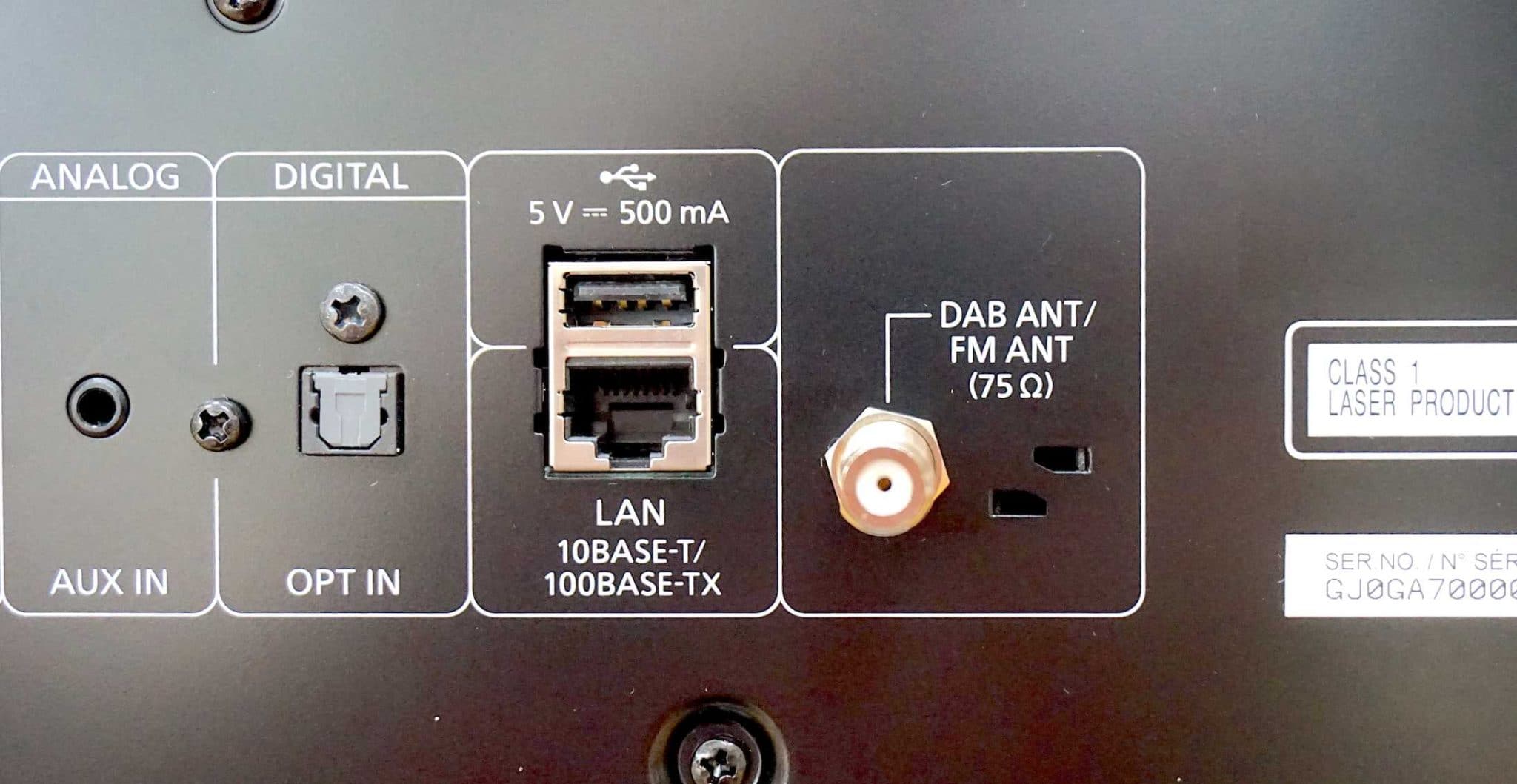 The Technics Ottava f does not prioritise sound in design terms. No Stereo System does. Sound is a factor for Stereo Systems as a whole. It's on the list. It has an importance but it's not the only priority in the package. Sound is not the first concern. It's just one of a host of aims for the designers. A Stereo System is a compromise. Why? Because you're stuffing half a ton of hi-fi components into a relatively tiny box so you've got a wodge of high-frequency electronic noise in there, you've also got vibration and more trying to veil sonic detail. As a designer, you have to deal with that reality while trying to satisfy the other priorities on the design list.
FOOTPRINT
Those other priorities include a small footprint chassis. Hence, the Ottava f has a relatively small chassis, considering what it does. Small considering what's packed in to the chassis, at any rate. So you've got a CD player in there, an amplifier, speakers let's not forget including a subwoofer, you've got radios, streaming and more. All of this is squeezed into as small a space as possible and one that hopefully doesn't look like a banana crate, as a consequence.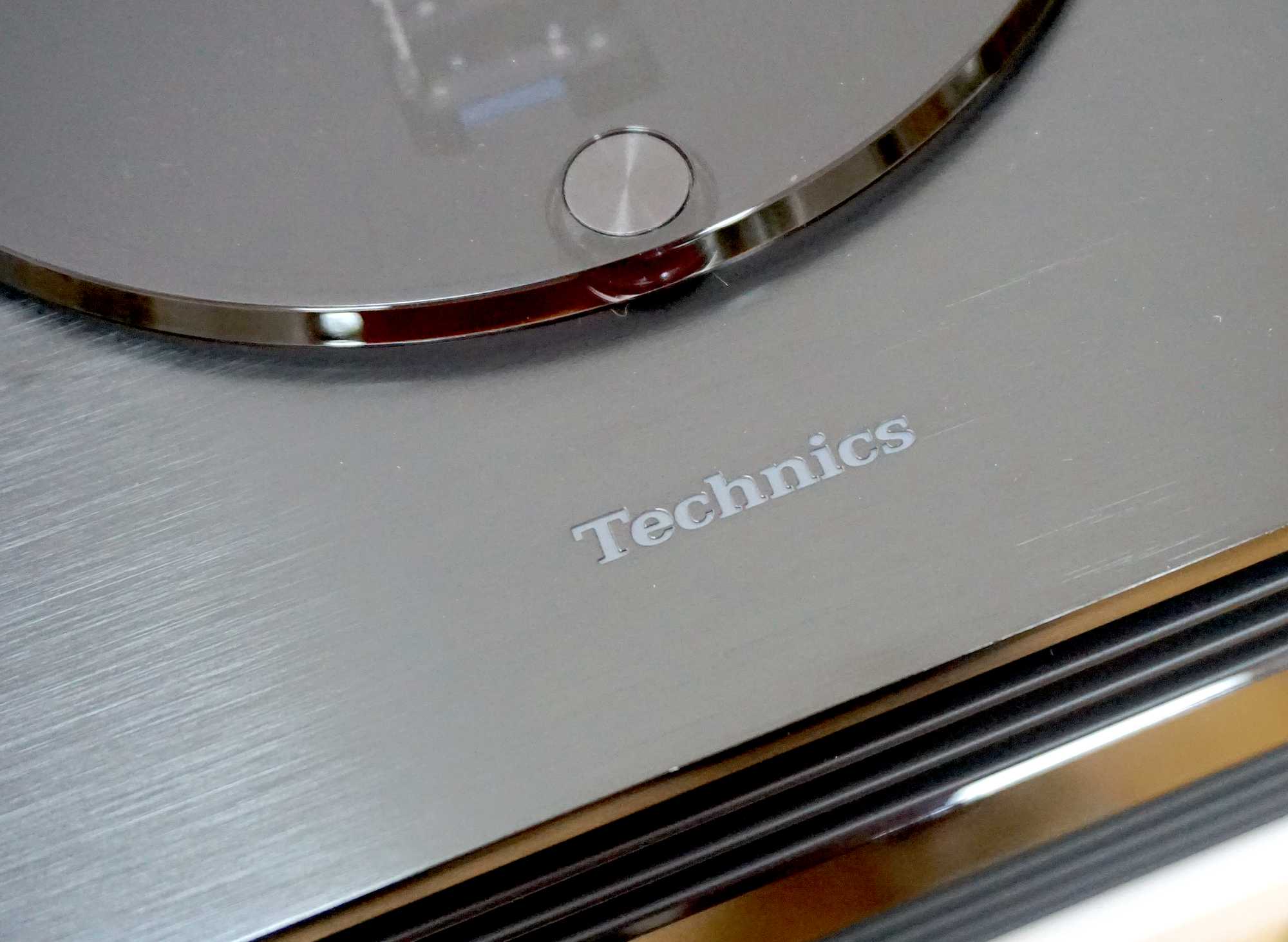 Why a small footprint? Because people who are looking for a Stereo System are looking to put it in their living room, on a cabinet, on a table or elsewhere where they are active and wanting to listen to music. And they don't want it to dominate the room in an 'ugly' manner but, on the other hand, they'd like to show it off at the same time. It should be unassuming yet pretty to look at if noticed at all.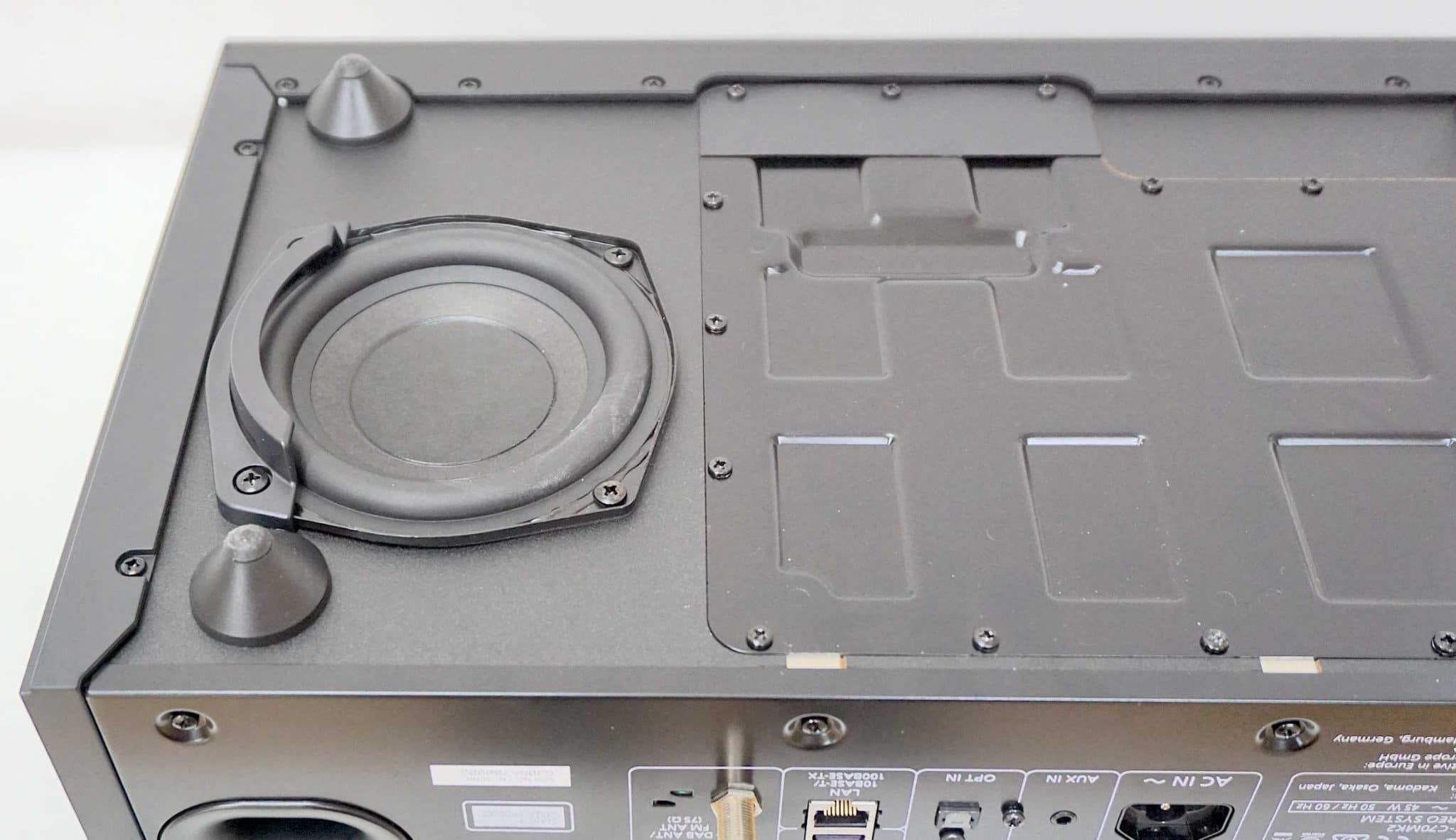 Maybe they have little room spare but there's a small space in the corner there and that's all they can supply or there's a space in the kitchen where it will fit rather nicely or they have a small, spare bedroom with a tiny stack of drawers and maybe it will sit on that lot?
Also, when the vicar pops around for tea and a biscuit, they want him to spot it on that cupboard and say, "Oh Mrs Cravatt, is that new? Well, isn't that nice." That kinda thing.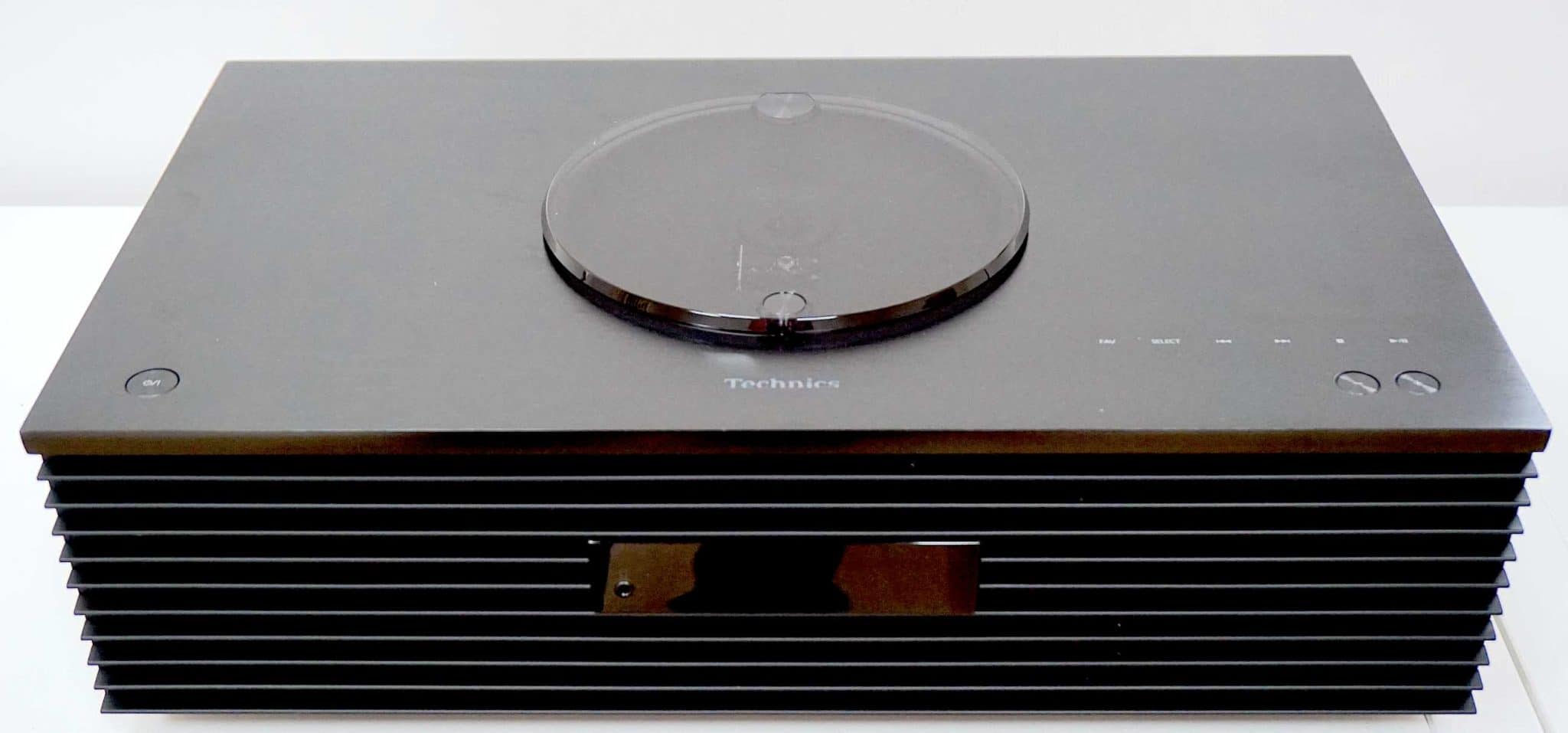 So footprint for a Stereo System is very important. Footprint is as important as sound quality, in this case. 
FEATURE SET
The feature set. That's another one. The Ottava f is packed with features. You've got that CD player I mentioned, there's built-in Apple Airplay and Google Chromecast to offer access to Internet services like Tidal and Spotify and more, there's Bluetooth 4.2 for streaming (supporting SBC and AAC codecs), there's optical and USB connections, there's DAB and FM radios plus Internet radio and you can control the whole thing via a physical remote or an app. Again, that lot is squeezed into a small space. Not a great thing if sound is the only priority but squeeze that lot in you must if you want to sell a successful Stereo System.
EASE OF USE/INSTALLATION
Finally? Ease of installation and ease of use. If you've got yourself a compact hi-fi system full of buttons and sockets that's going to sit on a cupboard next to your worryingly large collection of Toby Jugs on one side and a picture of that Uncle who always turns up drunk at Christmas on the other, then the last thing you want to do is to faff around too much getting it up and running and then, if you want to move from one feature to the next, you want to do so quickly, without too much effort or mental anguish and you want to do so without struggling to connect external cables and accessories to it without knocking off your favourite Toby Jug. 
That is, with a Stereo System, you don't want to spend half the day shouting at your technology and sounding like Prince Philip. A Stereo System has to be generous and forgiving in design terms.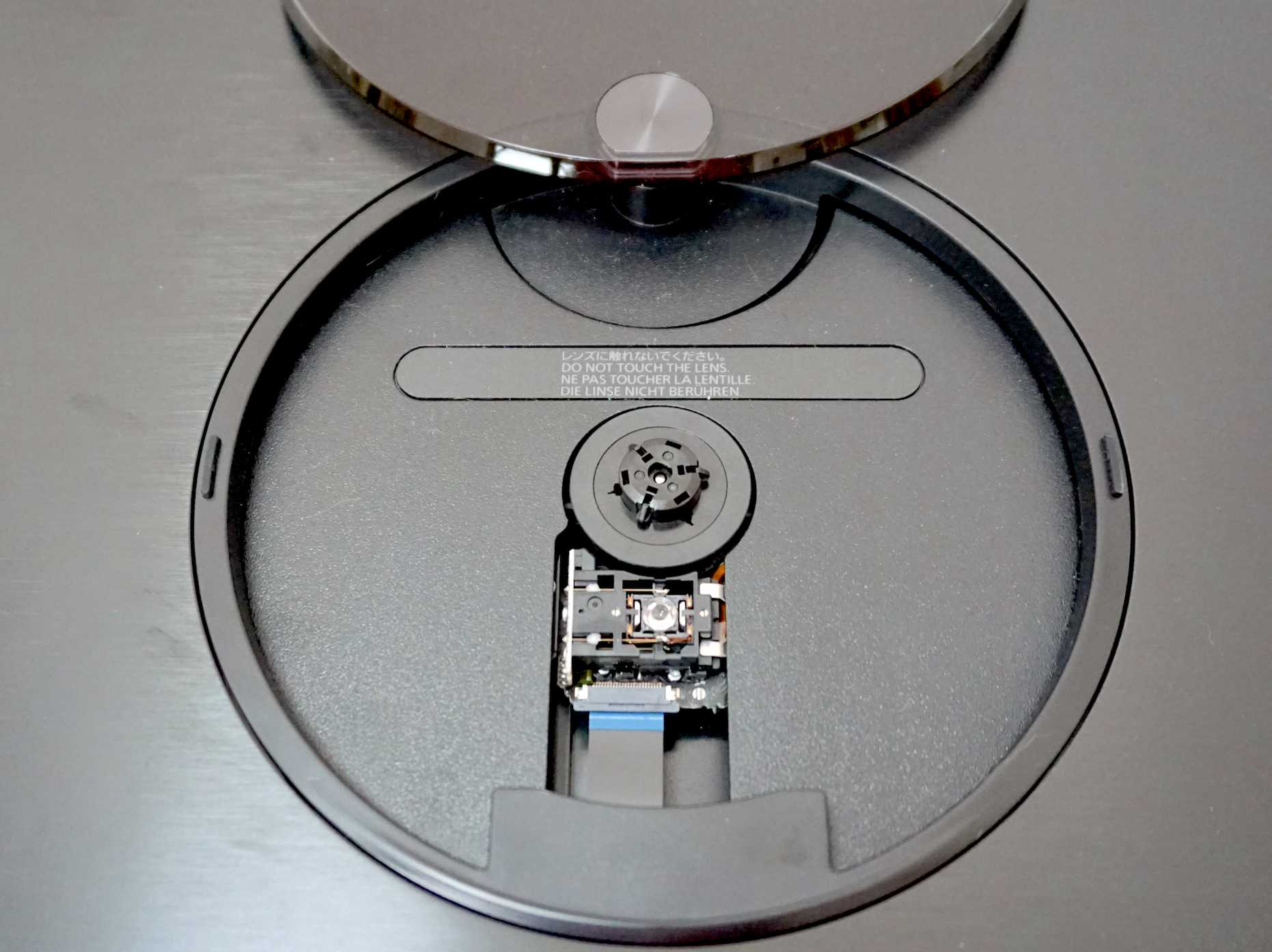 So yes. A Stereo System is a lifestyle component. That is, it's designed to fit in and around someone's life. You don't fit around it – as is the case with a full-size separates system (in my listening room, the hi-fi is the room). A good Stereo System exists to fit around you. To fit into the way you live. 
So what of the Technics Ottava f? If you take one out of the box and you just plop it on a shelf and then you just sit there and look at it. You will be impressed. I know, design and art is an intensely personal thing and many of us disagree about what's good in art and what isn't. Even so, I would say that the Ottava f has a pleasingly industrial, slightly futuristic/slightly retro Bladerunner-esque mix aesthetic. Despite the fact that those front-mounted slats will need regular work with a feather duster, Technics has really scored with the chassis on this one. It's one of those designs that look good now and will look even better in 30 year's time. It looks solid, expensive and cool. The vicar will be pleased. 
CD PLAYER
One of the most noticeable aspects of the design apart from the front-mounted ridges and the relatively small OLED output screen, is the top-mounted CD player. I like that too because I prefer a transport-less CD player. There's less to go wrong and there's less to vibrate which means better sound.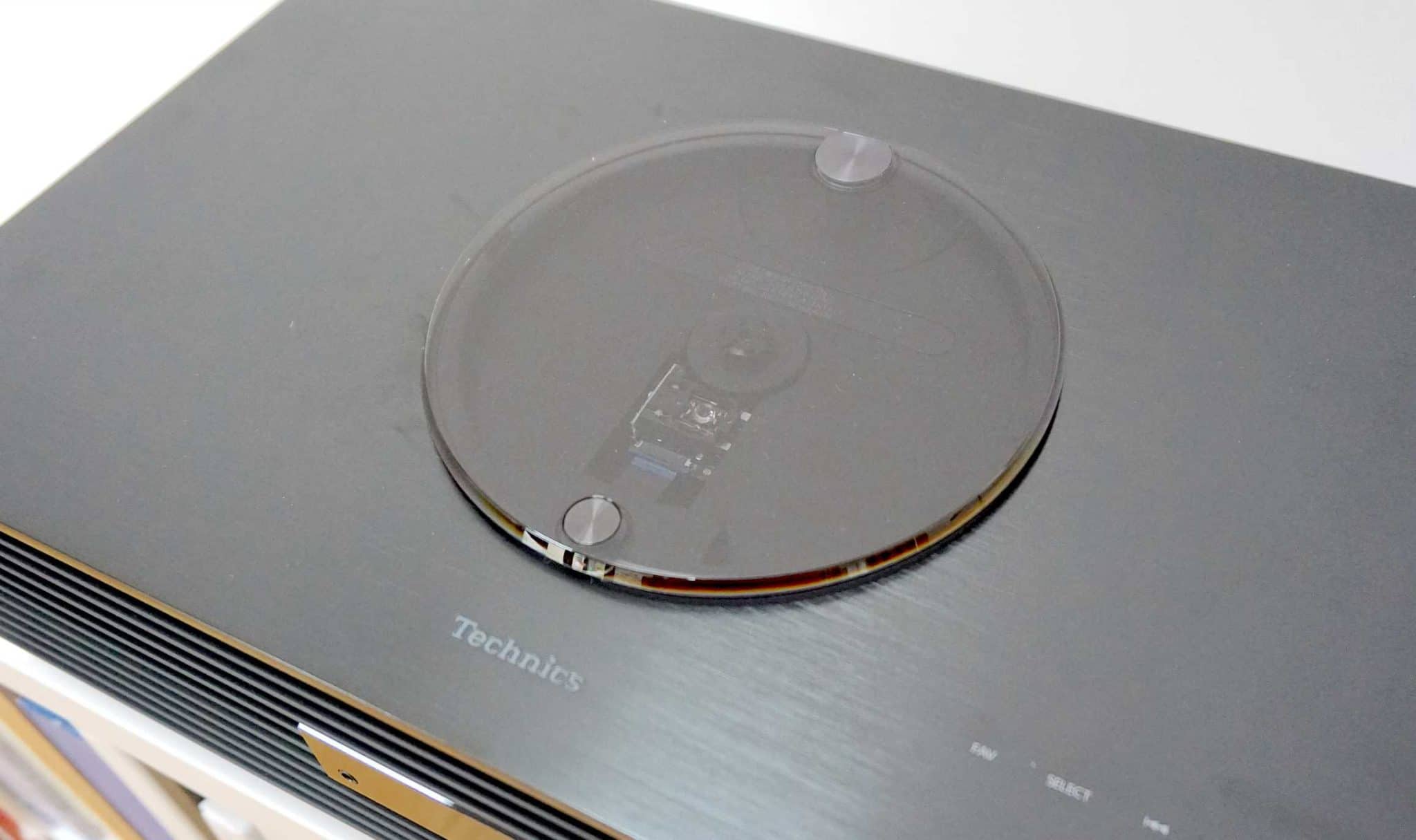 To access the CD player, you swing the CD cover to the side, drop the disc into the player and then swing the cover back again whereupon the cover is secured by magnets. 
Are magnets a good thing, in sonic terms? Are they close enough to the disc to affect sound, even in a minor way? Quite possibly although I'm not sure that the magnets are really that strong. We'll see more about that later. If Technics could had binned the magnets and used a more passive system to secure the lid, then I would have gone with that, just to be on the safe side. But we'll see how it affects things, if at all, later on.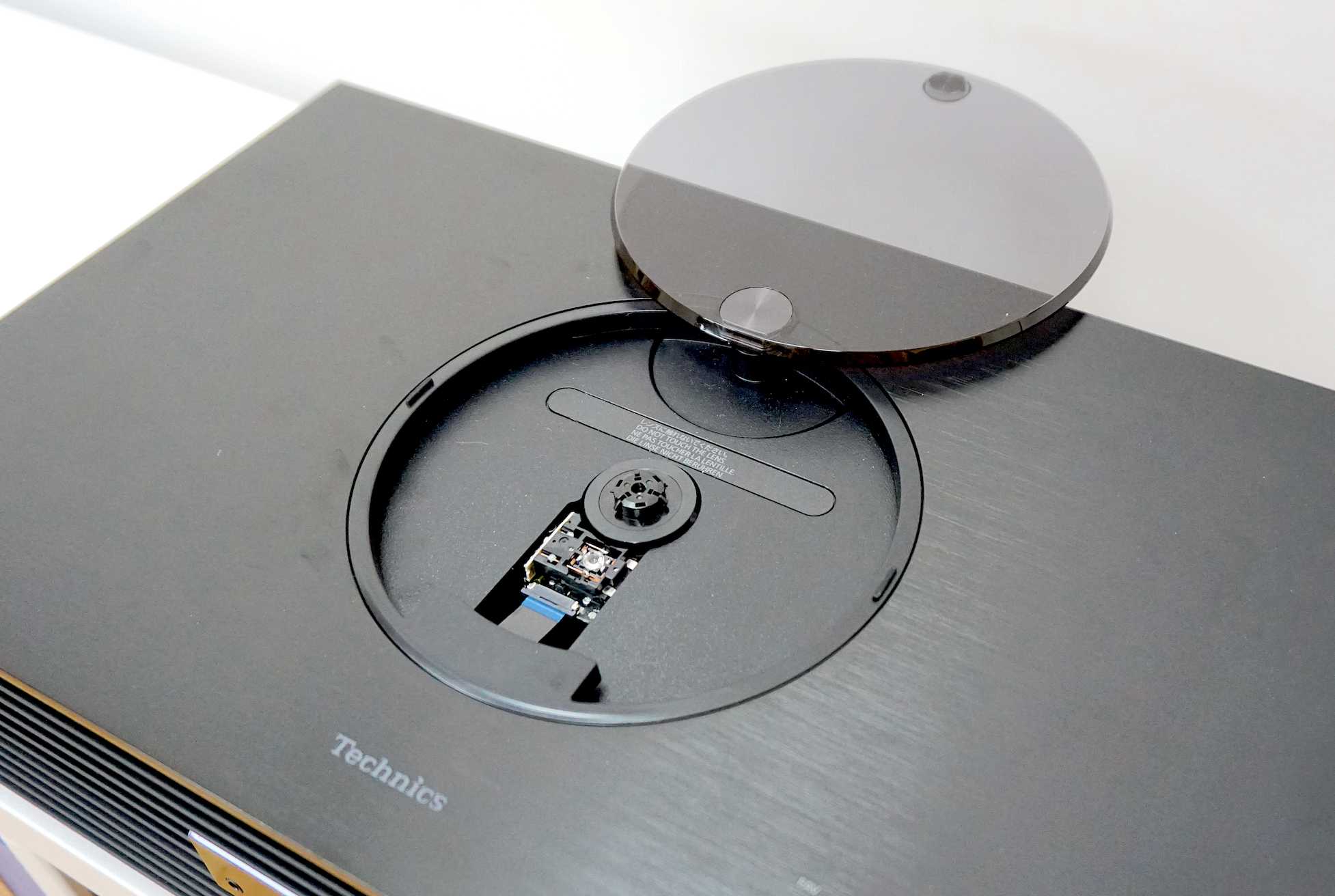 The CD cover is made from a plastic material. Now look, I have heard talk that this plastic creation is a betrayal of the sort of luxurious build quality that the Technics box aspires to – so where, they ask, is the glass? For me though, I'm more than happy that sound resonant glass is not part of the build. You put glass on there and then you spend more money trying to damp the stuff. I much prefer the plastic for sonic reasons, alone. And the plastic doesn't look bad.
UNDER THE BONNET
Amplifying that CD signal includes something Technics call JENO. The 30W + 30W digital amp arrives with a JENO Engine and yes, JENO is an acronym: Jitter Elimination and Noise-shaping Optimisation, in fact.
There are three of these units, complete with a DSP (Digital Signal Processor) driving the built-in speakers. There's a bi-amp structure here, one part drives the bass and the other drives the midrange and treble.
Something else called LAPC tries to best match the amplifier technology to the speakers to provide a sort of sonic balance between the two.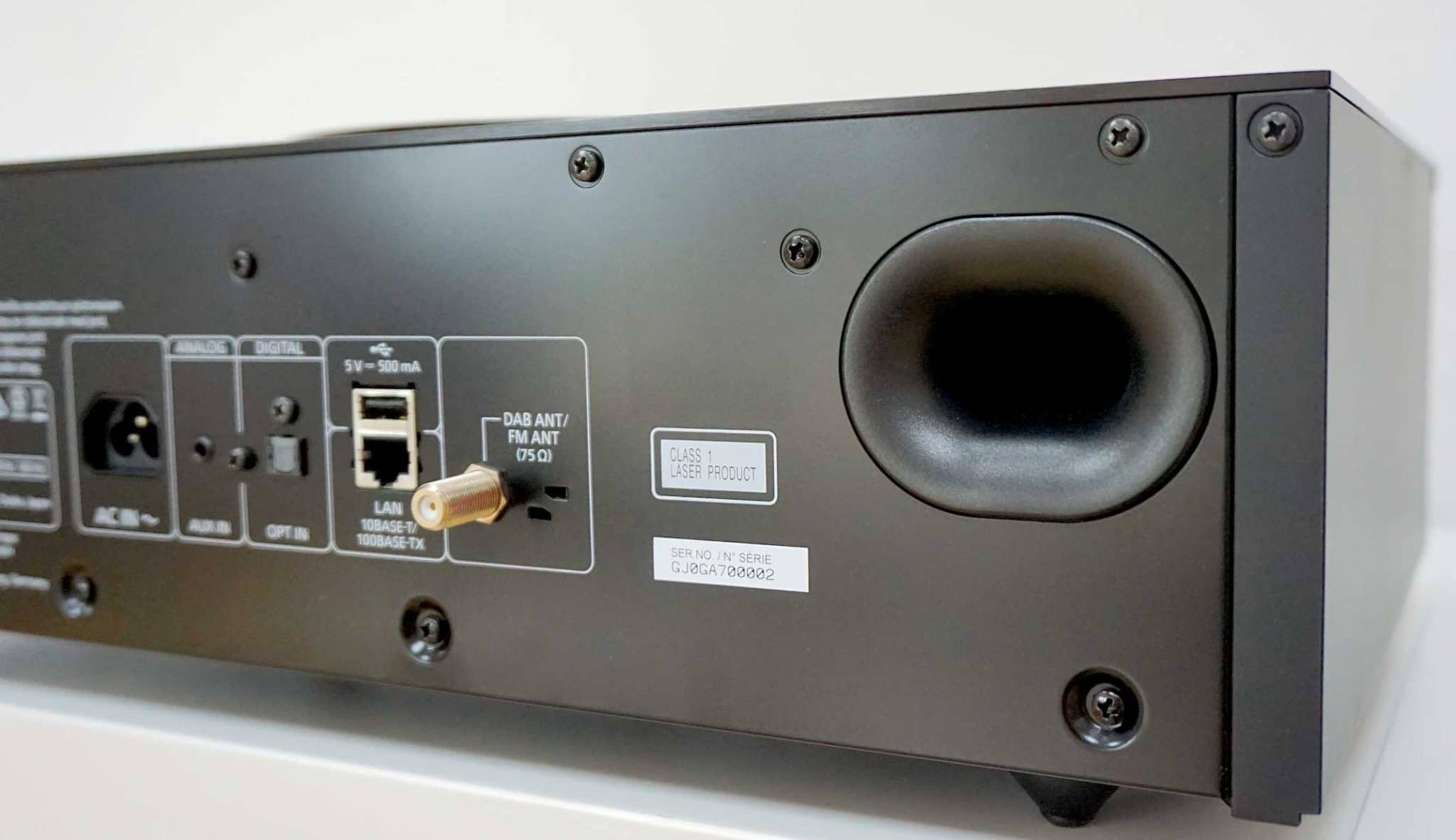 Connected to that lot is a room optimisation tool called Space Tune. Don't be afraid if you run this room testing tool. Yes it sounds like a cross between avant grade electronica and the sound of your hifi experiencing a life-threatening electrical short but all is, in fact, well. Does it make any difference? I used my Ottava f in the open, away from any walls so didn't really hear much – if any – difference before and after the configuration. You may, though.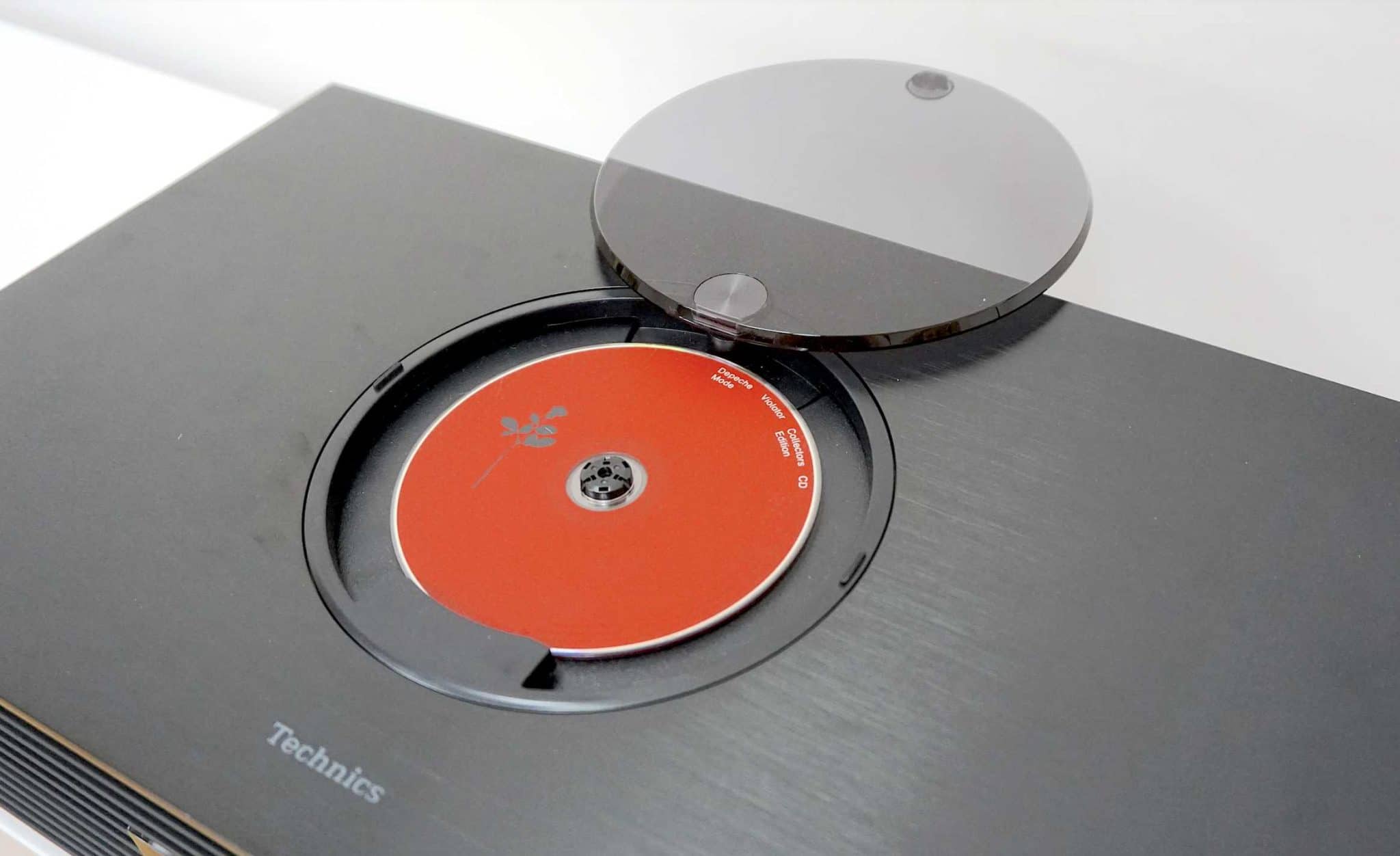 The speakers are fitted with an acoustic lens structure to enhance sound quality. More specifically, the chassis holds a pair of 20mm silk dome tweeters, two 80mm mid bass units and a 120mm sub alongside dual, rear-mounted bass ports
Before we move onto the Sound Quality tests, let's take a quick tour of the Ottava f, just for completeness. The front is minimalistic offering only a small output screen. Is it too small? For some, possibly. I found it perfectly acceptable. You also get a 3.5mm headphone jack. The sound mutes when the headphones are in place here.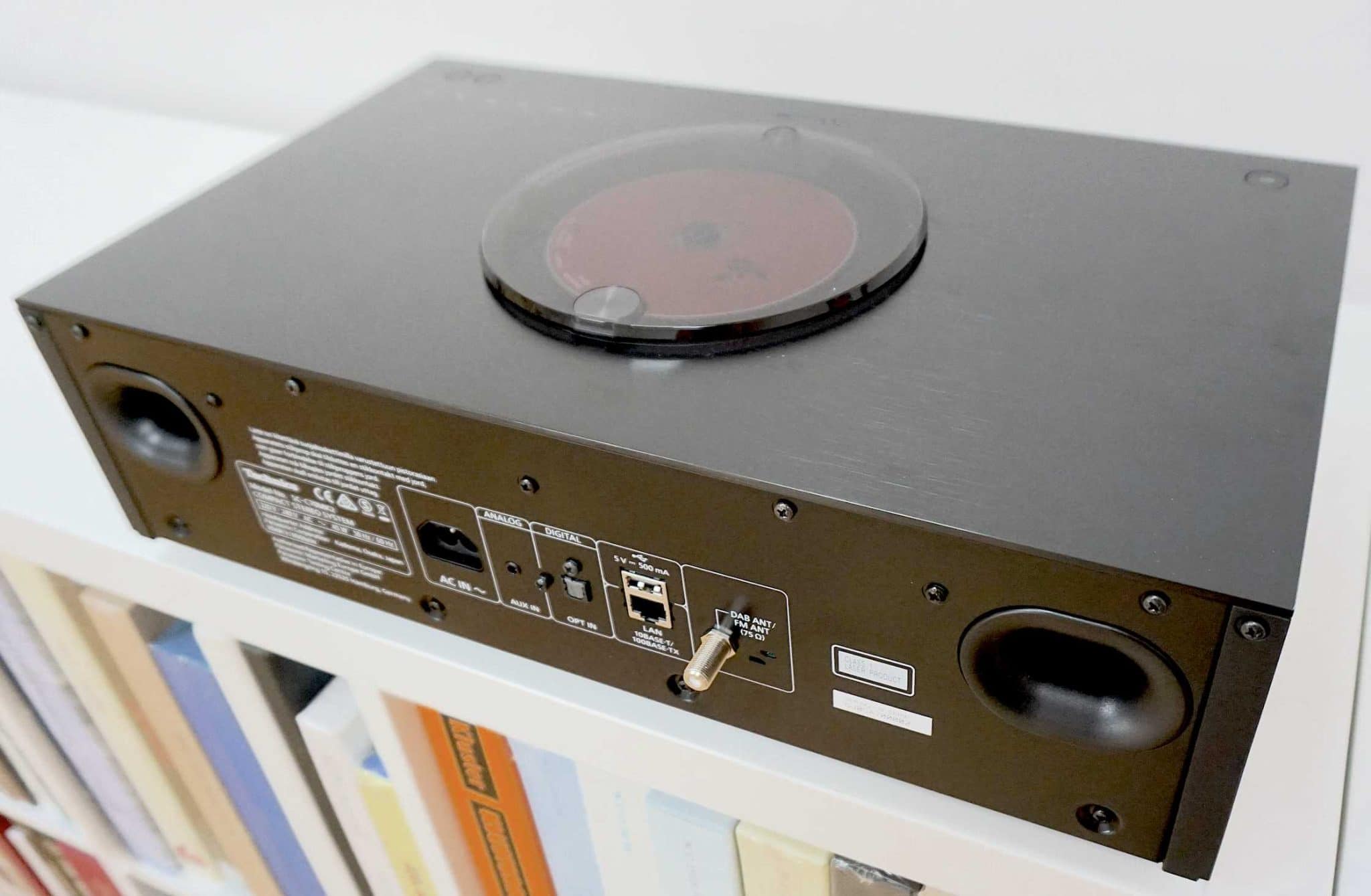 The top sees that CD player transport swing lid, centre stage with a combination of circular press-in buttons, positioned flush with the chassis top and a touch button interface. On the right, the latter is devoted to a typical CD transport interface plus a source select and FAV button to select favourite radio stations or Internet streaming service. 
As for those press-in buttons? To the left is a power button while the right offers two volume controls.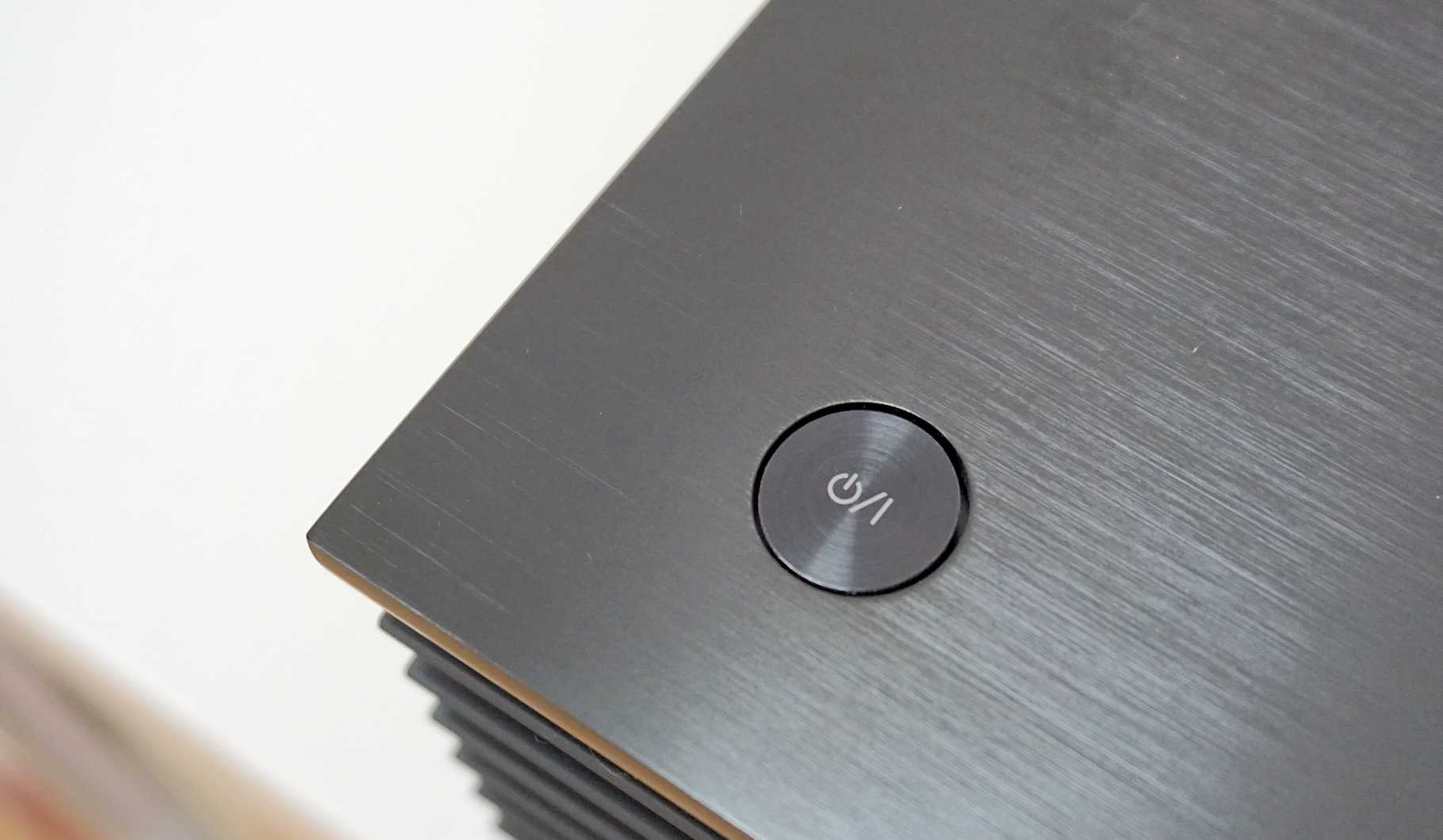 On the rear of the chassis you will see the two bass ports on the extreme left and right. At the centre-right is the clover-leaf power socket. To the right of that is an auxiliary port, an optical port supporting up to 32bit/96kHz, a USB-A port for a memory stick that can support up to 2TB of memory, Ethernet port and radio aerial connector for DAB and FM. A basic bootlace-type aerial is included in the package.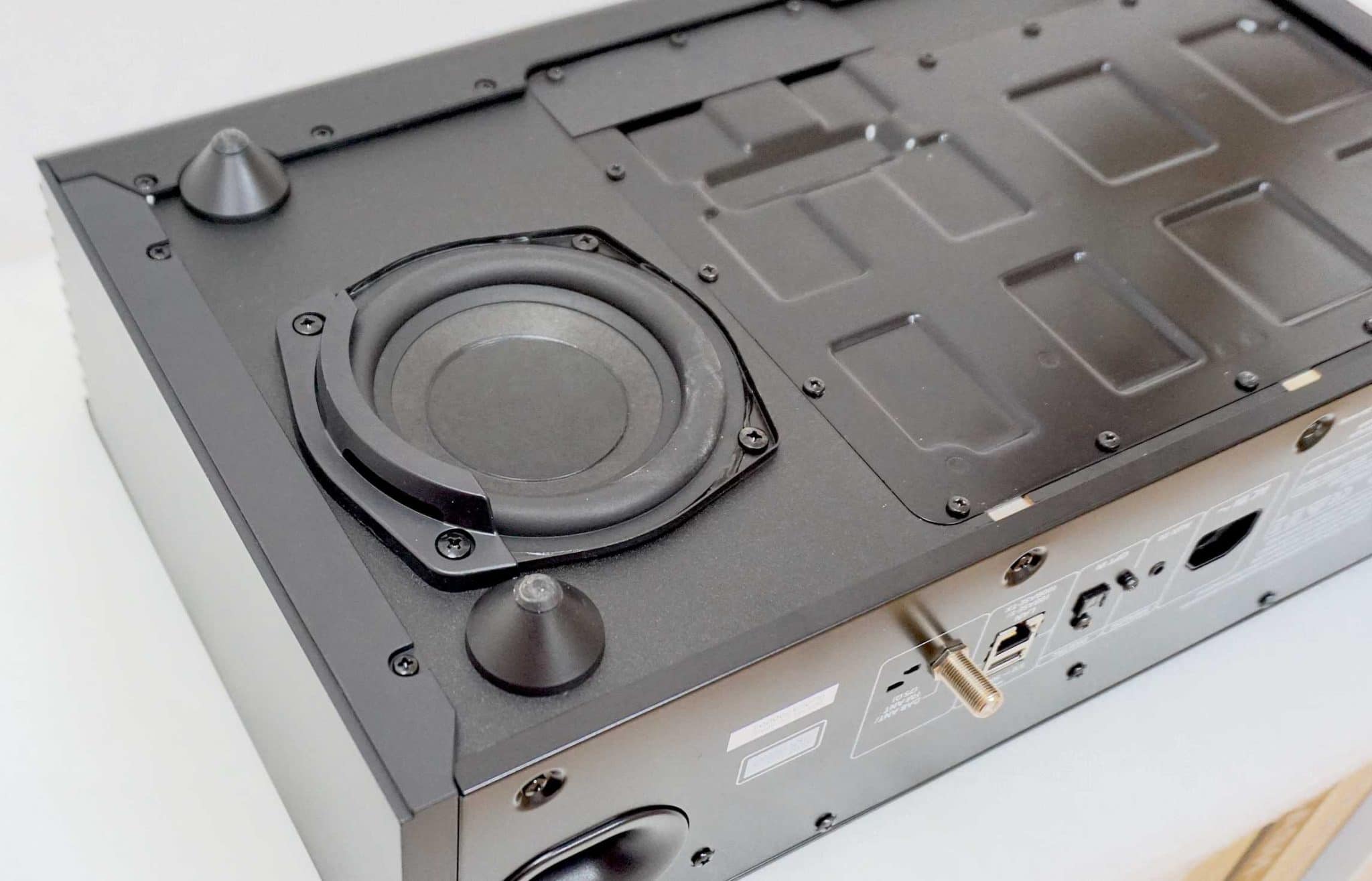 Spanning 450 x 143 x 280mm, the Ottava f weighs in at a respectable 7.8kg.
TECHNICS AUDIO CENTER
I began by listening to a range of rock CDs, just to get a quick insight as to the sort of sound signature we're dealing with here. This included works from The Who, The Fall and Yo La Tengo. 
And? The sonic presentation was full of bass, bass and more bass. Bass, not turned up to 11 but somewhere around 146, I'd venture to say. The bass-heavy response from these rock bands was lovely for about five minutes but listening fatigue encroached pretty darned quickly after that period.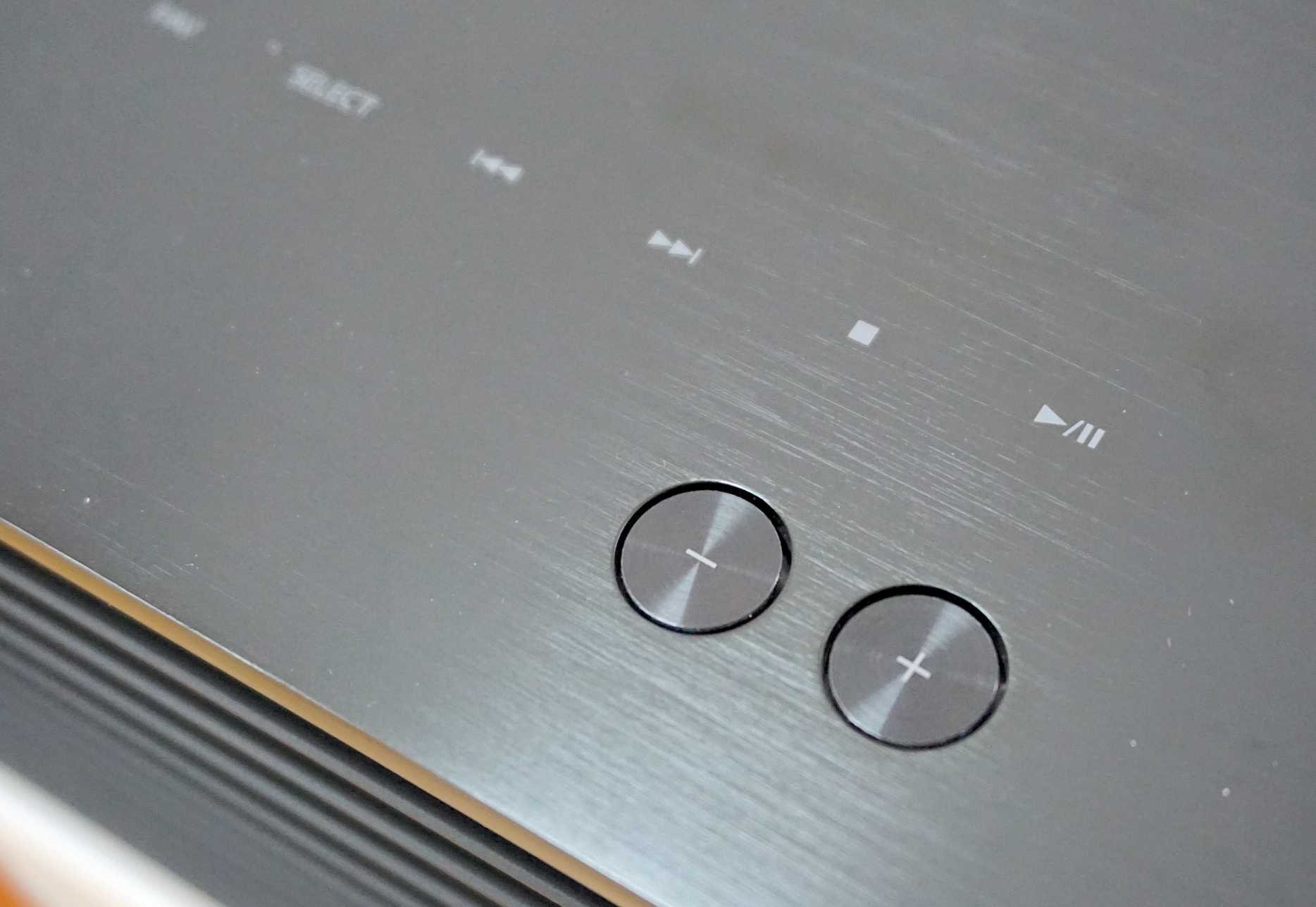 I looked around the unit and the remote for a way to reduce the bass response. I also looked at the recommended Chromecast app. Nothing. 
Technics feature Chromecast built into the unit and pushes this feature in the manual. I can understand that but, also buried on Page 15 was something called the Technics Audio Center. It was an app. 
I went hunting for this app.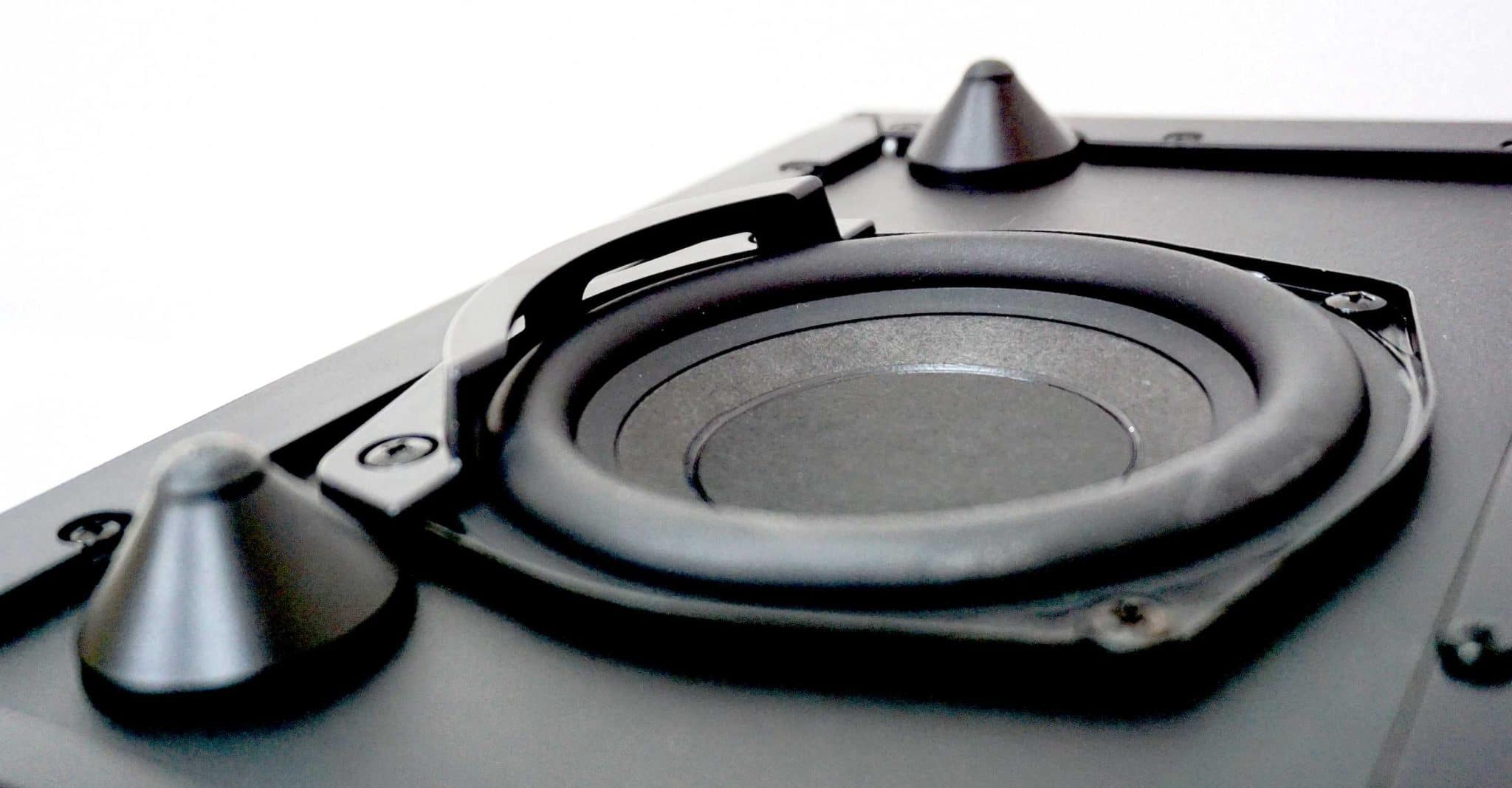 Downloading it, the light finally dawned. The Technics Audio Center app found the Ottava f and displayed exactly what was going on in a clear and easy-to-access format. And yes, there in full view was a suite of boosted tone controls. The treble and mids were set around 7 on a scale of 1-10 while bass was, unsurprisingly, set to 10.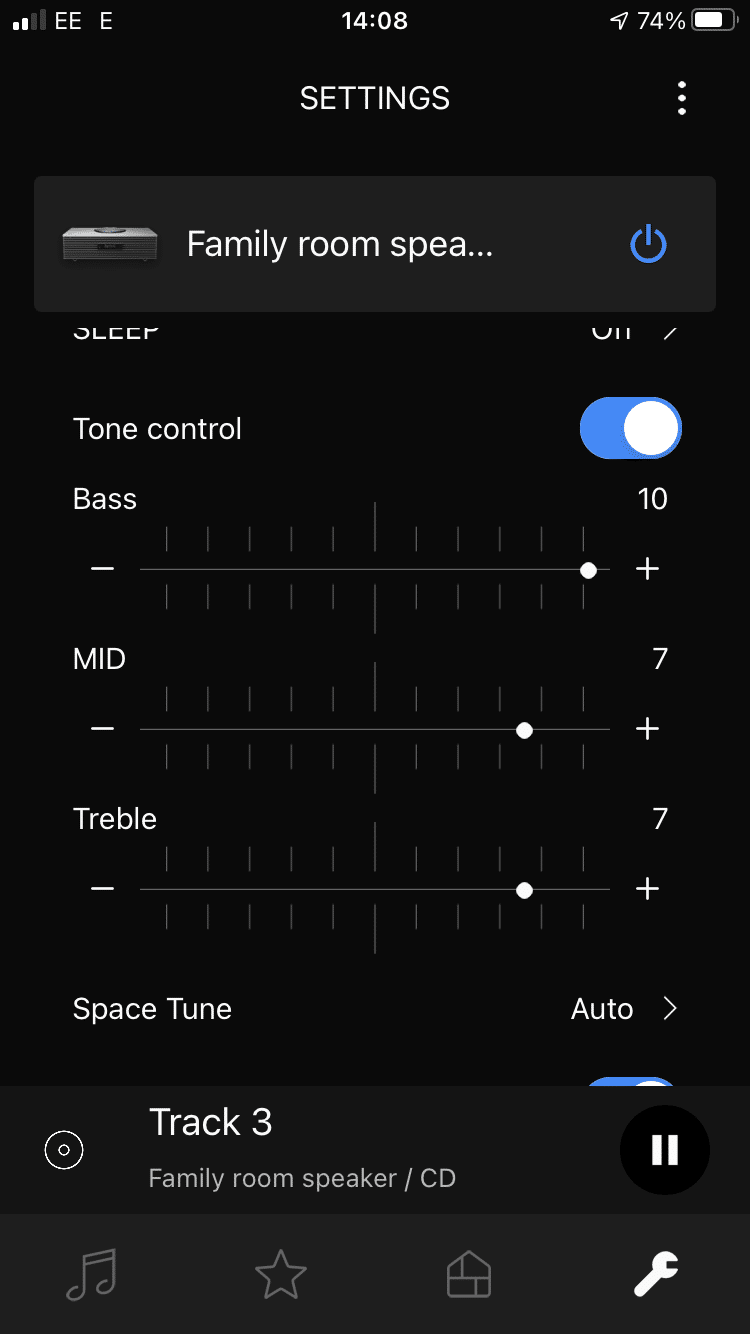 I removed the tone controls from the equation by disabling them. They're there if you want them but I much prefer the artificiality of tone controls to be out of the picture. I much prefer to hear the purity of the system itself. If a hi-fi component can't stand alone without the support of tone controls then it should be binned and you should buy something else. Plastic sound? Just say no.
The result was a far more balanced sound output. Hence, if you grab one of these Technics units, also grab the Technics Audio Center app before you even switch the thing on. It will prove invaluable.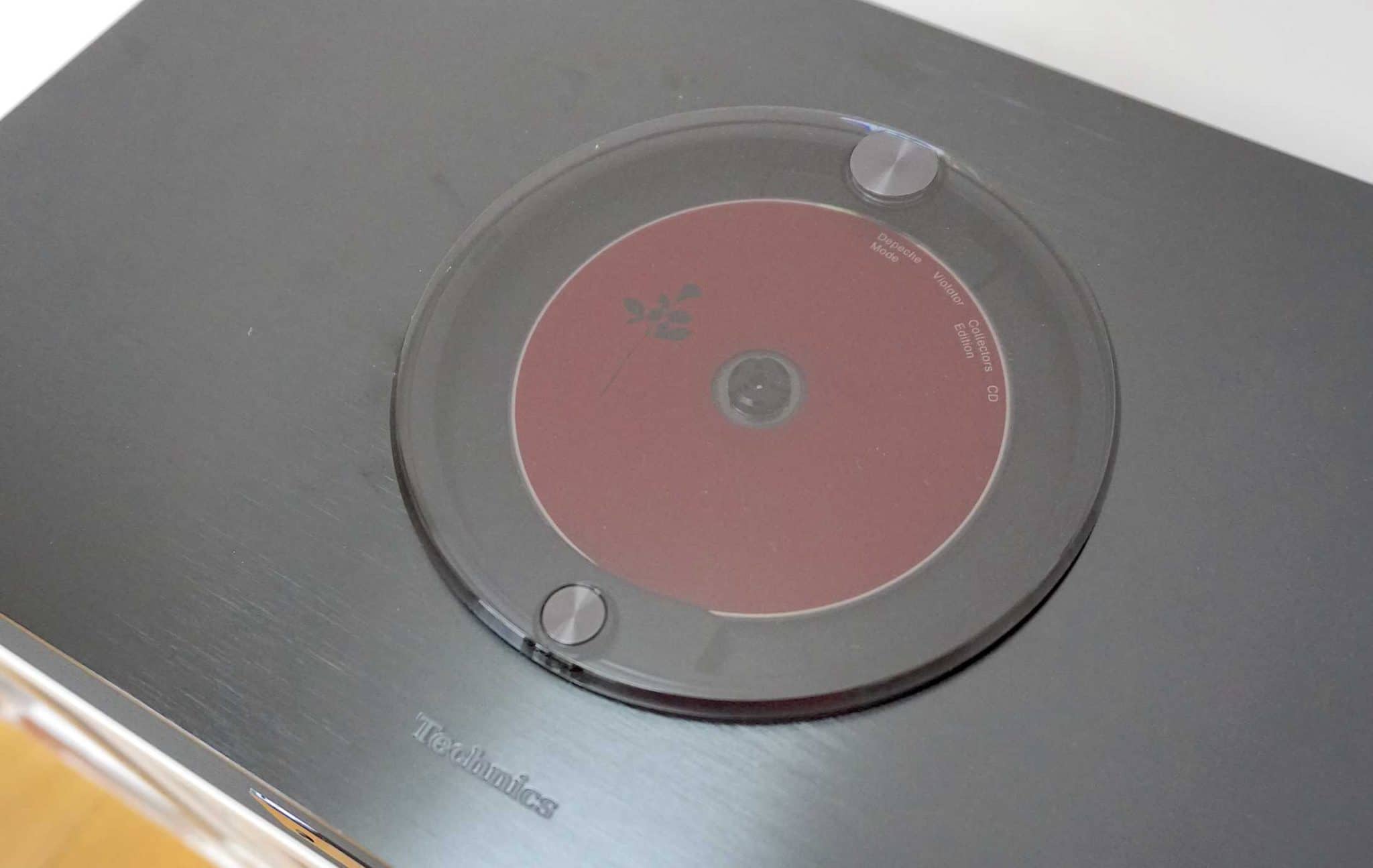 In fact, using the app, I found that I didn't need the physical remote at all or the Chromecast app. In fact, the Technics app proved to be better designed to do the task of controlling the Ottava f. Volume was quickly sorted on a slider whereas the physical remote's rubber buttons on a dead skin membrane were a tad sluggish and clunky.
Another example, the app offered repeat track and repeat CD controls, the physical remote does not offer these control options – a pretty basic pair of commands that you'd expect to see, I think.  
SOUND QUALITY
Playing Depeche Mode's Personal Jesus from the album, Violator was a good test because this track is bass dominant and, if the source is uncontrolled, bass can swamp the soundstage. Once the tone controls were disengaged, the bass became more disciplined and nuanced with light and shade around the soundstage to give the track a sense of complexity while retaining the essential punch and low-end presence that acts a driving force for the track as a whole, especially the basically instrumental last portion of the track. 
In terms of the upper mids, I was happy hear a focused suite of mids and treble here. There were no edgy mids or tizzy treble to cause discomfort, the upper mids were relatively balanced too. Well, balanced for an all in one configuration such as this. 
There was one feature in the Ottava f  that I wanted to try that promised to affect the basic sound. The Re-Master feature option gives you the impression that it's remastering your CDs which it decidedly is not. This is actually an EQ of sorts. Engaging it inserts some air and space into the midrange. I liked it. So much so, in fact that I kept it on for the rest of the sound tests.  
I then inserted a USB stick into the rear of the chassis and played jazz vocal via Carol Kidd and A Nightingale Sang in Berkeley Square from the Linn production, Dreamsville at 16bit/44.1kHz.
Bass here was a emphasised a touch although it didn't swamp or dominate the soundstage. Kidd's vocal was clear, open and expressive, taking command of the song as a whole while the guitar was full of information and insight. Did I hear the last droplets of detail from the Ottava f? No, absolutely not. I missed a few acoustic guitar resonance effects for example but then, that's not a fault so much of Technics as of the Stereo System format itself.
This is an entertainment system, don't forget. If you want the every single crumb of detail from a typical song track then grab a separates system. As it was, the Ottava f provided a relatively balanced and tonally impressive delivery with all of the important points of the music ticked off neatly and successfully.  

The same could be said of a blues track called Big Bad Girl from the blues shouter, Harry "Big Daddy" Hypolite. Despite the forceful vocal, the Ottava f's overall soundstage was evenly balanced without any upper midrange barking or glaring while his strummed guitar was never masked by the performance.
RADIO
I then tried Internet and DAB Radio and a slice of pop on both formats. The latter was its usual big, bold and up front presentation while Internet radio choice provided a more subtle and nuanced playback, especially via the higher bit rate stations. Both were confidently handled by the Ottava f. Reception was good with no drop outs or cut outs while the general sound quality was also good.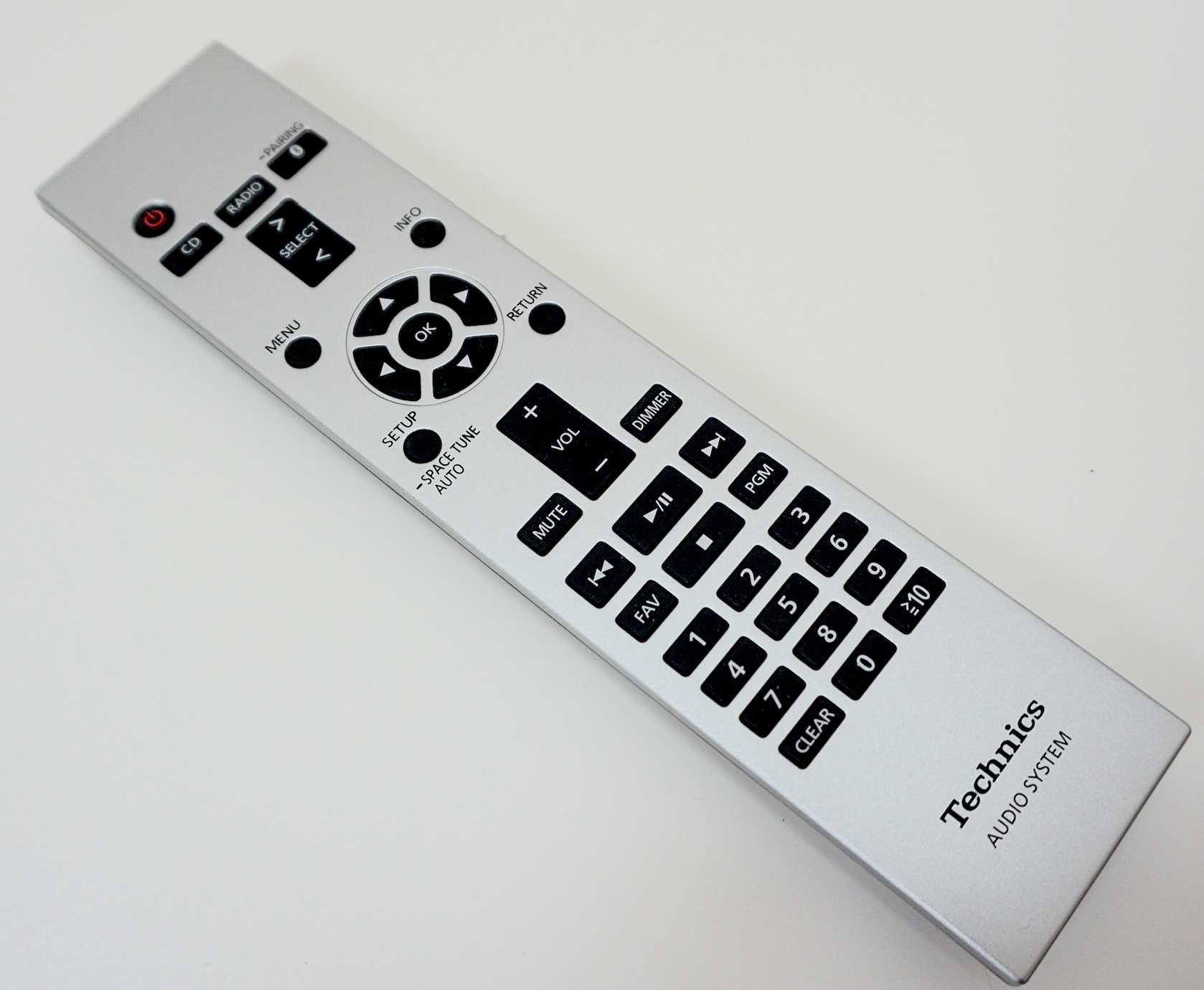 Can the Technics accomplish a measure of midrange insight? Well put it this way, I accessed the Podcast feature option and played a random example of the BBC's News Quiz show to check out spoken-word broadcasting and was able to fathom that the panelists were drafted in via Zoom and the audience was delivered within an electronic box named Canned Laughter, sounding like an audience track crossed between The Flintstones and Scooby Do. So yes, unlike the humour from that episode's panellists, the Technics presented a certain amount of subtlety from a spoken-word presentation. 
I then played YouTube Music via Chromecast and Madness' Baggy Trousers at 256kbps AAC. This was via a wired, Ethernet connection. The connection itself was solid and consistent while the music delivered was, considering the lossy nature of the format, of good quality. Bass was relatively focused, space was limited and dynamic reach could have been better but the overall discipline of the frequencies was good indeed. Ideal for background music play, in fact.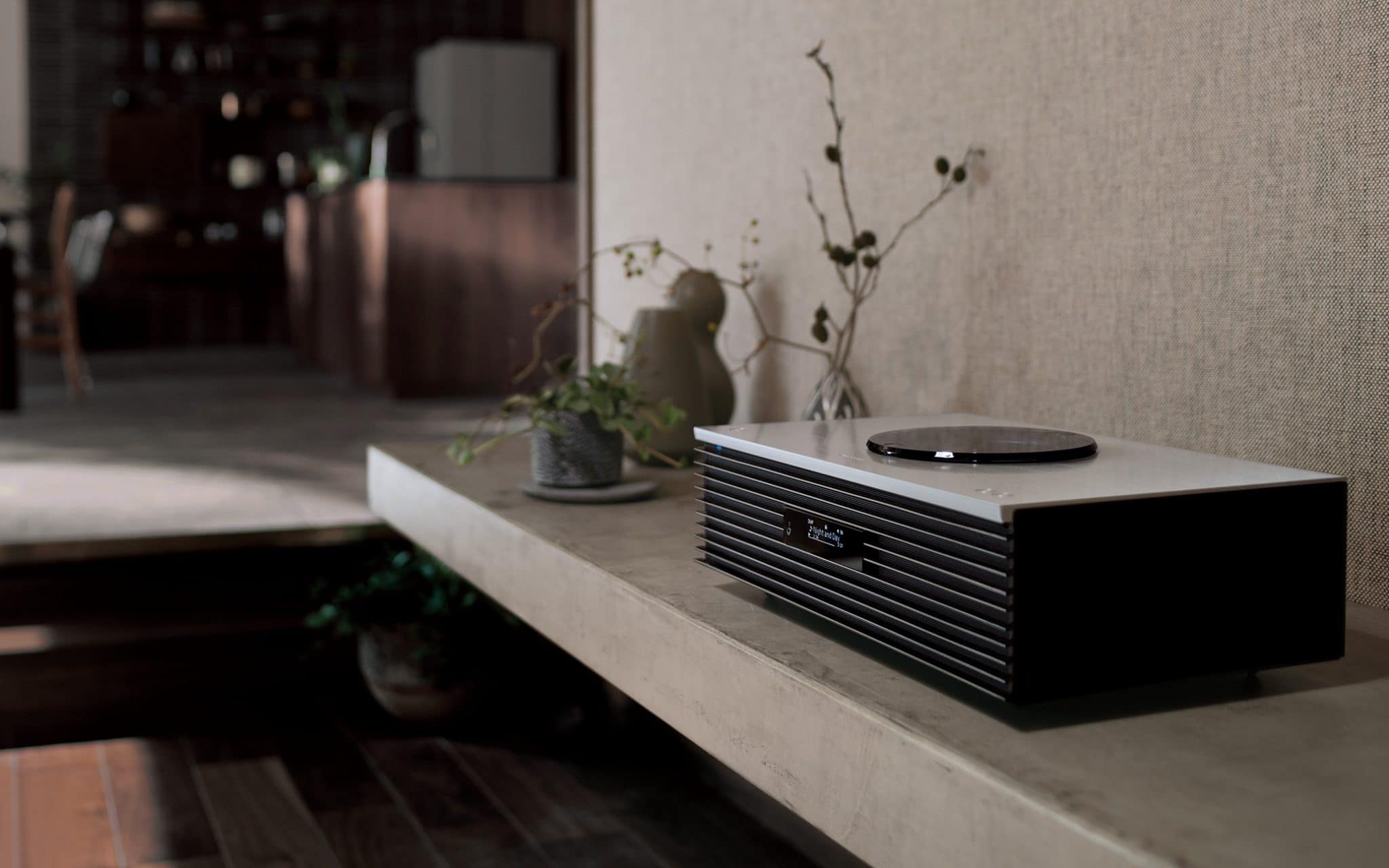 Turning to Qobuz I played Lindsay Buckingham's Scream from his self-titled album at 24bit/44.1kHz which was offered with a relatively wide soundstage – well, for a compact unit of this type at any rate – with a layered and complex presentation. 
I ended the sound tests by plugging in my modded Astell&Kern AK120 digital audio played to the Ottava f via optical and played Bob Marley's I Shot The Sheriff at 24bit/96kHz. This track can be a little edgy on some systems but not here. There was a relatively neutral presentation with enough space in the mids to allow the ear to easily pick up the emotive delivery vocal and organ riffles. Bass meanwhile was tight and focused enough to allow the bass guitar to flow easily without being muddied or veiling other detail on the track. In short? This was a highly entertaining track from an entertaining stereo system.
CONCLUSION
I was surprised by the Technics Ottava f. Surprised at how good it was. Yes, you have to dive into the app's preferences first to get the basic tonal delivery into some sort of shape but, once you've done that, the basic presentation of the Ottava f was relatively neutral. There were no obvious sonic or design nasties here, no aspect of the sound presentation that grates or annoys. There's plenty of musical information on offer, no matter what source you select while the gamut of features and connectivity options should cover all sources for most people. The build quality is very good indeed while the usability, how the Ottava f actually works during a typical session, is excellent.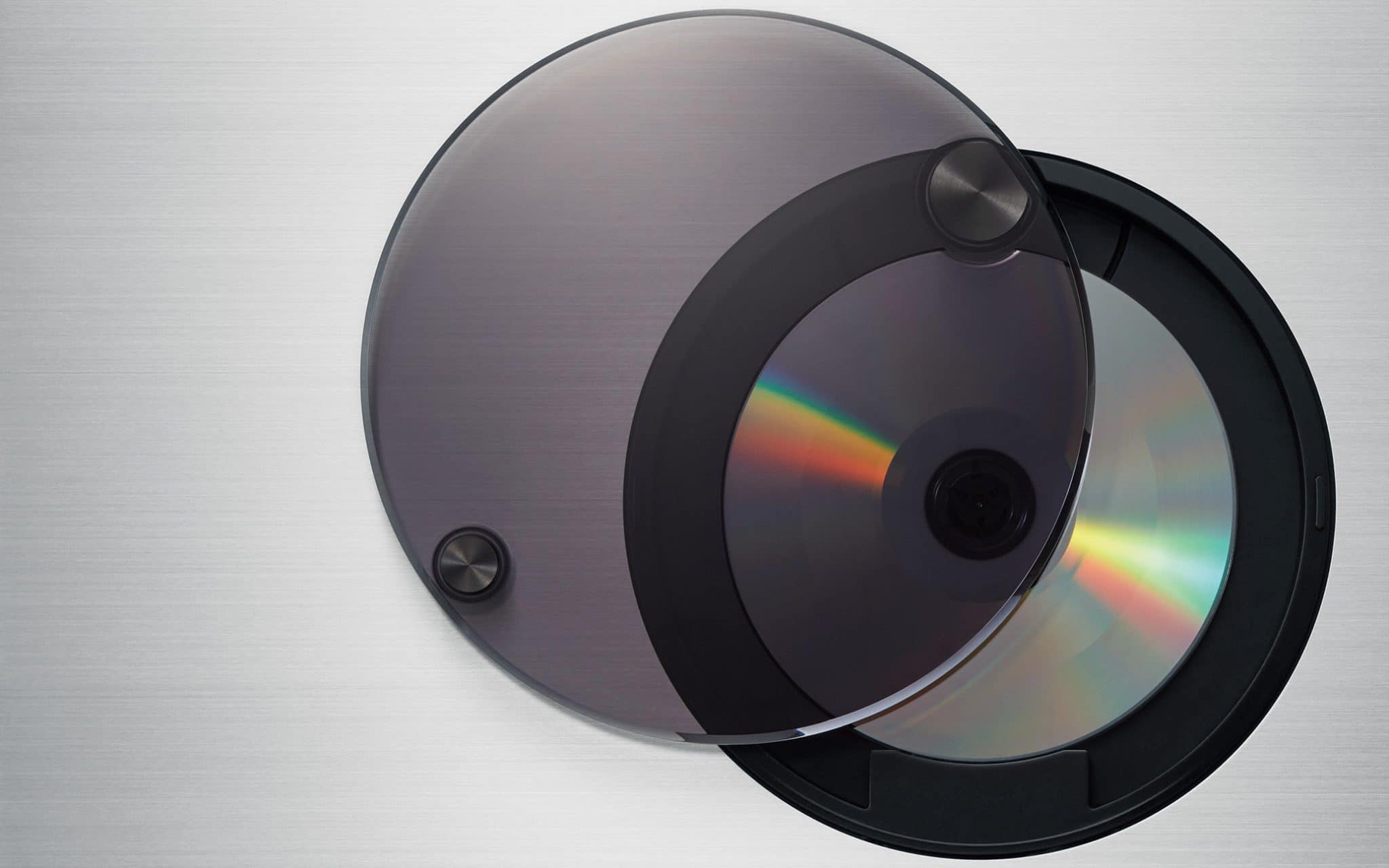 Now there will be readers out there who'll be thinking, "But how does it compare to the Naim Mu-so 2?" Even though the Naim is priced around £600 more than the Ottava f. 
I did review the Naim – although that was two years ago now and I had to return the unit soon after the review so I have to fall back on my review and failing memory for comparisons.  And to remind you, I liked the Naim a lot – it received an award-winning rating from me. 
When compared directly to the Technics Ottawa f, the sound (from memory) was more mature on the Naim but an extra £600 more mature? That's debatable. I liked the sound from the Technics. A lot. What is less debatable is the greater ease of use. I found both in terms of installation and in use with the Technics Ottava f. The Technics flowed easily on those terms and was a joy to use on a day to day basis.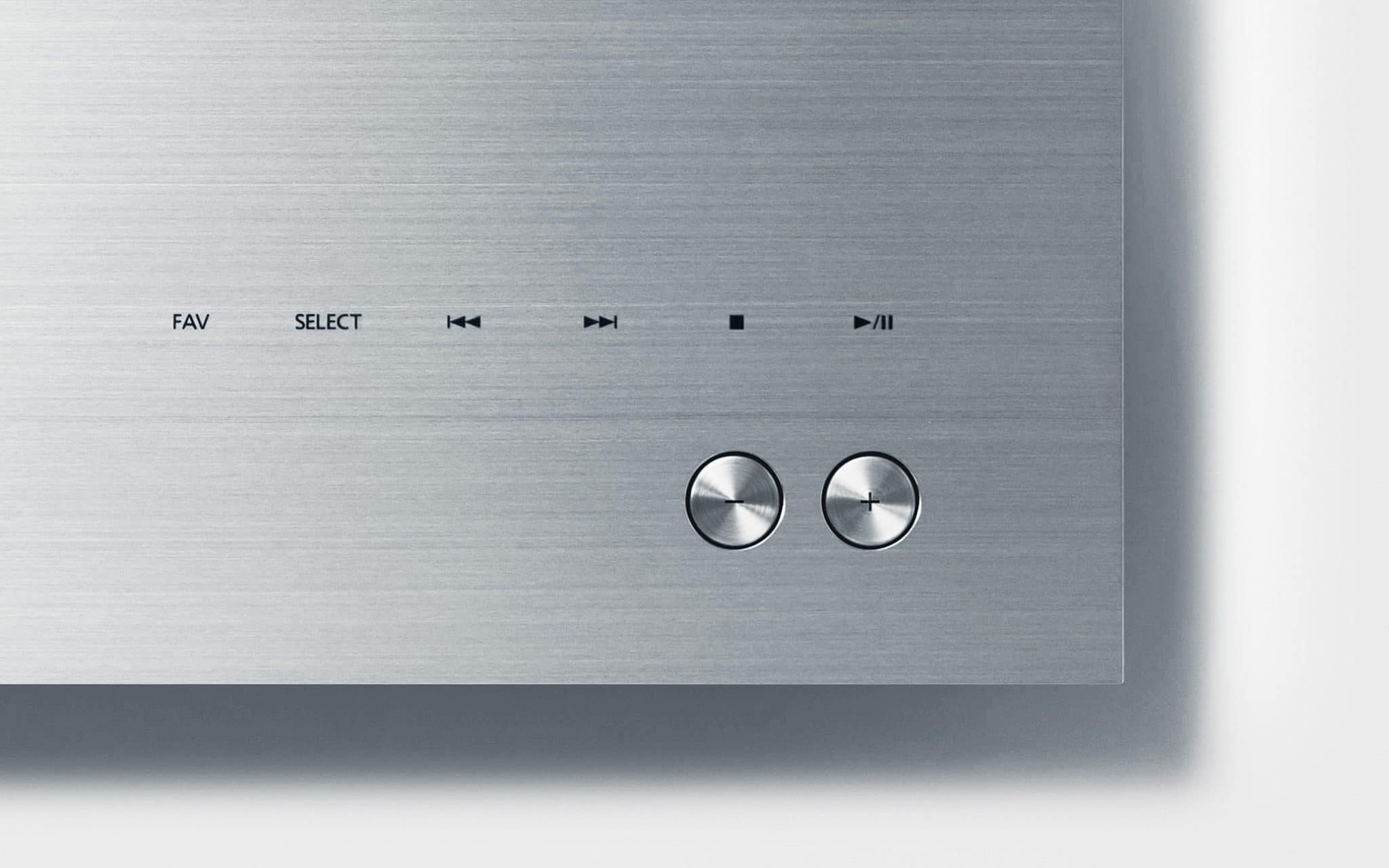 The Naim had oddly positioned sockets that I still remember raising my blood pressure, especially when installed within a lifestyle environment. 
I preferred the app control method from the Technics too. Styling is another thing I preferred from the Ottava f. Despite the groovy rotary control method from the Naim and the sculptured front piece with its multi-coloured replacement options, the front piece itself felt a little cheap while removing the same from the front of the Naim (as a possibly alternative and to improve the Naim's sound output) gave the Naim a mobile disco look. The more industrial stylings from the Technics not only offered a measure of solidity to the eye but also have a simple, direct and classic effect.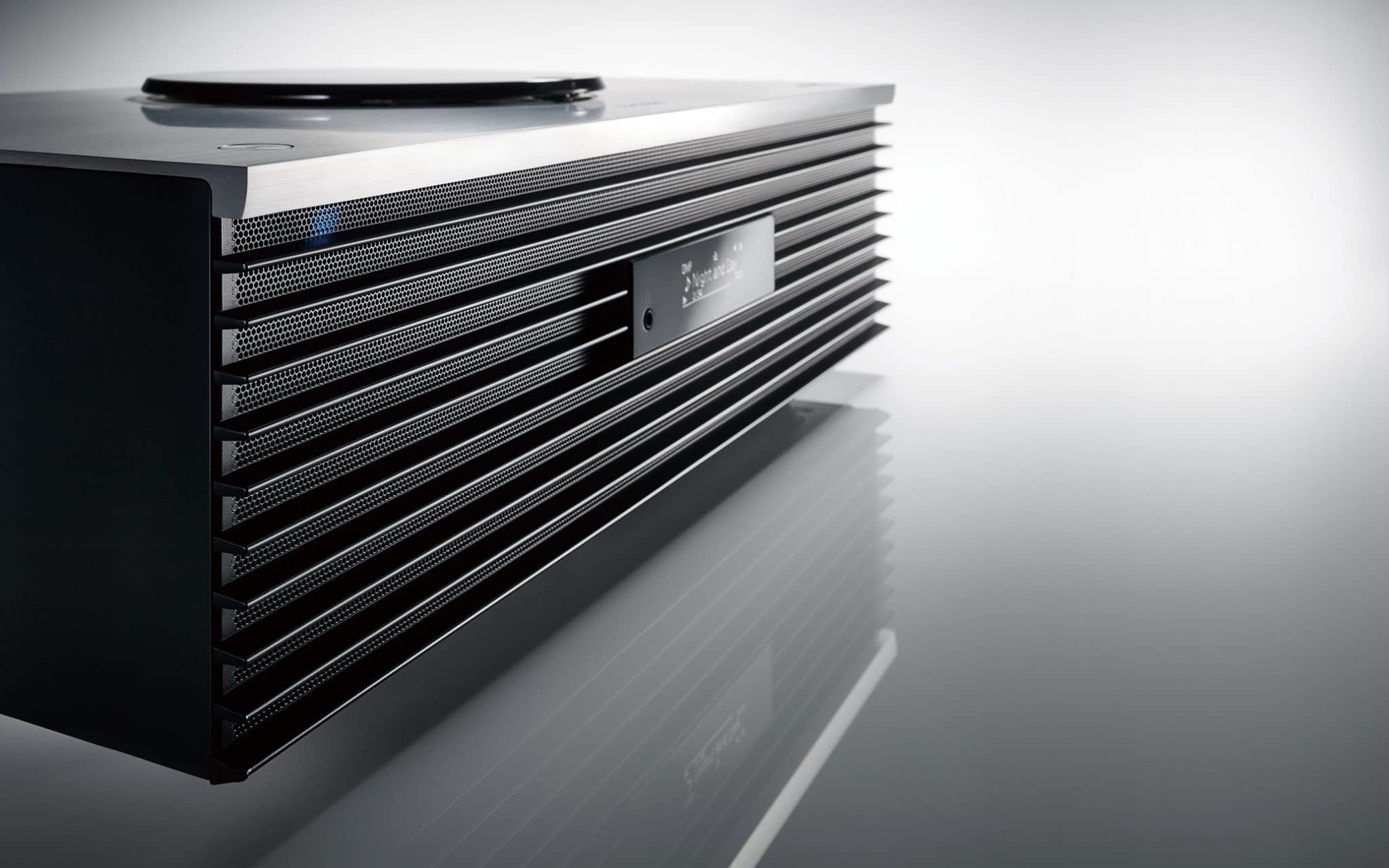 In short, if I was going to choose between the two as Stereo Systems, using the criteria I've listed above? Then I'd go for the Technics Ottova f.  
As such, if you're looking for a compact stereo system, the Technics Ottava f is highly recommended. It is, as the saying goes, a winner.
---
TECHNICS OTTAVA F STEREO SYSTEM
Price: £799
Website: www.technics.com/uk/ 
---
GOOD: feature count, Technics app, general sound quality, build, styling
BAD: nothing of note
RATING: 9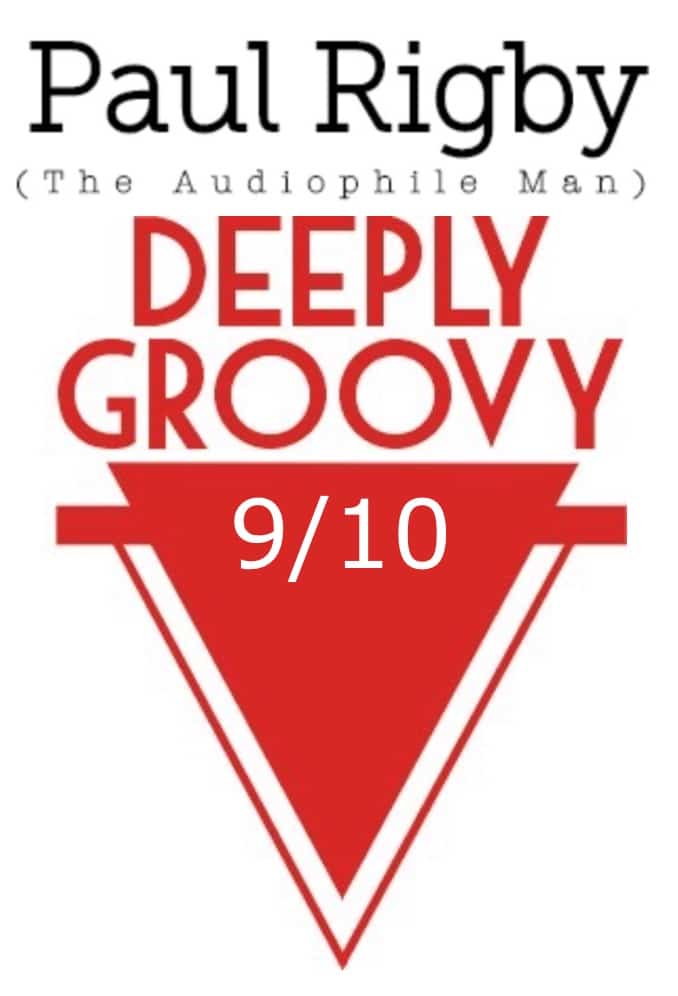 ---
[Don't forget to check out my Patreon Page at www.patreon.com/audiophileman, for exclusive postings and more!]
REFERENCE
Blue Horizon Professional Rack System
Harmonic Resolution Systems Noise Reduction Components