The Article
ONE Cast Streaming Amplifier from Cyrus
20th February 2020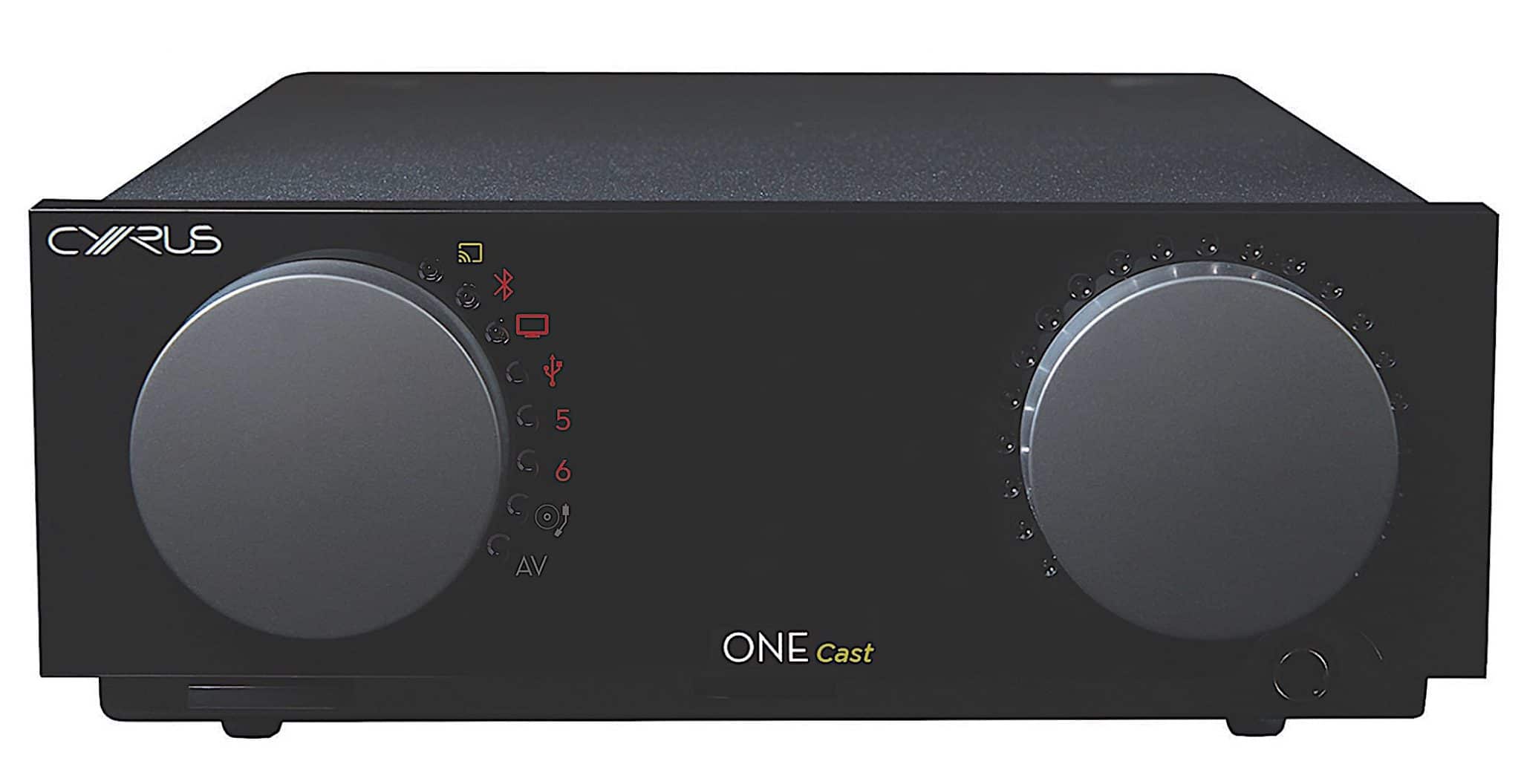 It's an amplifier but it also sports a host of digital and streaming support. Paul Rigby reviews this half-width box
If ever a hi-fi company exuded puppy-like exhilaration, it was when this UK-based outfit released the  original ONE integrated amplifier (see a review of that box HERE). Keyboard Caps were well and truly locked, let me tell you. Reviewing the original ONE, three or four years back, I was struck and somewhat relieved that Cyrus had finally unchained itself from its earlier, outmoded flabby design shackles with its dotty, sickly yellow/green output window that was so primitive, even Donkey Kong wouldn't have gone anywhere near it. 
Cyrus were so thrilled about the rather streamlined restyle, they named the one, ONE. And why not? The internals sounded as good as the externals looked. I loved the restyle and I loved the sound emanating from it. 
That ONE's nicely sculptured, half-width chassis reappeared later as the ONE HD and, it appears, Cyrus is determined to get its money's worth because it's back on stage again, for yet another curtain call.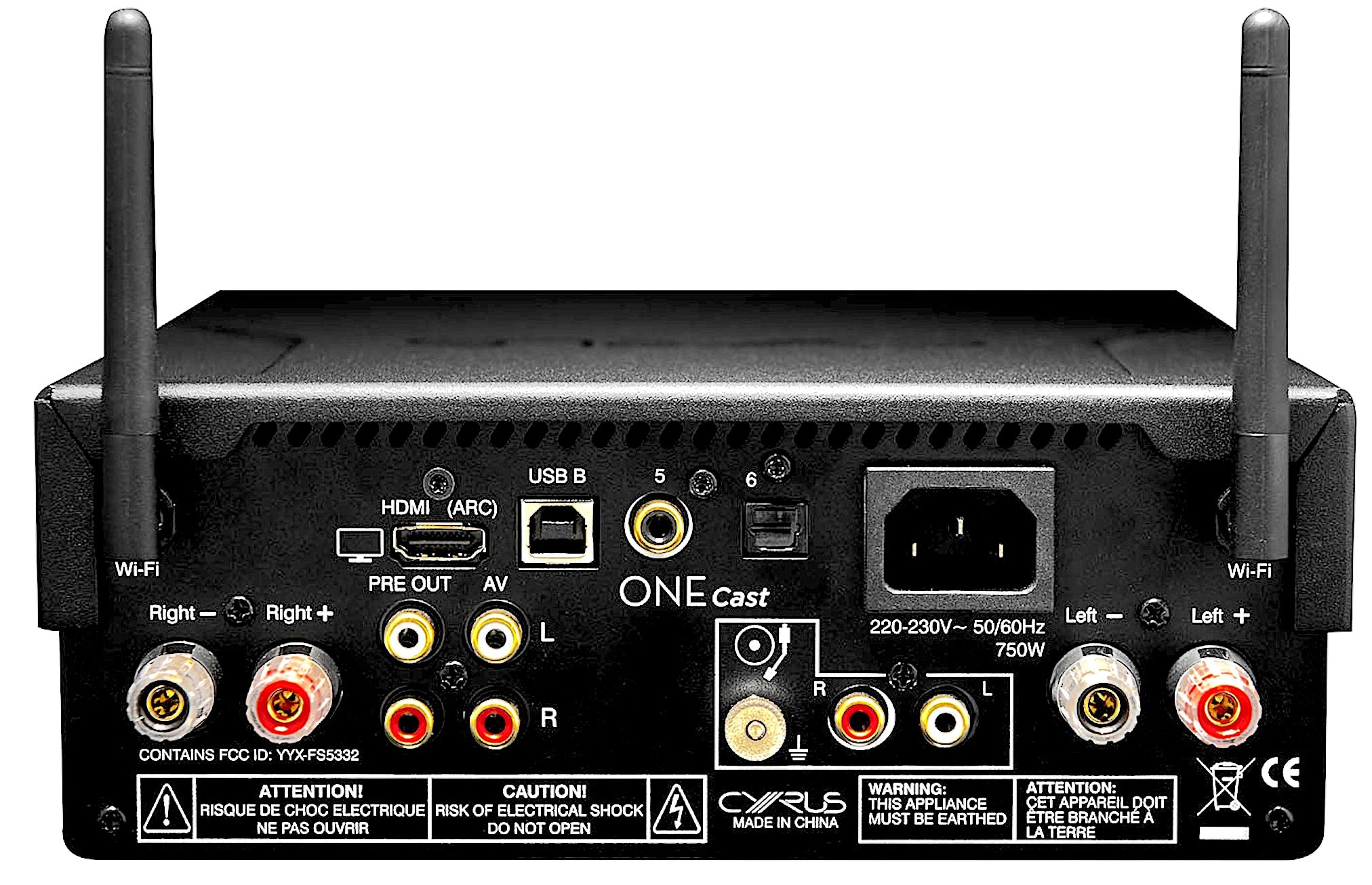 The ONE Cast looks very similar to the original ONE from the front, with its goggle-eyed, twin rotary controllers: one handling volume, the other a selector. Although the Cast has a greater array of selectable options than the original ONE. Bottom-right, you'll once more find the full size headphone jack for the internal Class A/B headphone amplifier.
At the rear, instead of two sets of possible speakers to attach, you now only have one set to plug in. The IEC power slot remains in the same place but the MM-only phono amplifier connections are now underneath the same instead of off to the left. That space is now occupied by DAC sockets: optical, coax and USB B, supplemented by a HDMI (ARC). You'll also find twin Wi-Fi aerials at the rear.
A trio of RCA inputs have gone but the AV inputs and Pre Outs remain. The older mini-USB upgrade slot has been removed too because upgrades are now grabbed automatically, 'over the air'. The latter is a nice touch because Cyrus don't want you involved in the process. Which is all rather Apple-like in its approach. And it's one I like. If you're selling a chummy, lifestyle box, why then bring the user down to earth with a thump by asking them to go tech and demanding that they start fiddling with upgrades? More hi-fi brands need to do this.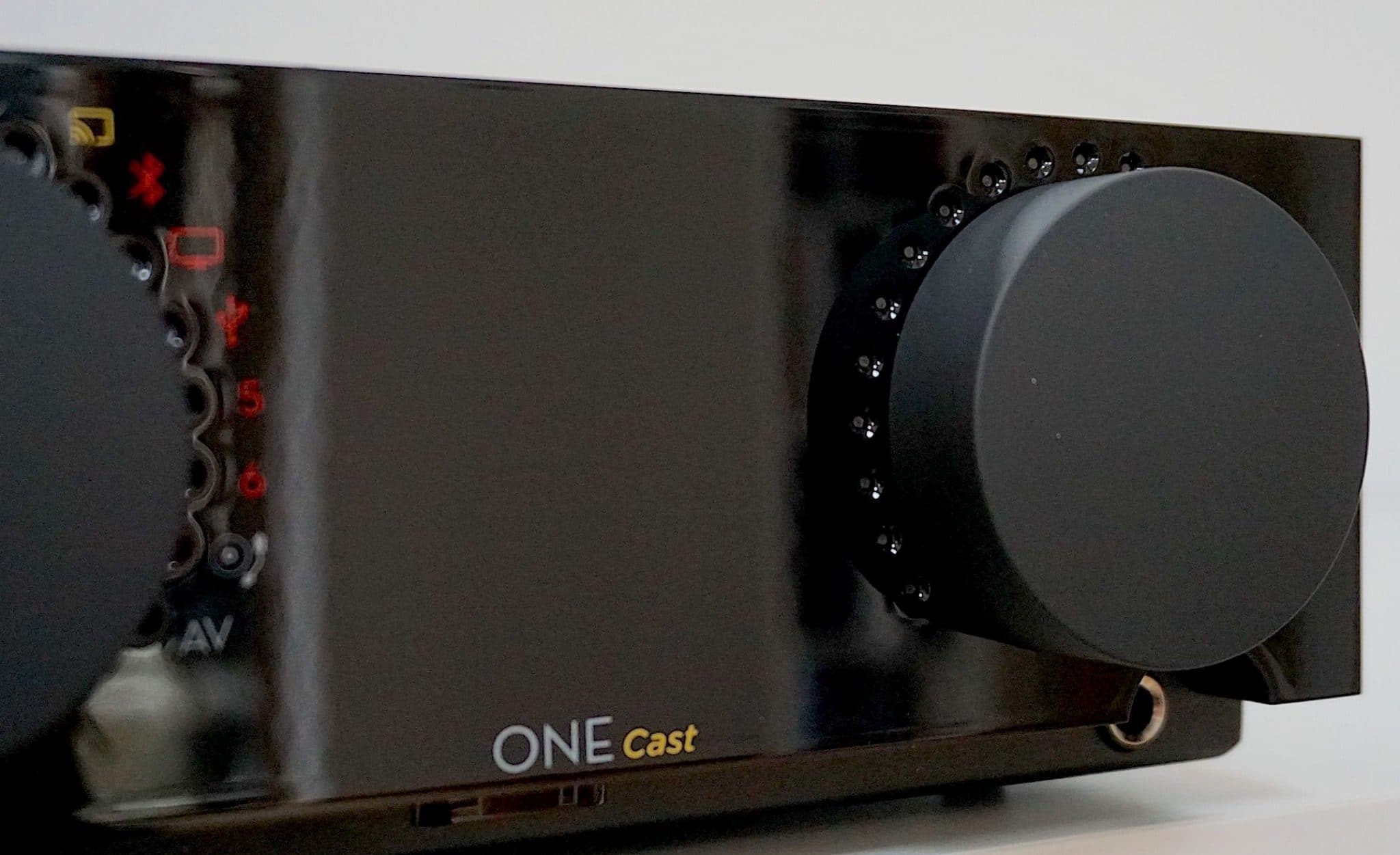 I was initially disappointed not to see an Ethernet port at the rear of the Cast, Cyrus preferring to initiate Internet contact via Wi-Fi only. To begin with, this confused me a tad because the Cast appears to be all about convenience and choice. The missing Ethernet port reduces the latter and dims the former. Ethernet would have produced a higher quality digital stream, a more secure digital stream and would have increased sound quality because, connected to a router, you then have the ability to shut down Wi-Fi and reduce high frequency noise. As it stands, there will always be a sheen – of greater or lesser effect – of high frequency noise in and around the streaming signal. 
Then I thought about Ethernet for a bit. Its loss appears to be almost symbolic. It says to me that this Cyrus box really is aimed at a lifestyle user. One that resists over complication and where connectivity options are familiar to anyone sporting a smartphone, tablet, talking box (i.e. Alexa et al) or AV system. In that regime, the lack of Ethernet makes sense.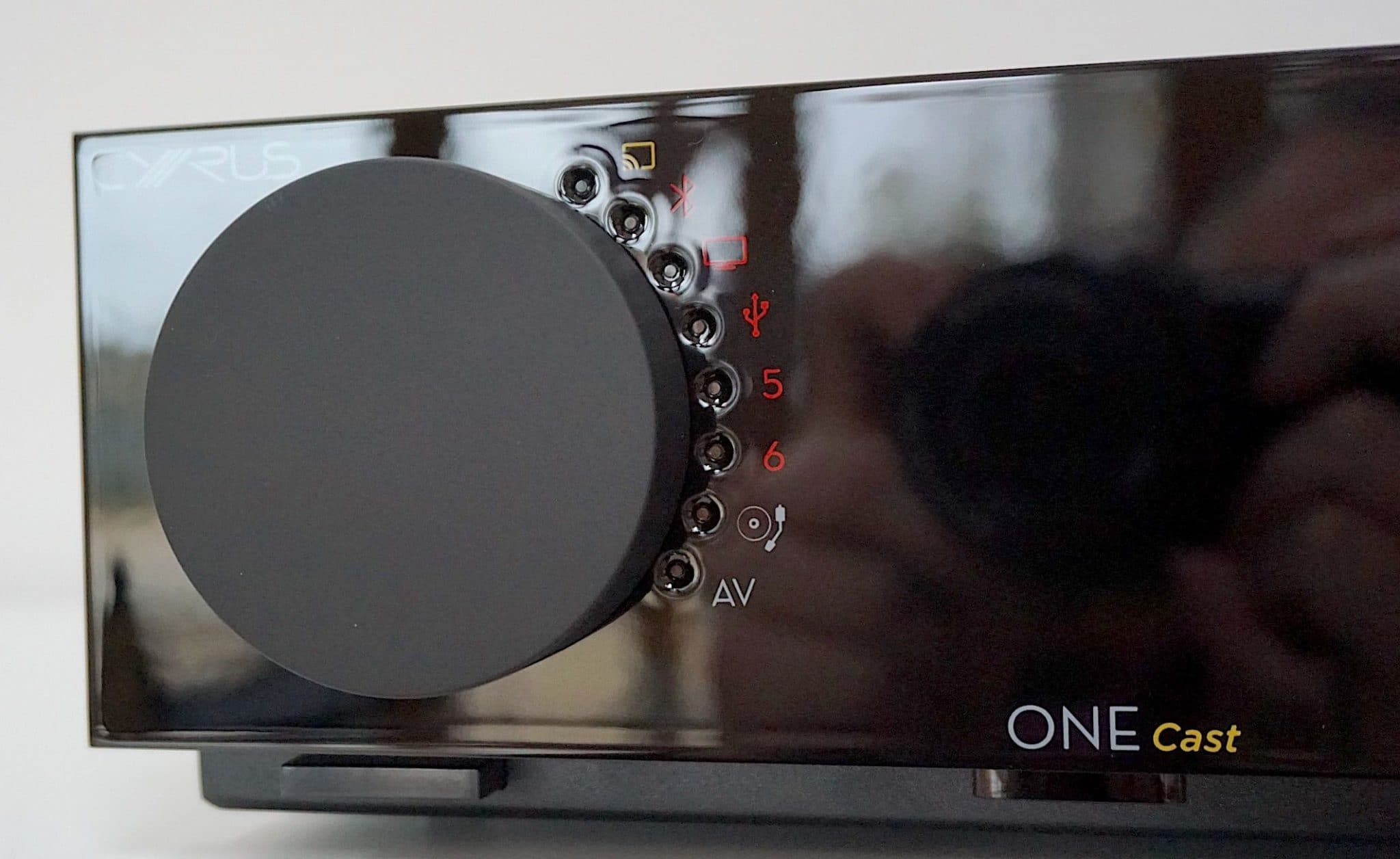 Speaking of lifestyle, I disliked the display lights for this target audience. At full or medium strength, they pierce the body, reach into your very soul and, like a wayward graffiti artist, etch the words 'bright white' upon it. After the test, I'm considering strapping the Cast to the front of my car, the next time I venture down the M6 on a foggy morning. 
It's interesting that one of the dominant controls on the remote is a dimmer switch. Even pressing (hard and quickly, before blindness sets in) the dimmer to minimum, I disliked the white bulbs in a low light listening scene (a not unusual situation when listening to music). Spots of Blu-tack will solve the case but I shouldn't even be considering this and, being lifestyle, its messy and I would have liked to have seen options to change the actual colour of these front fascia glimmers. A choice of three colours would have been nice, seeing as you ask.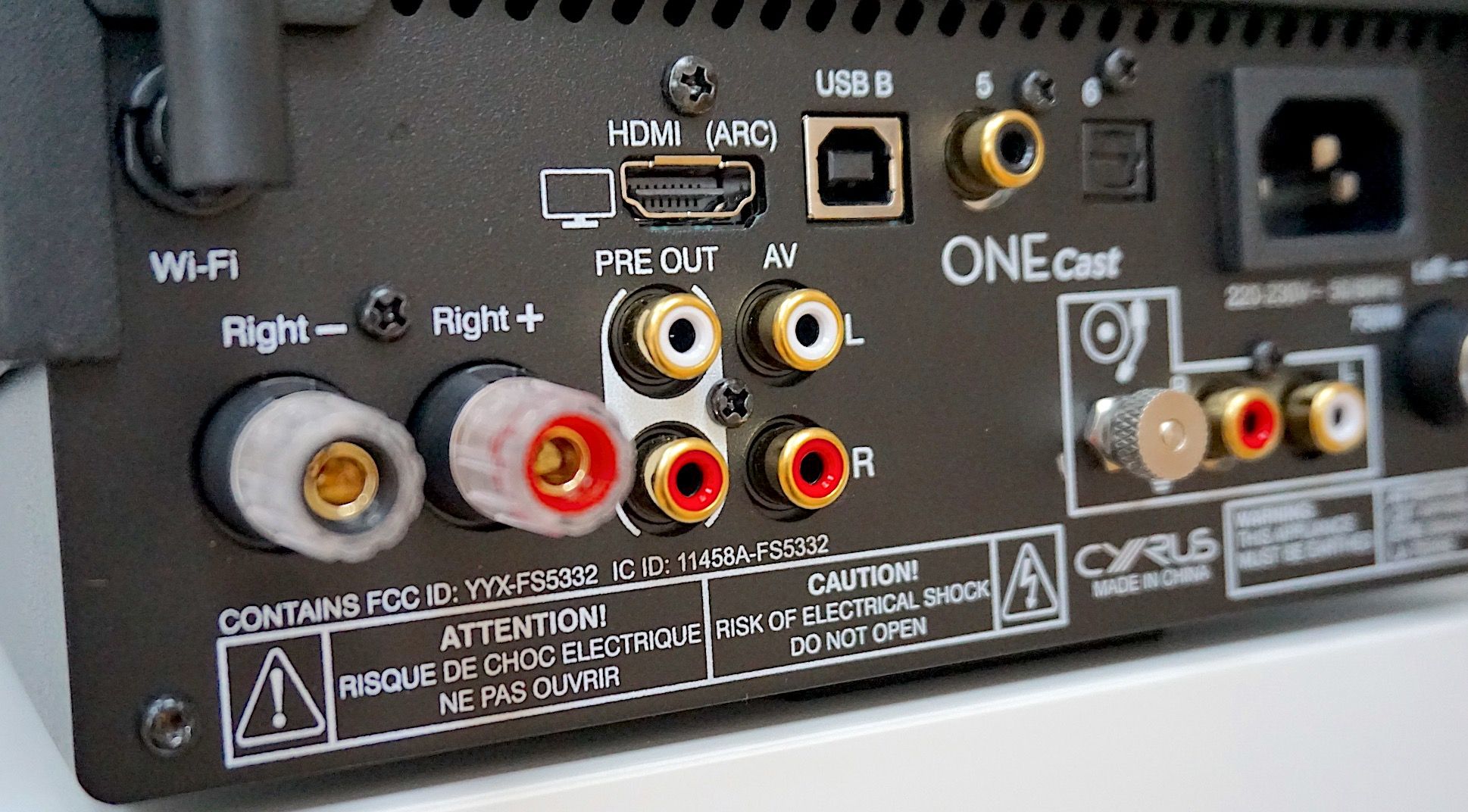 The remote is svelte and light but it does the job, allowing the volume and inputs to be changed but also, slightly surprisingly, the signal balance between speakers. Surprising because such a feature is normally grouped together with the likes of tone controls and Loudness options which are not present here. I'm at a loss as to why Cyrus thought this feature important enough to include. Internally, you're looking, once more, at a 100W Class D amplifier (into 6 Ohms). 
Class D operation is much derided. There are good and bad in any amplifier class. In fact, so consistent is the outcry against this amplification technology, I reckon anti-Class D behaviour is beginning to turn into an 'ism'. In my opinion? Such behaviour is a little hysterical, generally unfair and often unwarranted. As I say, I thoroughly enjoyed the original Class D implementation of the ONE.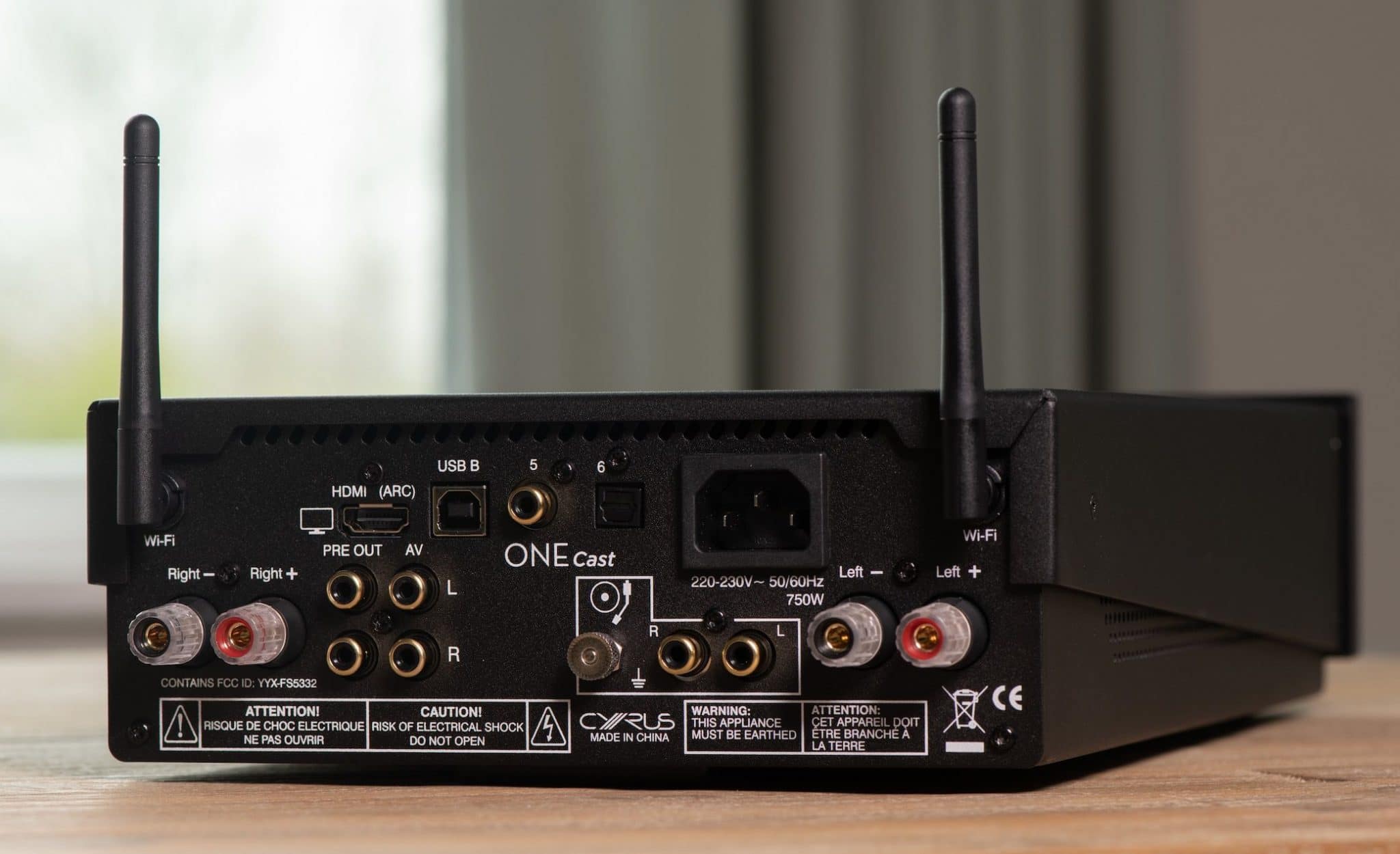 The Cast can be controlled by an Apple Homepod, Amazon Echo/Dot or Google Home, as long as they reside on the same Wi-Fi network while the ESS ES9018K2M DAC reaches up to 32bit/192khz and DSD128 (and not DSD64, as stated in the manual). Expect DSD256 in the near future, once testing is complete. Coax/optical runs at 24bit/192kHz. AirPlay 2 is supported as is Bluetooth 4.2. Streaming services are basically restricted to what your smartphone or computer can push out. They include Spotify, Tidal, Qobuz and Deezer.  
Other features of note? Plugging in your headphones auto-mutes the sound, while a control lock function will lock all front panel controls including Standby. As Cyrus says, "This may be useful during a party." It's such a common event and one I'm sure you're familiar with. Where the majority of our guests crowd around the hi-fi, spilling their drinks as they frantically press any button within reach, in an increasingly hedonistic and drunken frenzy. It happens all the time. With Cyrus' help, not any more.
Spanning 85 x 220 x 390mm, the Cast weighs in at 5.6kg.
SOUND QUALITY
I began by ignoring the much vaunted streaming, turned off Wi-Fi, shut down my phone, turned off Wi-Fi and Bluetooth on my laptop, disconnected my Wi-Fi extender and ran pure. I then headed for a physical format to check out the basic amplifier performance. There's no point in reviewing the digital fripperies on top of an amp unless the basic amplifier itself can pass muster. You don't buy a house based only upon the new conservatory, kitchen extension and upgraded central heating, do you? You check the foundations first. 
Same here.
I spun a CD and played the solo acoustic guitar piece (plus restricted violin and drum), I Yell at Traffic, from Leo Kottke's Regards From Chuck Pink (Private Music).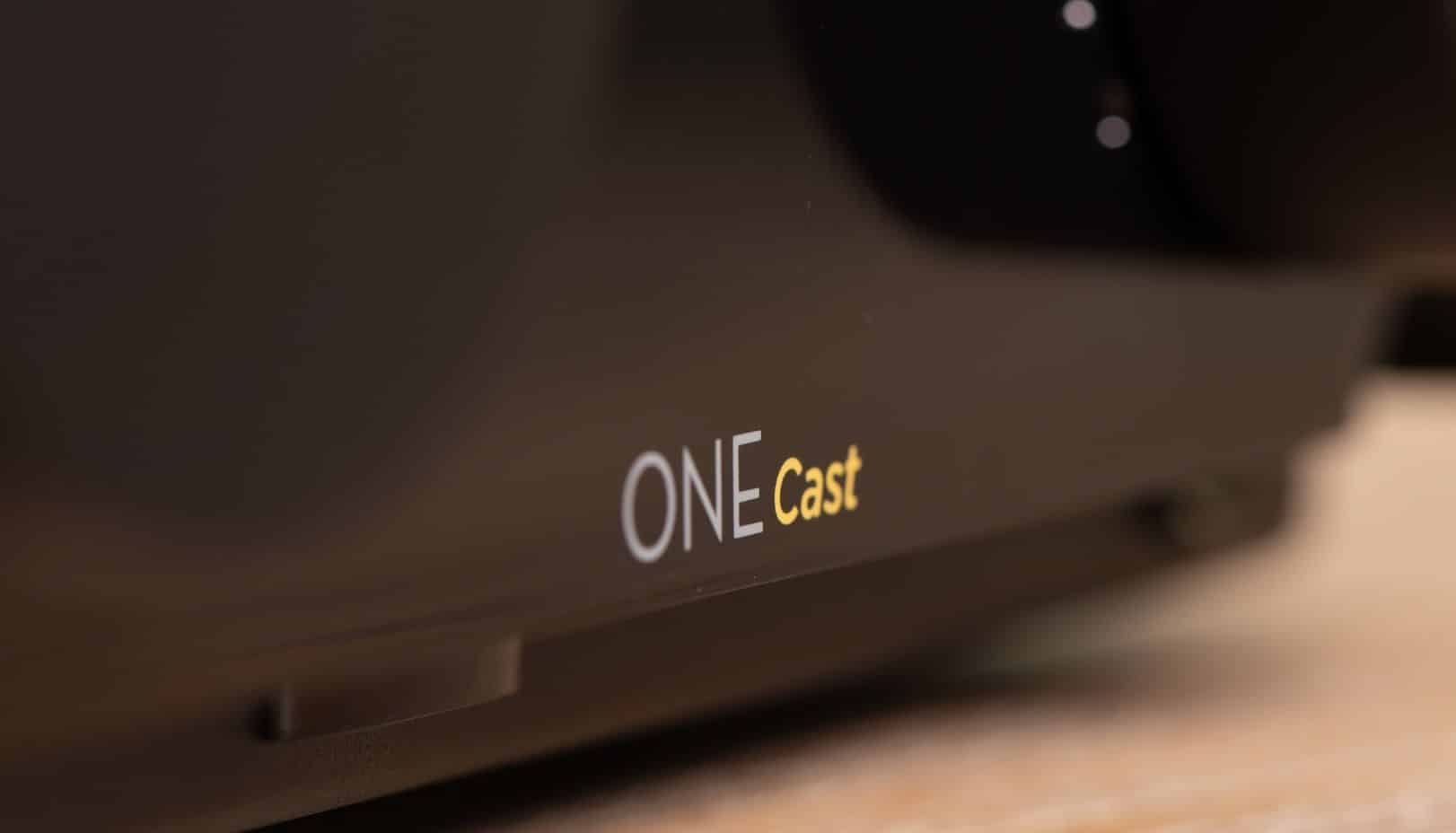 In short? The amp offers good quality. It's a good £800 or so amplifier. Don't forget, you're paying for a host of collected features, the amp is one element and the overall performance is based upon the sum of the Cast's parts but, looking at the amplifier on its own, it offers a neutral, detailed array of midrange frequencies. No nasties, the presentation is disciplined, neat and tidy. The midrange is smooth and noise is low. This is most obvious when looking at the background percussion which exhibits obvious space between it and everything else in terms of bass hits and midrange fills. The bass is strong but never overbearing while the low noise means that instrumental separation is very good indeed. I have no complaints from the basic amplifier performance. A good start, then.
The internal phono amplifier was also good for the price and certainly usable if your budget doesn't stretch to an external model.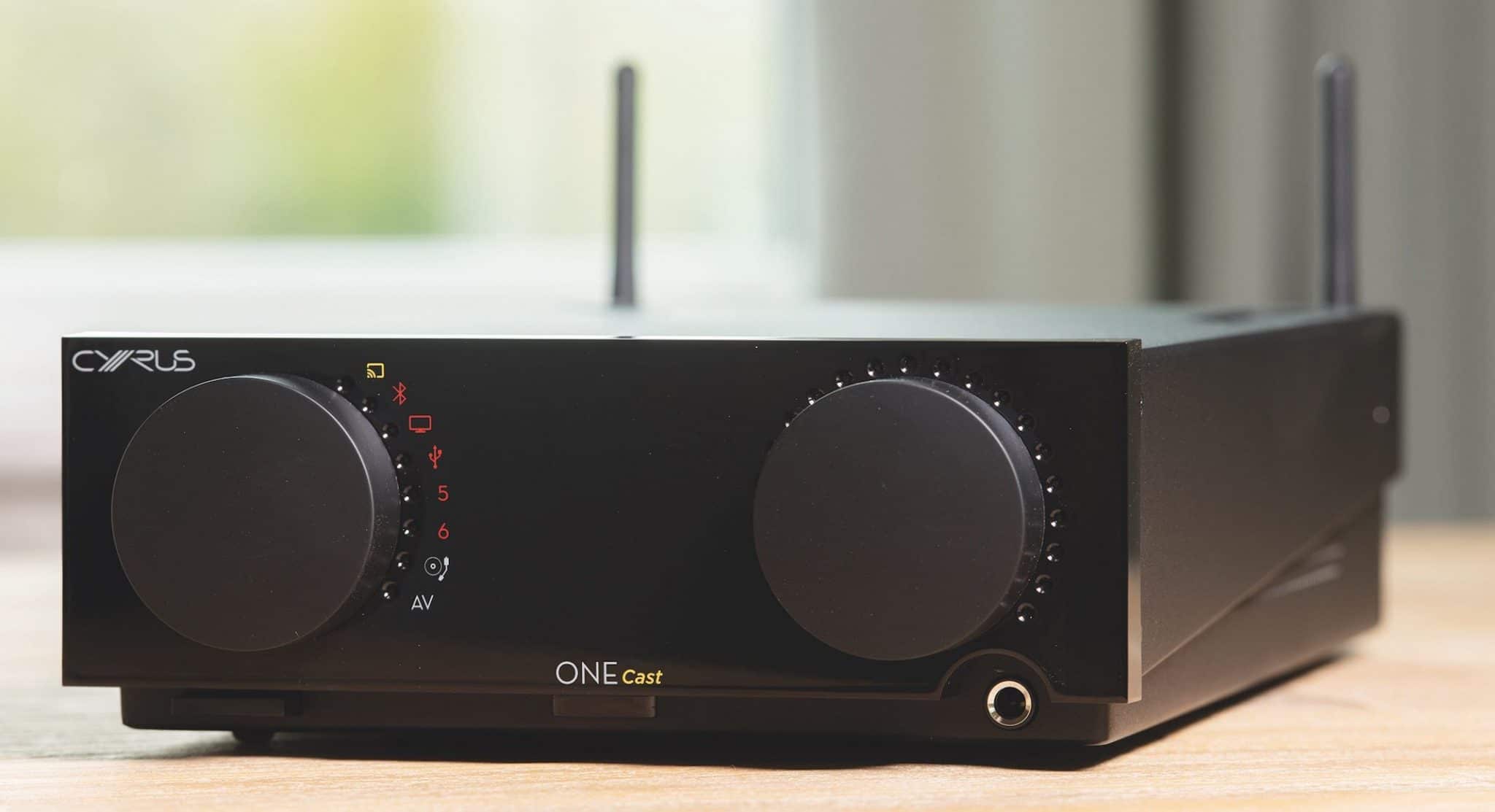 I then plugged in my Red Wine-modified Astell&Kern AK120 and played Bob Marley's Jamming at 24bit/96kHz via the optical port. Output pushed the mids to the fore with a slight light shone upon the upper mids, most obviously exhibited by the signature reggae rhythm guitar and cymbal splashes. That said, detail was accentuated too with bass guitar easily tracked by the ear while Marley vocal was lifted up and above the backing band. 
I then turned to Bluetooth via my iPhone. Pairing to the Cast was gratifyingly immediate. I played Paul McCartney's Get Yourself Another Fool from the album, Kisses on the Bottom, played 'live' at the Abbey Road Studios via a lossy file to test Bluetooth and was immediately impressed. Bluetooth sounded remarkably mature and confident – most unlike what I normally hear from devices at this price point and certainly from those under £1,000.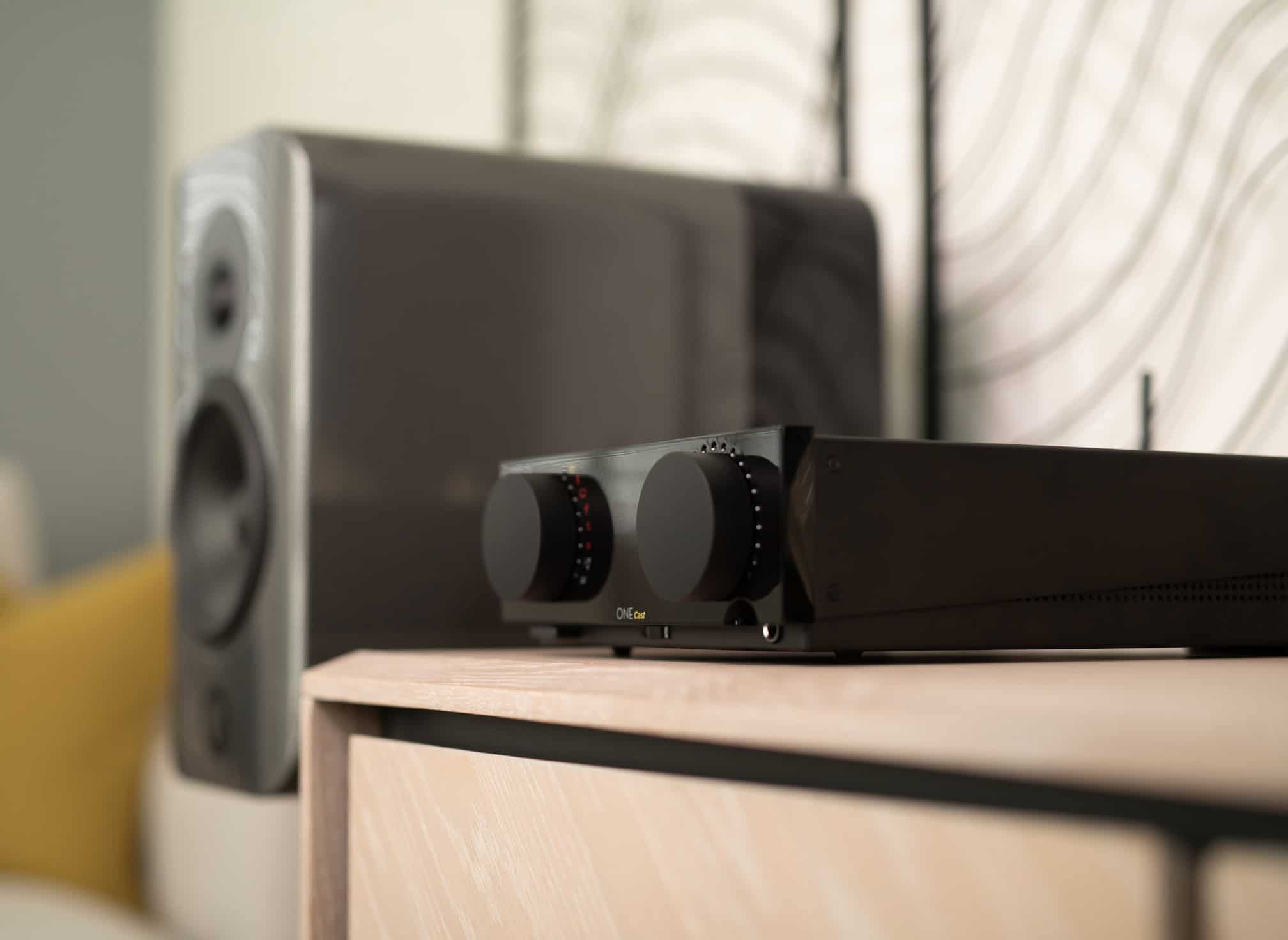 Lossy files pushed over Bluetooth are normally a recipe for disaster but here, McCartney's crumbling vocal cords sounded relaxed and assured with none of the unstable, fractious delivery normally heard over Bluetooth. Bass was strong and full, the soundstage was evenly populated, mids were never thin or wavering but smooth and open and, well, I have to say, I found Bluetooth actually listenable. Saints preserve us. I hardly never find Bluetooth listenable. A rare treat indeed, then.
I turned to Qobuz on Wi-Fi and played Supergrass' Strange Ones LP from my iPhone. The output was relatively clean, punchy and detailed. In absolute terms, the music sounded like a CD with a touch of compression to give emphasis. The mids we quite exacting with vocal delivery being precise, guitars offering focus and percussion being powerful and full of impact.
The Pet Shop Boy's Hotspot LP offered a similar presentation with a heavy bass backdrop plus plenty of synth-based complexity spread over a broad soundstage.
CONCLUSION
The ONE Cast is packed with a host of features in its bijou chassis which should gain plaudits in value for money terms, if nothing else. More than that though, you're given efficient and effective streaming, a cracking Bluetooth performance, broad connectivity and a basic amplifier performance that is never shamed. In fact, it does a remarkable job, considering the amount of technology stuffed into such a cramped space. If you want to make the most of your cash and you want to take advantage of a host of analogue and digital features, then the ONE Cast should be right at the top of your demo list.
---
CYRUS ONE CAST INTEGRATED AMPLIFIER
Price: £1,299
Tel: 01480 410 900
Web: www.cyrusaudio.com
TO BUY CLICK BELOW:
EUROPE – https://amzn.to/3egUPrl
---
GOOD: feature laden, Bluetooth performance, compact, general amplifier output
BAD: nothing for the price
RATING: 8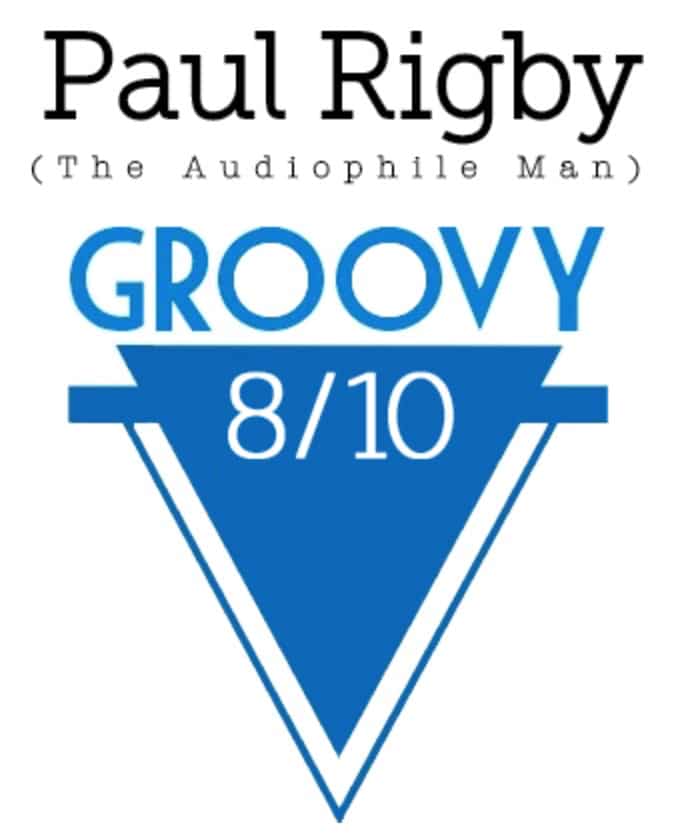 ---
[Don't forget to check out my new Patreon Page at www.patreon.com/audiophileman, for exclusive postings, giveaways and more!]
REFERENCE
Pro-Ject RPM3 Carbon turntable
Apple iPhone
Apple MacBook
Astell&Kern AK120 (Red Wine Modded)
Tellurium Blue Cables
Blue Horizon Professional Rack System
Harmonic Resolution Systems Noise Reduction Components
All vinyl was cleaned using an Audio Desk's Ultrasonic Pro Vinyl Cleaner