The Article
MOFI? THE GAME'S UP! A BUYER'S GUIDE
10th August 2023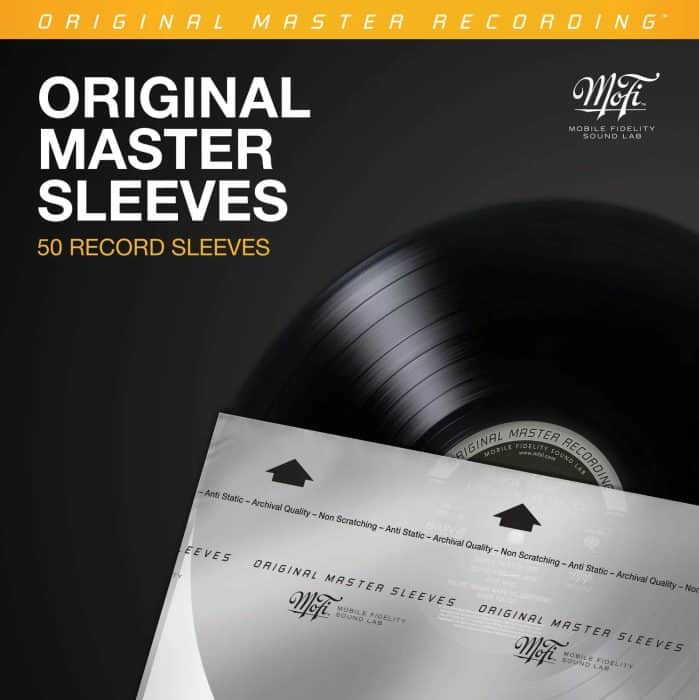 Make yourself a favourite drink, find a cuddly chair or comfy sofa and relax. This is going to be a long feature
I have already completed a two-part investigation of vinyl record inner sleeves. That is, a multi-faceted general Guide on inners plus a review of the new-ish inner sleeves from MA Recordings. 
So, I suppose this is part three then, eh? This one kinda snuck up on me but I think there are questions surrounding this subject that need addressing for the vinyl fan.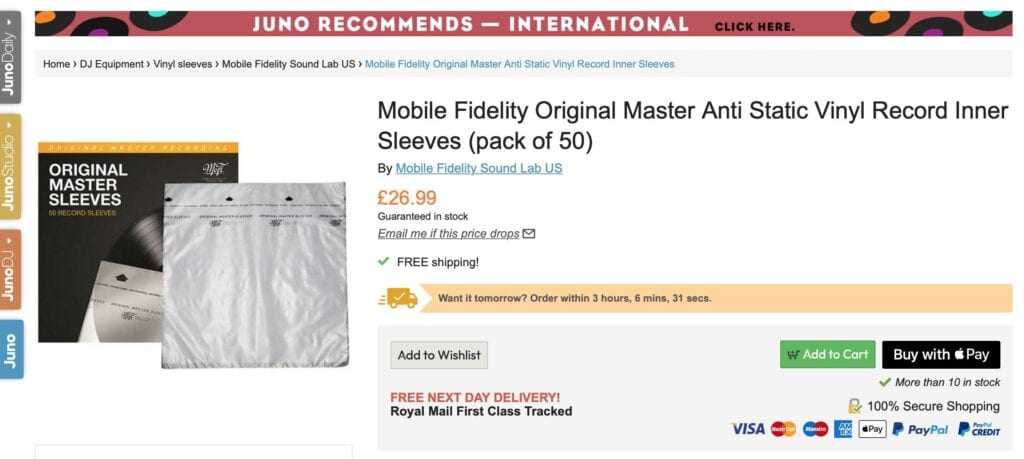 I want to look closely at the high-end inner sleeves from Mobile Fidelity. Actually, that and more than that. What I really want to do is to investigate the relatively recent proliferation of MoFi inner sleeve clones that have seemingly appeared from nowhere and currently infest online retailers like Amazon but elsewhere too.
I wanted to see if these clones should be taken seriously. And I use the word 'clones' but are these sleeves 'clones' at all? Or do they differ from MoFi originals and even each other?
To that extent, I purchased – yes I used my own money, there are no company freebies here, ok one – packs of so-called MoFi clone sleeves. Sleeves from seven (eight including the freebie) different companies. Why seven? Because that's when the money ran out, that's why. There are many more out there so please forgive me if I don't cover your favourite brand in this video. 
MOFI SLEEVES – BACK TO FRONT
I was first aware of MoFi-style inner sleeves back in 1994 when the company Mobile Fidelity started to include them with its ANADISQ 200 LP series of reissues. From what I can see, I think those self-same inner sleeves became available to the public to buy from 2009 or 2010. I've seen conflicting dates. Now that date does seem pretty recent so I'm not wholly confidant on that one – I thought the date was such earlier but that could be my failing memory. If you know better please post a date in the comments below. 
So what are these MoFi inner sleeves then? These are three-ply sleeves. The rear of the sleeve features a sealed section featuring two layers of high-density polyethylene (HDPE). In between the two layers of HDPE is a layer of paper.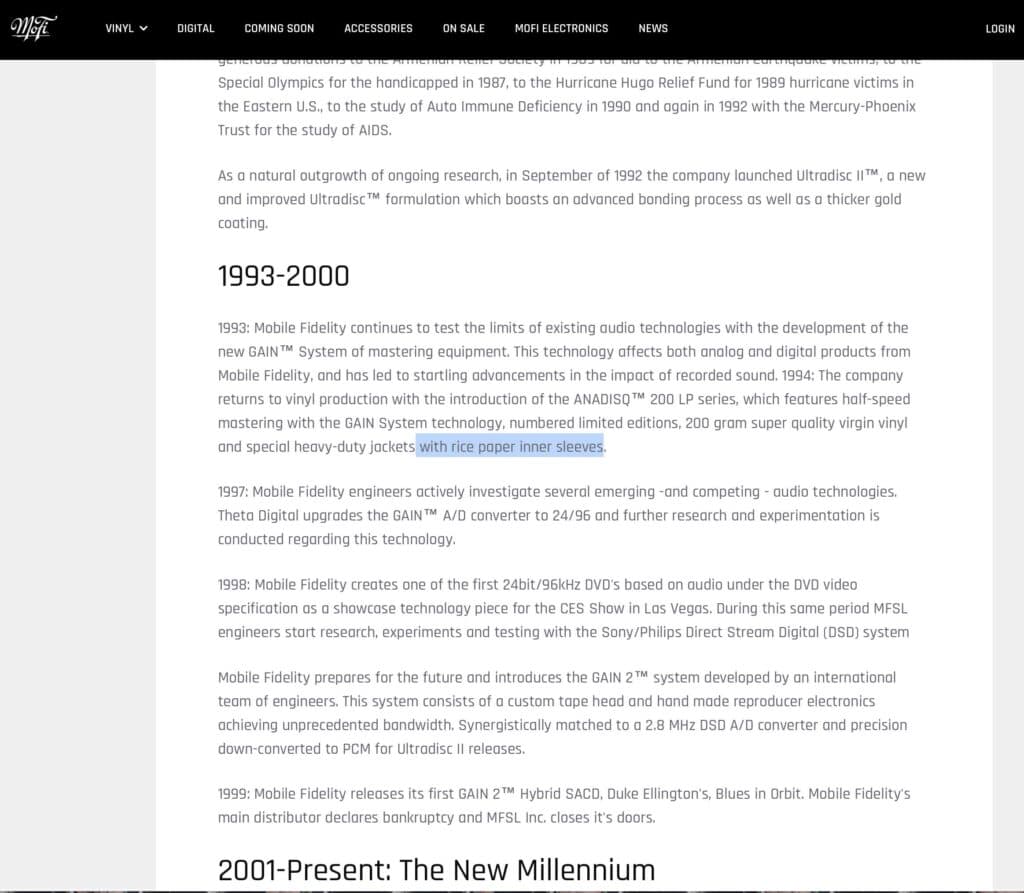 In the Mobile Fidelity website history, this layer is described as rice paper. On the actual product page it is described as 'similar to rice paper'.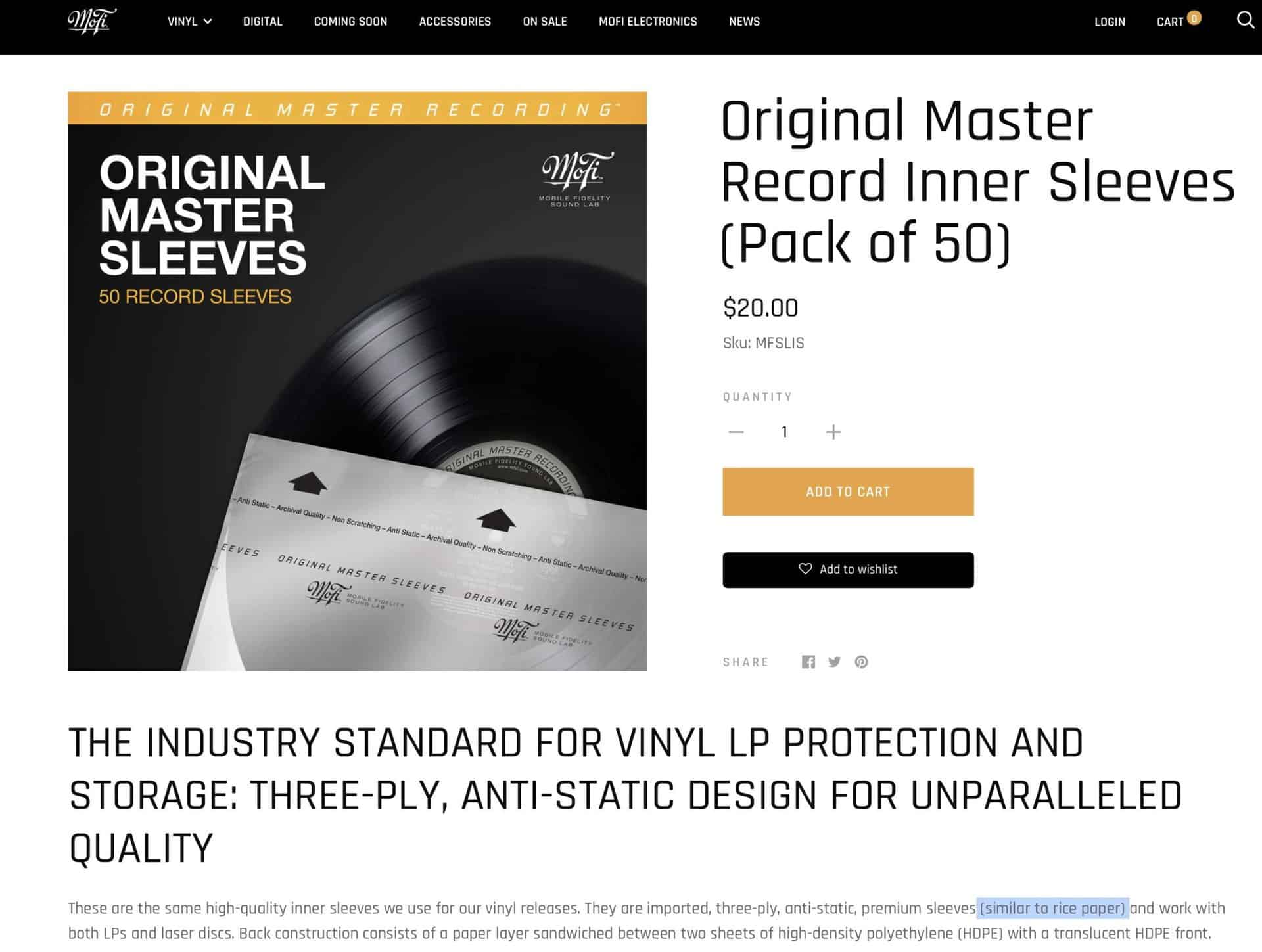 I would say that both descriptions are wrong. 
Dragging out the 'paper' from inside a MoFi inner sleeve I can confirm that it is bog-standard paper. Extremely thin bog-standard paper at that. Its not even 80g printer quality. More like 60g or even less. So no, this is cheap as cheap paper gets. And actually? To use rice paper in the rear of a typical MoFi sleeve would be uneconomical and a waste because I'm sure rice paper is a lot more expensive than 60g basic paper. It doesn't deserve to be hidden away, sealed in the back of a sleeve, I know that much. 
Prices of MoFi inner sleeves? Amazon tend to over-price MoFi sleeves. In the UK, a pack of 50 costs almost £40 from Amazon but I can pick up a pack via other online sources for £27. So I recommend shopping around. If you're in the US, though, I recommend buying direct from MoFi. That might work out the cheapest of all. 
So, that's the MoFi inner sleeve. 
What of the clones?
THE CHINA CONNECTION
From what I hear, Mobile Fidelity's inner sleeves are made in China and it was an email that I received from a Chinese company that alerted me that MoFi clones would be with us soon and in numbers.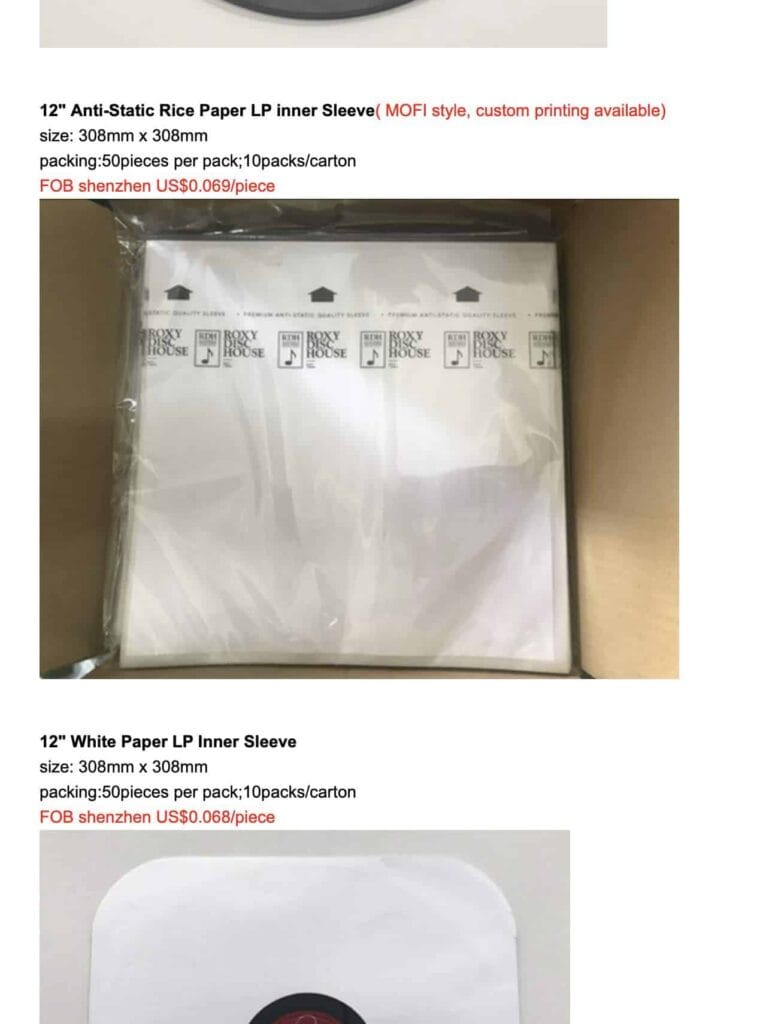 Back in 2018, I received this email which showed a generic, MoFi-style inner sleeve, in amongst their other wares on offer. This company wanted to supply me with inner sleeves so I could then sell them in my territory at a profit and with my details all over the sleeves themselves.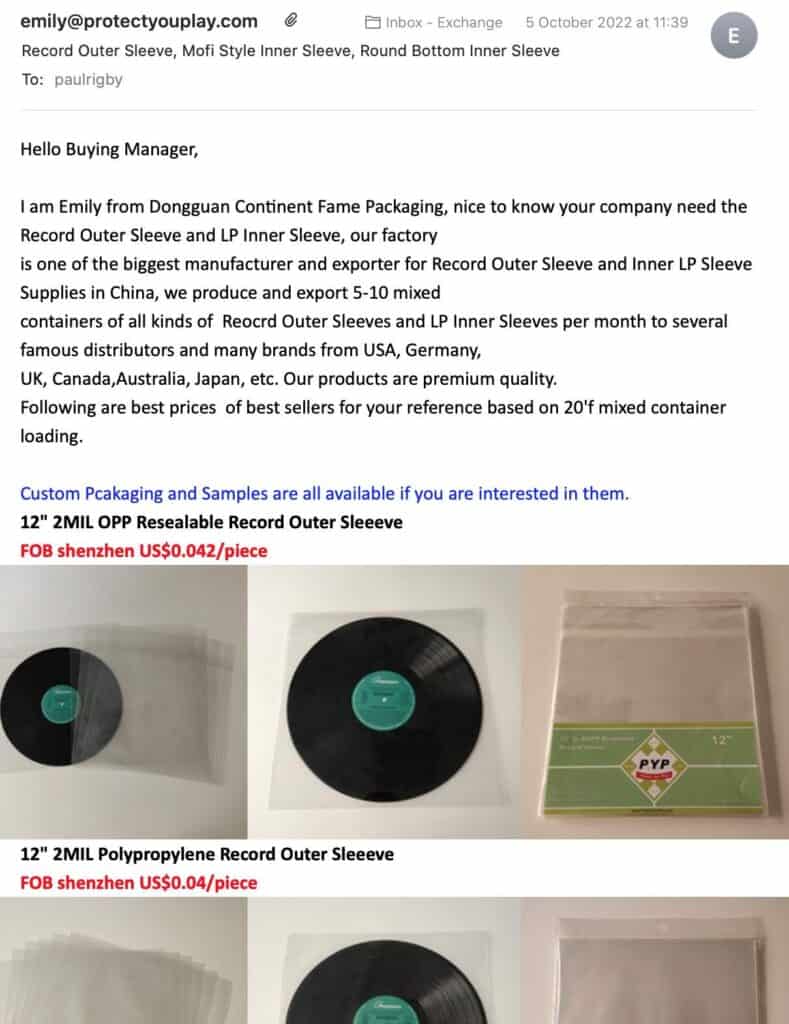 I assume that many others received the same email or a similar email from a similar company, put two and two together and that's why I'm about to review seven MoFi inner sleeve clones here and now and why there's plenty more out there that I've yet to see up close and personal. 
Last year, another Chinese company approached me with the same offer. Actually this particular company is also in business for itself because I bought a pack of its inner sleeves directly from Amazon. I'll be testing them in a moment. 
SEND IN THE CLONES
So let's dive into each clone sleeve shall we? Each one was sourced via Amazon, in case you want to source them yourself. I will put a link for each in the description down below. Clicking on my link doesn't change the price or anything else. The only difference is, because I am an affiliate, if you buy the item via my link then I will get a couple of pennies off each sale which I will plough back into the website. 
For this round up, I'll quickly look at the front and back to compare the visual side of each clone to the MoFi sleeves. We'll check out the construction and then we'll test each to destruction and see what's inside. And our first contestant is?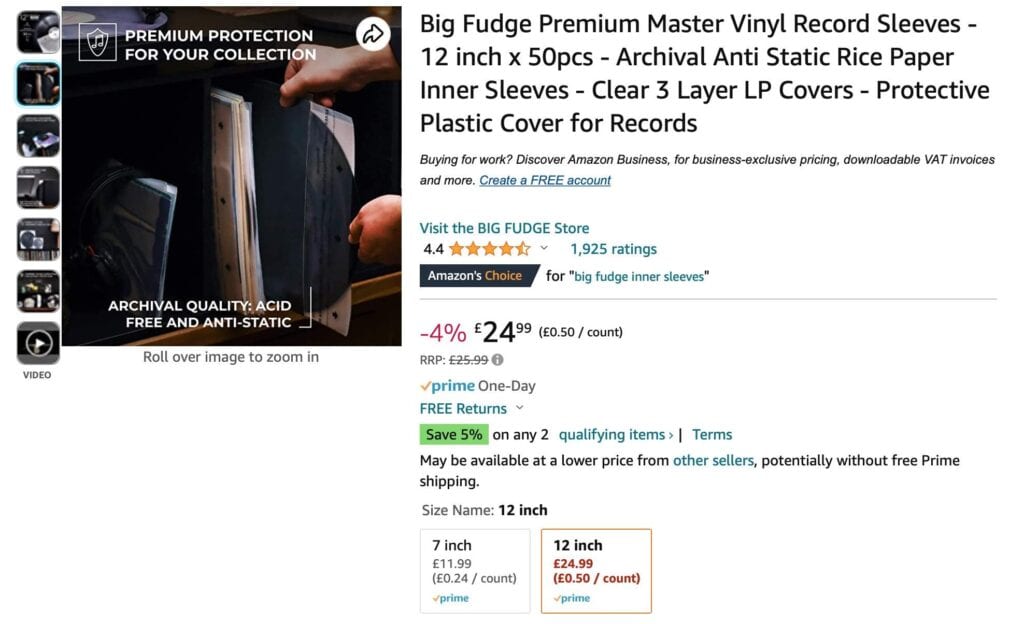 BIG FUDGE
Price: £25 for a Pack of 50
BUY HERE:
EUROPE – https://amzn.to/3QA9vXF
UK – https://amzn.to/45k3Ysn (Just noted theorise increase, if it stays high, try this link instead: https://www.juno.co.uk/products/big-fudge-12-paper-premium-master-vinyl/818584-01/)
USA – https://amzn.to/441NFiY
Each pack is resealable. Inside is a discount voucher if you decide to give away your privacy to Big Fudge. There's your 30 pieces of silver, right there. 
This is a Big Fudge inner sleeve. The imagery on the front replicates the MoFi-style wording and arrows and displays the Big Fudge company logo. The font is larger than the MoFi original though and the arrows more obvious, I would say. I would say that this is a good thing, especially if your eyesight is not the best.
Construction? Basically the same 3-ply design but different plastic on the front and rear. The front is just as transparent as the MoFi inner but it feels a little smoother, slightly thicker and doesn't wrinkle like MoFi sleeves. 
Inside? The paper spine is exactly the same weight as the MoFi paper. Slightly whiter perhaps but that's all .
If anything, the Big Fudge inners provide a sturdier, structurally stronger inner than the MoFi inners. Slightly cheaper than the MoFi sleeve pack, in the UK at least, I prefer the Big Fudge inners to the MoFi originals. 
PANMER
Price: £25.99 for a Pack of 50
BUY HERE:
USA – & EUROPE – www.panmer.com/collections/inner-record-sleeves
Also retailing at a similar price, this pack of 50 actually arrived as two packs of 25. This one also arrives in the same resealable outer bag. No discount offer here, though. 
The printing on the front of the Panmer sleeves is exactly the same as the printed on the Big Fudge sleeves. 
Construction keeps the 3-play design, the front is transparent but the plastic used here is thin. Thinner than Big Fudge and even thinner than MoFi so its prone to wrinkling and doesn't feel as strong in structural terms. 
The paper inside is the same stock and weight as the MoFi sleeves. 
These sleeves perform fine but they lack the strength and structural integrality of both the MoFi and Big Fudge sleeves.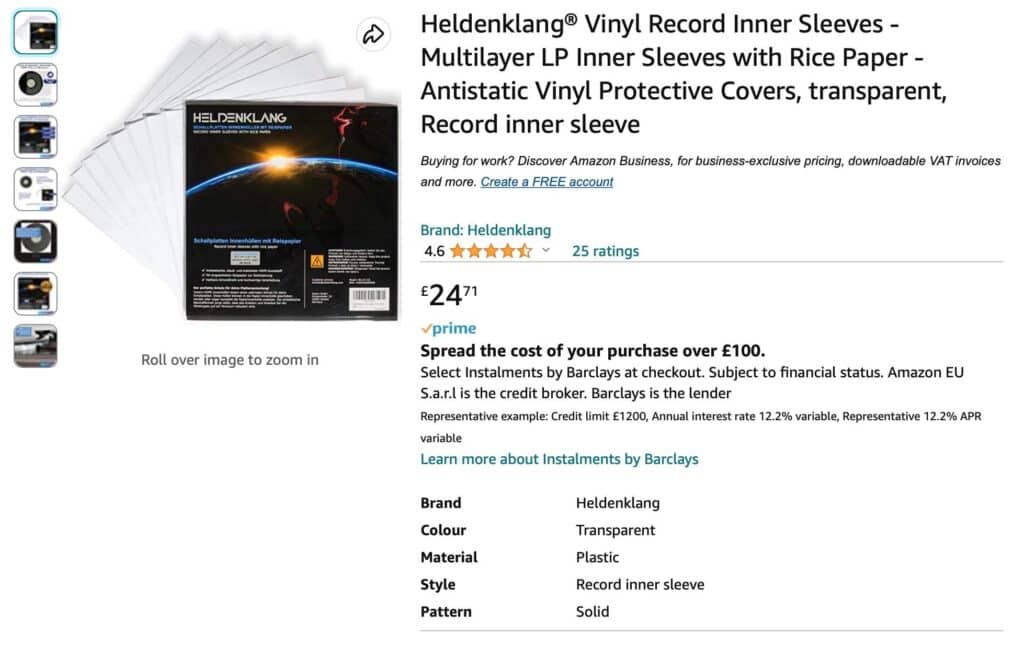 HELDENKLANG
Price: £24.71 for a Pack of 50
BUY HERE:
USA & EUROPE – www.hagglezon.com/en/s/Heldenklang 
Again, similar price to the rest, the inners arrive in basically the same resealable bag as the rest. The plastic of this bag is a little different. A tad more robust maybe but there's not much in it. The front is smothered in German textual references but don't be fooled. These inners were made in China. The front states that rice paper is involved in the sleeve construction. It isn't.
Remarkably – or refreshingly depending on your point of view – there is no printing on the front of the sleeve. You may love this approach but it also means the company spent less on the production of these sleeves and are hence raking in a larger profits than Panmer or Big Fudge. Which is fine of course. I've nothing against that. 
I would say that the inner piece of paper is a touch smaller too, which will have a small affect of structural strength of this inner. There's a larger margin between the paper insert and the outer plastic. Which may have cut costs further. Possibly.
The type and quality of that paper is the same as the rest, though.  
The plastic is not as thin as the Panmer. The difference between the Heldenklang sleeve and Big Fudge sleeves in terms of plastic quality is small but I prefer the Big Fudge plastic. By a whisker. And overall? The Big Fudge sleeve is the best quality of the two.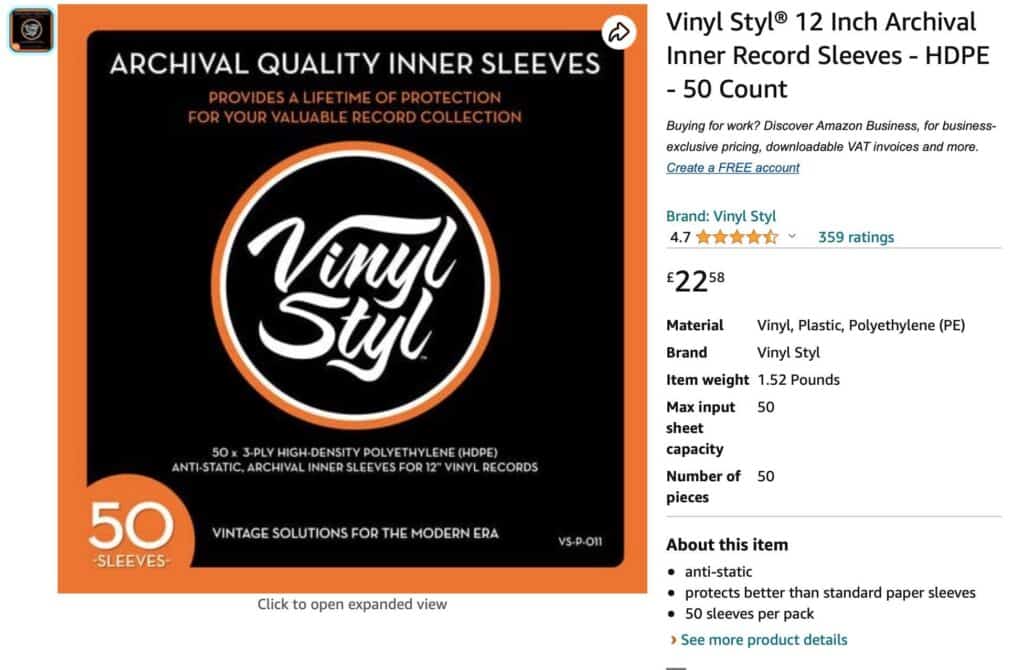 VINYL STYL
Price: £22.58 for a Pack of 50
BUY HERE:
EUROPE – https://amzn.to/448jzKu
USA – https://amzn.to/442pDUT
Pronounced Vinyl Style. So why couldn't they print Style then? This is the lowest cost 50 pack I have seen thus far in this review. 
The outer sleeve is not resealable. What you do, in fact, is tear the base of the outer packaging. And then the rest of the bag acts as a sort of serving bag so you can quickly grab your next sleeve. 
The printing on the front of each Vinyl Styl sleeve provides a stylised logo and small font – MoFi-esque in printing style. Even the arrows are MoFi in style. 
The plastic on the front is exactly the same thickness and feel as the Heldenklang sleeve which again, is slightly thicker than the MoFi sleeve. The internal paper is the same size and type too.
Hence, apart from slight font changes, the Heldenklang and Vinyl Styl inners are exactly the same, bar the printing and outer bag. 
HUDSON HiFi
Price: £34.03 for a Pack of 100
BUY HERE:
EUROPE – https://amzn.to/3OyGXLs
USA – https://amzn.to/3Opd7ci 
Hudson's inners were only available in pack of 100 or more. Possibly because of that, this was the only pack that arrived damaged and split in the post. The bag is resealable – well, mine isn't now but you get my drift. The sleeves are wrapped in a card sleeve so you can't just dispense the sleeves from the bag, you have to remove the entire contents first and then decide what to do from there. 
The printing style, type and quality reminds me of the Vinyl Styl sleeves although there are slight font differences. In fact, the thickness and quality of the outer plastic is exactly the same as the Vinyl Styl and Heldenklang sleeves, as is the size and quality of the internal paper spine. All three are cut from the same cloth, you might say.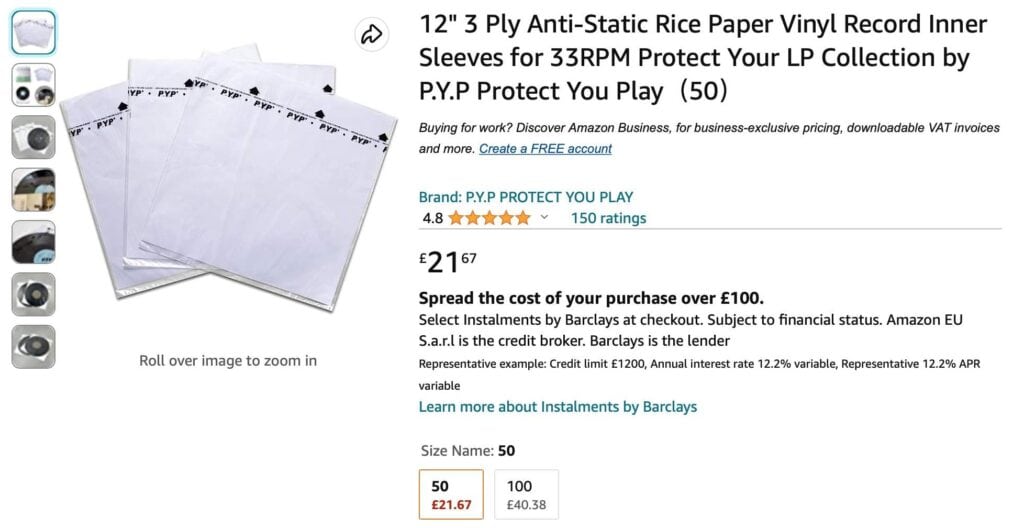 PYP
Price: £21.67 for a Pack of 50
BUY HERE:
EUROPE – https://amzn.to/3KBxeTk
USA – https://amzn.to/3QsI7Lc
I stand corrected, these are the cheapest inners in this test thus far. These are also the sleeves recommended to me in that email I flagged up earlier. 
Arriving in a re-sealable bag, let me cut to the chase on this one because these are the same inners as the Hudson, Vinyl Styl and Heldenklang. Same plastics, same paper size, same everything. I wonder if all three of these companies have been happy customers of PYP?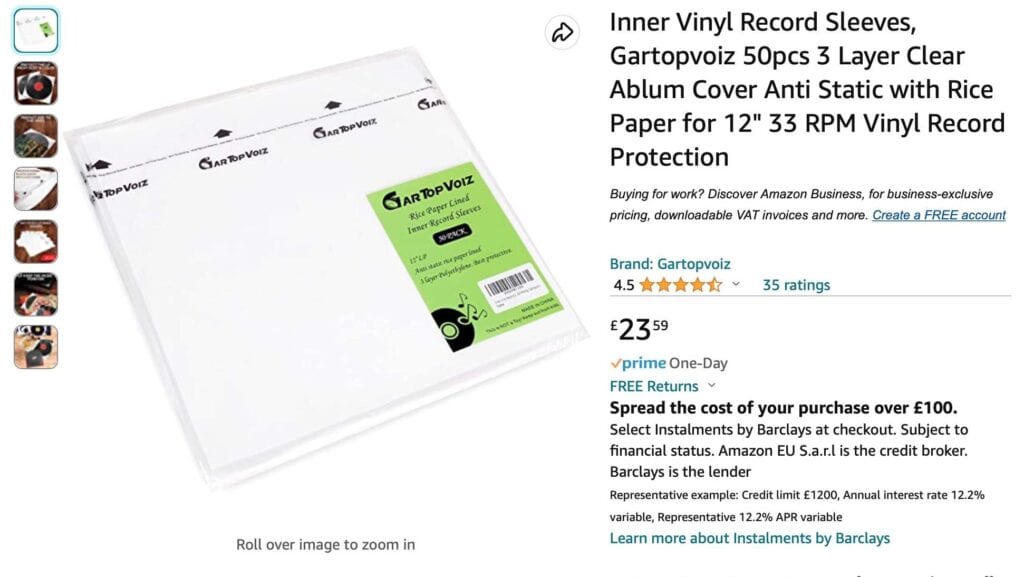 GARTOPVOIZ
Price: £23.59 for a Pack of 50
BUY HERE:
EUROPE – https://amzn.to/3YsMk3i 
USA – https://amzn.to/459o8Ww 
The price is similar to the rest of the sleeves in this test. We've only seen small variations throughout. 
Before I opened this pack – and it is resealable – I was impressed by the feel of the outer bag. It feels a tad stronger than the others. 
Opening the bag and dragging out the inners though and yes, you guessed it, these are exactly the same as the PYP, Hudson, Vinyl Styl and Heldenklang. Same printing style although the information font is smaller but the plastics are the same, you get the same paper size too.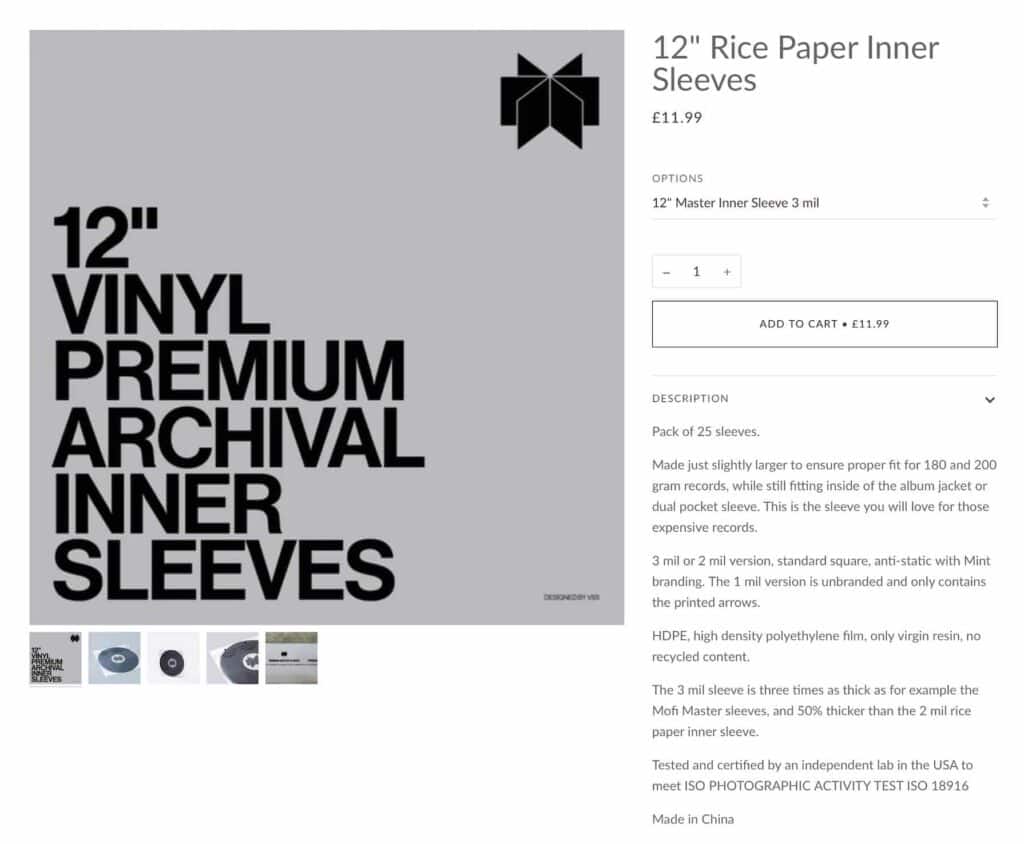 VINYL STORAGE SOLUTIONS/MINT
Price: £23.58 for a Pack of 50 (actually two packs of 25)
Website: mintsleeves.com or vinylstoragesolutions.ca
I received a free promo pack from Mint (it was the only pack I received as a freebie) and that pack was presented in a sturdy box which is very presentable but I doubt you would see a box if you order a single pack of 50. My box also includes a selection of outer sleeves and I might do an outer sleeve special in the future sometime. The inners arrive in a rather nice foil resealable bag.
Like the other MoFi clones I examined, the Mint sleeves provide the same sort of 3-Ply design. The plastic quality is very nice. Actually it's exactly the same as my preferred Big Fudge sleeves. 
The sleeves appear to be identical, in fact. I'd wanted to know the connection between Big Fudge and VVS/Mint. Is there one? According to Mint, there isn't. Hence, Both Big Fudge and VVS/Mint grab their inners from the same Chinese source.
As per every other clone and the original MoFi sleeves, the paper support is not rice paper. Despite what Mint says. In fact it's the usual super thin and cheap printer-type paper. 
CONCLUSION
After all that, what conclusions can I draw? First up? The PYP, Hudson, Vinyl Styl, Heldenklang and Gartopvoiz are essentially the same sleeves in terms of construction and materials with minor printing variations. I would say that the Panmer sleeves are perhaps the flimsiest of the group. To my mind, The Big Fudge and VVS/Mint sleeves are the winners here in terms of plastic quality, structural strength and design. You even get that discount offer. 
More than that, Big Fudge and VVS/Mint. Big Fudge also sell a 7" version of their 12" sleeves which I think is a great idea. Better still, VVS and Mint sell 7″ and 10″ MoFi-esque, inner sleeves which is best of all.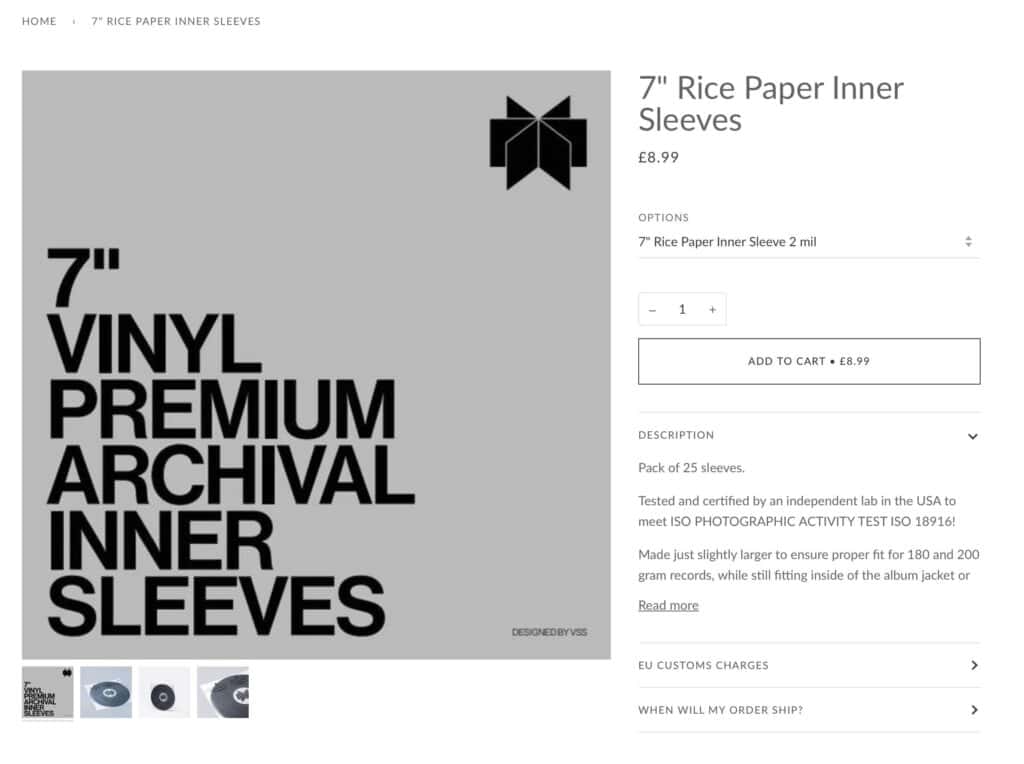 But look that's not it. That's not the real conclusion of this group test.  
In broad terms, despite my choice being the Big Fudge or VVS/Mint sleeves, despite that, I would be quite happy using any of the sleeves in this review. Yes there are minor differences between many of them but all are usable. All are practical. All work well as inner sleeves. All are easy to use. All offer a decent basic design. In short, all are as good if not better than MoFi originals. None are worse. All of the sleeves I have bought in this test will be used to hold and protect my record collection. 
And that means what, exactly? That means that the days of MoFi inner sleeves being special and desirable and being the 'go to' inner sleeve for many vinyl fans are well and truly over. There is absolutely no reason, unless you see a good deal, apart from that, there is no reason at all why you should ever buy a MoFi inner sleeve ever again. For MoFi and its inner sleeves? The party is over.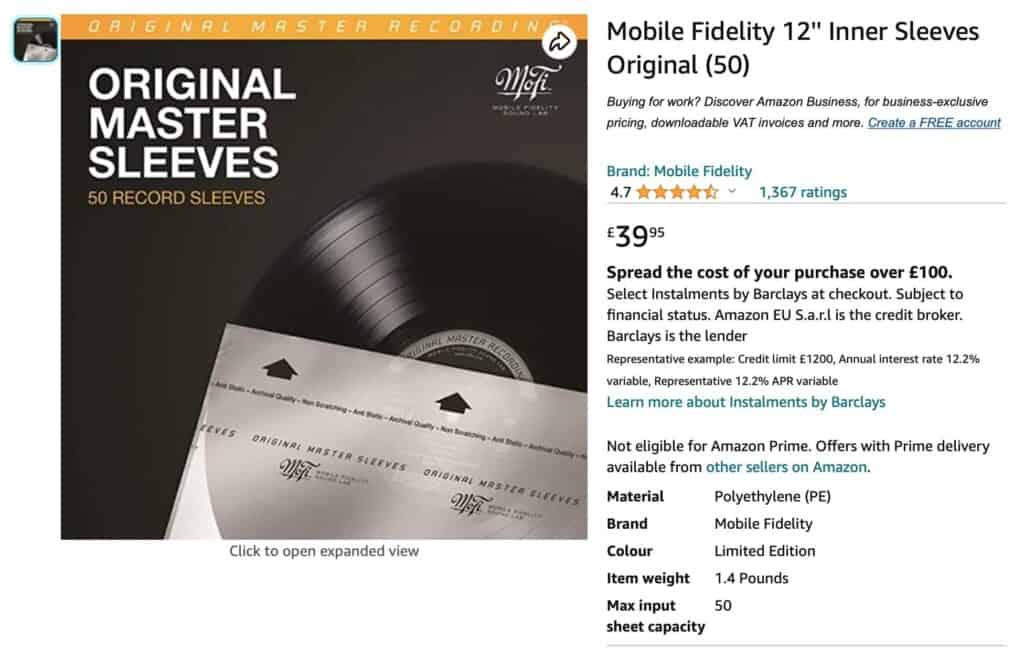 If you can use my advice? I would say this. If you want a MoFi 'style' inner sleeve in the future go online and shop around for the cheapest 50 pack you can find. If that happens to be Mobile Fidelity sleeves then great, go for those. But if you find cheaper options out there, then buy those instead. MoFi in and of itself, however, has absolutely zero premium in terms of quality. None at all.
That is, buy on price. Don't buy on name. Unless you want that extra 5% of quality? Then buy Big Fudge or VVS/Mint.