The Article
Marvin Gaye: Volume Two 1966-1970
22nd April 2016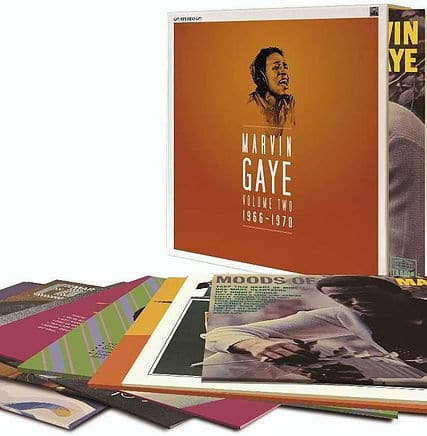 Seven months after the release of Volume One covering Marvin Gaye's first seven studio albums, the forthcoming Volume Two: 1966-1970 vinyl box set will showcase his next eight.
All of the Gaye's eight studio albums – four solo long-players and four duet albums – recorded between 1966 and 1970 are included.
• Moods of Marvin Gaye (1966)
• Take Two (with Kim Weston – 1966)
• United (with Tammi Terrell – 1967)
• In The Groove (aka I Heard It Through the Grapevine – 1968)
• You're All I Need (with Tammi Terrell – 1968)• M.P.G. (1969)
• Easy (with Tammi Terrell – 1969)
• That's The Way Love Is (1970)
Each album is pressed on 180g vinyl, presented in sleeves purported to be exact replicas of the original releases and all are packaged together in a rigid card outer box. The set also comes with a download code for MP3s.
Volume Two 1966-1970 is released on 13 November 2015.