The Article
The Jive Aces: Delivering Sunshine To Order
23rd May 2017
Mixing swing with rock'n'roll with rockabilly with…the Jive Aces are a band for all seasons. Paul Rigby interviews the band's leader and lead vocalist, Ian Clarkson
They started as a dance troupe of sorts. An informal collection of friends who enjoyed dancing at rockabilly and rock'n'roll gigs. Dressed and looking the part, the guys would often be 'hired' to dance at concerts, getting into the gig for free. From this point, they decided to take matters further and form their own performance group.
Subsequently known as the Blues Busters, they did a few gigs at Dingwalls in Camden under that name and progressed to the point of issuing their first vinyl single when they received a call from Paul Young's old backing band, the Q-Tips. The Q-Tips had started their own independent outfit called, you guessed it, the Blues Busters and were just about to launch their own album. After impassioned requests our Blues Busters sat down and had a rethink.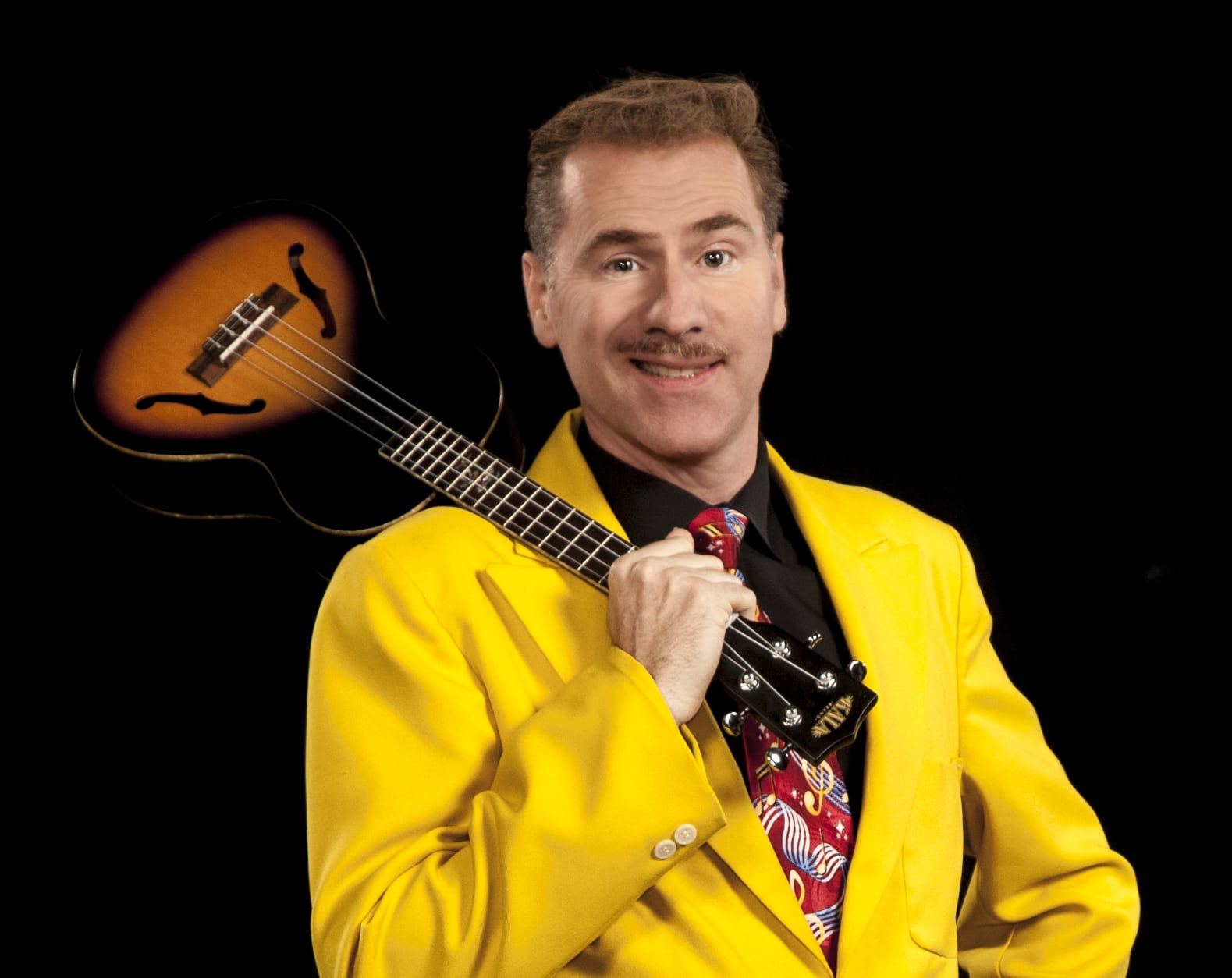 Band leader and lead vocalist, Ian Clarkson, takes up the story, "Before mobile phones, me and Ken Smith (bass) were standing in a phone box talking to our label and they asked what new name we were going to use. We liked the name 'Aces'. But Blues Aces didn't sound right so Ken shouted out 'Jive!" so I said, yes, Jive Aces. We've been stuck with it ever since."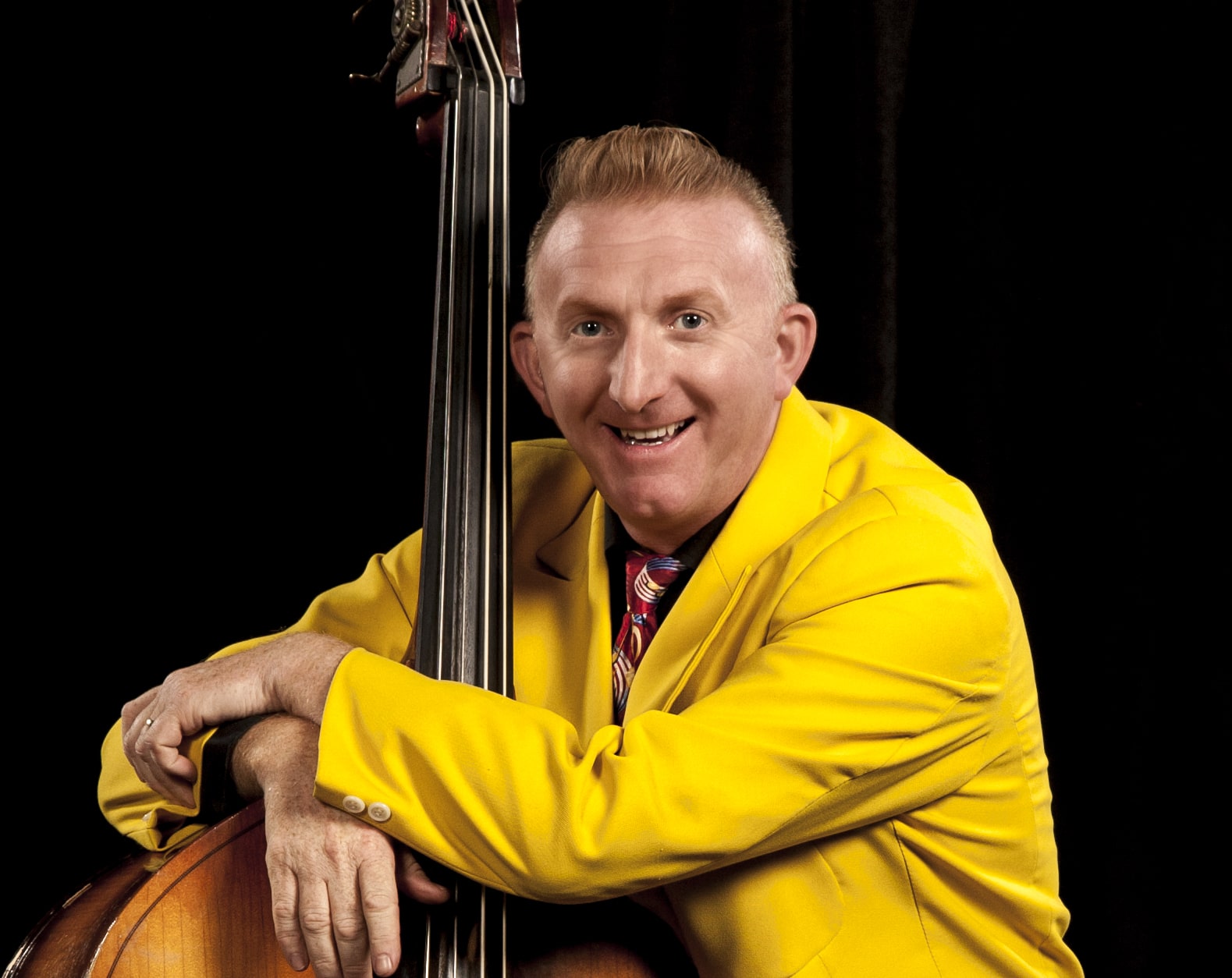 Hailing from London and the dark undergrowth of Essex, the band all met at an early age. Ian Clarkson was at school with the band's drummer, Peter Howell. After leaving school, the pair met Ken Smith and 'Big' John Fordham who plays sax in the band while Alex Douglas (trombone) and Vince Hurley (piano) followed soon after. All had a great interest in 50s culture and style: whether that be changing their hair to ape Elvis, dressing the part or driving around in 50s-style cars, "We're engrossed but we don't go too far," said Clarkson. "Although we do have a rock'n'roll-style garage rehearsal studio. All our vinyl is there, old record player plus memorabilia."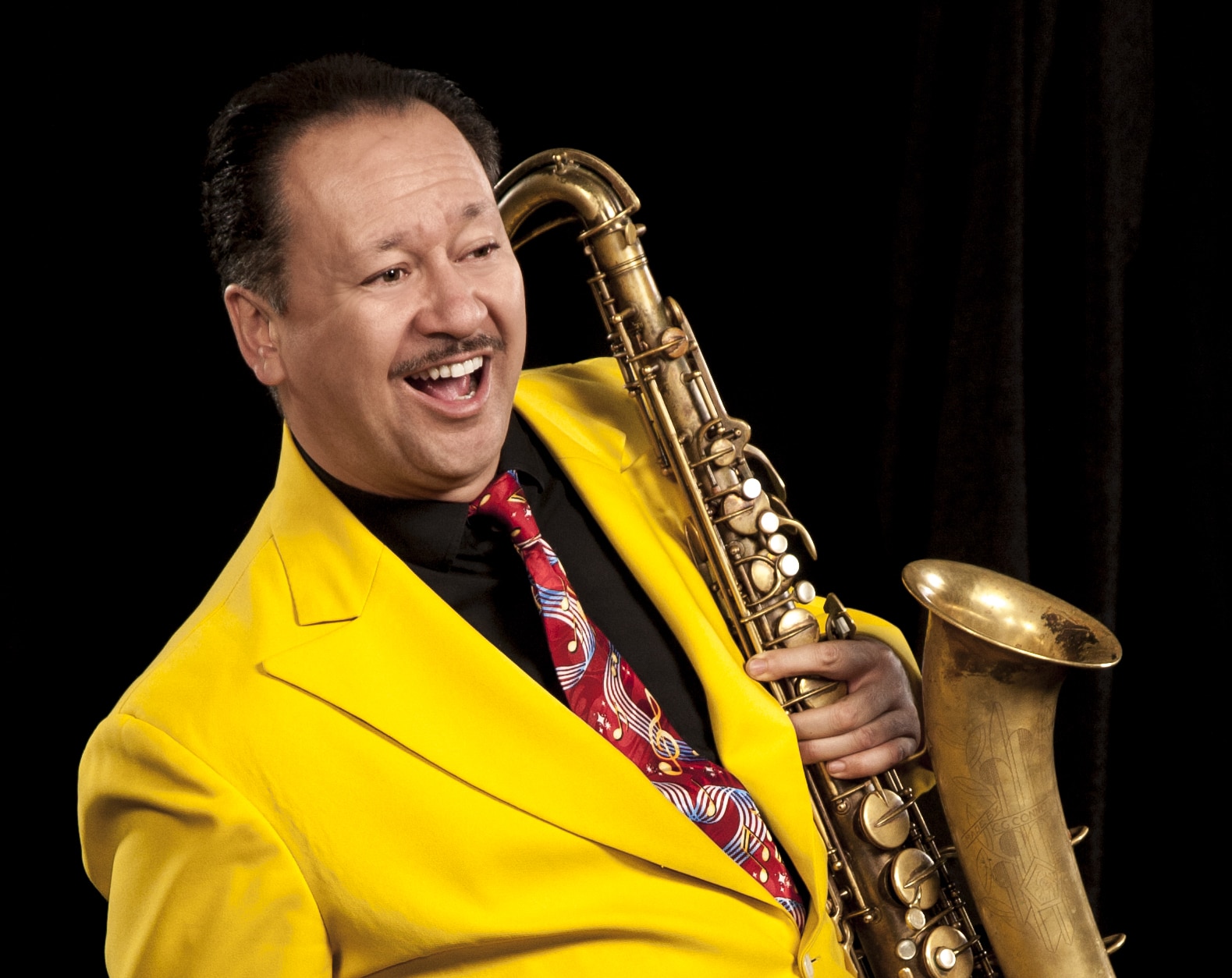 When the guys became firm friends, they all lived together in the same house in Ilford. It helped the formation of close bonds and sorted out any personality issues, "If you're going to have arguments then that's when it's going to happen. It's a bit like being married," added Clarkson.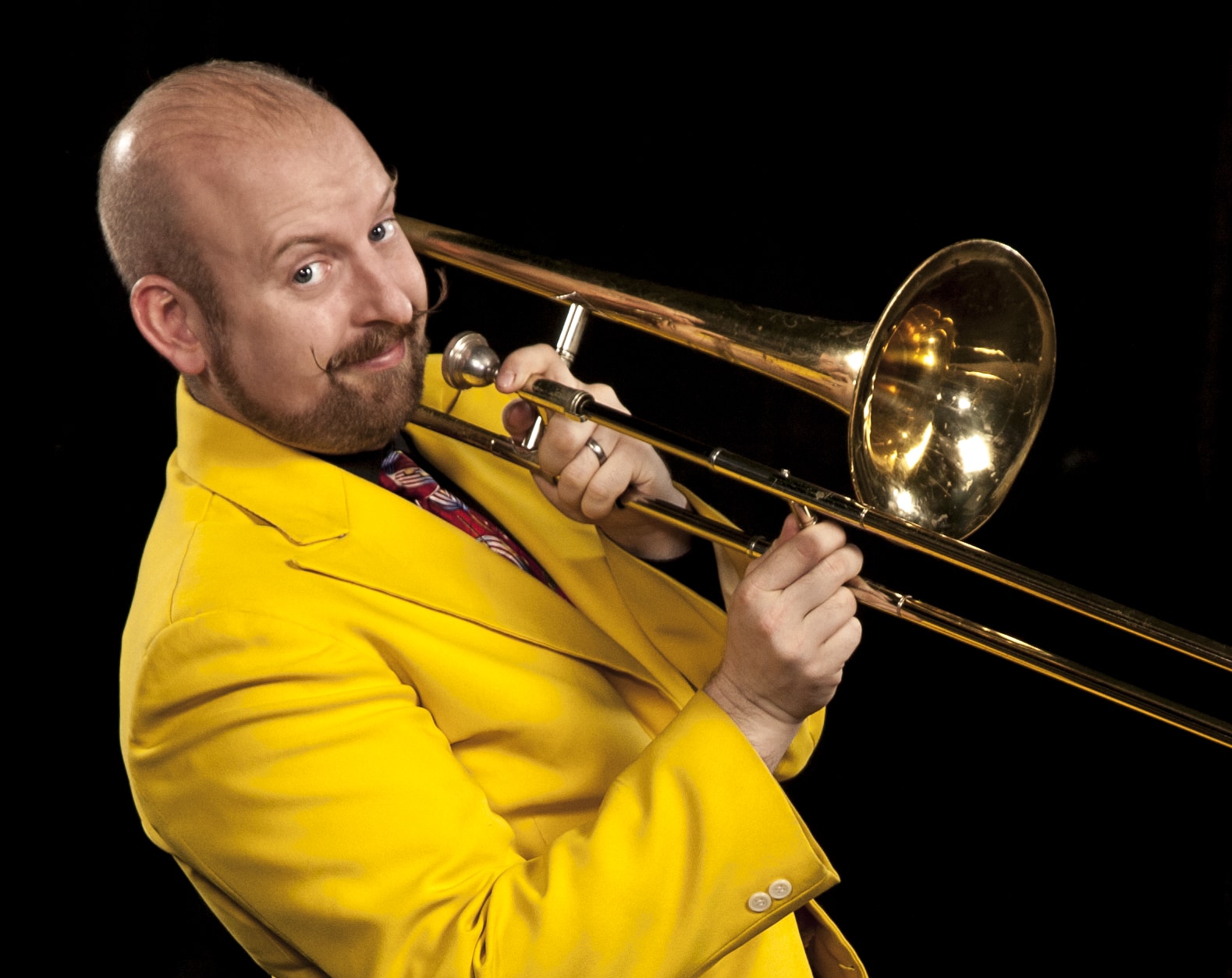 The band's image remains in-situ, off-stage as well as on, which has meant that the band members have received plenty of attention but they often use that attention to promote related fashion enthusiasts such as clothes designers, "We used to be asked 'Why are you dressed like that?' Now we have teenagers approaching us asking where we get our clothes from. We've even had the band, Dexys Midnight Runners, asking us that question! We were so behind the times that we were ahead of the times, now we are incredibly fashionable."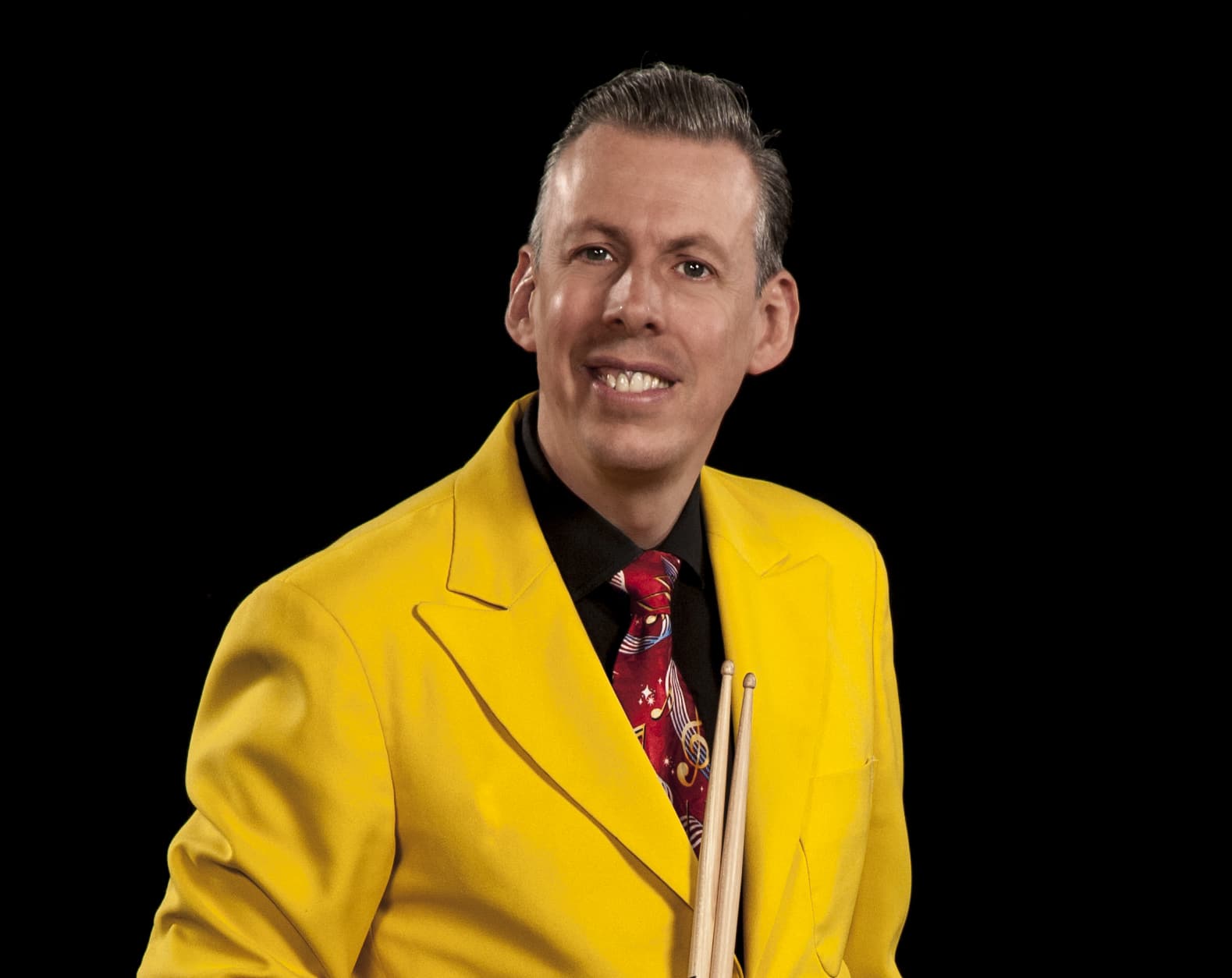 But why the yellow uniform? It was a happy mistake, as most good ideas tend to be. Initially, each band member wore a suit of a different colour but, for one of their albums, the designer photoshopped each suit to yellow. Liking the new 'look', the band decided to go the whole hog and buy new yellow suits. It provided a good idea because, in yellow, the band proved to be immediately memorable to the public. Even if they forgot the name, the public were tagging the group as, 'The band in the yellow suits'.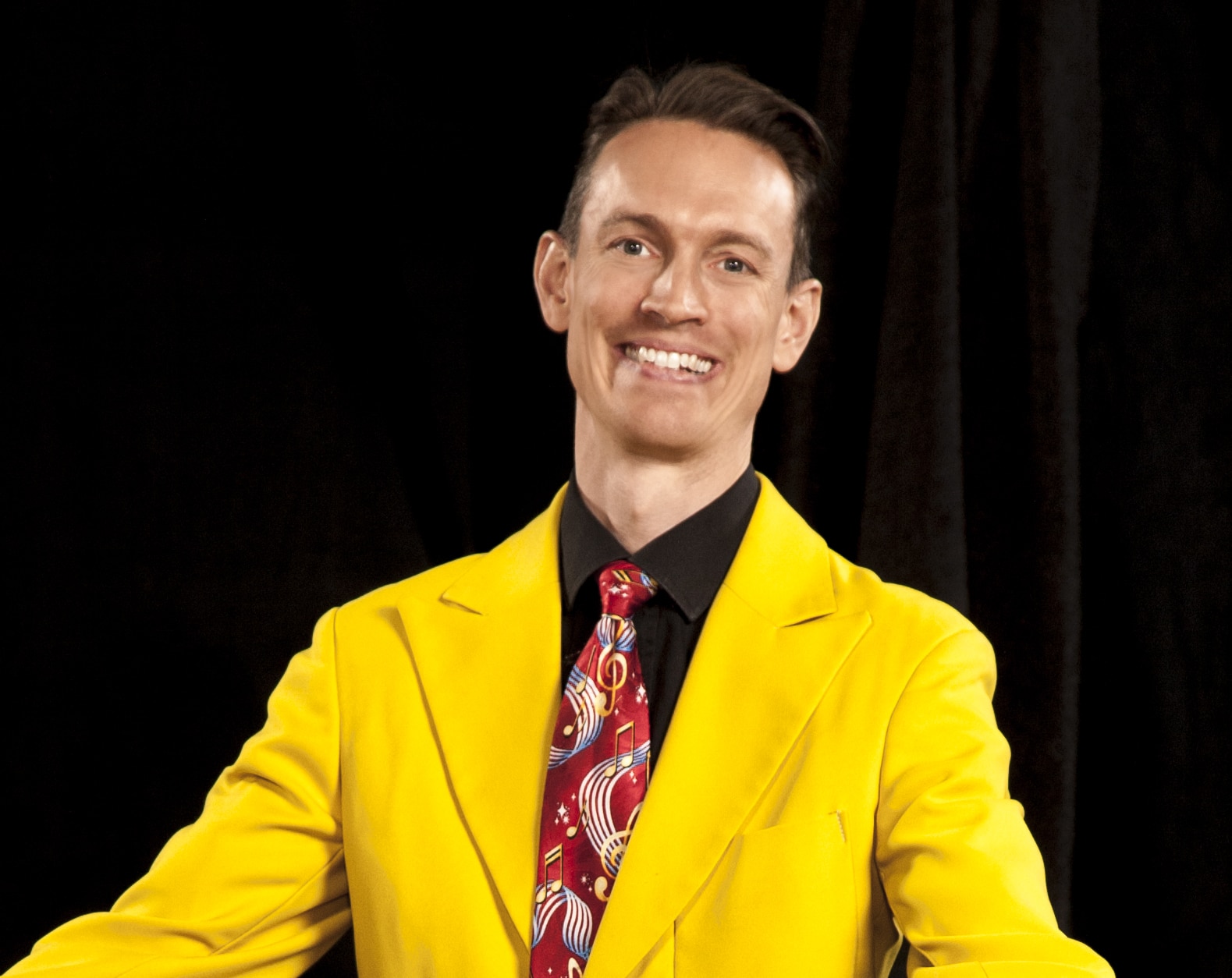 While their visual presentation has proved popular, their blend of musical styles has added to their success, "We like the name 'Jive' because the music we play is basically anything that you can jive to. We were into Elvis, then rockabilly, 50s R&B such as Big Joe Turner, then blues and swing but we call it jive because its a general term for that era. Late 40s to early 50s. Even our jazzier songs have a rock'n'roll rhythm. To start off with it was a bit of a handicap. People who were into jazz and swing said that we were too rock'n'roll-like and those into rock'n'roll said that were were too jazzy. We persisted and found our own diverse audience. We can play all styles depending on the venue. It's worked to our favour."
The Jive Aces are only too aware that their image is a threat as well as an advantage. As well as doing original songs they have stayed clear of obvious commercially know songs, "They provide immediate recognition but we avoid that. We want to sell the lesser known R&B to the public. We weren't just satisfied to play at rock'n' roll venues and preach to the converted."
Hence, when the band perform a familiar song like Shake, Rattle & Roll, the Jive Aces version is inspired more by Big Joe Turner rather than Elvis, "We do what we want to do rather than doing what we think we should do and then becoming bored with it."
You can pin-point particular influences. One of which is Louis Prima, who did so much to help rock'n'roll evolve. Many UK music fans only know Prima as King Louie from the Walt Disney film, The Jungle Book but there is much more to the man and his music. Prima played rhythm and blues but he did it in his own style, producing a hybrid. Another form of rock'n'roll. One of the reasons that Prima is such an influence for the Jive Aces is that he was just as much an entertainer as a vocalist, as were his band. They had fun with a song. Yet Clarkson has tremendous respect for the entire outfit as musicians, "They played every single night, in Las Vegas, from midnight to 6am. Five shows with short breaks. They had such a big repertoire and were tight as musicians. Consequently, they didn't have to concentrate on what they were playing because they were so well practised, so they could have fun with it. Adding the showmanship later."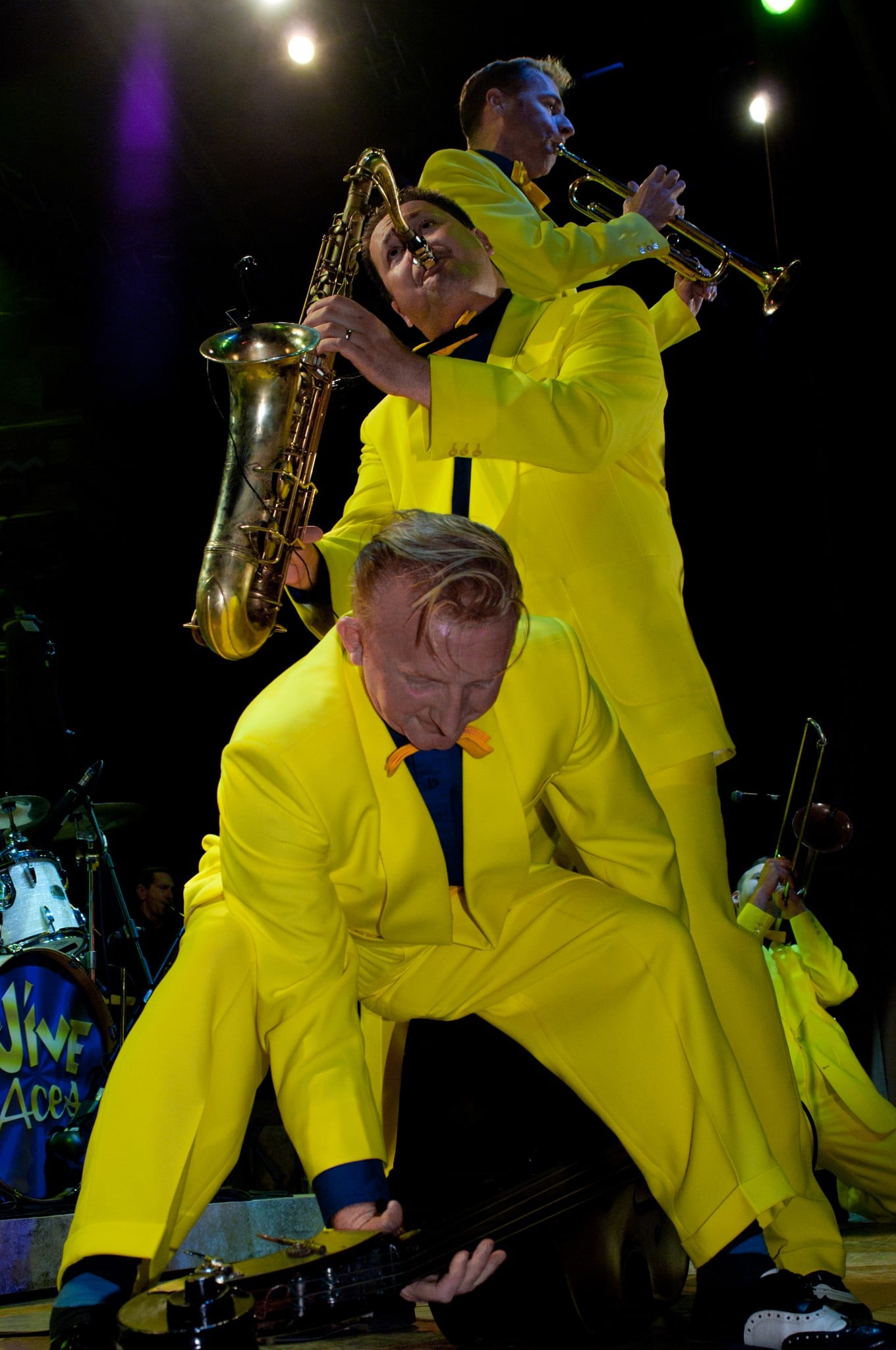 The love of the man has lead to the Jive Aces performing with Prima's daughter, Toni Elizabeth, who also sang on the band's album, King Of The Swingers: A Salute To Louis Prima, "We've also done a few gigs with Prima's ex-wife, Keely Smith," said Clarkson, "I sang Old Black Magic with her on stage. She still sounds the same and she's in her mid 80s. Toni, her daughter, is a lot like her mother with her dad's facial expressions, very comedic. We got her singing again because she's become more of an actress in the USA. She has a lovely voice. I think that she should do a record of her own."
Another early figure in the primitive rock'n'roll movement was Freddie Bell and the Bellboys. Elvis Presley saw their rendition of Hound Dog and decided to sing it for himself afterwards, "In fact we toured with Bell before he died," said Clarkson. "We were his Bellboys for a while, for a couple of years in fact, when he came over to Europe. In addition, when we were in Las Vegas, I managed to meet the Sun label man, rockabilly legend, Sonny Burgess and backed him on stage. We had a gig downstairs, at the time and then, as we jumped off stage, still in my yellow suit, I ran upstairs and on stage with Burgess. He and his band also had yellow suits. So, for once, I didn't stick out."
The band tour a lot and appear in a variety of rock'n'roll festivals and themed nights. Yet, wherever the band is in the world, the audiences all look the same. Whether it's the UK, Italy or Russia. In every country there are people who could have stepped out of the 1950s, "In the USA, though, there are 'senior citizen' gigs that we play. Don't be fooled by the name, though, you get these rich older people who look like Superman with grey hair. The great thing is that they used to see the original artists when they were younger, they haven't just listened to their records, so compliments from them mean a lot because we are being compared to the originals."
The Jive Aces have a particularly democratic suite of roles that enables the smooth running of the business side of the band. Clarkson is the lead vocal, band leader and spokesman, he plays ukulele and trumpet. When they don't go through an agent, Peter Howell does the bookings. Alex Douglas designs promotional material and the website while Ken Smith handles finance and logistics, "We're very co-operative. Because we've been going so long we manage ourselves. We've share out all the jobs. That's helped us to keep going so long because all band members have responsibility," said Clarkson.
The Jive Aces have had the same line-up for 19 years. That's longer than the Beatles. Clarkson says that they may have made more money but he and his band have had more fun, "We've gone through the argument phase. We're very like minded. We love the same sort of music. No-one bears a grudge, everyone comes to an amicable agreement then we all have a curry."
TV & INTERNET
In 2012, the band were invited to take part on the popular TV talent show, Britain's Got Talent. This was a risk. On one hand, the band could have suffered derision from other artists (the show and others like it, has received criticism from music professionals) but, on the other hand, it also promised widespread exposure and possible stardom. What to do….what to do.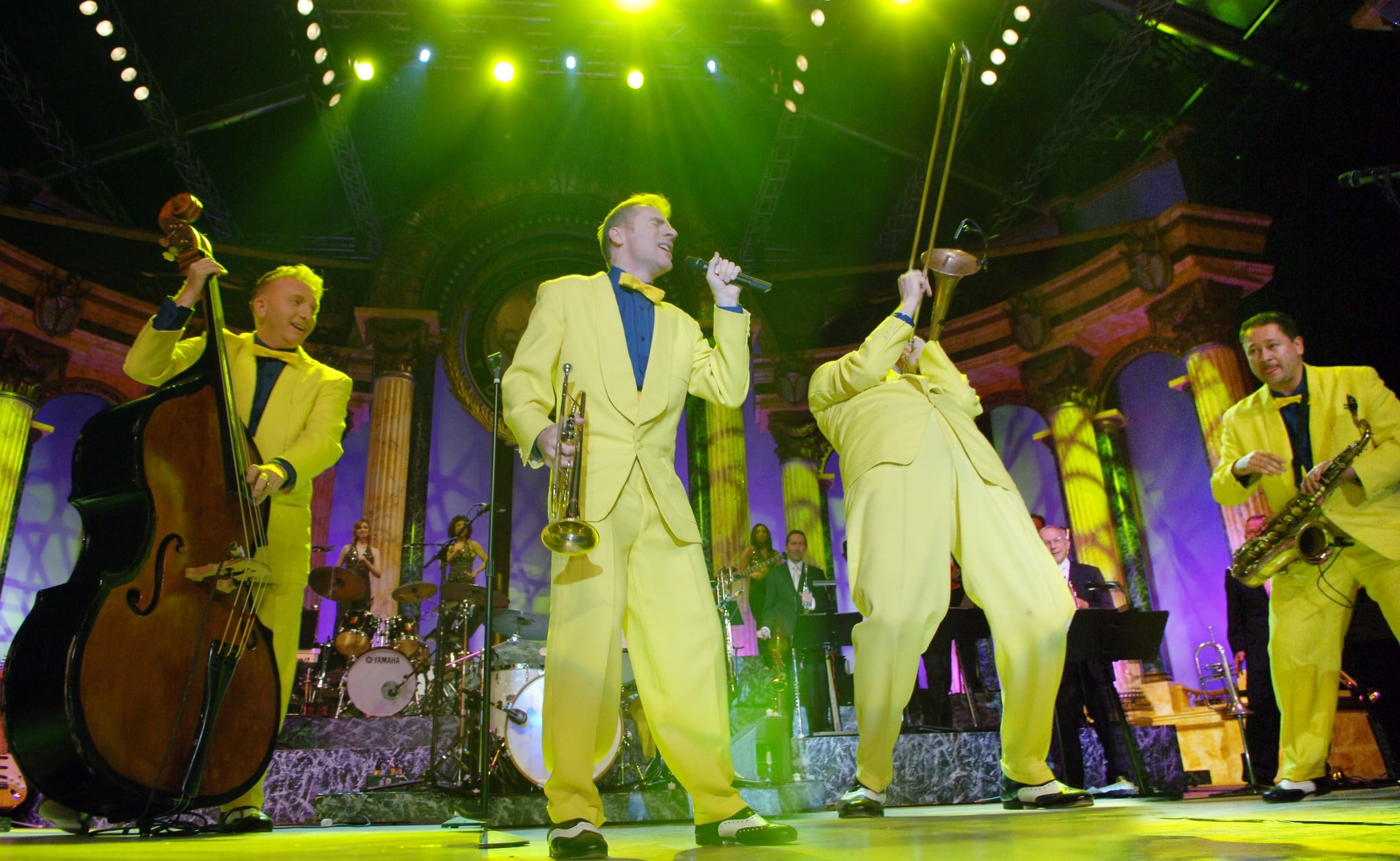 "Even though I'd never seen the show," said Clarkson, "we discussed it and wondered what people might think about it. We thought that it's difficult to get on TV nowadays and do our sort of music. It's not like the old days when they had a lot of live music shows. So we thought, let's do it for the exposure and we'll be us. They'll either like us or they won't."
The experience started well. Right from the auditions, in fact, when a rather grumpy Simon Cowell, a lover of cartoons apparently, had his spirits raised when the band launched into The Jungle Book's I Wanna Be Like You. That audition sequence was spread all over the Internet.
"There's a lot more than they show on TV, actually," added Clarkson. "We actually did three songs in the audition. We did Bring Me Sunshine, Caldonia," the jump blues song made famous by Louis Jordan, "and then ended on I Wanna Be Like You."
Resident on the final show, the band found that they were the centre of attention for two weeks with lots of photos being taken of them as they walked down the street. Clarkson noticed how social media took them to heart, "We had a huge fan base via Facebook and Twitter. As a band, we've been going since before there was an Internet. So what happened was, people who booked us for their wedding, say, in that pre-Internet time or came to see us at their local pub back in the early days, who we hadn't seen since, suddenly discovered that we were still going. They all messaged us. We got back all our early work. Then it was back to the day job and back on tour.
It's a TV show so they obviously need Pros to spice it up a bit. They don't publicise that and it's normally the amateurs that get all the way through. It's the zero to hero that they're looking for."
So was there a stigma attached to the appearances from fellow musicians? Apparently not. In fact, other acts that the boys met on the road asked about the experience and often admitted that they tried and failed to get on the show too! In the meantime, when other musical acts are about to attempt to make progress on the show, the Jive Aces often receive phone calls asking for advice and the 'inside track' of how to handle the show and how to get ahead.
"Kids, when they go on that show, think that they're going to be famous," mused Clarkson "You've got as much chance of that as winning the lottery. As Susan Boyle did. For us, the show did help with band exposure."
It might surprise many that the band's exposure on TV was not the height of their marketable exposure. That has come from the Internet. YouTube has done more to promote the Jive Aces than any other promotional exercise they have undertaken. The video for Bring Me Sunshine has been on YouTube for three years now and has reached 2.6million views, "I mentioned earlier that the TV doesn't feature our sort of music very often but the Internet bypasses all of that and goes straight to an audience looking for different music. We've got gigs all over the world directly from the video in places such as Serbia, Russia, Bulgaria, Morocco and the US tour. We didn't expect it to take off. For Bring Me Sunshine, we didn't even have the song available to sell until six months after the video was up so we missed out on many sales, we think. We have a YouTube channel now with more tracks on there. We're getting into the videos and are becoming more cinematic in style."
OUT NOW
Title: Diggin' The Roots – Vol.1 Rocking Rhythm & Blues
Label: Golden Age Recordings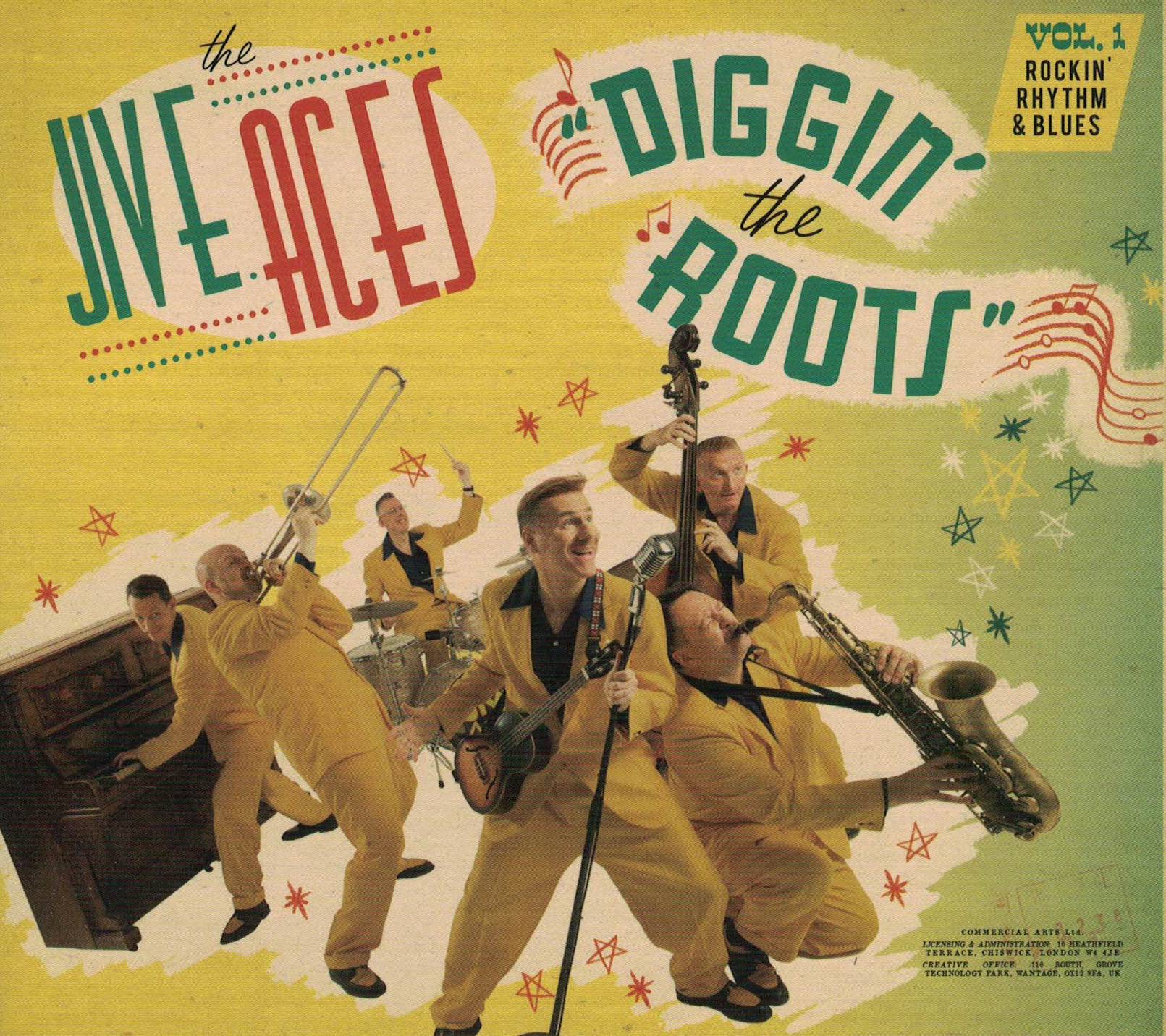 All the way from Romford, this CD represents the band's album number 12 and, would you believe, draws a temporary line under the outfit's first 20 years. It's been quite a journey for this modern rock'n'roll/R&B/jazz outfit while this album combines original material with a range of classic cuts from the likes of Louis Jordan, Big Joe Turner, Ruth Brown and Louis Prima.
You'll also find a guest appearance by singer/actress Cassidy Janson who appears on Mama, He Treats Your Daughter Mean and I Want You To Be My Baby
The band provide full on, high energy, high tempo, lively and utterly tireless performances. Tracks swing so hard they nearly detach and fall to the ground. I was impressed by one of my old favourites, Choo Choo Ch'Boogie, which had me in a head-nodding, arm shaping, hip swaying, lyric mispronouncing state within 30 seconds. Lovely stuff.
In terms of mastering, there is definite compression on this CD which lifts all frequencies and compresses the dynamics somewhat but the overall effect is not too intrusive, allowing you to enjoy the sparkling performances of a band who have way too much energy for their own good. I was exhausted by the time the album had finished!
Expect Volume 2, out later on this year, to examine the influence of hot jazz on the music scene and the band itself.
TOP 5 SONGS
Louis Prima & Keely Smith – Just A Gigolo/I Ain't Got Nobody
Bobby Darren – Mack The Knife
Big Joe Turner – Well All Right
Big Joe Turner – Boogie Woogie Country Girl
Sonny Burgess – We Wanna Boogie